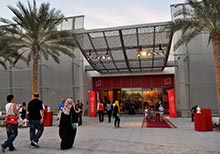 Abu Dhabi Art 2012
The fourth edition of Abu Dhabi Art held in November 2012 created the image of an important art event among the growing number of global art fairs taking place in other big centers. And certainly, the latest Abu Dhabi Art offered more than it had in previous years. That the fair is not only a place to discover and see great art but also a place where one can attend good panels, meet and talk to world class artists and architects and participate in a remarkable public program makes this fair very different from other similar events.
---
Submit Your Art
Send us some of your best work in hi res or a link to your portfolio.

Please remember that your art will not be added before being reviewed and approved by our editors.

Thank you for your understanding.
Submit Your Art