DUBAI / Empty10 in collaboration with 1x1, is pleased to present 10, a group show featuring multi-media works by ten contemporary artists: Carolin Kropff, Corrina Mehiel, Cristiana de Marchi, Lavanya Mani, Layla Juma, Mithu Sen, Parul Thacker, Prajakta Palav Aher, Shivani Agarwal and Simrin Mehra Agarwal. The exhibition opens on May 15, 2013 at Empty10, Al Quoz and will run until June 14, 2013.
Corrina Mehiel says "I am an artist who explores ways to create meaningful connections for people through objects and experiences. My work starts and ends with photography. Using the lens as my tool to really see the world, I create objects and situations that can be documented with my camera. Utilizing the residue and the trace of that moment, photographs are often enough to start a conversation. From public spaces to my studio, my role changes from performer, facilitator, host, and event coordinator, to photographer, editor, and again performer. Is the art found in the photographs, the video, the clothes, the events, or am I the art?"
Simrin Mehra-Agarwal was born in Kolkata, and part of her family is descends from the royal Jhargram dynasty. Tales of a glorious past, full of maharajas and warriors, set in sumptuous palaces with a typically Oriental atmosphere, are still strongly present in her memory, according to the artist herself. A cultural heritage which is almost a primitive experience, capable of taking root even in the most remote regions of thought. There exists a truth that emerges when we examine our own memories honestly; yet our memories pass through a filter, at times consciously, at other times unconsciously, in which events may be manipulated, altered or even removed. Furthermore, memory is not just a mere static repertoire of catalogued information, but a dynamic baggage of knowledge which influences people's lives and choices. Simrin's mental museum gathers images extrapolated from those very palaces, once home to a lavish courtly way of life, and now abandoned to the relentless wear and tear of time.
Born in 1977 in Sharjah, where she currently resides, Layla Juma is a member of the Emirates Fine Arts Society and a graduate of architectural engineering. She is among the third-generation of Emirati artists and derives inspiration from prolific UAE artists such as Hassan Sharif and Mohammed Kazem, who were among the first to take a more conceptual approach to art-making. Says Leyla Jhuma, I tested myself in different ways using different kind of materials, methods. My works present a mixture of incomplete ideas. Each work is an experiment influenced by several factors silently leads to humans, my study of architecture, personal thinking and circumstances.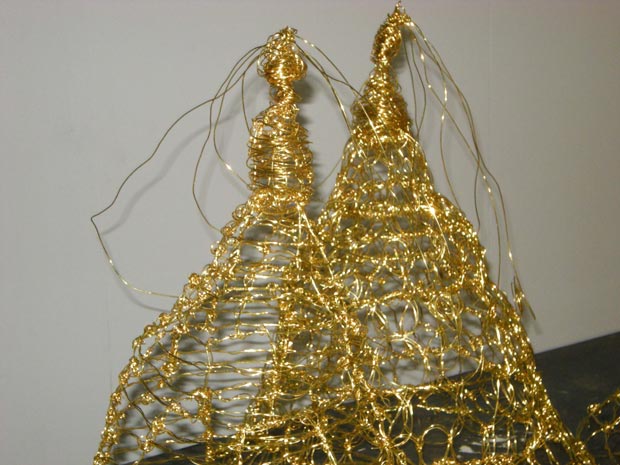 Layla Juma, The Bride, Metal Wire, 2009, 50x30x30 cm / Courtesy of Empty10
Layla Juma explains her work: "My work (The bride) is a set of 6 wired sculptures. Telling stories about the bride, the social celebration (The wedding) and the preparations that lead to the pleasant appearance of the bride. This work reflects event of our daily life in different parts of the worlds and cultures. Presenting images of any women with different hidden feelings and conflicts. Even if the outer image (the dress) shows happiness. We'll never know about the unknown hidden parts of the bride story."
Cristiana de Marchi explores (through performance, video, and installations of embroidered objects and tapestries) issues related to verbalization and translation, to the correspondence between physical and nominal dimensions. Some of her themes are the use of languages in propaganda, the transition between 'territories' and contexts, the redefinition of memory and identity. Cristiana de Marchi says "The use of words is regulated by the contradictory and conventional reference to a set system of cultural (in the wider sense) rules. Communication somehow eludes these rules. The use of body and the combination of both verbal and non-verbal languages is a main focus of my research. The simple fact of naming objects, of juxtaposing the noun and the material object symbolised by the noun opens to a wider horizon of possible meanings, alluding to further dimensions thus paradoxically enhancing the potentialities of language as if the physical dimension could deepen the linguistic one and could create meaningful mental associations." A writer and a poet, Cristiana shows through her work a deep attention to the power and influence of words, to the role of narratives, to the possibilities of words associations, to meaningful breaks, embracing the very idea that storytelling ultimately needs a gap to originate from.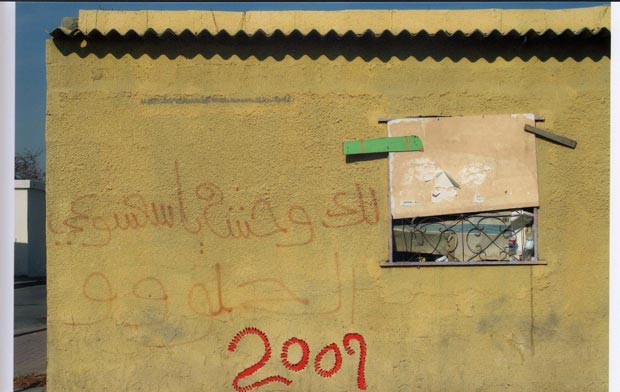 Cristiana de Marchi, Dubai Walls, Embroidery on photographs, 2011 -12, 21x30 cm / Courtesy of Empty10
Cristiana de Marchi explains her work: "Walking in a city is perhaps the best activity to get closer to the city's life. Walls bear messages which nature significantly changes according to the specificities of individual locations: from love messages to political ideologies, from sports affiliations to protesting cries… the list is endless although and obviously proper murals cannot be omitted nor forgotten. I enjoy observing and documenting aspects of the life of individuals I accidentally cross through their writings or drawings on urban walls. Yet this is not enough and I search for an interaction, a personal one, silent and solitary. Walls are the external protection of private spaces, yet they can bear messages that reflect the spirit, the "inner" character of ordinary people. Walls can become the occasion and the surface for communication, an indirect one where the time of writing is not the same one as the time of reading. Like an unattended performance, they bear the energy of action."
Lavanya Mani completed her MFA in creative painting, from The Faculty of Fine Arts, MSU Baroda in 2001. During that time she began incorporating a number of elements and aspects of textile dyeing, printing and embroidery in her work. As she continued working with cloth, she found herself being drawn toward traditional dyeing and printing processes in India (especially kalamkari) maybe because of its similarity to painting. Using a 'traditional'/ 'craft' medium (like kalamkari) as a contemporary art practice necessitated an awareness of its location and context within the larger historical and cultural dynamic. To that effect she has been trying to explore the multi-layered role which dyed and printed textiles have played in the history of colonial trade, the establishment of colonialism and the economics of political dominion and imperialism in India; while simultaneously drawing attention to the historical time when 'high art' and 'craft' became opposing categories that needed to be defined against each other in order to validate their existence.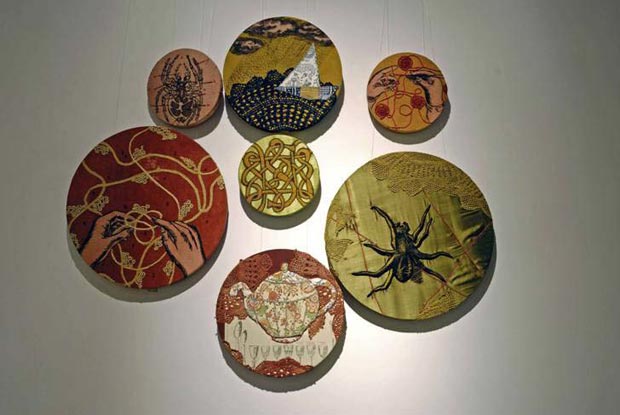 Lavanya Mani, Incy Wincy Spider, Mixed media, 2010, 152x152 cm / Courtesy of Empty10
Intimating her attraction to issues of femininity, Mithu Sen has drawn from living and inanimate objects with both sensitivity and political acumen during the first decade of her artistic career. Born in Bengal and educated at Santiniketan and the Glasgow School of Art, Sen has engaged drawing, sculpture, collage, and installation to flesh out thoughts interlaced with delicate, critical wit.
Parul Thacker's installations play with the idea of surface and depth creating a magical tension between material and form. Translucent monofilament fibers that are twisted, knotted and stitched cradle fiery crystals. The artist uses light much like a draughtsman uses a pen. It defines and articulates her vision and through its manipulation she explores the universe both within and without. "I believe that matter has spirit. I am making the inert material live through my work" Parul says. Her experimentation with materials led to the use of ash, transforming a material evocative of decay and death into brooding energy. From this purifying process emerged new forms. "They remind me of archaeological sites dug deep into the earth and of Indian temples which have a multitude of chambers", the artist explains. Each work has its own aura created by the use of Himalayan crystals, sourced from remote caves, exuding a powerful luster and energy. Trapped in the cellular structure of the installations they are like the soul chaffing to be released from earthly bondage.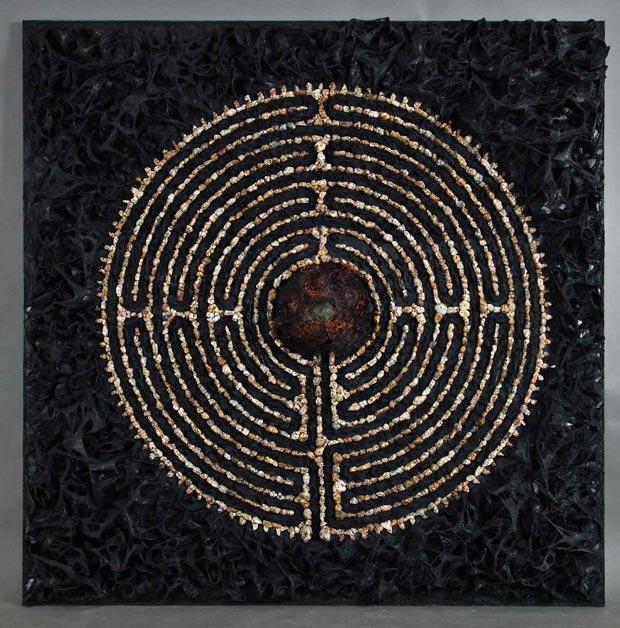 Parul Thacker, The Labyrinth, Bloodstone, pebbles, black pigment and gauze on linen, 2012, 153.5x153.5x18 cm / Courtesy of Empty10
Parul Thacker's wall installations represent a foregrounding of new dialogues between material and process. In her current series, the artist reveals dark color-fields of sculptural and ornamental dimension. Although very densely compiled, surfaces emerge from within the textures holding inherently abstract compositions. Parul uses her study of the art of embroidery, weaving and stitching to achieve a lucidity that is simultaneously uncanny and beautiful. Her myriad materials – gauze, silk and nylon thread, copper wire, tubes of paper and of plastic – are accentuated and secluded with various types of crystals, stones and color pigments. These juxtapositions probe the visible and invisible systems of organic patterns and our material environment; they portray the beauty of coincidental symmetry of nature and technology; and they comment on the filigree compounds of society and subject in our day-to-day world.

Prajakta Palav Aher paints every detail from a multitude of photographic references that she has archived over the years. The candid medium of photography allows her to unpretentiously penetrate the many aspects of middle class life in India, and capture its varied truths. 

Her works in acrylic on canvas depict images from her own background and reflect the insecurities and complexities of middle class life. 

Although the artist's portrayals are realistic, they do not come across as documentaries but instead, allow the viewer to realize the disposition of the situations, and find humour in them.
Shivani Agarwal explaines "Through my art practice I depict the transient nature of things, people, situations and emotions. I have been using the red thread as a metaphor to express the same, which transforms, changes and binds. It takes different forms and entangles and then changes back again. The dichotomy of attachment and separation, bondage and freedom is hence discovered. I use painting and photographic images also positioning and painting them to create an almost surreal situation. I work with multiple images as it helps in expressing change and movement."
Carolin Kropff graduated in Fine Arts at Staatliche Hochschule der Bildenden Künste, Städelschule, Frankfurt am Main, where she studied with Christa Näher (1996-98). She started her graduation programme at Kunstakademie Düsseldorf, Germany, with Karl Kneidl, Beate Schiff, Franz Eggenschwieler and Peter Kastner (1991-95). Her work is based on an understanding of image conception which faces up to today's criticism on representative painting, but which at the same time does not discriminate against art history with its collective memory as outdated. As a consequence, her resulting aesthetic does not necessarily match with contemporary conventions or the zeitgeist.