The honourable work of transcribing the Qur'an has been done through centuries by men and women. One of the less known female scribes lived in the 18th century Sarajevo, in Bosnia and Herzegovina. She signed herself as 'Amina, Mustafa Chelebi's daughter'. Transcribing the Qur'an is the ultimate project for every scribe and calligrapher. There is no doubt that Amina was a good scribe (katiba) and her manuscript has all the elements of the Ottoman classical Mushaf.
This article is a part of the project 'Promotion of the Ottoman Cultural Heritage of Bosnia and Turkey' which is organized by Monolit, Association for Promoting Islamic Arts and supported by the Republic of Turkey (YTB - T.C. BAŞBAKANLIK Yurtdışı Türkler ve Akraba Topluluklar Başkanlığı / Prime Ministry, Presidency for Turks Abroad and Related Communities).
Women Calligraphers
The Ottoman calligraphy is known by male calligraphers, but recent studies, like 'Female Calligraphers Past and Present' by Dr. Hilal Kazan prove that there were numerous female calligraphers in the Ottoman Empire. It is very important to continue research in this field since Muslim women are usually portrayed as passive members of society, which could not be further from the truth.
Calligraphy is one piece in this jigsaw puzzle. The artworks made by respected female calligraphers show that Muslim women were very active members of society. Some of them were even masters of calligraphy like Esma İbret Hanim, Zahide Selma Hanim, Şerife Ayşe Hanim, Selfinaz Hanim, Feride Hanim Kastamonulu, Nikah Hanim, Şerife Fatma Mevhibe Hanim and Emine Servet Hanim. They learned calligraphy from renowned calligraphers and produced remarkable masterpieces. Their skills and mastery are beautifully described in the next verses:

Amina, Mustafa Chelebi's Daughter
Bosnian women were also the subject of the stereotype shaped by orientalists, that they were inferior and subordinated to men. The historical sources dispute that notion and shows that many woman were economically independent, influential and respectable citizens. Sarajevo is a great example, as numerous buildings were built by women. Historical records confirm that in 16th century Sarajevo had three city mahalas (or neighbourhood districts) bearing the names of three women: Kerima, the wife of Sinan-Vojvoda; Šahdidar, the wife of Gazi-Husrev Beg and Dudi Hatun.
In the Ottoman Bosnia all children attended maktab, where they learned about Islam and Arabic alphabet. Male children continued education in madrasas while female children continued their education in a family home. For example, in the 17th century Bosnian endowment document nobleman Mehmed Chauş stated that he gives extra money to professors for female children. Besides running the household, women were engaged in creative sewing, embroidery, weaving and writing. One of the proofs is mushaf, dated in 1764, that was transcribed by Amina. This 18th century Qur'an (Sign: R-6938) is held in the Gazi Husrev Beg Library in Sarajevo and is one of many interesting manuscripts from its holdings. Gazi Husrev Beg Library's collection is considered to be among top five European collections of Arabic manuscripts. The collection has over 10.000 manuscripts and around 20.000 works in different sciences.
The size of the manuscript is 210 mm high and 150 mm wide and it contains 250 folios. It was written in Naskh script. The first two pages have six rows whereas the rest of the Qur'an has thirteen. For the most of the text Amina used black ink with exception of the Surah's names and special reading signs written in red ink. Two pages at the beginning are gilded, but the rest of the mushaf has no illumination. Due to the fact that this is the manuscript from the 18th century it has no page numbers. It was a custom at that time to have catchwords instead of numeration. The first word (catchword) of the next page was placed at the bottom of each page. That way the catchwords actually served to connect the manuscript so that no pages could be lost.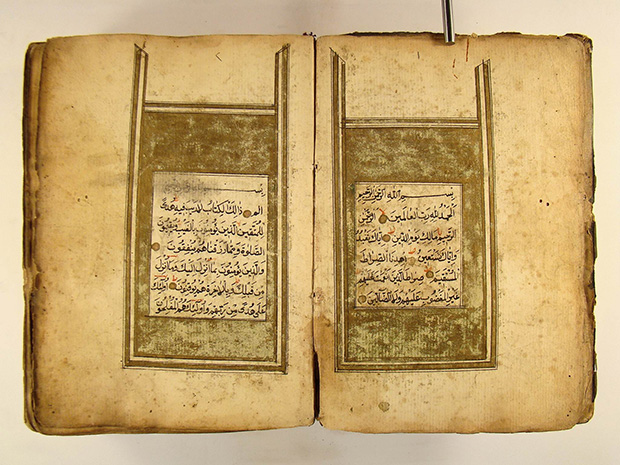 Qur'an, transcribed by Amina, Mustafa Chelebi's daughter, 18th century, first two pages / Courtesy of Gazi Husrev Beg Library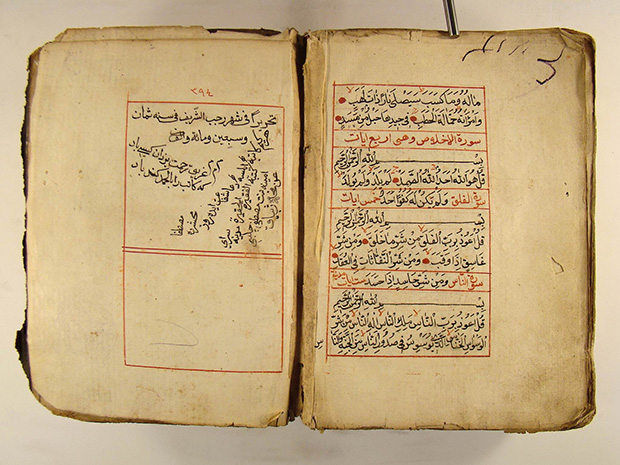 Qur'an, transcribed by Amina, Mustafa Chelebi's daughter, 18th century, inside pages / Courtesy of Gazi Husrev Beg Library
Amina most probably learned Arabic letters in maktab. Her father's title 'Chelebi' means that he was a gentleman and respected citizen of Sarajevo. He had means to provide for a private schooling for his daughter but it is more likely that Amina was taught by her father at home. A codicological analysis of the mushaf shows that she knew well naskh calligraphy style and also knew rules for coping the Qur'an, like signs above ayahs, signs after ayahs and signs for reading rules. The distribution between rows points that Amina used a scribe's ruler. Her copy would certainly be more aesthetically valuable if she emphasized a distinction between thick and thin lines. It is the only manuscript attributed to Amina but its analysis indicates that it is possible she transcribed more than one.
Everything we know about Amina is placed in the colophon, the last page in the manuscript. Besides her and her father's name she says that mushaf was finished in Sarajevo, in the neighbourhood of Zabljak. This neighbourhood does not exist anymore, today on that location stands the BBI Mall. The English translation of the colophon follows:

The Qur'an transcribed by Amina could be viewed as a contribution to the history of Muslim women in global and Bosnian women's everyday life as well. The future research will certainly show that Amina, Mustafa Chelebi's Daughter was not only woman scribe in the Ottoman Bosnia.