The inaugural event of
'21, 39' Jeddah Arts
will present a comprised programme of exhibitions, educational workshops, artist studio visits, gallery openings and talks, highlighting the narrative of art in Saudi Arabia. The '21, 39' programme introduces a number of Saudi artists in two key group exhibitions celebrating the modern and contemporary schools of art practice in the Kingdom, curated by Hamza Serafi.
'Moallaqat' exhibition focuses on Saudi contemporary art, featuring emerging and established artists. It showcases a selection of works by Manal Aldowayan, Dania Al-Saleh, Nasser Al-Salem, Jowhara Al-Saud, Abdulaziz Ashour, Ayman Yossri Daydban, Mohammed Khatib, Maha Malluh, Ahmed Mater, Faisal Samra, Saddek Wasil. The works in this exhibition, cover the abstract to the literal, and present a unique perspective and practice by each artist, resulting in an anthology of interpretations and associations to the time and term of 'Moallaqat'.
"This exhibition demonstrates that whilst the world has changed dramatically since the time of the Moallaqat, there is nevertheless a way of life, modes of thought, and cultural foundations that have survived and that have been passed down from generation to generation along with the legend," says Aya Alireza, Co-Curator for the exhibition.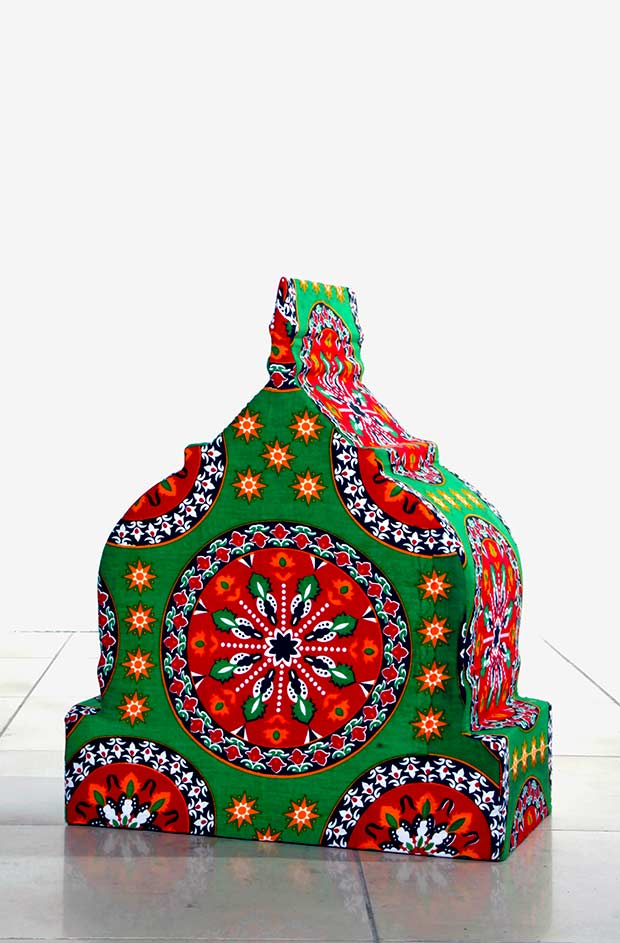 Musaed Al-Hulis / Holy-wood, 2014, Foam upholstered in fabric installation, various sizes / Courtesy of the Artist
'Past is Prologue' ('Al-Madi Kamukkadima') recognises the founders of the Saudi art movement and highlight the precedent of the current scene. 24 works of Saudi Modern artists including: Abdulhamid Al‐Baghshi, Kamal Al‐Moallem, Abduljabbar AlYahya, Safeya Binzagr, Abdulhalim Radwi, amongst others, collectively exhibit a glimpse into the history of 20th century art in the Kingdom, providing an unseen plight artists have been through since the 1950s, towards the level of recognition and appreciation achieved to date.
"The time has come to dig deeper into the foundations and to question 'when and how did all this start?', for nothing comes from nothing," says Co-Curator Raneem Farsi. "Past is Prologue is a tribute to the kingdom's first generations' artists, who are the trailblazers and foundation-builders."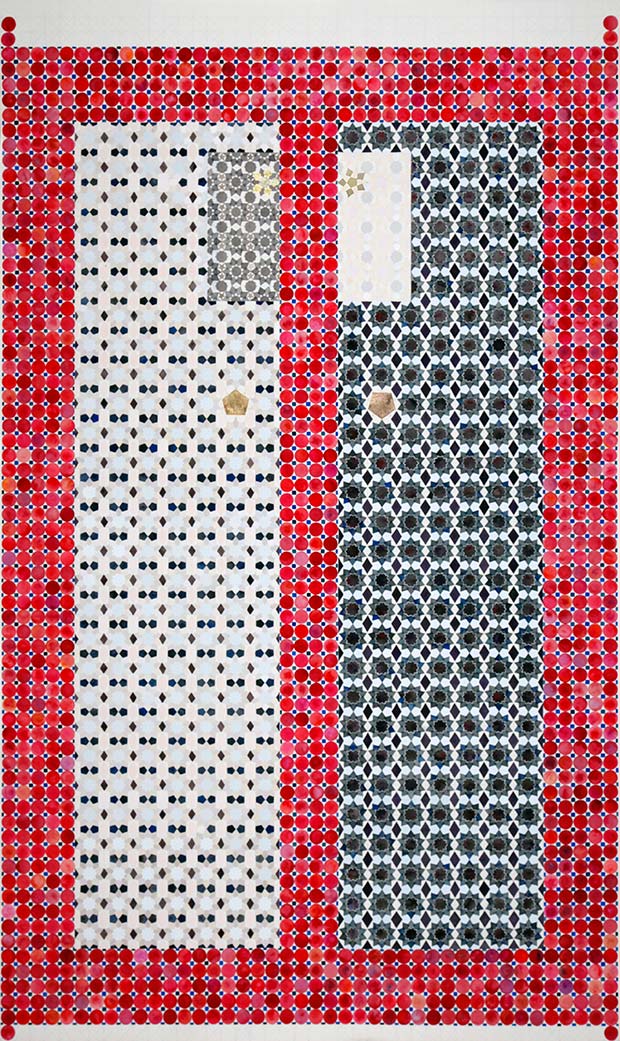 Dania Al-Saleh / Ahwak, 2014. Watercolour gouache pencil and genuine 22 karat gold leaf on paper, 240x150 cm / Courtesy of the Artist
'21,39' presents, in conjunction with these exhibitions, a specially curated retrospect of pioneer female artist, Safeya Binzagr. A symposium held on February 6, 2014 presents a day of talks covering several topics about art in the local, regional and global context, and the role of Saudi art as a major player in the art world. Guest speakers will include artist Ahmed Mater; Saleh Barakat, gallery owner of
Agial Gallery in Beirut; Myrna Ayad, Editor-in-chief of Canvas Magazine; Chris Dercon, Director of Tate Modern Museum in London; Hoor Al Qassimi, President of the Sharjah Art Foundation; amongst others.
A series of education events, within the larger '21, 39' programme, include workshops for adults and children, guided tours, as well as a programme for reviving Al Balad, the historical area of the city; which includes displaying public sculptures and working with local graffiti artists to spread awareness and knowledge of this art form, and the difference between graffiti and vandalising. This aspect of the programming also focuses on activities and art events tailored for the public, and will take place the following week after the inaugural opening, ongoing for two months. The program will include special training sessions for artists by experts in their fields, workshops by artists for the public, daily guided tours for public and private schools for the duration of the exhibitions, and art talks and discussions by prominent experts in cultural educational sectors.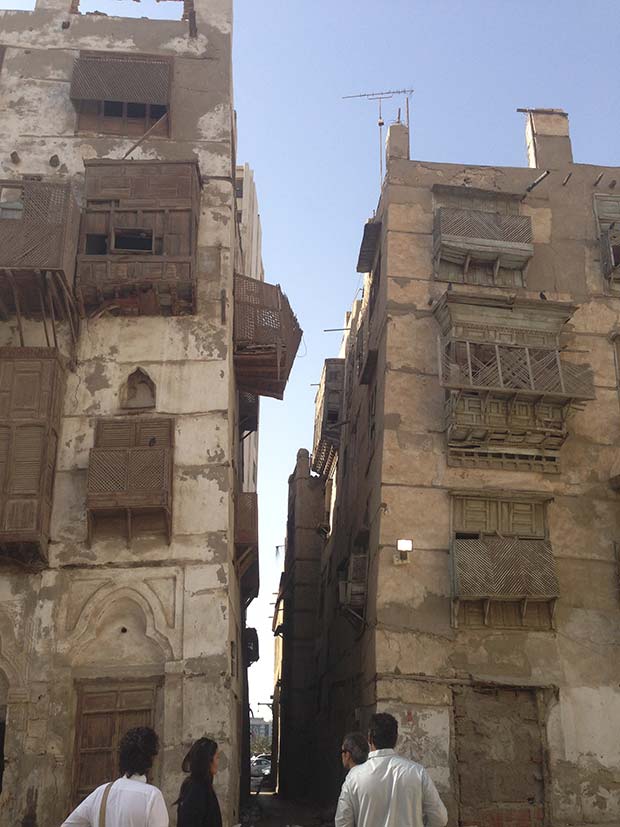 Al Balad District / Courtesy of '21, 39'
'21, 39' Jeddah Arts is an annual event held in Jeddah presenting the narrative of art throughout the Kingdom of Saudi Arabia. The debut edition highlights the history of the Kingdom's modern and contemporary movements while encouraging further public, private and institutional support, and the support of the arts and Saudi artists through a curated and diverse programme and cross-cultural understanding. Taking its title from the city's geographical coordinates, this event offers an exclusive programme of exhibitions, educational workshops, seminars and a unique restoration programme. '21, 39' is chaired by HRH Princess Jawaher bint Majed Al-Saud and organised by the Saudi Art Council, under the guidance of Aya Alireza, Sara Alireza, Sharifa AlSudairy, Nawwaf AlNassar, Basma AlSulaiman, Abdullah AlTurki, Nadia AlZuhair, Sara Binladen, Eissa Bougary, Raneem Farsi, Mohammed Hafiz, Hamza Serafi, Hayat Shobokshi and Faisal Tamer.
Opening Events - February 4-8, 2014 / Exhibitions and education program will run until April 4, 2014.