The Third Line, November 10 – January 12, 2011 / Through this haunting yet moving photography exhibition inspired by the city of Karachi, Pakistani photographer Izdeyar Setna reveals the stories he encountered through his lens.
Photo above: Izdeyar Setna / In the moment, 2011, Digital print on Arches, Aquarelle, Rag paper, 75.5x50.5cm, Coutesy of The Third Line
The city of Karachi has experienced a passage of unfortunate events in its recent history. With its streets becoming a virtual war zone and political parties locked in a pitched battle for turf, Izdeyar Setna has observed these moments and through these true-git, real life images presents an exhibition of raw emotion masked in his unique visual representation.
His work explores the imprint of the city's descent into anarchy on the collective psyche of its inhabitants who live through what Setna says is, "a near-daily drama of demise and destruction, together with a heavy assortment of defenselessness, despondency, disarray and defiance."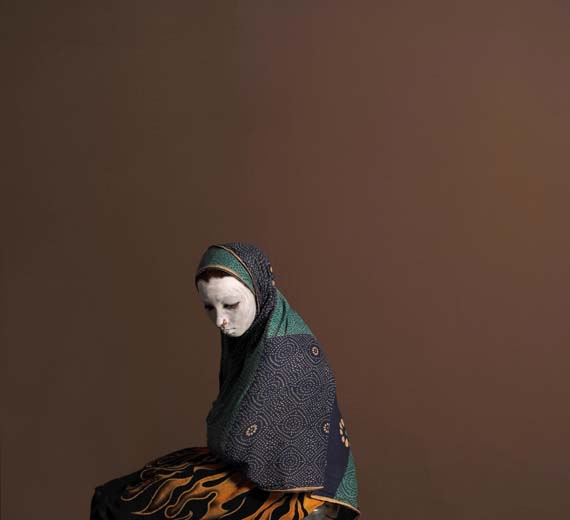 Izdeyar Setna / Looking down, 2011, Digital print on Arches, Aquarelle, Rag paper, 55.5x50.5cm, Coutesy of The Third Line
Taking a different approach to traditional portraiture, Setna decided to strip each photograph of its necessary associations of a backdrop, lighting, and physiognomy - and attempts to capture the inner self of his subjects by focusing solely on capturing their emotions. He neutralized the setting to allow for these emotions to become the focus of the picture and does so by painting the subject's face in monochrome and reducing their surroundings to a neutral background. Simply selecting black and white paint, he unifies the different subjects depicted, promoting a collective vision. With black being the sum of all colors, and white the absence of them all; the choice of monochrome symbolizes the multitude of emotions humans experience during turbulent times while at the same time feeling void.
These images depict scenes of humanity; some are torn photographs which have then been rejoined, their serrated seams outline remnants of human emotion as the constant struggle to survive continues.
Disconnected presents images of individuals whose names, age, occupation and goal in life are unknown to the viewer, yet they share a perceived narrative, one of emotion and tragedy. The photographs capture an inner despair which still manages to permeate through the negatives and into reality.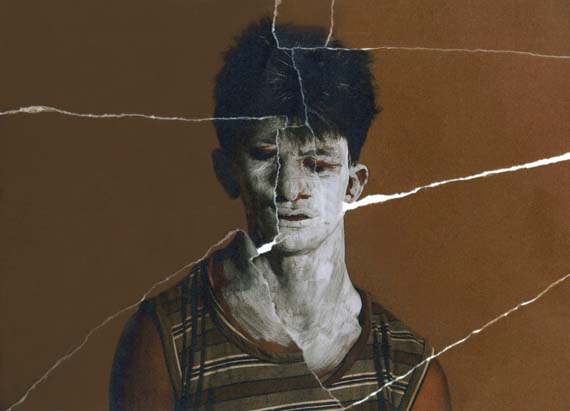 Izdeyar Setna / Put together, 2011, Digital print on Arches, Aquarelle, Rag paper, 75.5x50.5cm, Coutesy of The Third Line
About Izdeyar Setna
Setna received his diploma in photography at the New England School of Photography and completed his Bachelor of Fine Arts degree in photography at Parsons School of Design, New York. He has participated in a number of group shows internationally, receiving awards for his work. He won in the American Society of Media Photography (ASMP) student competition (2003) and also received their Judges Choice Award; BBC News selected his photograph to be part of their fifteen best images of 2004, and was selected to be a part of the Art of Photography Show, San Diego, USA (2010) and exhibited at the Lyceum Theatre Gallery there. Setna's work has also represented Pakistan at Chobi Mela (the International Festival of Photography), part of the International Festival of Photography in Bangladesh. Currently his photographs are to be included in the 2011 edition of 'Identities Now' – a collection of contemporary portrait photography selected from across the globe.
About Projects at The Third Line
The Third Line introduced a new initiative to its programming with the launch of a projects space in May 2010. This new viewing section is in addition to the existing main space of the gallery and dedicated to exhibiting works by upcoming and emerging artists, without or limited representation. Projects – named so based on the principal usage and reason for the area, will hold separate exhibitions and smaller individual artist based ventures on the upper level of the gallery. Continuing with its aim to promote Middle Eastern contemporary art and artists in and from the region, Projects was established to recognize the growth of local talent within the United Arab Emirates and identified the need for an outlet; to increase awareness and visibility for, from and to the growing art audience.
About The Third Line
The Third Line is an art gallery that represents contemporary Middle Eastern artists locally, regionally and internationally in Dubai, UAE. The gallery organises non-profit, alternative programs including Kutub, a bi-lingual Arab literature appreciation circle and documentary and feature film screenings. The Third Line's publishing sector, Works on Paper, publishes books by associated artists from the region. Books published include Presence by Emirati photographer Lamya Gargash, In Absentia by Palestinian-Kuwaiti Tarek Al-Ghoussein, and most recently Cosmic Geometry by Iranian artist Monir Shahroudy Farmanfarmaian, edited by Hans Ulrich Obrist and Karen Marta.
Represented artists include: Abbas Akhavan, Ala Ebtekar, Amir H. Fallah, Arwa Abouon, Babak Golkar, Ebtisam Abdulaziz, Farhad Moshiri, Fouad Elkoury, Golnaz Fathi, Hassan Hajjaj, Hayv Kahraman, Huda Lutfi, Joana Hadjithomas & Khalil Joreige, Lamya Gargash, Laleh Khorramian, Monir Shahroudy Farmanfarmaian, Pouran Jinchi, Rana Begum, Shezad Dawood, Shirin Aliabadi, Slavs and Tatars, Susan Hefuna, Tarek Al-Ghoussein and Youssef Nabil.