Rose Issa is a global reference when it comes to contemporary art and artists from Iran and the Arab world. Having lived in Iran, Lebanon, and France, she established Rose Issa Projects in London some twenty years ago and was the first to bring contemporary Middle Eastern film and art to the attention of the European art world and public. With the ever-growing interest in contemporary art produced by artists originally hailing from the Middle East, she has been much sought after in the last decade as a guest curator, art expert, and advisor, not only in Europe, but also in the United States and the Arab world.
Omar Mazhar and Rose Issa / Art Dubai 2011 / Portrait by Sueraya Shaheen / © Copyright of the artist and Rose Issa Projects
There is now a tremendous interest in contemporary art from the Muslim world and diaspora. However, you are one of the pioneers as you have been working tirelessly for the last 30 years to introduce both art and film from the Middle East to a European audience. Could you say a few words about how you got started?
It all started in 1982, with the invasion of Lebanon by Israel. I happened to be in Paris, unable to return to Beirut, so I decided to launch a film festival to represent occupation, and the struggle of liberation from all around the Arab world. Most Arab embassies supported the project, so we hired a cinema and brought the film. That was a very successful event that showed that there was a need for cultural representation in the West. Our leaders did not represent us, but our artists did. Cannes film festival approached me, and a few years later, I was invited by Dr Mohamad Makiyya, an Iraqi architect, to come to London and launch the Kufa gallery in 1986, the first venue in London to promote art from the Middle East.
Do you think that the arena of art can serve or help serve to humanize the Middle Eastern or Muslim 'other' that is continually rehashed in western media? Is this part of the drive –over and beyond the quality of the art– underwriting the many international exhibits you have curated over the years, as well as the books you have written?
Most of all I wanted Arabs or Iranians to represent themselves, rather than catering to other organisers' agendas, from orientalism to "peace" projects and collaboration with regimes -such as Israel- very few, if any, wanted to collaborate with. We have to defend our own aesthetics, concerns, and give the opportunity to the artists of our region to project in the best way possible, their own vision.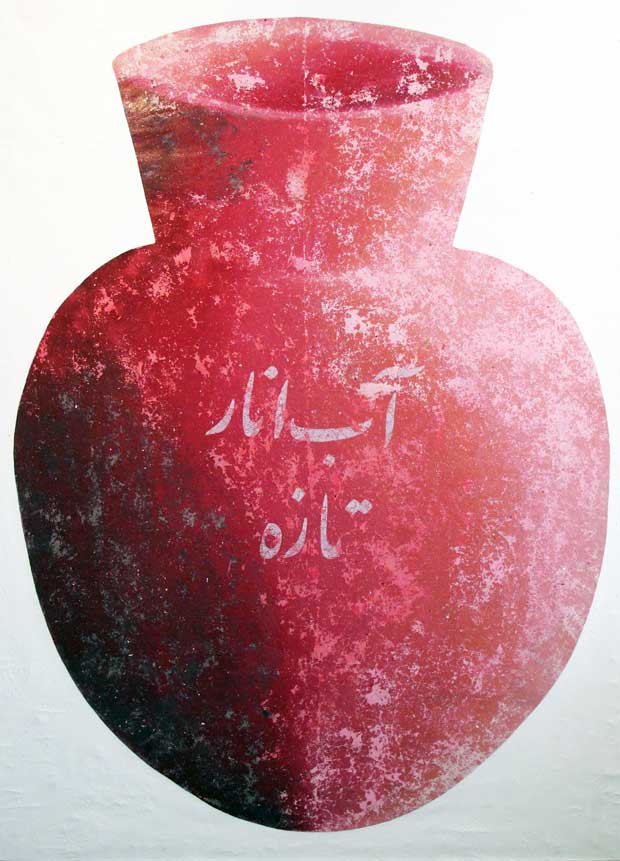 Farhad Moshiri / Ab Anar Tazeh (Fresh Pomergranate Juice), Mixed media on canvas, 170x260 cm, 2002 / © Copyright of the artist and Rose Issa Projects
I think that part of the important relationships that will in the long run enable change are the human person-to-person ones. The relationship between an artist and dealer or curator as well as the one between an artist and collector can as you know be strong, deep, and intense. Have you seen many instances where such relationships have shifted things even if only on a micro-level?
I have always tried to introduce artists to their collectors. However, I think an artist has a vision, a direction, that has nothing to do with curators and collectors… it may be a tiny discovery, but that discovery evolves, and we see variations on the same take, approach, angle. We discover a door and a new vision. A curator or collector can help the promotional aspect of an artist's career, and sometime even find a better way to present his creative vision, but the idea is solely that of the artist. They are affinities of course between artists and curators, sometimes long term friendship and exchanges; otherwise both will be wasting their time.
You represent a large number of artists whose work is very diverse in terms of subject matter, medium, approach, and so on. Many factors account for why and how we think an artist is important. Can you put words on how and why you choose the artists that you decide to work with?
It has to do with the joy of discovering a new vision, and wanting to share it with others. It is quite magical how suddenly you are attracted to a work, whatever it may be, film, painting, drawing, sculpture, photography; you discover something that you have never seen or felt before. And it gives you energy, an energy you want to share with people, be it through collectors, institutions, or the general public. Of course, it means it is original, unique, and for me also beautiful. I like positivity even when the work expresses something sad or tragic. In short to sum up, it comes down to quality, beauty, positivity and generosity.
Monir Farmanfarmaian / Installation of seven elements (Detail), Mirror, mosaic and reverse glass painting, 200x500cm, 2004 / © Copyright of the artist and Rose Issa Projects
If many associate you with contemporary Iranian photography, some of your artists work in more traditional media, including the often neglected medium of drawing and painting. I was really struck by Walid Siti's works on paper that are both minimalist and poetic
I was always attracted to drawings: the lines, the simplicity and modesty of some drawings which are nevertheless so powerful….
Yes, Siti's drawings are indeed powerful. So are the paintings of Ayman Baalbaki depicting the ruins of war in Lebanon, especially as the neo-expressionist style really conveys the idea of destruction.
Ah, what wonderful brush strokes; again it is about the beauty of destruction and the power of art.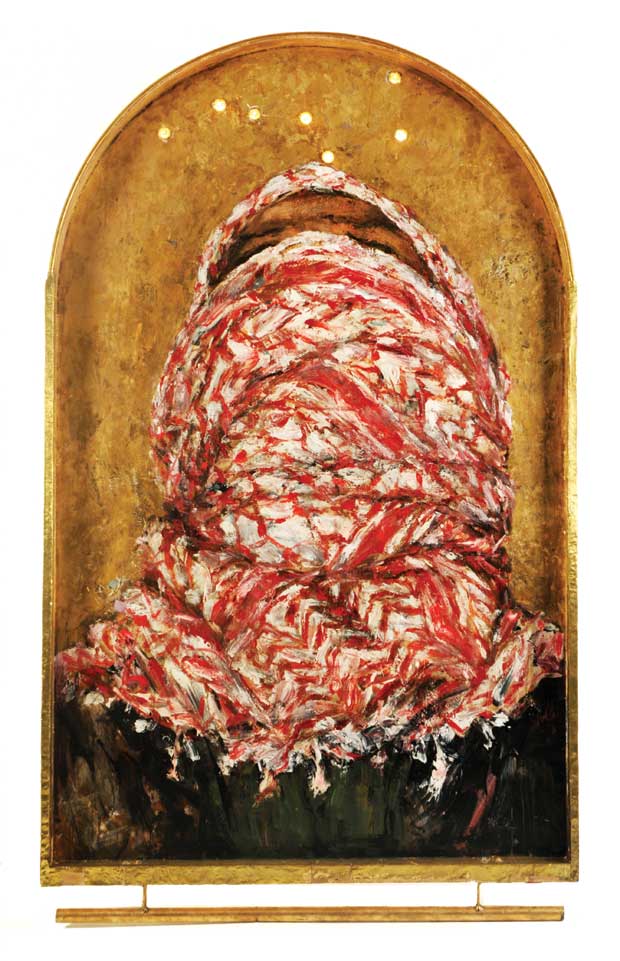 Ayman Baalbaki / 'Ya-Illahi' (GOD!), Acrylic on panel with brass, steel, gold leaf and light bubles, 210x127x8 cm, 2008 / © Copyright of the artist and Rose Issa Projects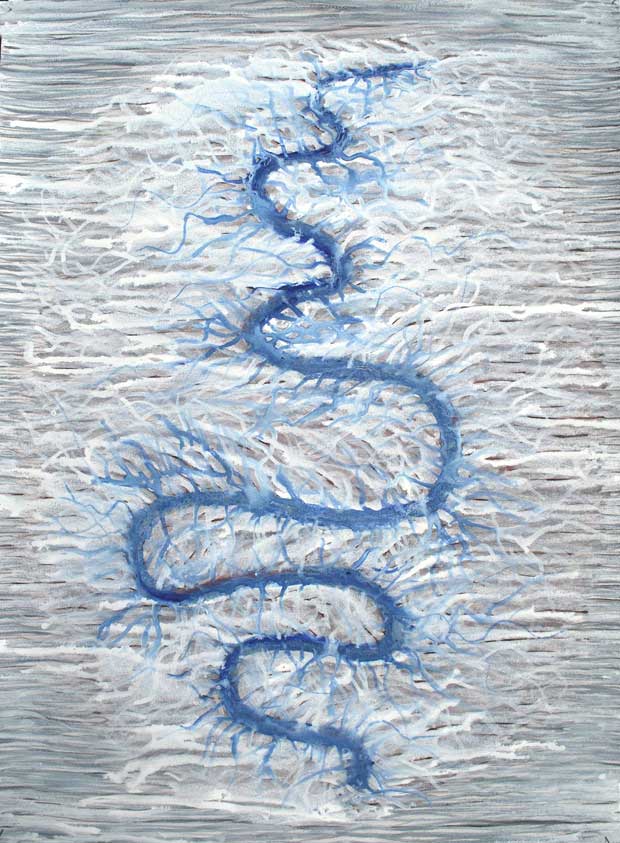 Walid Siti / From the series 'The River Ze', Acrylic and crayon on paper, 74x52cm, 2011 / © Copyright of the artist and Rose Issa Projects
Many artists from the Middle East continue to work within idioms that are culturally rooted - as they do also in the West but no one remarks upon it. However, the 'relevance' of visual modes related to the Muslim world is often debated. And yet, only those who claim the sole viewing position as Western could claim that say Monir Shahroudy Farmanfarmaian, Mohamed Ehsai, or Rachid Koraichi, are irrelevant or backward looking.
Leave them drawn into their tight view of the world. People who see limitations in others, usually have a lot of limitations in themselves, preconceived wrong ideas, and often no ideas whatsoever. They are trying desperately to be trendy, and what they are in fact are modern versions of limited sad academism.
Calligraphy has always possessed an important iconic function in the Muslim world, including in Middle Eastern modern art, for example in the work of Fathi Hassan or Mohamed Ehsai mentioned above.
The aesthetic and the morphology of the Arabic or Persian letters are so beautiful that many artists, from both East and West are attracted to them, and use calligraphy as an element to express either an idea or just bring beauty to the work. Lettrism in Europe in the 50s and 60s, all the neon works of contemporary artist Tracey Emin or the many artists who use words to make artworks are all part of this trend.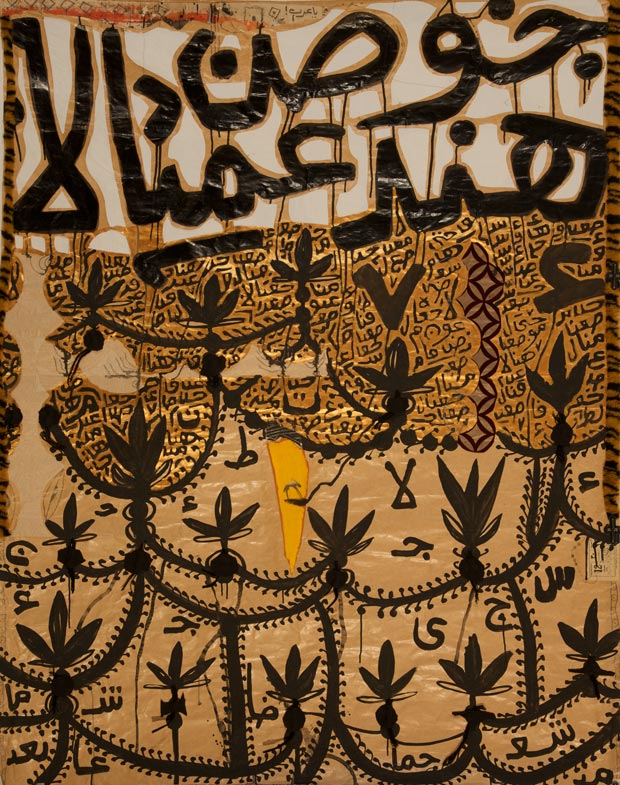 Fathi Hassan / Life, Mixed media on paper, 200x150cm, 2009 / © Copyright of the artist and Rose Issa Projects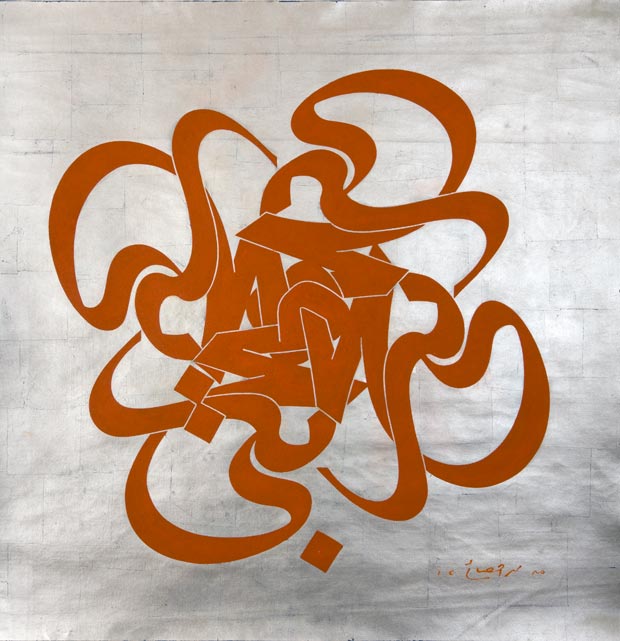 Mohammed Ehsai / 'Mohebbat', Oil on canvas, 130x130cm, 2006 / © Copyright of the artist and Rose Issa Projects
I have noticed that a few of your artists such as Rachid Koraïchi and Ahmed Moustafa continue to work within the spiritual, often sufi, parameters or modes that equally underwrite historical Islamic art. Do you see artists from the new generation who continue to be inspired by the mystical traditions of Islam and Islamic art?
Always. Shirazeh Houshiary in London who for the last thirty years has been attracted to and inspired by Rumi and Hallaj. Y.Z. Kami in New York, is also inspired by Rumi who is a kind of best seller there in USA. We all need some spiritual energy in order to function, and poetry to inspire us in life as in art.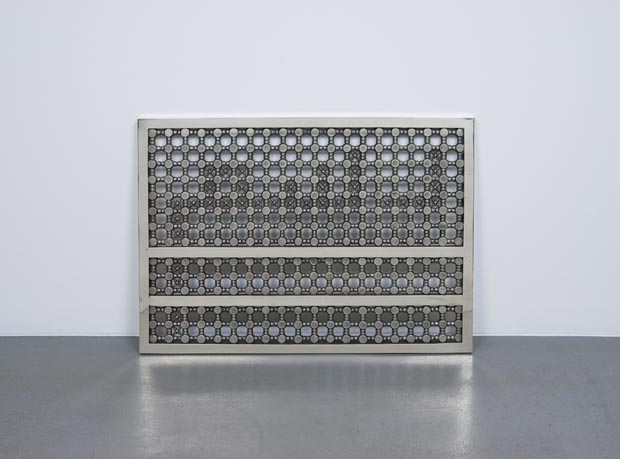 Susan Hefuna / 'Drawing', Cast bronze silver, 50x70x4 cm, 2009 / © Copyright of the artist and Rose Issa Projects
That's right. You have artists who show that the Muslim world is in fact multidenominational, like the Nabil Boutros' photographic series on Coptic Egypt, and also European artists like Graham Day inspired by Attar's mystical texts and Islamic miniatures. This is great as it blurs the boundaries set up between East and West.
Of course, and the dialogue will go on forever between East and West, and intelligent and talented people, for they all need inspiration, from old and contemporary poets, mystics, writers, or painters. Day worked for several years on Attar and Rumi… and now is going further East for inspiration.
A lot of artists seek to set the record straight, meaning they want to contest, through their art, western stereotypes of the Middle East. They have devised many unique ways of doing so.
Yes indeed, but they are all less interested in religion than in perception - the deforming of ideas- and correction. They are interested in the personal which can be universal. Ghettos are for those who like to be imprisoned or to imprison. There is a sense of protest in many good works, against what is unjust, wrong, and misconceived.
A lot of younger artists like Shadi Ghadirian, Arwa Abouon, and Hassah Hajjaj, use humour to speak back. There is power in laughter.
Of course humour is very powerful as their works prove.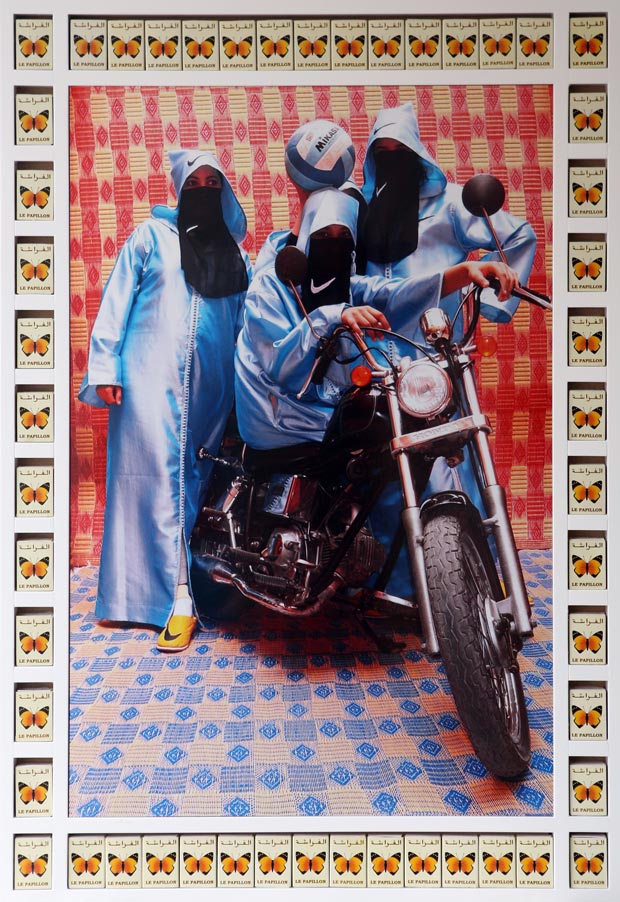 Hassan Hajjaj / Nikee Rider, Edition of 10, Metallic Lambda Print, Wooden frame, Frame with papillon maches packaging 89.7x62cm, 2007 / © Copyright of the artist and Rose Issa Projects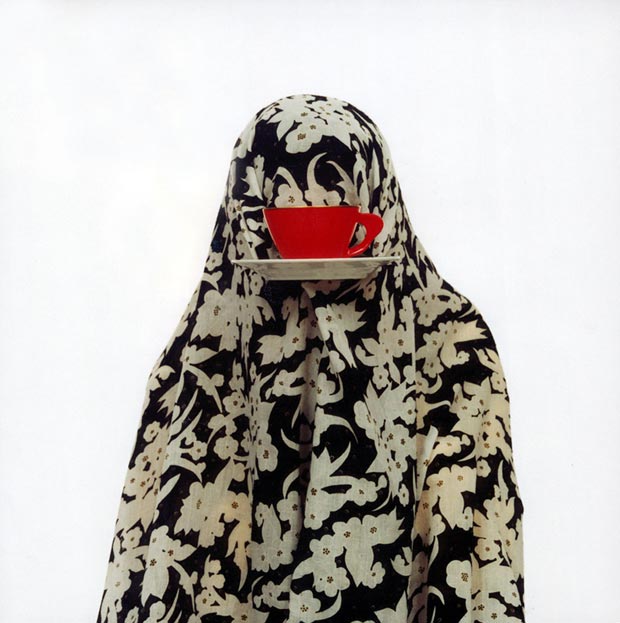 Shadi Ghadirian / 'Like everyday 1', C-PRINT, 50x50 cm, 2001-02 / © Copyright of the artist and Rose Issa Projects
Although I have many other questions regarding the artists you represent but I want to bring the conversation back to you. What can we the public look forward to in terms of exhibits and publications?
More exhibitions and more publications! We all want new visions, a better outlook, a better future and so the works we intend to select and show should make our life more beautiful.
Well, we can only look forward to art encouraging a better future and more beauty. I want to thank you for the interview but also, and much more significantly, for all the work you have done and for bringing to it such tremendous energy, vision, and dedication. Thanks so much.
Thank you. We all need people who give their moral and intellectual support to artists.