From Fatima Zehra Hanim's works that have come down to us, it can be safely said that her hand was strong, and her calligraphy was beautiful and smooth.
This article is a part of the project 'Promotion of the Ottoman Cultural Heritage of Bosnia and Turkey' which is organized by Monolit, Association for Promoting Islamic Arts and supported by the Republic of Turkey (YTB - T.C. BAŞBAKANLIK Yurtdışı Türkler ve Akraba Topluluklar Başkanlığı / Prime Ministry, Presidency for Turks Abroad and Related Communities).
It has been conventional that very few information about women in general, and particularly about those who were occupied with learning, science and the arts, has come down to us. When one wants to write a woman's biography, it is difficult to reach information even with a few sentences. It is, however, occasionally possible to come across unexpectedly some anecdotes and documents in various places and times. This work, which had waited to be completed for a long time for another aim and topic, now takes a different path thanks to the invaluable information that has been recently acquired.
While the Ottoman Empire changed its rubric swiftly over the nineteenth century, which brought about novelties in many fields including administration, education, and health, social life, and women's participation in it started to be more extrovert. As a consequence, the number of women calligraphers who lived during the nineteenth century increased compared to the previous centuries. Among those who flourished in this century was Sharifah Fatima Zehra Hanim. She was a grandchild of Osman Uveysi, an Ottoman shaykh who had the privilege of preserving the mantle that was given by Prophet Muhammad to Veysel Karani as a gift, which had been in Istanbul since the seventieth century.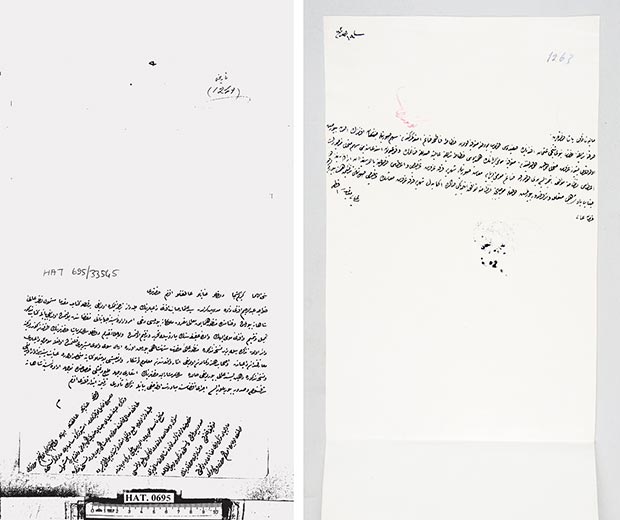 L. Archival document about Sharifa Fatima Hanim / R. Archival documents hand writing of Fatima Hanim / Courtesy of Dr Hilal Kazan
The full name of this venerable person was Seyyid Osman Uveysi b. Seyyid Mehmed Said b. Osman. He was a descendant of a brother of Veysel Karani. He served as an imam in Fatih, and Nishanci Mehmed Pasha Mosques. During that time, he also studied ta'liq script with Dede-zade Seyyid Mehmed Efendi (d. 4 Jumada al-awwal 1173/ 24 December 1759), a leading calligrapher of the time, finally receiving an ijaza from him. Aside from his duty as an imam, he gave an opportunity to people who wanted to visit the Prophet's mantle that he preserved, by residing in a close place to his mosque. It was Osman Efendi who wrote the restoration inscription of the Nishanci Mosque beautifully in taliq script. This mosque, in which Osman Efendi served as an imam for many years, had been damaged due to the big earthquake that happened in Istanbul in 1766.
According to the documents, Sharifah Fatima Zehra Hanim was a grandchild of Osman Uveysi's daughter. Her father was more likely to be Zihni-zade Ibrahim Edhem Efendi, a mudarris (d.1213/1798). If this information is correct, it can be said that Sharifah Fatima Zehra Hanim was born in 1790s. In addition, one can find the graves of shaykhs of Hirka-i Sharifah, and of their descendants in the hazire in which descendants of Hz. Abu Bakr and Hz. Umar were buried. Among those was a certain Sharifah Fatima Zehra Hanim, who passed away in 1253/1838, and whose father was Kulahizade Tahir Efendi. However, her death date given in the gravestone is almost ten years earlier than the one mentioned, which is 1263/1847, in the following document. This raises doubts as to whether the gravestone really belongs to Sharifah Fatima Hanim.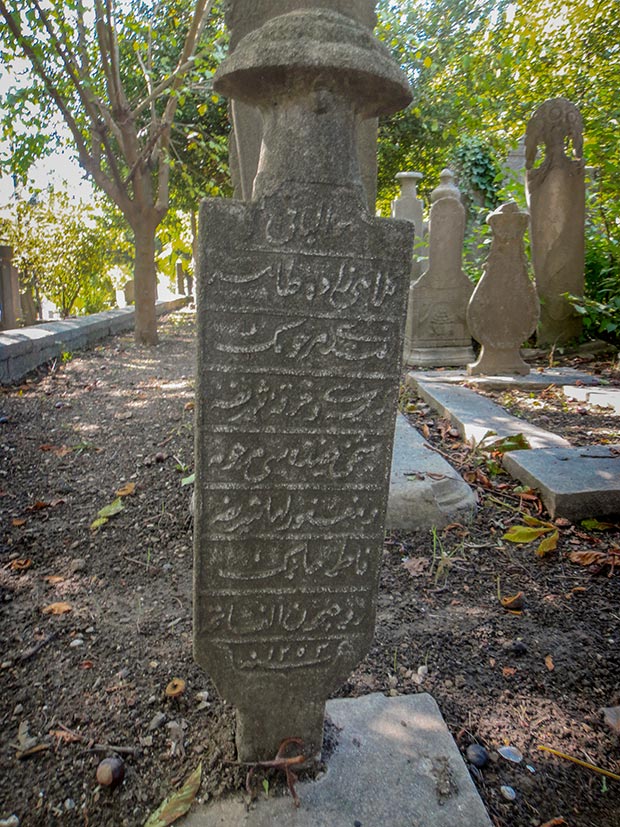 Probably tomstone of Sharifa Fatima Hanim / Courtesy of Dr Hilal Kazan
In 1216/1801-02, Sharifah Fatima Zehra Hanim was married to Muglali Hoca Abdurrahim Efendi, who had become a teacher in the Ottoman palace after passing the exam with the first rank. Osman Saib Efendi (d. 1280/1864), a chief astrologer in the Ottoman court, was born as a result of this marriage. He was educated in medicine, astronomy, the rational sciences, philosophy, mathematics, and the religious sciences. Moreover, he was fluent in such popular languages of his time as Arabic, Persian, and French. After serving as a first teacher in the Ottoman medical school (tıbbiye), Osman Saib Efendi was appointed as the chief astrologer at the Ottoman court. Additionally, after the death of his maternal uncle Seyyid Mehmed Said Efendi (d. 1272), who held the position of shaykh of Hirka-i Sharifeah after Osman Saib's grandfather, Osman Saib fulfilled a spiritual duty as deputy shaykh. He both compiled works and made translations from French, one of which was copied by Fatima Zehra Hanim on 29 Dhu al-Hijjah 1249/9 May 1834, and dedicated to the Sultan for his permission to print it.
Some time after their marriage, Sharifah Fatima Zehra Hanim's husband, Hoca Abdurrahim Efendi, a teacher (dersiam) in the Fatih Mosque at the time, left behind his home and family, secluding himself in Kurshunlu Madrasa, one of the Fatih madrasas. He stayed there until his death on 15 Dhu al-Hijjah 1252/23 March 1837. He used to pray in the Fatih Mosque in congregation. He did not use to speak of worldly goods, except for meeting his needs, He used to spend almost all his time in his room without contacting any person. One day, it was noticed that he didn't exit his room. Upon that, the door was opened, and he was found dead.
From this information, having served the Hirka-i Sharifah with his sister Sharifah Aishah Sidika, who was also a calligrapher, Sharifah Fatima Zehra Hanim raised her son alone in a difficult situation. Meanwhile, she probably earned some money by preparing calligraphic panels, as well as by copying books such as Diwan-i Ali, which was translated into Turkish by Abdullah Salahaddin-i Ushshaaqii. However, according to a document in the Prime Minister's Ottoman Archives, her income should have been inadequate that the state assigned her a salary with 500 kurush from the inheritance of his grandfather, Shaikh Osman Uveys Hazretleri. According to a document belonging to her sister, Sharifah Fatima Hanim seems to have died in the first half of 1263/1847.
It is not known with which calligrapher Sharifah Fatima Zehra Hanım studied ta'lik script. Nevertheless, considering the fact that her sister Aishah Sidika Hanim received an ijaza in taliq script in 1227/1813 from Shaikhulislam Zeynelabidin Efendi (1167/1749-1239/1823), a grandchild of Kucuk Chalabizade Shaikhulislam Mustafa Asim Efendi, it is likely that Sharifah Fatima Zehra Hanim also studied with the same calligrapher.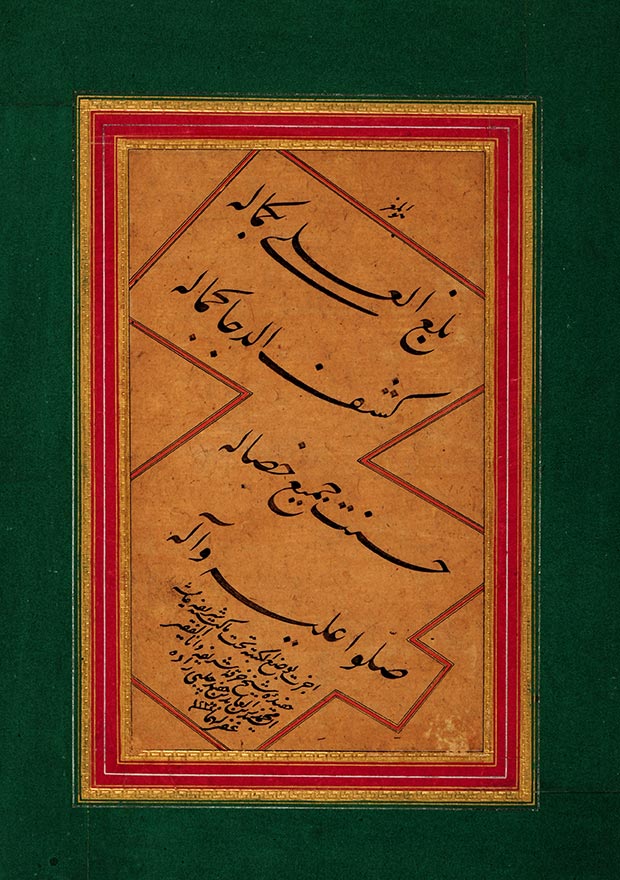 Ijazet of Aisha Sidika Hanim / Courtesy of Dr Hilal Kazan
Among Sharifah Fatima Zehra Hanım's works that have come down to us, are as follows: 1) A Hilye-yi Sharifah panel that was prepared in 1234/1818-19 in a diamond shape, which I have come across in an auction catalog; 2) A copy of the translation of Diwan Ali made by Abdullah Salahaddin-i Ushshaqi which is currently located in Istanbul University Library (no. T936). Sharifah Fatima Zehra Hanim copied it in 1251/1836. Additionally, according to a document dated as 29 Zilhicce 1249/9 Mayıs 1834 in the Prime Minister's Ottoman Archives, she was the copyist of a medical book which was translated by his son Muderris Osman Sa'ib. The colophon of that copy is as such: "Ketebehu'l-fakire Sherife Fatımatu'z-Zehra el-hafidetu li-Sheyhi'l-Hırkati'sh-Sherife …" (resim hilye 6).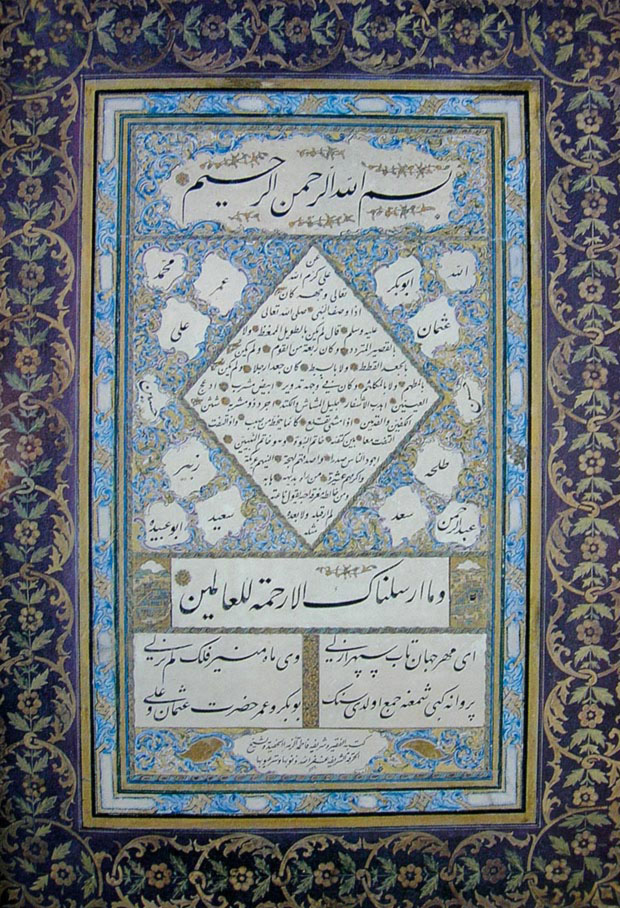 Hilye-i Sharifa by Fatima Zehra Hanim / Courtesy of Dr Hilal Kazan
In an article entitled "Our women calligraphers" written by Mehmed Said for Resimli Ay, a journal that used to be published during the first years of the Republican period of Turkey, Sharifah Fatima Zehra Hanim was mentioned as a grandchild of shaykh-i Hazine-i Sharif, and as a woman calligrapher from Sultan Abdulmecid's reign. The article expressed that she was very famous in her time thanks to the eloquence and beauty of her calligraphy. From Fatima Zehra Hanim's works that have come down to us, it can be safely said that her hand was strong, and her calligraphy was beautiful and smooth. Particularly, her composition design of Hilye-i Sharif is more advanced than the others from the same period. This work also includes the names of the Prophet's companions who were promised Paradise, the first four caliphs. There is a poem with two distiches under the Qur'anic verse on the panel, which is indeed unconventional to find in a hilye panel:

This poem was indeed included in the only existent hilye panel written by Mehmed Yesarî (d. 1798), who is considered to be the founder of the Ottoman school of ta'liq. Since Sharifah Fatima Hanim's poem is the same with that of Mehmed Yesari in terms of their poetic style and word order, it is likely that she saw Mehmed Yesari's panel, and that she wanted to emulate him as a role model. The anatomy of the letters is well-ordered. The fact that she copied a translation of Diwan Ali indicates that she was experienced in copying books, as well as that in addition to having received a good education, she had a wide range of interest and competency in language. My observation is affirmed by the fact that titles in the copy were written in red, that only this copy includes the name of the copyist and the date of copy, as well as the fact that the author asks prayer for the copyist along with himself.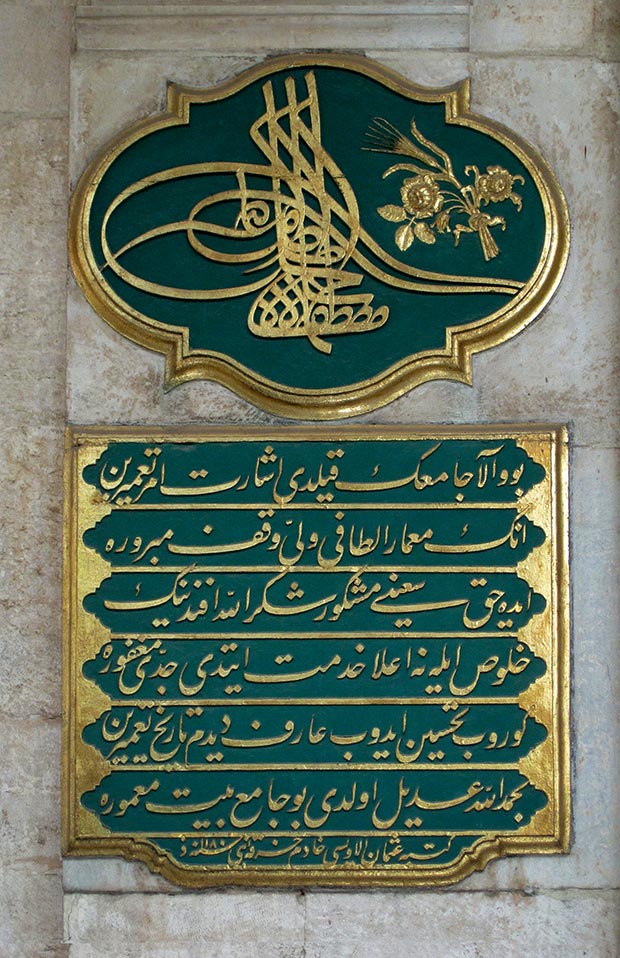 Panel written by Fatima Hanim's grandfather / Courtesy of Dr Hilal Kazan
All the anecdotes and documents addressed above may reveal that Sharifah Fatima Zehra Hanim, who wrote in taliq script, as her grandfather did, in her almost 55-year long life, made a reputation with her arts and the beauty of her calligraphy, and that she was a good calligrapher who was known, and admired, by everyone. Since she belonged to a noble ulama family, she received a good education, which manifested itself with her capability of writing in taliq script and copying books. However, her life was filled with hardship and tragedy. First she lost her father at a young age, and was raised by her grandfather. Though she might have had a good marriage at the beginning, her husband's seclusion by leaving behind his family put Sharifah Fatima Zehra Hanim into a big trouble. Indeed, such tragic situations are also observed in lives of other women who proved themselves in the arts and literature. Nevertheless, it was Sharifah Fatima Zehra Hanim who could stand out against all kinds of difficulties, and raised her son Osman Saib Bey, a mudarris and chief astrologer, very well. And finally, who knows how many more interesting life stories of brilliant women calligraphers and artists wait to be uncovered?