AB Gallery is presenting works by eight artists at the second edition of MUNICH CONTEMPO art fair. The artists are from Iran, Egypt and Iraq.
Their diverse cultural backgrounds are expressed in multiple approaches to different techniques and topics: The up and coming young Iranian artist Samira Hodaei works on the tough issue of stoning in her own society. Her subtle works are produced in a very delicate and haptic way and are both touchable and touching. Less radical but nevertheless very energetic and loud are Shahriar Ahmadi`s paintings. Ahmadi`s wide and bright strokes cover the canvas talking about love, thus corresponding with Azadeh Razaghdoost`s works. Her drippings and spots seem almost organic through their brightness and intensity.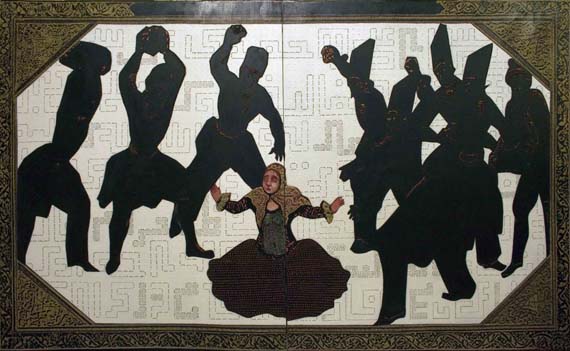 Samira Hodaei, Hit me, Beat me, Kill me , I win! from Stones Mute Birds series, 2011, mixed media on canvas, 120 x 200 cm. Image courtesy of AB Gallery


Shahriar Ahmadi, Kiss her Shaykh Al Raeis, from Archaic Techniques of Lovemaking, 2010, acrylic on canvas, 220x140cm. Image courtesy of AB Gallery
Usually drawn directly on walls Shahram Entekhabi's drawings surprise with elongated but plumply figures which are delicately placed on the white space of the paper. Complementing the wide range of used materials and techniques Sadegh Tirafkan shows digital photographs of crowds of people shot from a bird's eye perspective, connected and interwoven with the traditional technique of carpet weaving.

Sadegh Tirafkan, Always in our Thoughts, installation, 2011. Image courtesy of AB Gallery
Samira Alikhanzadeh creates works developed from portraits of women combined with the harsh material of mirror pieces. Her work is based on found photographs, which she then manipulates giving the antique habit of the pictures a hard contrast to the mirrors. On the contrary Egyptian artist Mohamed Abouelnaga's works seem to live in close touch with nature. The series Manuscript consists of sand-coloured, multi-layered paper pieces that are put together creating an organic unity. Using a similar paper technique the artist was responsible for the Eqyptian Pavilion at the Venice Biennale in 2002.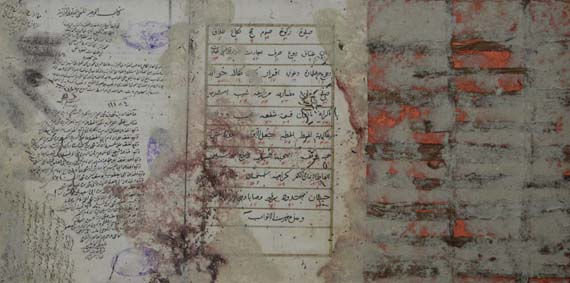 Mohamed Abouelnaga, from Manuscript series, No6, 2011, mixed media on canvas, 100x50 cm. Image courtesy of AB Gallery
Halim Al Karim who is the star of the today's Iraq's art scene is devoted to the camera as well. He is also currently showing some of his works as part of the group show "The Global Contemporary - Kunstwelten nach 1989" at ZKM Karlsruhe as well as at the Pavilion of Iraq for the Venice Biennale. Playing with the medium of digital photography he discovers various options of alienation of the female portrait which are represented in the serie Hidden Love.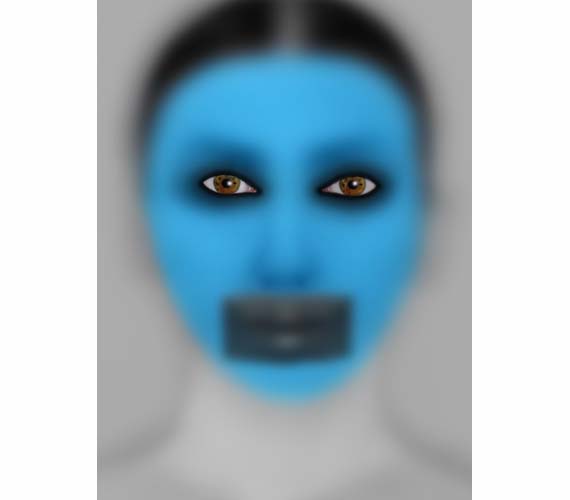 Halim al Karim, Hidden Love 10. Image courtesy of AB Gallery