Diverse Programme of Talks, Exhibitions, Performances and Design Reflect the Cultural Development of Abu Dhabi within a Wider and Global Context
Under the continued patronage of His Highness General Sheikh Mohamed bin Zayed Al Nahyan, Crown Prince of Abu Dhabi and Deputy Supreme Commander of the UAE Armed Forces, the sixth edition of Abu Dhabi Art provides key context on the evolution of the Saadiyat Cultural District and the UAE's capital through the presentation of hundreds of artworks alongside a vibrant programme of visual and performing arts, talks, and multi-disciplinary events.
Abu Dhabi Art this year reflects the dynamics of its settings as it evolves annually, developing its own distinct identity, as well as the capital's ambition and maturing cultural scene. From the selection of returning and new innovative and renowned galleries from around the world; the unveiling of the Beyond section – which will expand to display selected works in public areas throughout the city for 6 months, to the strongest daily programme yet, introducing audiences to the ever-expanding community of art-world figures.
Taking place from November 5-8, Abu Dhabi Art 2014 also marks a critical moment in the UAE's cultural development, ahead of the Louvre Abu Dhabi's opening, enabling regional and international audiences to participate in the country's progression as a leading cultural destination.
"Helping foster a viable cultural and intellectual eco-system, Abu Dhabi Art provides a stimulating environment, which, through direct exposure to some of the world's leading artists, academics and gallerists, enables the audiences and the communities to explore the creative vitality of Abu Dhabi's maturing cultural landscape,"said Rita Aoun-Abdo, Executive Director, Culture Sector, TCA Abu Dhabi.
"Following five successful years of previous Abu Dhabi Art editions and ahead of the highly-anticipated museum openings, Abu Dhabi Art 2014 continues to deliver a cultural platform, destination and ethos which engage the broadest possible array of participants, from promising design students to long-standing patrons,"she added.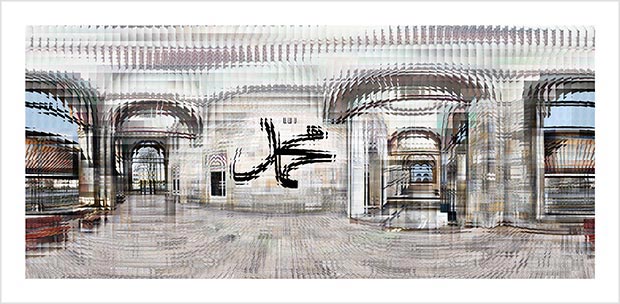 Ahmet Elhan / Old Mosque VIII, 2014, C-Print, 120x245 cm, unique / Courtesy of the Artist and Galeri Zilberman
Abu Dhabi Art 2014 presents:
Abu Dhabi Art Talks: a daily forum which includes insight from art world experts and influencers, such as Jean Nouvel, artists Martin Creed, Ernesto Neto, Richard Long, Hassan Hajjaj, amongst many others. The forum also presents an inspiring series of talks about art and culture development in cooperation with Salama Bint Hamdan Al Nahyan Foundation, including the role of patronage with UAE collectors such as His Excellency Abdulrahman Al Owais and His Excellency Saif Mohamed Al Hajeri. With the aim to introduce audiences to the ever-expanding art community present at Abu Dhabi Art, Abu Dhabi Art Talks are inspired by the 'life' of Modern Museums, including the future museums of Saadiyat Island, as spaces of education, performance and experience.
Performing Arts: an engaging and interactive programme associating Hours and Colours, with video installations, sound explorations, and performances by Amala Dianor, Moussa Sarr and legendary artist Patti Smith.Hours and Colours marks moments in the days of Abu Dhabi Art bringing audiences incrementally closer to the universal cultural future of Abu Dhabi.
Durub Al Tawaya returns this year for its second edition, focusing on performing arts inspired by the philosophical themes and the dramatical structure of Hayy Bin Yaqzan, a 12th century novel written by the Andalusian scientist and philosopher Ibn Tufail. The programme will feature works by Joe Namy, Cevdet Erek, Tim Etchell, and a collaboration by artist William Kentridge and composer Philip Miller.
Abu Dhabi Art Beyond: a section in which monumental works by some of the world's most innovative artists stretch the boundaries of the art fair to include destinations throughout the city, including installations by Ai Weiwei (Lisson Gallery), Bita Fayyazi (Gallery Isabelle van den Eynde), Choi Jeong Hwa (Park RyuSook Gallery), Feryel Lakhdar (Elmarsa), François Morellet (kamel mennour), Hanaa Malallah (The Park Gallery), Ilya Kabakov (Galerie Brigitte Schenk), Mohammed Kazem (Gallery Isabelle van den Eynde), Sahand Hesamiyan (The Third Line), Sherin Guirguis (The Third Line), Shilpa Gupta (Galleria Continua), Subodh Gupta (Hauser & Wirth), VirginieYassef (Galerie GP & N Vallois).
Abu Dhabi Art's design focus is aimed at fostering a sustainable design sector in the UAE and highlighting elements of traditional forms and UAE craft.
Abu Dhabi Art also looks back to one of the foundations of art, architecture, which is a central focus in the development and vision of Abu Dhabi. This year, Abu Dhabi Art commissioned Anarchitect, a progressive UAE-based architecture firm, to re-imagine the atrium of Manarat Al Saadiyat, conceiving Artyfact, a retail space offering a presentation of work by UAE designers.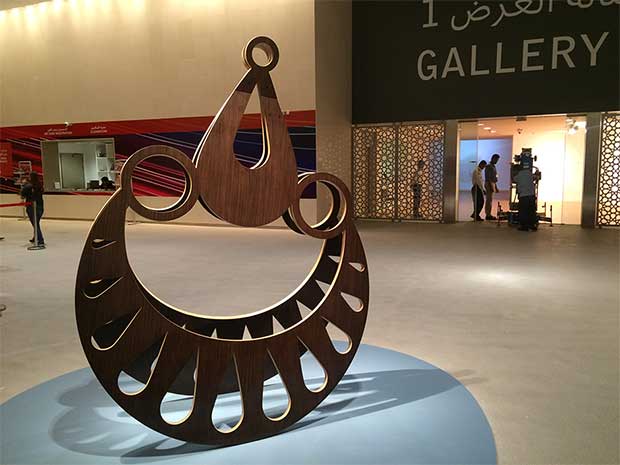 Shirin Guiruis, Qasr El Shoaq, 2010, Plywood, aluminum and lead, 175.26 x 238.76 x 68.58 cm / Courtesy the Artist and The Third Line
Maitha Al Mazrooei, Public Engagement Programmer at TCA Abu Dhabi commented: "Abu Dhabi Art remains imaginative in its outreach, going beyond the art community and reaching the publicthroughout the UAE, by bringing the themes and concepts behind art and design to life, and celebrates the unique aesthetic traditions and contemporary innovations of the UAE."
From the celebration of emerging Emirati talent showcased through the Wings Project, to the Abu Dhabi Art Community section highlighting the initiatives of the UAE's non-commercial cultural entities, and guided tours for families and the youngest art enthusiasts, Abu Dhabi Art 2014 is an interactive, compelling platform which encourages a diversity of audiences to immerse themselves in the tangible development of the UAE's cultural ecosystem.
All of this and more will soon take centre stage at Manarat Al Saadiyat alongside a number of the world's best modern and contemporary art and design galleries.