LONDON / Internationally acclaimed graffiti artist Mohammed Ali, also known as Aerosol Arabic, will be painting an art mural from 8-10th August, on Leyton High Road from 10am-5pm.
The large scale project funded by Near Neighbours, involves young people from youth organisation Adventure Quest, Leyton Scouts and arts organisation Soul City Arts. The mural will engage visitors to the Olympics as well as bringing local young people from the Leyton area together to create a thought-provoking piece of public art.
Leyton High Road has already been in the media spotlight for sprucing up its shop-fronts in time for the London 2012 Olympics. The East End has also been accused of wiping out its vibrant street art because of it being considered low brow. Mohammed Ali's art with its uplifting message seeks to challenge that perception, as he says "street art brings life to the concrete jungles that we live in."
Visitors will find the mural to be:
International in flavor fusing Eastern and Western traditions.
Engaging with Olympic visitors on all levels.
Challenging perceptions on art and culture.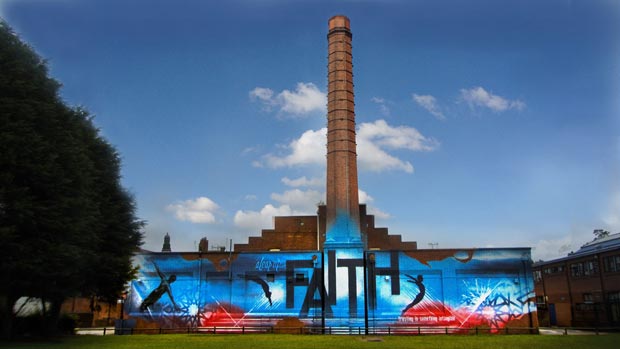 Mohammed Ali (Aerosol Arabic) / Leap of Faith Mural / Courtesy of the Artist

The British-born artist has produced murals in New York, Chicago, Melbourne and Dubai. The South Bank Award winner has been featured on Al-Jazeera, BBC, New York Times and many others prestigious publications.

He says of the upcoming project: "The world might have come together for the Olympics but this time last year London was a place of riots and fractions, this project is a perfect opportunity to transcend class, race, and faith to bring all peoples together through art."

The mural will be located on the corner of Huxley Road and Leyton High Road, on the side of the Kebabish Original Restaurant.

For progress on mural visit SOUL CITY ARTS