'Discover the Art of Digital Manipulation' lecture hosted at the HIPA headquarters in Downtown Dubai
Famous Kuwaiti Photographer and social media sensation Abdulaziz Al-Duwisan (@bonmr) has this past Saturday the 4th of June, given a lecture titled 'Discover the Art of Digital Manipulation' at the Hamdan bin Mohammed bin Rashid Al Maktoum International Photography Award (HIPA) headquarters in Downtown Dubai. The three-hour lecture was presented to a number of local photographers and afforded them with the chance to learn more about this intricate part of photography (Digital Manipulation) which also happens to be one of the categories for HIPA's current season of competition.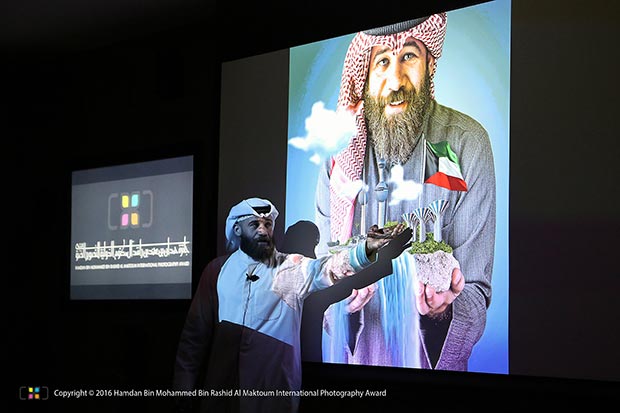 Abdulaziz Al-Duwisan presenting 'Discover the Art of Digital Manipulation' lecture
His Excellency Ali bin Thalith, HIPA's Secretary General said, "These useful lectures are an important part of our 2016 strategy which was announced at the end of May. We will continue to host more lectures and workshops in the coming months to deliver on our pledge for a more extensive educational program for our local and international photographic communities."
Bin Thalith continued, "Digital Manipulation is certainly one of the boldest and most challenging categories in the sixth season of competition. The fact that post-processing has become such an integral part of photography today further emphasizes the importance of educating photographers on the topic of digital manipulation and hoping they use the skills obtained here to their advantage in the future. We felt it was important to begin our educational calendar on this topic to benefit photographers and educate them on digital manipulation from the earliest possible point and hopefully inspire them to enter the category this season. Feedback for the lecture was superb, and we hope to continue with this for the rest of the educational program in the coming months."