BAHRAIN / Organizers of renowned Alwan 338 announced program selections for the 2013 season, to take place from March 26 - April 26, 2013 at Adliya's Block 338 in Manama.
Stimulating the local art scene and investing the city's public spaces with new artistic propositions, this year's edition is dedicated to the theme of Common Ground, curated by Sandra Maunac and Monica Santos of Masasam Curatorial Projects. A communitydriven cultural and artistic collaboration, Alwan 338 entices public participation and engagement with the unique architecture of Adliya and beyond through public art projects, installations, educational workshops, open-air music concerts and film screenings.
This year's edition will pay a special tribute to the medium of photography in the selection of the artwork and projects presented throughout the Block 338 and its many restaurants, as well as a special exhibition at Al Riwaq Art Space.
"The importance given to these shared spaces, a land used by all, emphasizes what we have in common with each other," says Bayan Kanoo, Al Riwaq Art Space Director. "This coming together through art during Alwan 338 encourages us to transform that shared space we occupy into an open exchange, a collective dialogue that allows a creative renewal of everyday life and the possibility of new approaches, new understandings, and new identities."
Alwan 338 curators Monica Santos and Sandra Maunac state: "Common Ground opens the debate on what is already shared, should be shared, and can be potentially shared. We wish to question and develop the many different issues that stem from the "common": the very world we all live in, the impact that we have on it and our mutual responsibilities towards it; our increasingly interconnected global culture and the internet as a new virtual common land, among other issues."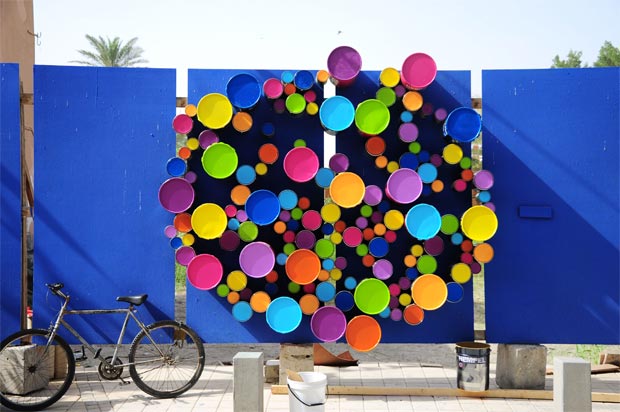 Alwan338 / Courtesy of Al Riwaq Art Space
A tentative list of participating Bahraini artists include: Haya Al Khalifa, Wasan Madan, Noor Al-Bastaki, Jenine Sharabi, Waheedah Mallulah, Mohamed Sharkawy, Maysam Al Nasser, Tamader Ali Isa, Hassan Hujairi, and Jaffar Aloraibi. In addition, ten international artists will collaborate with local artists and communities to create specially commissioned site-specific new pieces, as well as give workshops and public talks about their artistic practices. These include:
Ismail Bahri (Tunisia) will present his video work for the first time in Bahrain at Al Riwaq Art Space.
Sylvie Meunier (France) will be working with an archive of old photos from Bahrain and her own archive of anonymous photography to recreate news narratives and fictions between people separated in space and time, but find themselves together on a façade in Adliya.
Noor Ali Chagani (Pakistan) Winner of this year's Jameel Art Prize, he will carry out several installations transforming the urban landscape and investing abandoned houses with a playful use of brick.
Tendance Floue Collective (France) Two of this oldest and active photography collectives worldwide will work alongside five local photographers to construct a photographic sculpture.
Alessandra Domingues (Brazil) will create several in- and outdoor light installations establishing a dialogue between materiality and space, what is visible and invisible.
Osama Esid (Syria) using of old style accordion cameras and ancient printing techniques, Osama will carry out a photo session in different neighborhoods of Bahrain taking portraits as well as offer a workshop teaching the old technique of Collodion Photography.
Ndary Ly (Senegal) will intervene in the public space with his large-scale installation composed of everyday, common, discarded objects.
Alwan 338 is made possible with the generous support of Bahrain's Economic Development Board, The American Embassy in Manama, and the British Council.
ABOUT AL RIWAQ ART SPACE
Al Riwaq Art Space is a leading non-profit arts organization dedicated to promoting contemporary art and design practices in Bahrain. Founded in 1998 by Bayan al-Barak Kanoo, Al Riwaq Art Space is nestled at the heart of Manama's cultural center, Block 338. Through a robust annual roster of art exhibitions, residency and educational programs, Al Riwaq Art Space plays a key role in training and nurturing local artistic talent, connecting Bahraini and international artists, and providing opportunities for collaboration and exchange. With its strong emphasis on public art and community engagement, Al Riwaq Art Space serves as a major local hub for the Bahraini public by promoting creativity and artistic expression with a special focus on the youth demographic.