Alserkal Avenue is pleased to announce Galleries Night on 15 September 2014 when galleries will simultaneously open their doors with a VIP preview from 5 pm - 7 pm and a public opening from 7 pm onwards. The evening will welcome the creative community to the unveiling of Contemporary art exhibitions and events to mark the opening of the 2014-2015 arts season.
Alserkal Avenue's newly opened A4 Space will host a number of activities including a pop-up of Fashion Forward's Garden concept, which will offer visitors a preview of regional accessory designers that will be showcased at the upcoming Fashion Forward. Visitors will also be able to register for free access to the event that runs 4-6 October 2014. The community space will also feature a series of live musical performances by the top local singers of Freshly Ground Sounds from 7.30 pm - 10.30 pm.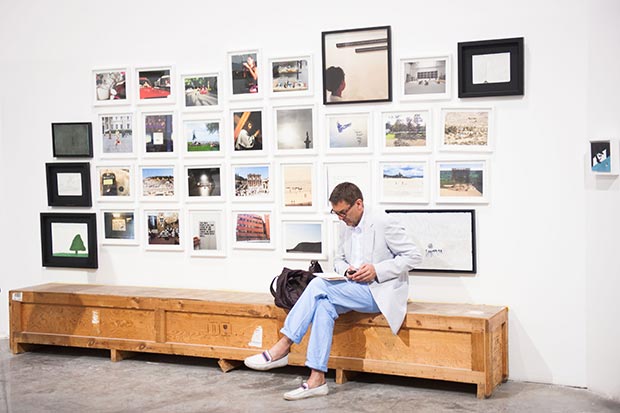 Satellite, Alserkal Avenue Galleries Night March 17 / Courtesy of Alserkal Avenue
Ayyam Gallery will have their Young Collectors Auction preview from 10.00 am - 6.00 pm, with the Auction to be held on 30 September 2014. The auction presents an opportunity for both experienced and aspiring collectors to bid on an array of carefully selected works from established and emerging artists of the region, including painting, photography, limited-edition prints, and sculpture. This season opening provides a robust selection of work from stalwarts of Syrian art, including painters Asaad Arabi, Leila Nseir, and Marwan Kassab Bachi and various Iranian artists.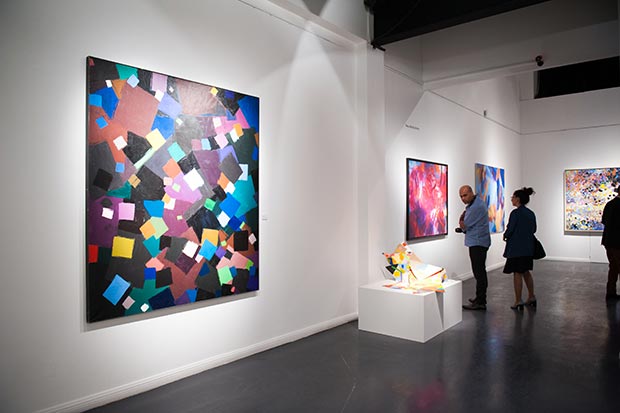 Ayyam Gallery, Samia Halaby 5 Decades of Painting and Innovation, Alserkal Avenue, Galleries Night, March 17 / Courtesy of Alserkal Avenue
Across the Avenue, Grey Noise gallery will be showcasing Pakistani artist Mariam Suhail's first solo show in Dubai. The exhibition will have a set of works that come together as Accidental Excavations of objects and ideas. Comprising interventions into books, scanner malfunctions, discovery of old material and information about the birth of a new city, the show presents images, prints and texts that lie somewhere in the space between studies and proposals.
Green Art Gallery's opening exhibition is entitled Works On Paper: Hikayat, which consist of over 50 works on paper by Modern Arab artists including Khouzayma Alwani, Mahmoud Hammad and Adham Ismail, to name a few. Taking storytelling as its main theme, the exhibition brings together works that offer a glimpse of drawing's potential to make cultural, social, and political proposals or stories, through diverse formal processes.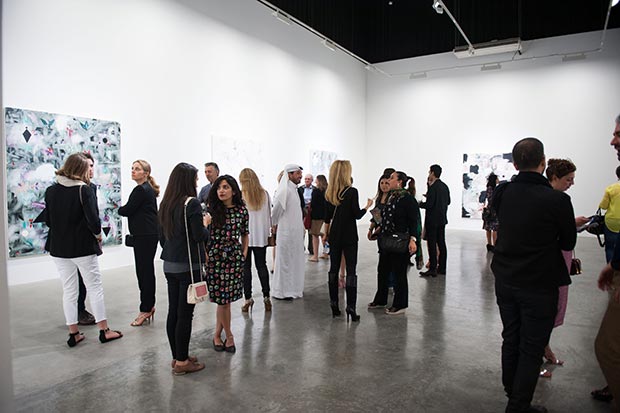 Green Art Gallery, Alserkal Avenue Galleries Night, March 17 / Courtesy of Alserkal Avenue
Around the corner Gulf Photo Plus will welcome visitors from 7pm to meet and chat with Khaled Hasan and Neo Ntsoma, two of the six exhibiting photographers of Majority World, a unique photo agency that highlights and supports inspiring works by photographers from Asia, Africa, Latin America and the Middle East. Focusing on these diverse continents, Majority World encourages stories to be told by photographers in their own context, sharing unique insight into local cultures, environments and development issues.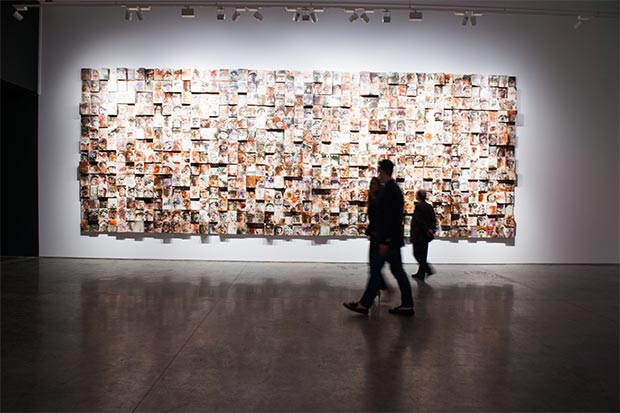 Salsali Private Museum, Alserkal Avenue Galleries Night March 17 / Courtesy of Alserkal Avenue

Lawrie Shabibi will open Art & Application, a group exhibition that brings together six Contemporary artists from around the world: Rä di Martino, Littlewhitehead, Arthur Prior, David Rickard, Darren Harvey-Regan and Setareh Shahbazi. Curated by London based William Lunn, this exhibition offers a selection from the breadth of diverse outcomes that result from artists' use of photography within a broader multi-media practice.
Lawrie Shabibi, Alserkal Avenue, Galleries Night, March 17 / Courtesy of Alserkal Avenue
Ending the night on a high note, The Fridge will also present a showcase of contemporary musicians and dancers, with a full line up to be announced shortly. MORE INFO on the Galleries Night programme and Alserkal Avenue galleries.