DUBAI / #besomebody, a social mediadriven movement reaching more than 30 countries, "tagging the world" with a multicontinent Graffiti Expedition.
#besomebody, the fastest growing Motivational Movement in the world, with online content reaching nearly 3 Million people in over 30 countries every week, is in the midst a six‐week, global graffiti expedition that takes their inspirational message to the streets. This week, Dubai joined an impressive list of global cities as the only Middle East destination included in this world tour.
"We are literally 'tagging' the world," said #besomebody Founder, Kash Shaikh. "We're bringing together two of the most expressive and accessible forms of human communication – social media and street art. Our content has always been real, raw, and personal. We don't tell people what to do, or how to do it; we just want to make them feel something... Graffiti is the same way. This expedition is so cool because we're creating lasting emblems of those positive emotions that people can see, touch and feel all over the world."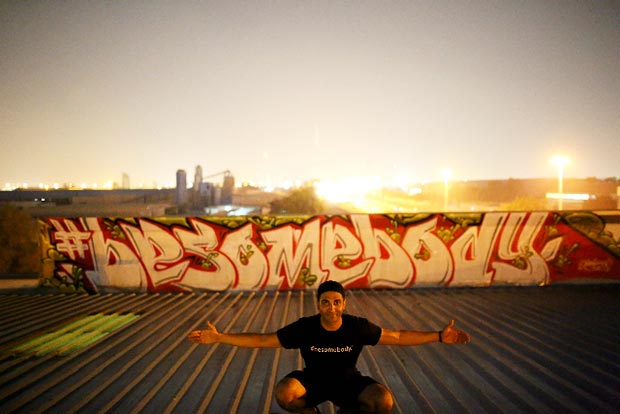 Kash Shaikh, founder of #besomebody in Alserkal Avenue / Courtesy of #besomebody and Alserkal Avenue
The expedition encompasses 15 cities, 11 countries and four continents in just six weeks. More than 10 cities have already been "tagged" – including U.S. locations such as Austin, Texas and New York City, and international destinations such as Paris, Barcelona, and Casablanca. The locations have ranged from the 40‐foot high University Co‐op building across the University of Texas campus, to an iconic bus in Roma‐Condesa, the beautiful Arts Zone in Mexico City. Other sites have included schools, parks, and city centers.
Dubai's Alserkal Avenue, the Arts District located in Al Quoz, a home to 20 art galleries, creative studios and private museums is set to welcome the #besomebody team and artwork this week. "We spent a lot of time thinking about the most iconic locations and most inspirational epicenters of art, imagination, and passion, and Dubai was at the top of our list," said Shaikh. "It's always been a magical place with a mystical allure, but what's been happening at Alserkal Avenue over the past few years is truly incredible. Art is alive and thriving in Dubai, especially moving into the World Expo preparation for 2020."
In return, the developer and Patron of the Arts Abdelmonem Bin Eisa Alserkal expressed "Alserkal Avenue has always been a home to independent projects, initiatives and ideas. #besomebody is a wonderful global movement dedicated to engage the community and we are glad to be a part of it."
In addition to Shaikh, the four‐man expedition team is headed by Cincinnati‐based graffiti artist Danny Gamble, founder of Higher Level Art, one of the top Street Art groups in the United States. Danny has single‐handly painted each piece on the journey, adjusting to the elements and local conditions to create beautiful pieces on beaches, buses, and mountaintops. "I instantly connected with the #besomebody movement," said Gamble. "Positivity and passion have always been driving forces in my life, and it was clear early on that Kash and the #besomebody community around the world shared that same mindset. It's been an amazing experience to paint something special in each of these cities that connects with the local community while resonating with the world. The opportunity to now put together a piece in Dubai, with its science fiction‐like backdrop, is a dream."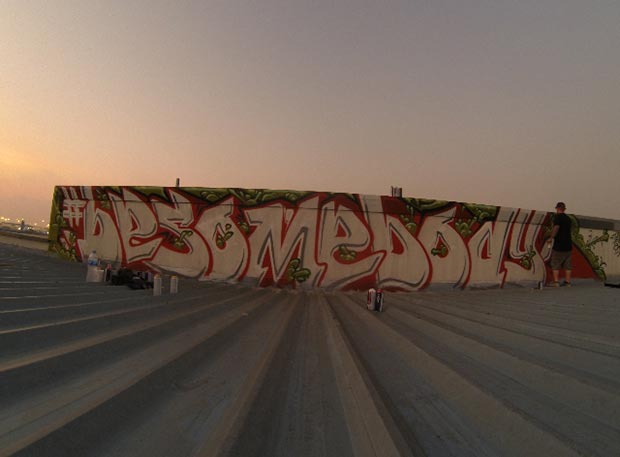 Danny Gamble, artist, painting the second artwork dedicated to World Expo 2020 bid for Dubai, in Alserkal Avenue / Courtesy of #besomebody and Alserkal Avenue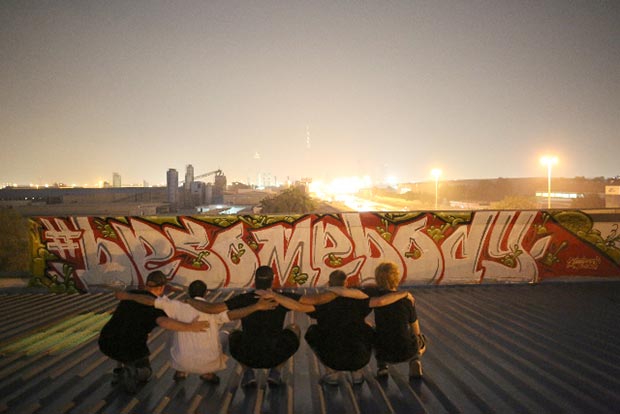 #besomebody team in Alserkal Avenue Arts District, Dubai / Courtesy of #besomebody and Alserkal Avenue
This expedition is quite an undertaking for a small, unsponsored and unfunded crew. Shaikh, however, is no stranger to bold global campaigns and uncomfortably big ideas. He spent nine years helping build some of the world's biggest brands at Procter&Gamble, including Old Spice, Olay, and Tide, before heading to Silicon Valley to lead Communications and Social Marketing for GoPro. He began sharing the "#besomebody" hashtag via social media in 2009 while leading work in developing markets for P&G, visiting more than 40 countries in a two year span. It came to life through the people he met, the stories they shared, and the universal truths that connected the two. Along the way, #besomebody grew from an active blog, to a passionate community, to today, the most diverse and inclusive social media‐driven movement in the world.
"The response around the world has been incredible," said Shaikh. We are so thankful to the people everywhere who have helped bring this to life, and so grateful for the opportunity to be a small spark that ignites people's passions. Together, we are all building something that's never been built before."
Take a look at the behind the scene video: