A Product Design Competition for Bag Charms. Winning Prize: €10,000 + a realized collection.
International accessories brand Baraboux, has joined forces with The Khatt Foundation to announce an open call for artists and typographers specializing in Arabic type, to take part in the Baraboux Letters to Wear design competition. Artists and type designers of all accomplishments are being given the unique opportunity to design a set of Arabic letters that would eventually be realized into bag charms for one auspicious winner, through a paid product design commission, and judged by a consummate line-up of well known Arabic typography specialists from the region and internationally.
Spearheaded by Baraboux, and working closely in collaboration with the Khatt Foundation, the Baraboux Letters to Wear competition is an extraordinary marriage of the worlds of typography, fashion and design. A € 10,000 commission fee will be paid to the winning entry in the competition. The chosen designer plus other notable entries will be exhibited at the next edition of Design Days Dubai from March 16-20, 2015, supported by a design talk around the subject of Arabic language in fashion and product design.
"The ultimate goal is to develop a product personalization concept based on Arabic Typography, with the aim of fusing art with fashion. Arabic typography is a very traditional form of expression and this project will present a contemporary outlook on Arabic visual culture," says HRH Princess Reema Bandar Al Saud, founder and creative director of Baraboux. "This will also allow young Arab talent to reach out to wider audiences within the Middle East and internationally."
It gives artists the exceptional opportunity to showcase their talent to a specially selected jury of accomplished Arabic typography specialists, including calligraffiti artist eL Seed, jewellery designer and artist Nadine Kanso and designer Rana Salam, as well as HRH Reema Bandar Al Saud and the director of Khatt Foundation, Huda Smitshuijzen AbiFares who comments "The Khatt Foundation is pleased to collaborate with Baraboux on this initiative that elegantly overlaps with the Khatt Foundation's mission in raising awareness of the vital role that the Arabic script and design can play in the production of socially relevant products crafted to the highest professional standards."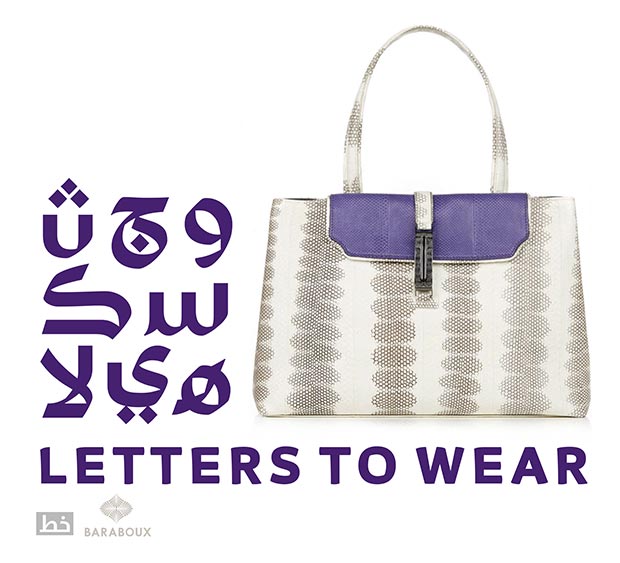 Letters To Wear Competition / Courtesy of The Khatt Foundation
The Jury
The design competition will be curated and juried by a select group of designers, artists and savvy style leaders from the region:
HRH Princess Reema Bandar Al Saud – Raised and educated in Washington, D.C., Princess Reema holds a Bachelor of Arts in Museum Studies from George Washington University. HRH Princess Reema Bint Bandar Al Saud is the President & CEO of Alfa International, a leading luxury retail corporation based in Saudi Arabia, and is the founder and creative director of Baraboux. She is also a founding member of the Zahra Breast Cancer Foundation in Riyadh.
Huda Smitshuijzen AbiFares – Born in Beirut, Huda Smitshuijzen Abi Fares holds degrees in graphic design from Yale University School of Art and Rhode Island School of Design. She is the author of several books on typography including Arabic Typography: A Comprehensive Sourcebook. She was professor at the American University of Beirut and the Chair of the Visual Communication Department at the American University in Dubai. She is the founding creative director of The Khatt Foundation, Center for Arabic Typography.
Nadine Kanso is a celebrated artist and designer. She has exhibited in various solo and group shows at galleries including Isabelle Van Den Eynde and Cuadro Fine Art. In 2006, Nadine established her jewellery line 'Bil Arabi'.
eL Seed is French-Tunisian artist and one of the founding pioneers of calligraffiti. His work reflects today's world and the reality of mankind. eL Seed's art has been showcased in international exhibitions and walls around the world including New York, Melbourne, Tunisia and Rio.
Rana Salam is among the most celebrated designers known for her use of Middle Eastern popular art and culture. She is a graduate of Central St. Martins and from the Royal College of Art (London). In addition to Rana Salam Design Studio, Rana has a successful line of home products and collection of accessories, art, prints and one of a kind objects sold at her Beirut Shop.
Closing date for all submissions is the 15th of December.
All entries should be sent to .(JavaScript must be enabled to view this email address). Please visit The Khatt Foundation website for full list of entry conditions and information www.khtt.net and visit www.baraboux.com for more information on the brand.
The winner will be announced during Design Days Dubai in March 2015.