The art that fascinates me is the one that makes an effect in me, makes me reflect about the world we live in and makes me learn something new. (Sabrina Amrani)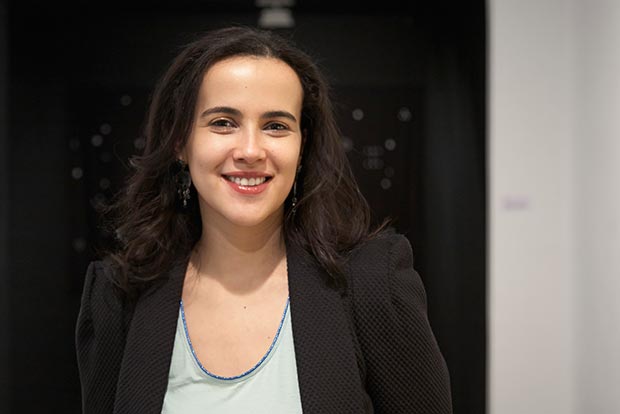 Sabrina Amrani, the owner of Sabrina Amrani Art Gallery in Madrid / Courtesy of Sabrina Amrani Art Gallery
What inspired your interest in art and opening an art gallery?
My interest in art comes from very early in my life, I used to prefer my parents to take me to a museum rather than to an amusement park. There was something in art that attracted me and I could not help but to fall into its trap. As a teenager I used to hang out with my friends in the art galleries, we would make tours visiting several galleries and then we had some bites at a café to talk about what we saw. In University I kept doing gallery tours but my studies in Sociology deviated me a bit from the art world. After working some years in Human Resources Development for an international brand I decided to quit that job and to make my dream of opening a gallery real with the support of my husband, that became also my business partner.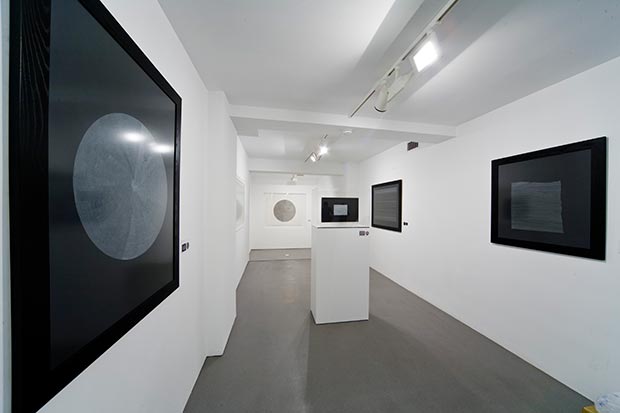 Exhibition view of Abstraction Contained by Waqas Khan at Sabrina Amrani Art Gallery / Courtesy of the Artist and Sabrina Amrani Art Gallery
Sabrina Amrani Art Gallery promotes artists from the MENASA region. Do they offer something new to the Madrid art scene and is their work different from European artists?
Yes, of course they do. We are the only gallery in Spain with a focus on MENASA artists and one of the very few that represent artists from this region, so many of the artists we present at our gallery are unknown to the local audience. This is one of our main goals since we opened the gallery: to show and bring closer to the local audience artists and art that is not common in Spain, or even Europe. Almost all of the artists we represent had their first solo show in Europe in our gallery. We are very proud to discover new talent all around the world and particularly in the MENASA region to present them to an international audience. Although we are witnessing a global gentrification of the works produced by artists all over the world, it is undeniable that the cultural origins of each artist, along with the circumstances around their lives, shape notoriously the kind of artwork they do. The inspirations are probably very similar in nature, but in effect they are different: a French artist maybe inspired by a song by Edith Piaf while an Egyptian one may very well get their inspiration from Umm Kulthum. The inception is the same, but the path to it and the results are manifestly different.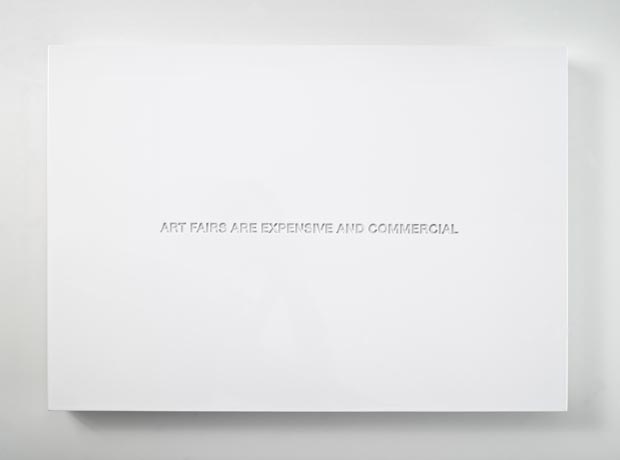 UBIK / Rant 9# / Courtesy of Sabrina Amrani Art Gallery
Can you name the artists you collaborate with (or represent)?
We represent artists Marlon de Azambuja (Brazil), Younes Baba-ali (Morocco), Amina Benbouchta (Morocco), Elvire Bonduelle (France), Zoulikha Bouabdellah (Algeria), Timothy Hyunsoo Lee (South Korea), Ayesha Jatoi (Pakistan), Saeed Khalifa (UAE), Waqas Khan (Pakistan), Nicéne Kossentini (Tunisia), Jhafis Quintero (Panama), Larissa Sansour (Palestine) and UBIK (India). We also collaborate with leading international galleries to present artists like Ayman Yossri Daydban (Saudi Arabia) and Zara Mahmood (Pakistan).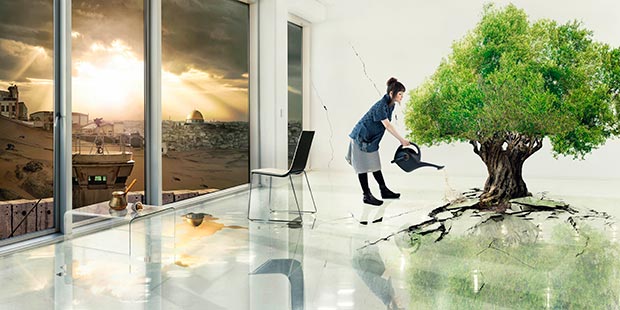 Larissa Sansour / Nation Estate, Olive tree / Courtesy of Sabrina Amrani Art Gallery
What kind of art fascinates you?
The art that fascinates me is the one that makes an effect in me, makes me reflect about the world we live in and makes me learn something new.
What advice can you offer to artists who want to submit work to art consultants and galleries in general?
The best piece of advice I can give to artists who want to submit work is that they first reflect by their own if their work fits the gallery line and trajectory. Once they find the gallery that best matches their practice they should submit their work well organized and in a comprehensive way, along with the artist statement, bio and CV and a portfolio with images.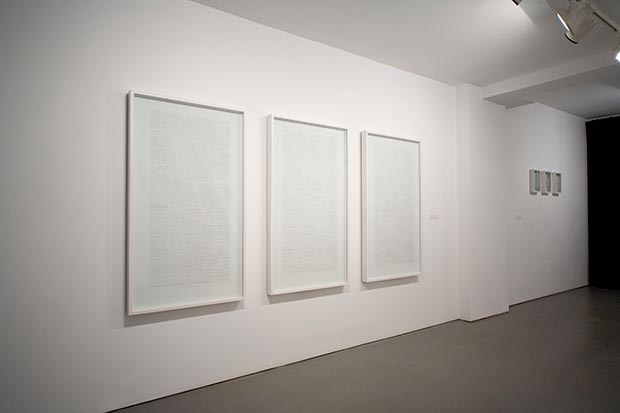 Exhibition view of Paraître by Nicène Kossentini at Sabrina Amrani Art Gallery / On the left: Shakl, 2012. Ink, glass and canvas. 70x103 cm. each. Series of ten unique pieces / On the far left: Rasaîl, 2012. Ink and glass. 20x31 cm. each. Series of fourteen unique pieces / Courtesy of the Artist and Sabrina Amrani Art Gallery
Since we live in time of political crisis, can art today be a powerful and influential media in promoting positive social ideas? Can you give any examples?
I absolutely think that art can promote and drive positive social ideas. Good art leaves a footprint on us, it leaves an impression that changes us in some way, it makes us reflect and learn. Any good art is a good example of positive drive since art changes society, one person at a time, by transferring us to other levels of perception and thought, by letting us discover other worlds, habits and ideas.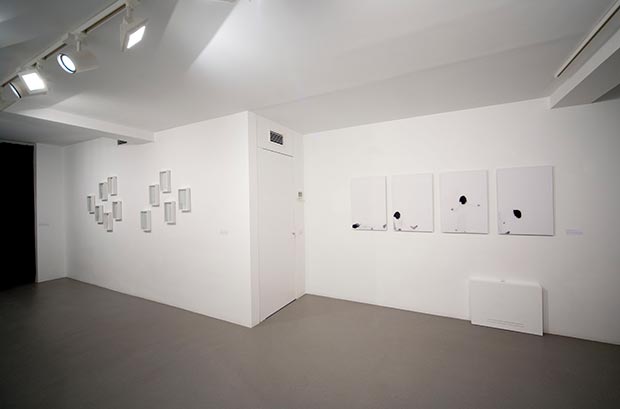 Exhibition view of Paraître by Nicène Kossentini at Sabrina Amrani Art Gallery / On the far left: Rasaîl, 2012. Ink and glass. 20x31 cm. each. Series of fourteen unique pieces / On the right: They abused her by saying, …, 2012. C-print on diasec. 50 x 75 cm. Edition of 5 / Courtesy of the Artist and Sabrina Amrani Art Gallery
What's your approach to running the gallery?
We are very natural in everything we do. We do not come from the art world so we have always done things as we thought they should be done and not like everybody does them. We treat our collectors as friends instead of customers and our artists are really our clients, we work for them and for their careers and it is very important that they are satisfied as much as collectors are. We apply a lot of common sense and a lot of love to all what we do. This combination is working very well for us, even better than we expected.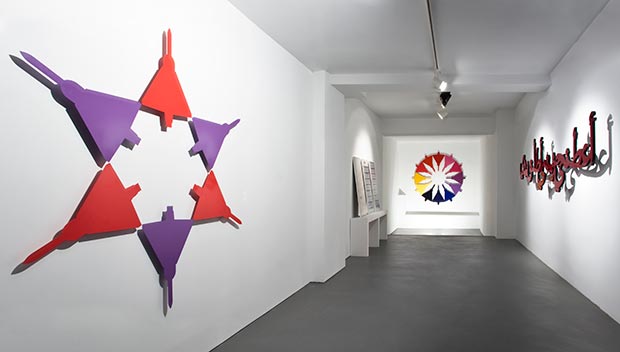 Exhibition view of Mirage by Zoulikha Bouabdellah at Sabrina Amrani Art Gallery / On the left: Mirage II, 2011. Steel and car paint. 1,60 x 1,60 m. Edition of 3 / Courtesy of the Artist and Sabrina Amrani Art Gallery
How do you make your gallery known?
Being only a three year old gallery it is a tough job to make our project known but we work hard every day to have our gallery and artists in the front line. We profusely use social media and all the technology available at our disposal. We also organize and take part in cultural events nationally and internationally and attend every art fair and international art event that we can, despite our tight calendar. Additionally, we are members of the association of galleries in Madrid, that has countless initiatives to put their associates forward and we venture into strategic partnerships worldwide that broaden our network.
How do you see the art market in Europe and worldwide?
Some say there is a new bubble happening in the art market and, at some extent, it is true. The records in auction sales we are lately being witness of are mesmerizing. Globalization has brought in new players into the game with a lot of acquisition power. But a great amount of the market is held by modern or contemporary blue chip art while mid-size galleries with cutting-edge proposals are struggling to survive. It is a pity that these galleries and the emergent and mid-career artists, that are the ones pulling the art world forward, do not have as much support from the capital, that naturally seeks less risk and wider short-term profits.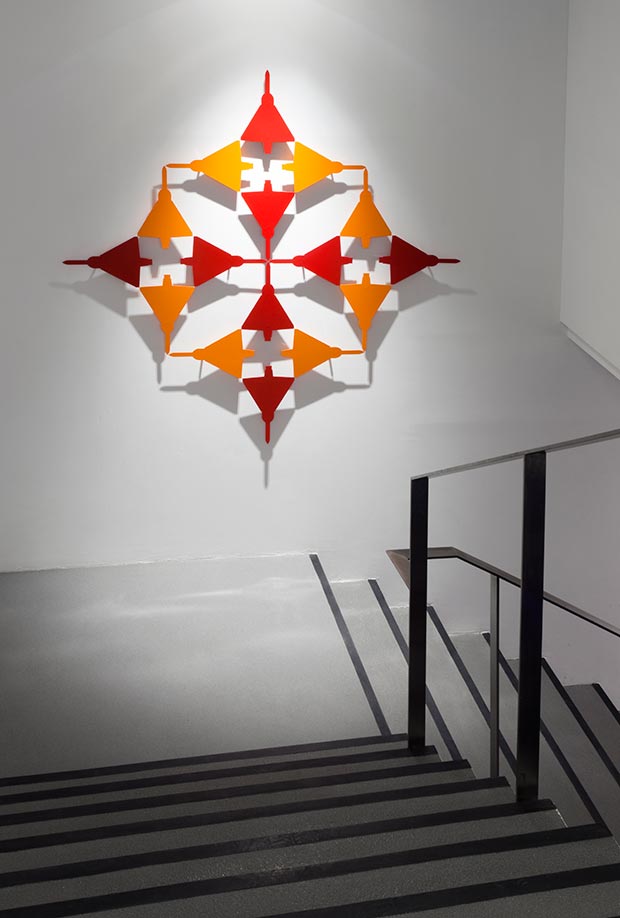 Exhibition view of Mirage by Zoulikha Bouabdellah at Sabrina Amrani Art Gallery / Mirage V, 2011. Steel and car paint. 1,87 x 1,87 m. Unique / Courtesy of the Artist and Sabrina Amrani Art Gallery
What are the reactions of visitors and art critics to your exhibitions?
We have a very good feedback from visitors and press to our exhibitions and artists. There is an increasing interest on the kind of art we are presenting and we hope that we contributed in some way to this new attentiveness.
Tell us more about your next exhibition.
Coinciding with our third anniversary in June our next show titled "Please rewind!" is a group exhibition curated around the theme of language with in edit work of our own artists. We wanted to take a look back to this intense three years of work and thought it would be fun to do it as an exhibition.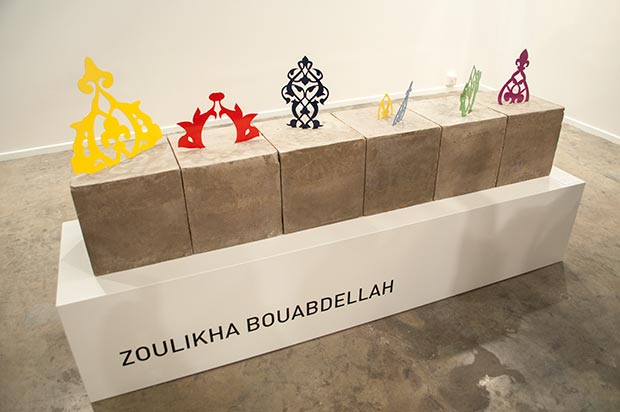 Zoulikha Bouabdellah, Sabrina Amrani Art Gallery at Art Dubai 2014 / Photo © Islamic Arts Magazine
It was our pleasure recently to visit your booth at Art Dubai. What is your assessment of this event?
From our very first beginnings we knew Art Dubai was a place for us to be. We do not hide that we applied to the fair counting only three months from the takeoff of the gallery. Of course we did not get accepted that year but our first edition of Art Dubai was an affirmation to those thoughts: we made a sold out and we were so busy doing contacts that there is people still complaining that they did not had the chance to meet us.
We are in love with this fair for many reasons and we believe it has played a major role to grab attention from the rest of the art world into the MENASA region. They make you feel at home, has a awe-inspiring selection of galleries and a superb VIP program. Furthermore, their parallel non-commercial programs of art projects, education and the Global Art Forum are outstanding and are contributing remarkably to the development of the art scene. There's nothing more you could ask for, but maybe to keep up with the good work.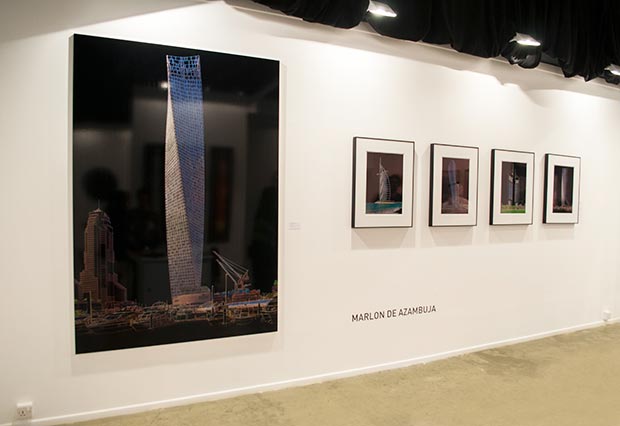 Marlon de Azambuja, Sabrina Amrani Art Gallery at Art Dubai 2014 / Photo © Islamic Arts Magazine
How do you see the emergence of new art centres in the East, such as Dubai and Abu Dhabi?
For me the most interesting thing happening in this region is that they are building the art scenes from scratch, with enormous efforts to overcome the difficulties inherent to start up something as big and transcendent like this. It is amazing to think that the people working on making this come true are doing it in just one generation, as opposed to other established art scenes where the construction of the scenes spanned several generations and even centuries in some cases like Europe. However, despite all this efforts, we were saddened to learn recently about the closing of Katara Art Center due to lack of funding and the whole region still has a shortage of proper art schools and other needed institutions for a better development. There is still a long way to go, but the path already walked is impressive.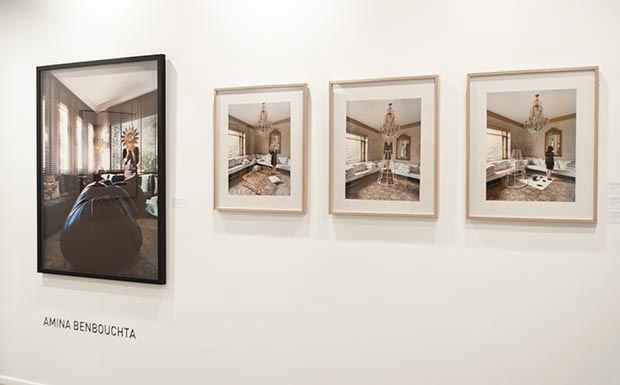 Amina Benbouchta, Sabrina Amrani Art Gallery at Art Dubai 2014 / Photo © Islamic Arts Magazine
Is being present at art fairs important for your gallery and why? Where did you participate so far?
It is vital for our gallery to be at selected art fairs since nowadays we are experiencing a shift in the way collectors approach buying art. They are increasingly attending fairs more than gallery spaces and this can be felt in the streets: some galleries are moving to smaller spaces, a great percentage of what they sell is raised in art fairs. It is also felt in the exponential appearance of art fairs all over the world.
Being so young and with all the demand that the biggest fairs have, it is not easy to get into them, where we aspire to be, but we nevertheless attended 11 art fairs in three years at Casablanca, Miami, Tokyo, Amsterdam, Torino, Beirut, Madrid or Dubai to build our audience and gain experience.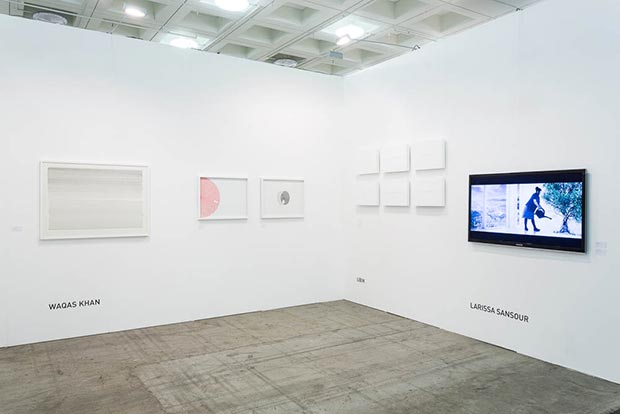 The booth of Sabrina Amrani Art Gallery at Art14 in London / Courtesy of Sabrina Amrani Art Gallery
What are your plans for the near future?
We have actually a lot of things in the making. We are preparing for the art fairs of the second semester of the year while planning a big show in collaboration with Casa Árabe (House of the Arabs) in Madrid. We are also helping organize Apertura (Madrid Art Weekend) and we will participate in it with a solo by Pakistani artist Waqas Khan. Moreover, we are creating a cycle of video art screenings at our gallery in collaboration with the Spanish national television show Metrópolis, that has accomplished to be the referent in visual arts in Spain during the last 20 years. So we are very busy, as always!