It has been said the pen is mightier than the sword. What happens when the pen is joined by laptops and tablets, paint and brushes, markers, stencils, found items, songs and smart-phone photos and videos that can instantly circle the globe? Call it the 21st-century edition of creative dissent.
'Creative Dissent: Arts of the Arab World Uprisings', an exhibition presented by the Arab American National Museum (AANM) and the University of Michigan – Ann Arbor, will run until February 9, 2014 at the AANM.
The exhibition is designed to immerse visitors in the creative vitality of the continually evolving uprising movement commonly referred to as the Arab Spring. Drawn into the AANM's Lower Level Gallery by the call-and-response chants commonly associated with these populist movements, visitors will experience how freedom of speech merges with artistic expression – capturing the anger, elation, frustration, and hope of these revolutions in the form of graffiti, video, blog postings, cartoons, music, photography and even puppetry. Drawn primarily from protests in Egypt, Tunisia and Libya, 'Creative Dissent' demonstrates the varied responses to the protest in the Arab World beginning in late 2010.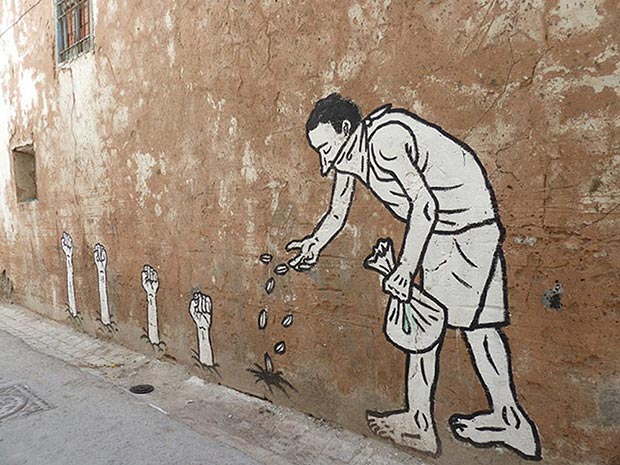 'Revolutionary Fists' by Zoo Project. Photograph by Elissa Jobson, 2011. Tunis, Tunisia / Courtesy of AANM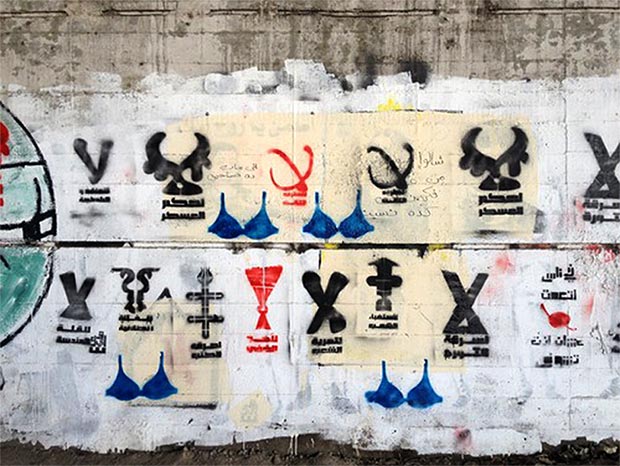 No to stripping of women; No to burning books; No to military rule. From the series 'A Thousand Times No' By Bahia Shehab, Cairo, Egypt, June 2011 / Courtesy of AANM
'Creative Dissent' is guest-curated by Christiane Gruber, Associate Professor of Islamic Art of the University of Michigan – Ann Arbor, and Nama Khalil, an artist and anthropology PhD student at UM.
Christiane Gruber
Christiane Gruber is Associate Professor of Islamic Art and Visual Culture at the University of Michigan, Ann Arbor. She has authored two books and has edited several volumes on various topics, including Islamic book arts, ascension tales and images, and contemporary visual and material culture. Her most recently published volume, co-edited with Sune Haugbolle, is entitled Visual Culture in the Modern Middle East: Rhetoric of the Image (Indiana, 2013).
Nama Khalil
Nama Khalil is an artist and cultural anthropologist. She received her Masters in Middle East Studies in 2012 and is currently pursuing a Ph.D. degree in Anthropology at the University of Michigan – Ann Arbor. Her scholarly interests include transnational Islam, art and visual culture of the Arab World, and Arab American and Muslim American communities.
The Arab American National Museum (AANM)
The Arab American National Museum (AANM) documents, preserves and presents Arab American history, culture and contributions. The AANM is accredited by the American Alliance of Museums; an Affiliate of the Smithsonian Institution; and a founding member of the Immigration and Civil Rights Network of the International Coalition of Sites of Conscience.