At the seventh edition of Abu Dhabi Art Ayyam Gallery featured works by Moustafa Fathi, Samia Halaby, Athier Mousawi, Nadim Karam and Safwan Dahoul. The gallery's curated selection examined the notion of mankind's relationship to nature through a variety of aesthetic approaches and a broad range of media.
Defining abstraction as a form of depicting reality, Samia Halaby uses an analytical approach to deconstruct the physical attributes of matter and signify its multidimensionality through light, colour, depth, and movement. Acknowledged as a pioneer of contemporary Arab abstraction for her innovative practice, Halaby translates her observations of the simplest phenomena into vibrant compositions of geometrical forms and harmoniously flowing shapes.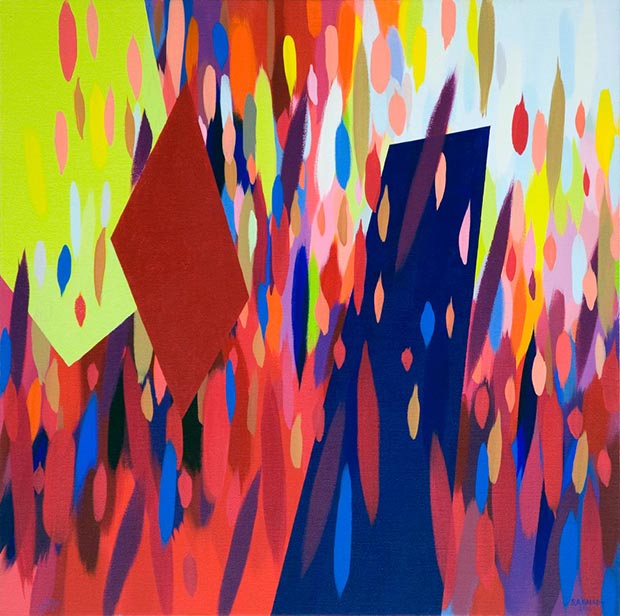 Samia Halaby, City Rain, 2015, Acrylic on canvas, 97 x 97 cm / Courtesy of Ayyam Gallery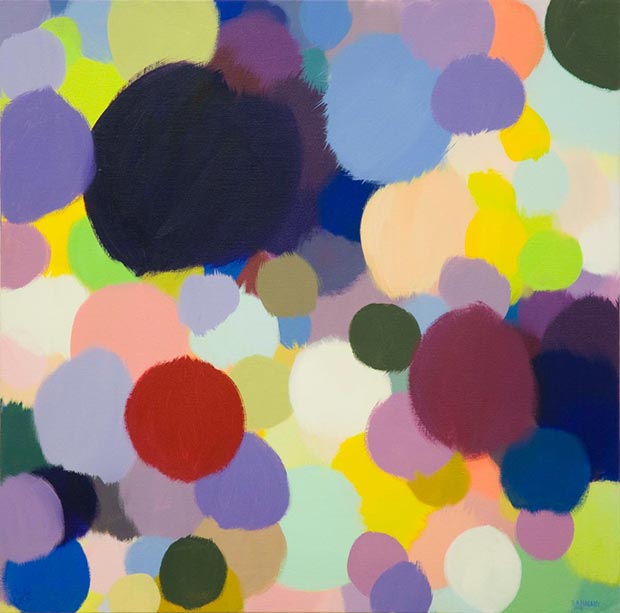 Samia Halaby, Flowers with Black Apple, 2015, Acrylic on canvas, 97 x 97 cm / Courtesy of Ayyam Gallery
By using organic tools and pigments to create his abstract works, Moustafa Fathi sought to capture the motifs of growth apparent throughout the evolution of the natural world. The idea of environmental harmony, which permeates his creations from the 1980s to the early 2000s, is enhanced by the complex layout of his carved woodblock stamps printed onto paper and canvas, seemingly random and yet perfectly fixed into each other.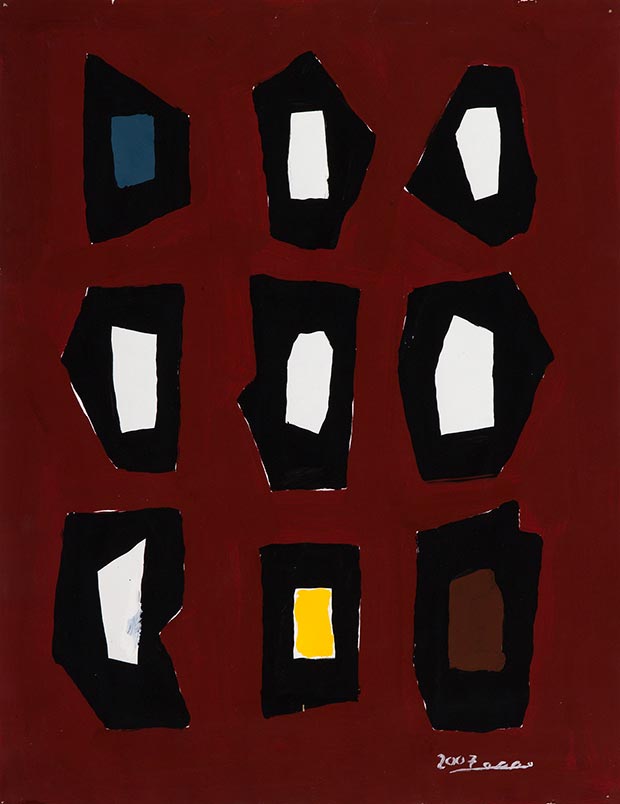 Moustafa Fathi, Untitled, 2007, Mixed media on paper, 64 x 50 cm / Courtesy of Ayyam Gallery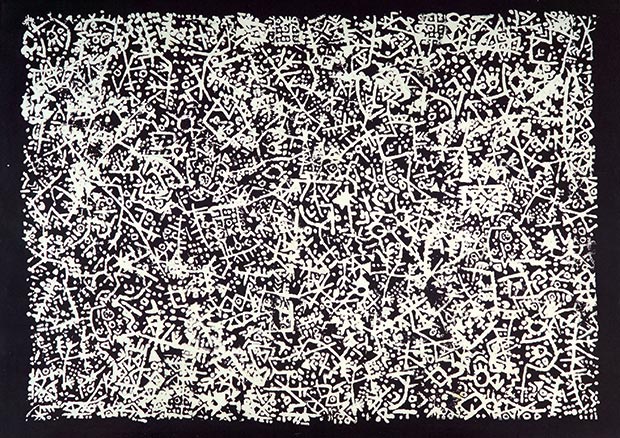 Moustafa Fathi, Untitled, 1988, Mixed media on canvas, 185 x 295 cm / Courtesy of Ayyam Gallery
In a series titled 'Eternal Balance', Athier Mousawi adopts a more scientific method to reading the connection between humans and the world they live in, inspired by the string theory. With large-scale abstract paintings that allow a zoom into the atomic structure of visibly organic shapes, Athier hints at the idea of perpetual balance at the core of all things and situations. Safwan Dahoul noticeably turns away from a usual grey-scale palette to render his recurring female protagonist in a game of white transparencies. To the immaculate environments of his latest compositions, the artist adds symbolic natural elements such as dark rain and an upsidedown raven, with suggesting the contradictions between pain and hope.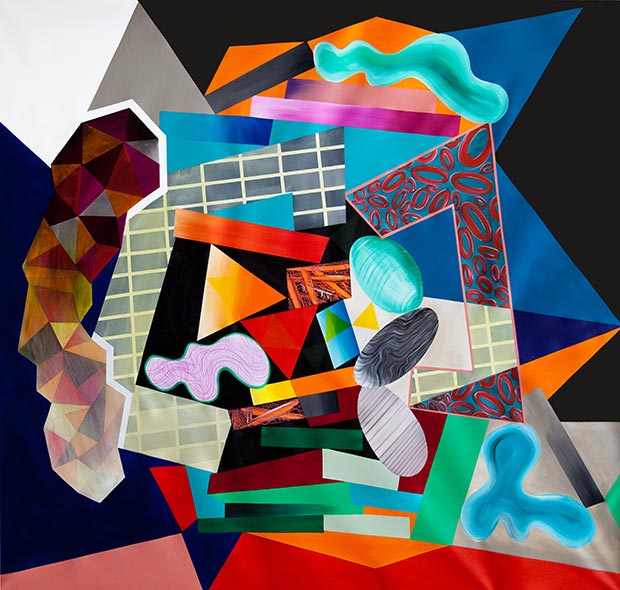 Athier Mousawi , Eternal Balance 3, 2014, Acrylic on canvas, 204 x 219 cm / Courtesy of Ayyam Gallery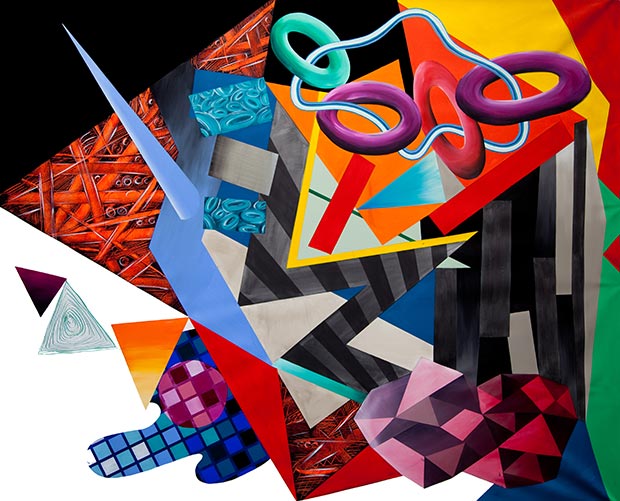 Athier Mousawi, Eternal Balance 2, 2014, Acrylic on canvas, 205 x 243 cm / Courtesy of Ayyam Gallery
Ayyam Gallery
Founded in 2006, Ayyam Gallery manages the careers of diverse established and emerging artists from the Middle East. Blue-chip art spaces in Beirut and Dubai, a series of collaborative projects in the United States, Europe, and Asia, and a multinational non-profit arts programme have furthered the gallery's mandate of expanding the parameters of international art by introducing the dynamic art of the region to a global audience. With its widely respected multilingual publishing division and a custodianship programme that manages the estates of pioneering artists, Ayyam Gallery has also spearheaded recent efforts to document the region's art history.