SAN JOSE, SILICON VALLEY, CA / Long overlooked or often misattributed, the remarkable contributions of Muslim scholars in science and technology have quietly floundered as no more than common footnotes of world history. Abbas ibn Farnas and his flying glider, Al-Jazari's engineering marvels and Al-Khwarizmi with his pioneering method of study and calculations for the movements of the sun, the moon and the five planets known at the time, all virtually lost to time and history.
Photo above: A student peers through a navigation tool, one of the many significant contributions of Islamic scholars. © MTE Studios
But that's changing – thanks to an international blockbuster exhibition designed to unearth the scientific know-how of an Islamic Golden Age that is all too strange and unfamiliar to Western culture. Discover the innovation, science and technology mastery of one of today's
most misunderstood cultures at the first and only West Coast appearance of "Islamic Science Rediscovered," opening September 3, 2011 at The Tech Museum. The global blockbuster exhibition celebrates the contributions of Muslim peoples in the arts and astronomy to engineering and exploration – discovery that, in some cases, came centuries before Western innovation.
Centuries before Orville and Wilbur Wright took flight, Abbas ibn Farnas was soaring over the hilly Spanish countryside in a one-man glider – a thousand years before the famed Wright flight in North Carolina. Al-Jazari busied himself laying the foundations of modern engineering and writing the Book of Knowledge of Ingenious Mechanical Devices in 1206, where he described fifty mechanical devices along with instructions on how to build them. And Al-Khwarizmi had his sights set on the skies, launching the pioneering method of study and calculations for planetary movements.
"This dynamic exhibition challenges the way we examine history and encourages the need to embrace multi-cultural knowledge in a global society," Mike Hackworth, Transition Lead Director of the museum, said. "Visitors educated in the Western world will be surprised to learn that from these ancient desert cities came the theory of vision, techniques of quantitative chemistry and trigonometry and the numeral systems that we use today."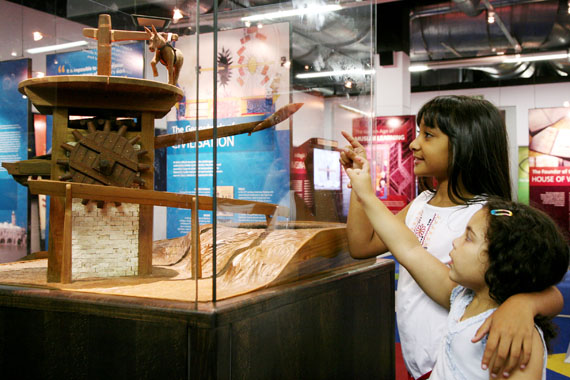 Photo: Students discover the many advances in water control and management developed by Muslim scientists.© MTE Studios
The dawn of the Islamic Golden Age in the 8th century was profoundly inspired by the instruction to seek and share knowledge. And the 40-station, multi-media exhibition highlights how Muslims worked harmoniously alongside people of different faiths and races across Africa, Asia and Europe. "Islamic Science Rediscovered" covers the main fields of Islamic scientific endeavor including architecture, arts, astronomy, engineering, exploration, flight, mathematics, medicine, optics and water control in a beautifully designed presentation involving hands-on activities, large-scale models and interactive maps that will take visitors on a journey back through time.
Produced by Cape Town and Dubai-based MTE Studios, an internationally renowned, inter-disciplinary team of over 50 specialists (architects, artists, engineers, interactive designers, and scientists), the touring exhibition has been in New York and Toronto, where it garnered wide attention and accolades.
"Islamic Science Rediscovered" is meant to focus on increasing knowledge and understanding of the many invaluable contributions that have come from the Islamic world," MTE Studios CEO Ludo Verheyen, said. "In addition to its potential to edify visitors, this exhibition powerfully encourages the building of bridges between all cultures and offers new perspectives."

For more information visit: http://www.thetech.org