The NYU Abu Dhabi Art Gallery's new exhibition sheds light on one of the UAE's most important artistic communities
Installation view of works by Hassan Sharif and Jos Clevers / Photo Courtesy NYU Abu Dhabi Art Gallery
This landmark exhibition begins a survey of one of the most important artistic communities in this country's history. At its core is a group sometimes called 'the five', who, together with their fellow writers and filmmakers, identified with a 'new culture' of encouraging radical, formal and conceptual experimentation. Community played an important role in these artists' development, as they exchanged critical and creative ideas, supported and served as sources of inspiration for one another, at a time when art institutions and venues in which to exhibit their work were not widely available. Eventually, some of these artists founded the celebrated Flying House, a venue dedicated to displaying work from this community.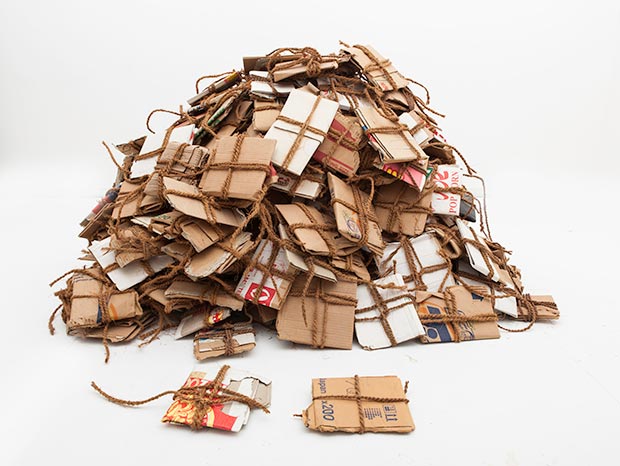 Hassan Sharif, Cardboard and Coir, 1999, Cardboard and coir -Variable dimensions (as shown: 100 x 220 x 180 cm) / Courtesy Estate of Hassan Sharif and Gallery Isabelle van den Eynde
To prepare the exhibition, the curators made use of archives from the artists, and interviewed a range of members of this community, including writers, poets, and filmmakers, in addition to the artists shown here. The research and interviews have been distilled into a scholarly book of the same title, published in tandem with the exhibition, together beginning the process of tracing this pivotal artistic community in the key years of its formation. The book includes a seminal essay by art historian, Aisha Stoby, on the history of Modern art communities in the Gulf.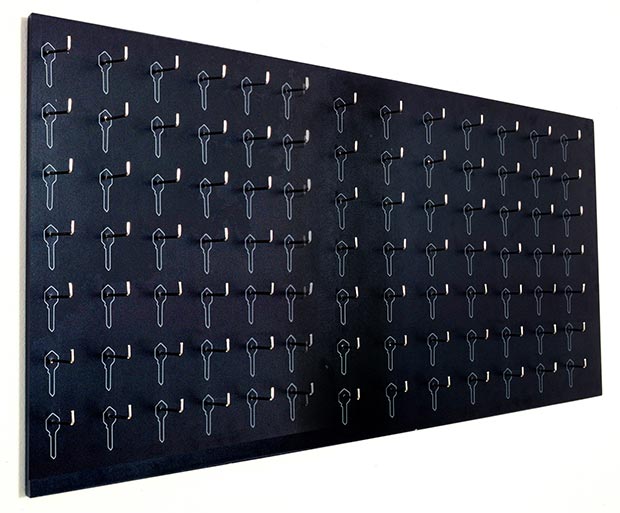 Mohammed Kazem, Keyboard, 1995. Hangers and sticker on board, 80 x 120 cm / Courtesy the artist and Gallery Isabelle van den Eynde
The exhibition features historic works from 1988 through 2008, with a focus on works that were shown together originally. 'But We Cannot See Them' also includes archival material and videotaped interviews with members of the community, as well as a reading room of work from other important members of the community. Artists include: Ebtisam Abdulaziz, Abdullah Al Saadi, Jos Clevers, Mohamed Ahmed Ibrahim, Mohammed Kazem, Hassan Sharif, Hussain Sharif, and Vivek Vilasini with contributions from Khalid Albudoor, Nujoom Alghanem, Cristiana De Marchi, and Adel Khozam.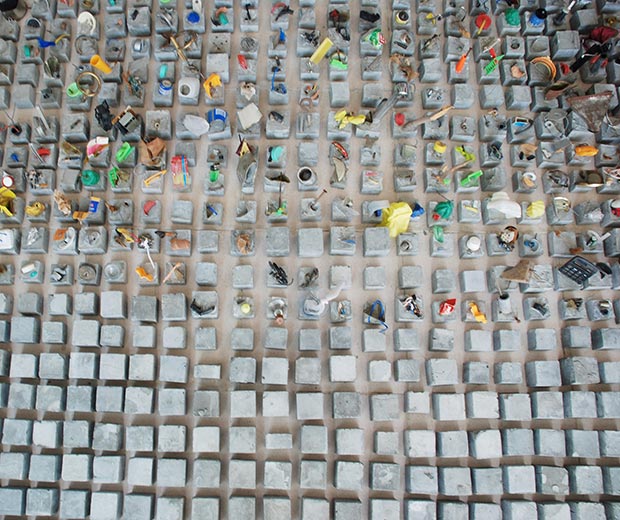 Hussain Sharif, Cement with Mixed Media, 2000, Mixed Media, Dimensions Variable / Courtesy of the artist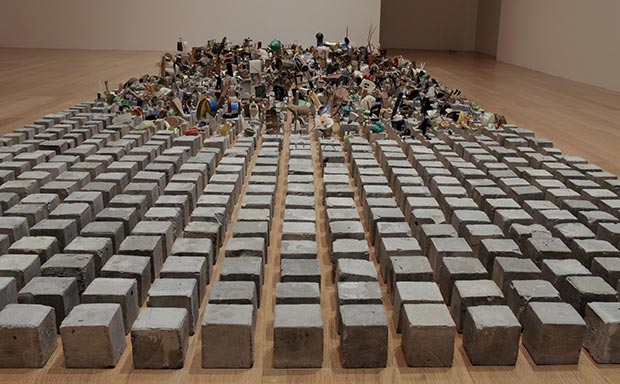 Hussain Sharif, Cement with Mixed Media, 2000, Mixed Media, Dimensions Variable, Installation view / Courtesy of NYU Abu Dhabi Art Gallery
Founding Director and Chief Curator of the NYUAD Art Gallery, Maya Allison notes: "The trajectory from a small community of artists to a group of well-established figures in the UAE arts scene happened in only a few decades. Today, most of the artists included here have participated in the UAE Pavilion at the Venice Biennale, many are collected by museums, and they continue to develop their individual voices, providing inestimable inspiration for contemporary emerging artists in the UAE.
The importance of community and collaboration to their success and longevity cannot be underestimated. In the course of our research into this community of artists, we have found their practices and stories deeply moving and inspiring, and we hope that art historians will use the book and this exhibition as a resource to support further study of this pivotal community."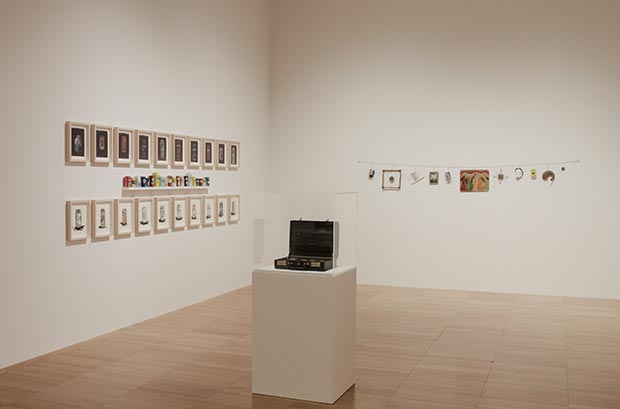 Installation view of Abdullah Al Saadi's works / Photo Courtesy NYU Abu Dhabi Art Gallery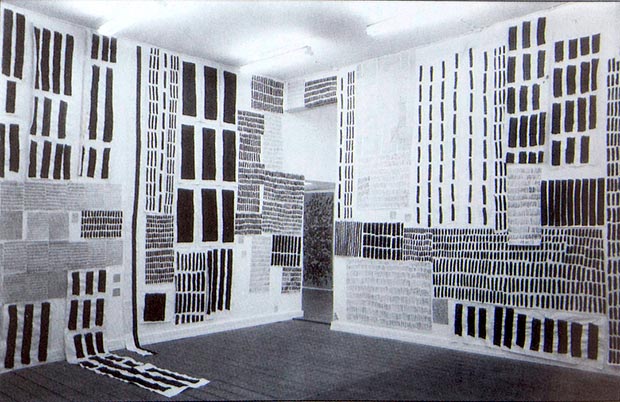 Mohamed Ahmed Ibrahim, Lines, 1995. Installation view / Courtesy of the artist
'But We Cannot See Them' is curated by Maya Allison with Exhibitions Curator Bana Kattan, with research and program development by Programs Curator Alaa Edris. The title of the exhibition is drawn from a poem written by a key early member of the community, poet and filmmaker Nujoom Al Ghanem. The exhibition opens today (March 2) and will run until May 25, 2017.
The exhibition will be complemented by a full public program of events and talks for all ages, taking place throughout the exhibition. For more information, please visit The Art Gallery's website at www.nyuad-artgallery.org.