Green Art Gallery presents 'Damascenes', a solo show of Syrian artist Khaldoun Chichakli's works spanning the past four decades.

Khaldoun Chichakli, Damascus old buildings and white moon, 1999, watercolors, 29.5 x 99 cm / Courtesy of Green Art Gallery
Amidst the destruction brought by the current political situation, Chichakli's drawings and woodcuts offer a poignant look into the Damascus of years gone by. A professor at the city's Fine Arts University, Chichakli first began drawing the city centre from memory. He employs the 'tahsheer' method of first drawing fine lines then going over them to darken an area, almost as if to bring back the past through a repeated gesture of reinscription. These black and white images are subsequently scanned, printed, and then brilliantly recoloured to show the same scene at different times of day or night. Even as clouds give way to sunsets or stars, the people and buildings remain immobilised as if frozen in time and memory.
There is nostalgia and also longing, for the city he sees as destroyed not only by war but equally by the callous drive to improve and renovate in the name of modernity and progress. In depicting these kinds of structures, Chichakli's works bear gentle witness to the violence of colonialism and a reminder that there is beauty to be found in even the ugliest of urban scarifications.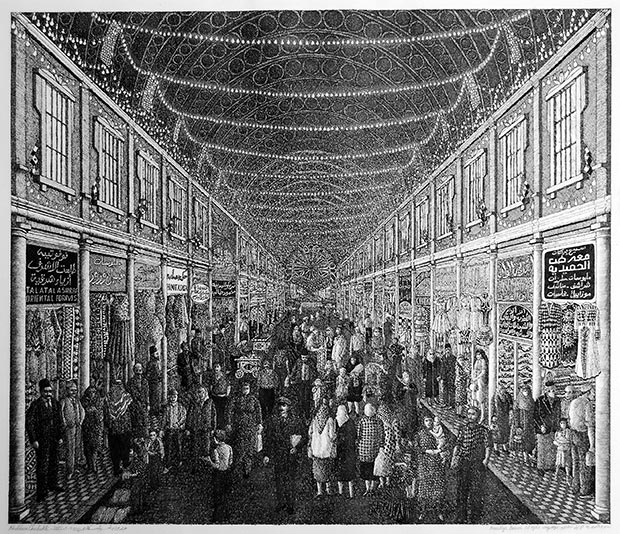 Khaldoun Chichakli, Original Hamidiya bazaar in past days, 2002, ink on paper, 42 x 48.5 cm / Courtesy of Green Art Gallery
Chichakli's woodcuts are especially astonishing in their intricacy of detail. The almost impossibly fine lines are produced using the delicately precise techniques and tools of the diamond trade in Belgium, where he studied and then lived in the 1980s. Here, the artist moves into depictions of lived experience, from rural life, souk vendors, schools and cafés to more abstracted themes such as love, fear, exile, life as a game of chess. Many of these compositions are presented with layered variations that suggest the multifaceted peaks and lows of each of these emotions and concepts.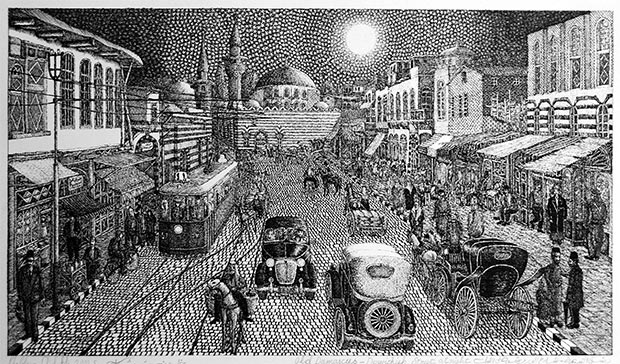 Khaldoun Chichakli, Old Damascus Derwichieh street at night, 2000, ink on paper, 25.5 x 43.5 cm / Courtesy of Green Art Gallery
Born in Damascus in 1944, Khaldoun Chichakli has exhibited extensively in Syria and Belgium, as well as in Lebanon, Egypt, USA, UAE, and Sweden. Chichalki's work is held in several regional and international collections including the Barjeel Art Foundation, Sharjah. He lives and works in Damascus.
The exhibition opens on May 25 and will run until June 27, 2015.