'Desert to Delta' is a pan-city festival of Saudi Contemporary Art & Film in Memphis. The project will launch with a major art exhibition at the Art Museum of University of Memphis on October 8, 2017. An accompanying community outreach program will include a reception and artist talks at Memphis Brooks Museum of Art and an education program at schools and universities across Tennessee.
'Desert to Delta: Saudi Contemporary Art in Memphis, TN' represents the first exhibition of its kind from the Kingdom of Saudi Arabia to appear in Memphis. This timely exhibition opens at the Art Museum of University of Memphis (AMUM) on October 8, 2017 and runs through January 6, 2018.
The exhibition features the works by Ahaad Alamoudi Arwa Alneami, Ahmad Angawi, Abdullah Al Othman, Abdulnasser Gharem Nasser Al Salem, Dhafer Alshehri Manal, Aldowayan, Musaed Al Hulis Shaweesh, Nugamshi Huda Beydoun, Ahmed Mater Shadia & Raja Alem, Ibrahim Abusmar Maha Malluh, Saeed Ghamawi Tasneem Alsultan and Rashed Alshashai Ghada.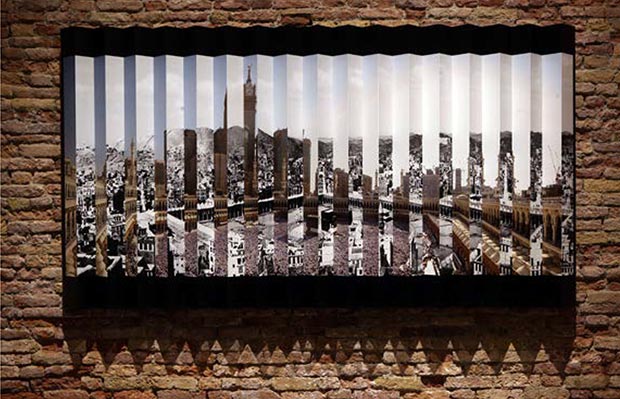 Ahmad Angawi, Wijha 2:148–And everyone has a direction to which they should turn, 2013. Digital Lenticular Print mounted on Aluminium, 64.5 x 118 in (164 x 300 cm) / Courtesy of the artist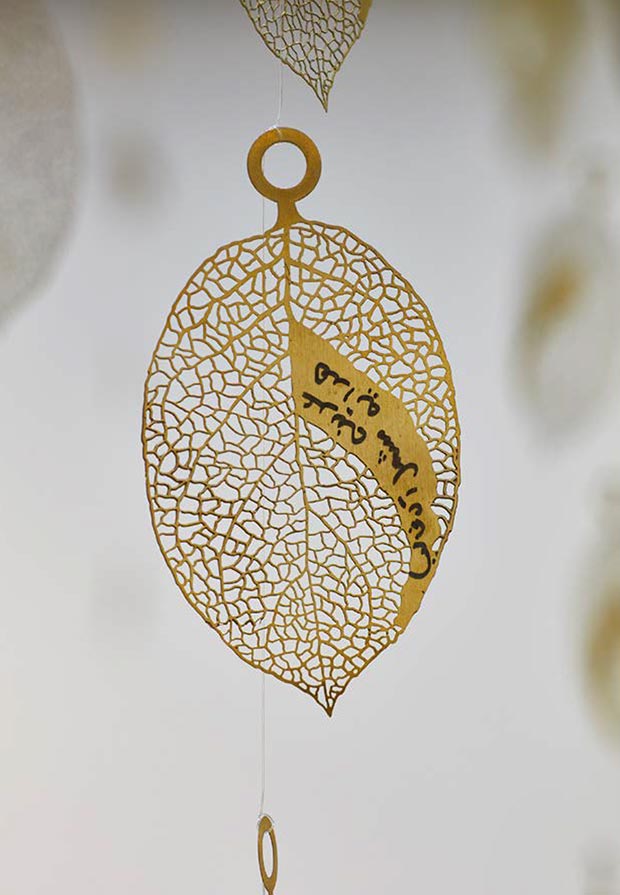 Manal Al Dowayan, Tree of Guardians (detail), 2014. Brass leaves, ink, fish wire and art paper with ink drawings and sound recordings of oral histories during sessions. Site specific with 2000 leaves and 58 family tree drawings / Courtesy of the artist
At first glance, the connections between Saudi Arabia and Memphis might seem thin. However, common denominators begin to appear quickly with a little thought. Spiritual people devoted to their faith inhabit Memphis and the Mid-South; the same is true of Saudi Arabia. Memphis' church bells ring daily, summoning the faithful, as do the broadcast of prayers from the mosques of Riyadh, Jeddah, Mecca and Medina. These rituals mark the passage of time in two lands and two religions, and they also signify a soulful stability in their believers even as change does great work all around them.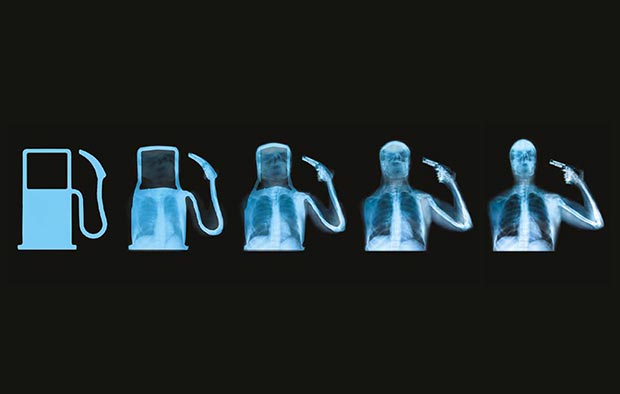 Ahmed Mater, Evolution of Man, 2010. Silkscreen prints, 31.5 x 23.6 in (80 x 60 cm) (each) / Courtesy of the artist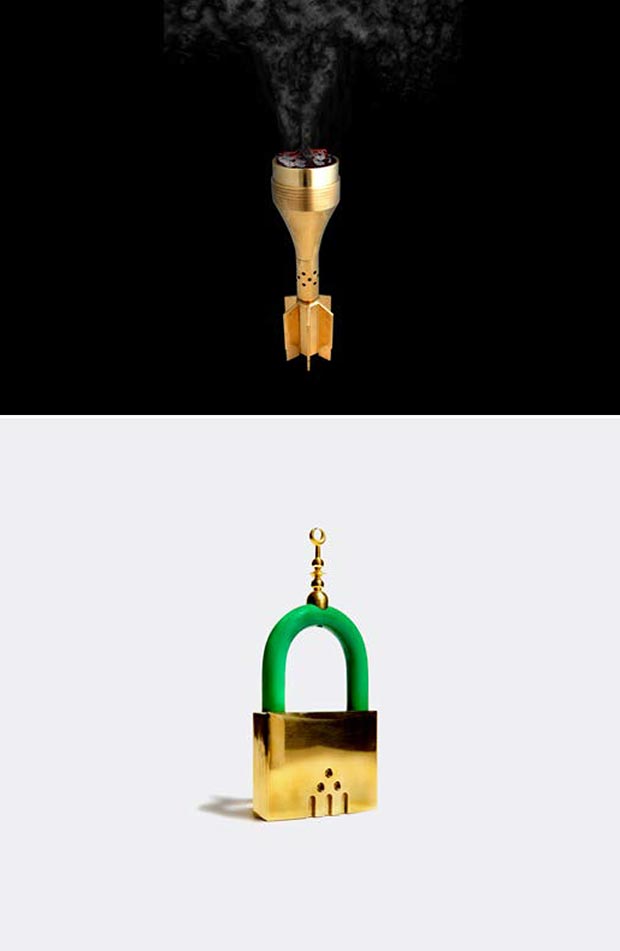 Ibrahim Abumsmar, Up: Al Mabkhara, 2010, Copper Sculpture, 13 x 3 in (33 x 7.5 cm) / Down: The Green Dome, 2011, Copper sculpture, 5.5 x 2.75 in (14 x 7 cm) / Courtesy of the artist
Where the comparisons are truly striking is in the arts. In the same way that music made a name for Memphis in the 1950s and 1960s, today a generation of young visual and video artists is putting contemporary art from Saudi Arabia on the international cultural map. Twenty years ago, only savvy collectors and regional art experts could name a handful of artists from Saudi Arabia. In 2016, the Freer Sackler held a large exhibition featuring the works of Ahmed Mater, and this year the Los Angeles County Museum of Art held an exhibition of works by Abdulnasser Gharem. Both men have entered that high echelon of artists whose works spawn discourse on several continents. Artists such as Njoud Alanbari, Zahra Al-Ghamdi, Shaweesh, Abdullah Al Othman and Ahmad Angawi have launched their careers in this movement. The depth and beauty of their work is great, but their works are also edgy and provocative. This body of art is imbued with what critic Stephen Greenblatt cited as necessary to great art – the characteristics of resonance and wonder.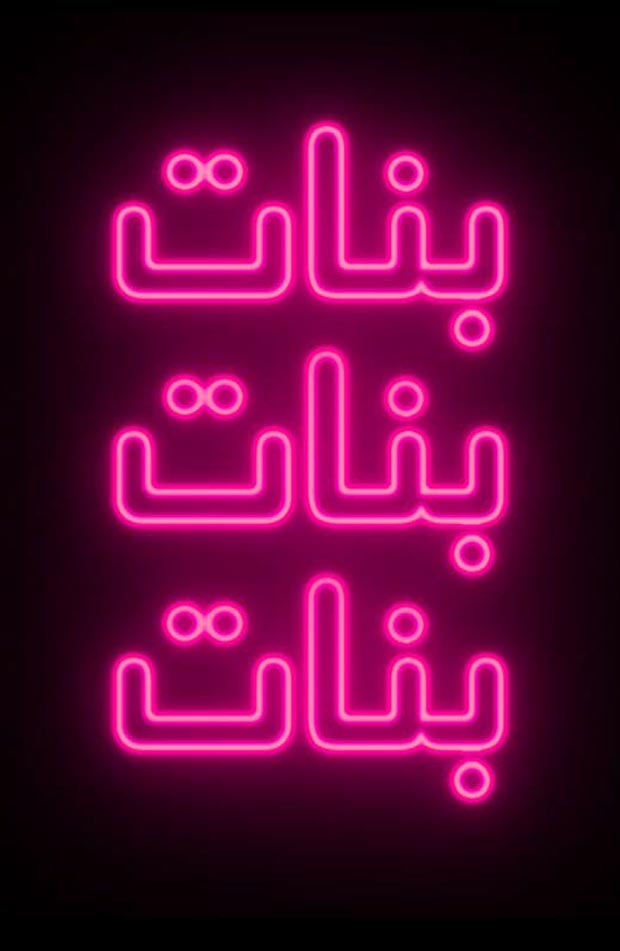 Yusef Alahmad, Girls, Girls, Girls, 2017, Pink neon tubes, 57.91 x 39.37 in (147 x 99 cm) / Courtesy of the artist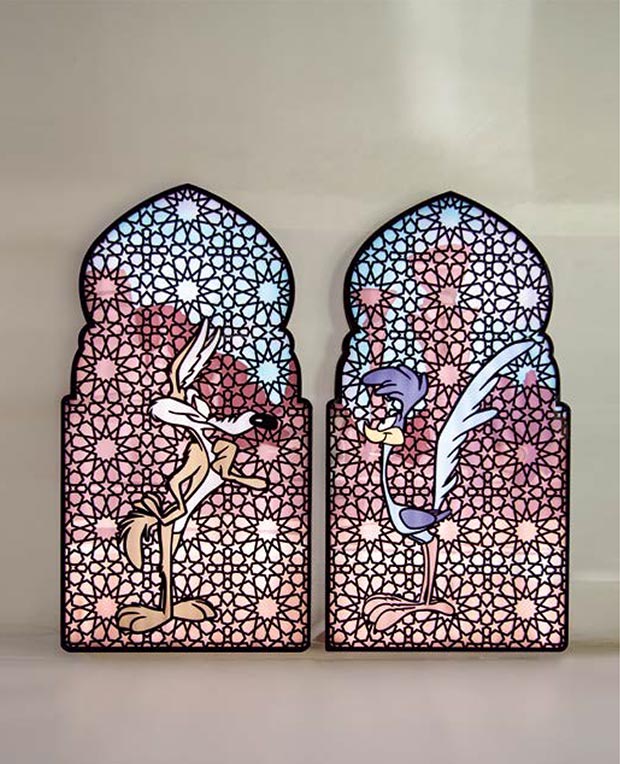 Rashed Al Shashai, Beep Beep, 2015. Light box covered with black acrylic, 89 x 47.2 in (226 x 120 cm) / Courtesy of the artist
"This exhibition is more than a showcase for art; it is two cultures of art embracing each other. Herein, the visual meets the vocal and the sands meet the waters," says Leslie Luebbers, AMUM director and co-curator of Desert to Delta. "We are pleased to provide an opportunity for Saudi artists to showcase their work in the Art Museum of University of Memphis," adds Ali Almutairi, Director of Ithra, King Abdulaziz Center for World Culture. "This exhibition fosters cross-cultural dialogue, and offers the chance for a wider audience to engage with the diversity within Saudi art."
'From Desert to Delta: Saudi Contemporary Art in Memphis, TN' is organized by the Art Museum of University of Memphis in collaboration with King Abdulaziz Center for World Culture, and is coordinated by CULTURUNNERS.