The Pavilion Downtown Dubai presents a solo show by Turkish artist Ergin Çavusoglu (October 2 – December 4, 2011) consisting of a largescale interactive vinyl perspective floor drawing in Gallery 2. The artwork functions as a manipulation of perception and space and also provides an astute commentary on issues of real estate and labor.
Born in Bulgaria as part of a Turkish minority and now based in London, contemporary artist Ergin Çavusoglu is renowned for his aesthetically beautiful yet complex film and video installations and sculptural works that explore issues pertaining to post-migration, geographies and informal architectures. Drawing from a highly conceptual and theoretical position Çavusoglu's practice has been greatly influenced by the work of literature, theatre and iconic artists Marcel Duchamp and filmmaker Robert Bresson, which he has referenced in to create an incongruous meeting of brute reality and slight-of-hand to reflect on the arbitrary order within the classification of art and rationality.
Curated by Sara Raza, Çavusoglu's solo exhibition at The Pavilion Downtown Dubai reprises his interests in the 'Duchampian' by probing post-object art through showcasing an interactive vinyl perspective floor drawing entitled Dust Breeding. The inspiration behind this work exists within its title, which is borrowed from American photographer and painter Man Ray's 1920 photograph 'Dust Breeding' of Duchamp's 'Large Glass with Dust Notes' (1921). The photograph was purposely taken after it had collected a year's worth of dust and debris and marked Duchamp's year-long residency in New York, where he had met and befriended Man Ray. After the photograph was taken Duchamp cleaned the glass of all dust particles apart from one section, which he permanently fastened on to the glass using a cement solution. Çavusoglu's commentary on this iconic Duchamp work draws its reference from the physical and conceptual documentation of dust and debris, which he utilizes to create a form of informal architecture in the form of a perspective drawing based on the notion of a real building that renders the idea of dust and sand as ephemeral and timeless matter.
He re-appropriates this drawing from a three-dimensional architectural model he made as a response to an actual cement factory in Turkey known locally as 'Noah'. Çavusoglu invites audiences to interact with the work by walking across its entire surface. The routine act of walking disturbs the debris and the rising dust recorded via a security camera, installed at a particular angle, which captures and relays these recordings on to a monitor which in turn displays surreal images of audiences housed within the three-dimensional sculptural building. Ultimately, Çavusoglu's artwork functions as a manipulation of perspective and space and also provides an interesting commentary on the vast level of horizontal and vertical expansion of within the UAE addressing issues of disparity within real estate autonomy and the political aspects of labor.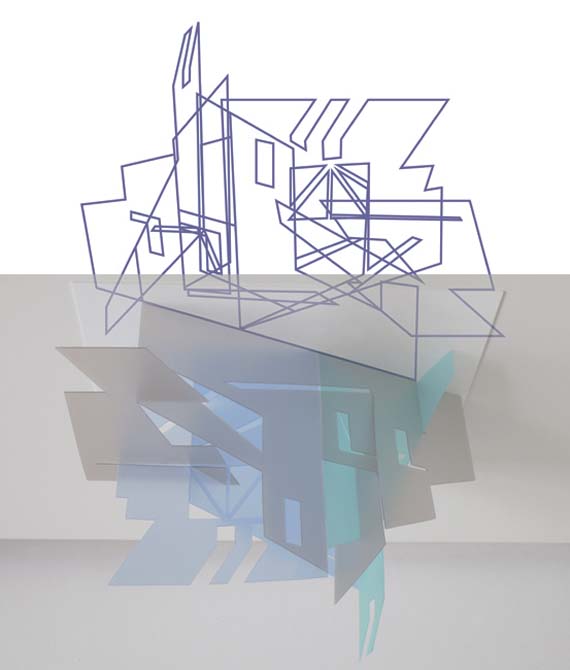 Ergin Çavusoglu, The Pavilion, Rendered Image. Photo courtesy of The Pavilion Downtown Dubai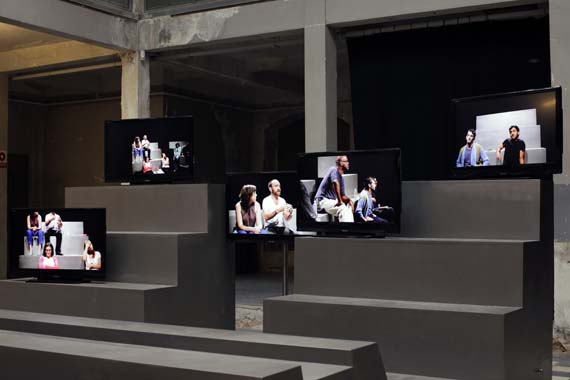 Ergin Çavusoglu, Backbench 01, Installation. Photo courtesy of The Pavilion Downtown Dubai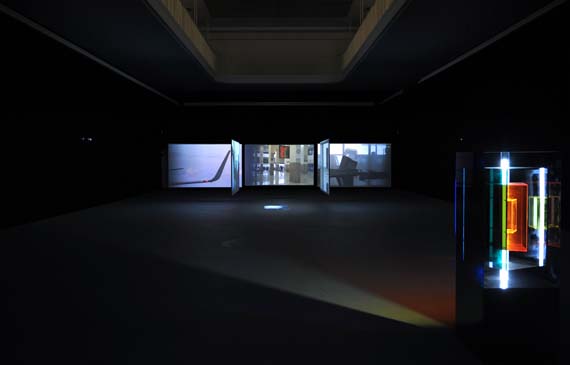 Ergin Çavusoglu, Point of Departure, Kunstverein Freiburg Installation. Photo courtesy of The Pavilion Downtown Dubai
About Ergin Çavusoglu
Ergin Çavusoglu (born in Targoviste, Bulgaria, 1968) studied at The National School of Fine Arts 'Iliya Petrov', Sofia in the early 1980s. He consequently received a BA in painting from the University of Marmara, Istanbul, MA from Goldsmiths, University of London, and a PhD from University in Portsmouth and currently lives and works in London, UK. He represented Turkey at the 50th Venice Biennale in 2003 and was shortlisted for the Beck's Futures Prize in 2004, and most recently in 2010 for Artes Mundi 4 – the UK's largest contemporary arts prize. Recent solo exhibitions include Alterity, RAMPA Istanbul (2011), Crystal & Flame, PEER, London (2010), Ergin Cavusoglu, Ludwig Forum für Internationale Kunst, Aachen (2009-10); and group exhibitions include Paradise Lost, Istanbul Museum of Modern Art, Istanbul Manifesta 8, Murcia, Spain (2010), fast forward 2 The Power of Motion, Media Art Sammlung Goetz, ZKM Museum of Contemporary Art, Karlsruhe, Germany (2010), and The First Mediterranean Biennial of Contemporary Art, Haifa, Israel (2010).
About Sara Raza Sara Raza is an independent curator and editor for ArtAsiaPacific for West and Central Asia and an editor for Ibraaz, a non-profit research platform on the MENA region. A former curator of public programs at Tate Modern, she has written extensively for journals and institutional publications and curated, lectured and presented papers internationally on informal architectures and post-Soviet contemporary art. She has been a visiting lecturer at Sotheby's Institute of Art, London, for the MA Contemporary Art programme since 2010.
About The Pavilion Downtown Dubai
The Pavilion Downtown Dubai is the city's newest dedicated non-profit contemporary art space providing a place to view, discuss and participate in works by local and international artists. Developed by the multidivisional group Cultural Engineering, The Pavilion is a unique hub for a diverse range of art events offering a platform to promote an active arts community to the public and to support the work of a rising generation of artists in the region.
http://pavilion.ae/