eL Seed will present a new body of work developed over the course of his residency at Tashkeel
Internationally acclaimed street artist eL Seed -best known for his 'calligraffiti' style of expression which mixes graffiti and traditional Arabic calligraphy - will present a new body of works at Tashkeel from November 19 – December 27, 2014 in collaboration with the Salama bint Hamdan Al Nahyan Foundation.
Utilizing monumental surfaces as his canvas, eL Seed's work has been created and seen on numerous structures and building façades around the world, marking his bold and beautiful take on Arabic text and North African roots.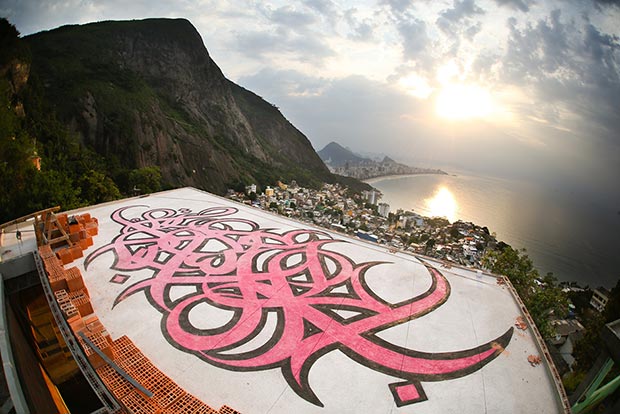 eLSeed / On top of the hill, 2014, Rio de Janeiro, Brazil / Courtesy of the Artist
"In this exhibition, I want to free the letters from the 2-dimensional surface, releasing them from the wall and invite the viewer to interact with the calligraphy, creating a ballad between them," says eL Seed.
Through his first solo exhibition at Tashkeel, he places these works into a new context, paying homage to his older pieces through the process of reinvention.
"Having been part of Tashkeel's programme since 2011, this exhibition presents, for the first time, a new medium for eL Seed. We have been delighted to have eL Seed here working from the studios and being an integral part of our community over the course of this year. We are excited to welcome his work back to the gallery and experience this innovative revolution in his work, which still preserves the essence of his unique style," said Anabelle de Gersigny, Tashkeel Strategy and Partnership Development Manager.