SARAJEVO, BiH / On 22rd of December the National and University Library of Bosnia and Herzegovina marked 65 years of its existence with exclusive exhibition of rare Islamic Manuscripts that were saved from fire during the war in BiH.
This institution is, next to the Gazi Husrev-Bey's Library, and the Oriental Institute, the most important institution with amazing collection of books and written documents in BiH. During the aggression on Bosnia and Herzegovina by Serbia and Montenegro, the Library was deliberately set on fire by Serbian military forces. In this tragic event over two million books were burnt. However, with timely and very courageous intervention, some very important collections of manuscripts, among which are especially prominent Islamic manuscripts, were rescued. To celebrate the 65th anniversary, the National and University Library organized an exhibition of saved manuscripts and documents. This exclusive exhibition was opened only one day.
Here you can see photos of two remarkable Islamic Manuscripts from the exhibition: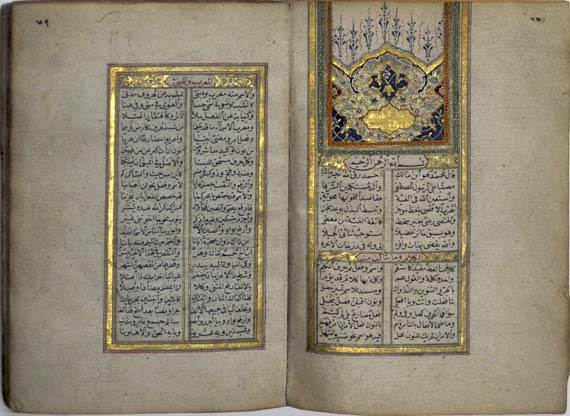 Medzmua - Manuscript with 13 works / copied by Muhammad b. al-hagg Halil, the caller to the prayer in the Nuri Dede Mosque in 1764.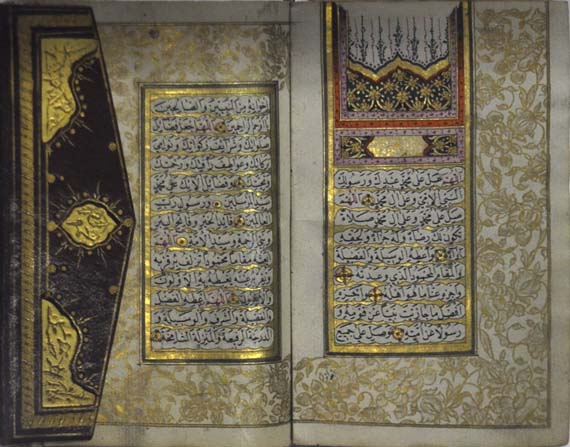 Dala'il Al-Hayrat wa Shawarik Al-Anwar fi dhikr As-Salat'Ala An-Nabiyy Al-Muhtar / The collection of Salawat collected by Muhammas b. Sulayman b. Abdurrahman al-Gazuli, who died in 870/1465. The Manuscript was copied by as-Shayh Ali b. Ahmad, the apprentice of Shaikh of Rufai Tarikat in Sofia 1239/1823.
Photos taken by Kenan Surkovic
© Copyright Islamic Arts Magazine