At the end of the 18th century and the beginning of the 19th century, the most famous Bosnian calligrapher was Hafiz Ibrahim Sehovic (d.1812). For many years he was the main imam in Sarajevo Emperor's Mosque hence his nickname Emperor's imam.
This article is a part of the project 'Promotion of the Ottoman Cultural Heritage of Bosnia and Turkey' which is organized by Monolit, Association for Promoting Islamic Arts and supported by the Republic of Turkey (YTB - T.C. BAŞBAKANLIK Yurtdışı Türkler ve Akraba Topluluklar Başkanlığı / Prime Ministry, Presidency for Turks Abroad and Related Communities).
Emperor's Imam
The text bellow was written by Hafiz Ibrahim Sehovic, 18th century Sarajevo-born calligrapher. He signed himself as Ibrahim, Son of Muhammad Saraji never mentioning his family name, but strong oral tradition says it was Sehovic. It is believed he spent all of his life in Sarajevo.

Ibrahim held the position of imam in the Emperor's Mosque, the first mosque in the city built in 1457. That was the reason he got the nickname Emperor's Imam. Besides his work in the Mosque he spent a lot of the time transcribing manuscripts, especially Qur'an. It is known that he transcribed at least 66 copies and a number of other works. Everything indicates that his manuscripts were highly sought after. It was not just the number of copies that was impressive, but due to their beauty, they were also known as 'Qur'ans of the Emperor's Imam'.
Hafiz Sehovic was one of the best Bosnian calligraphers. He was the master of thuluth and naskh script. Unfortunately, not all manuscripts are preserved, but those saved testify to his commitment to each letter.
The oldest manuscript attributed to Hafiz Ibrahim Sehovic is his 32nd copy of Qur'an finished in 1780. In the same year, he finished his 33rd. Besides transcribing Qur'an he also copied other works. In 1781, he finished his 3rd transcription of 'Dala'il Al-Khayrat', the collection of prayers. The manuscript contains miniatures of Mecca and Medina, and Hafiz Ibrahim Sehovic is most likely the author.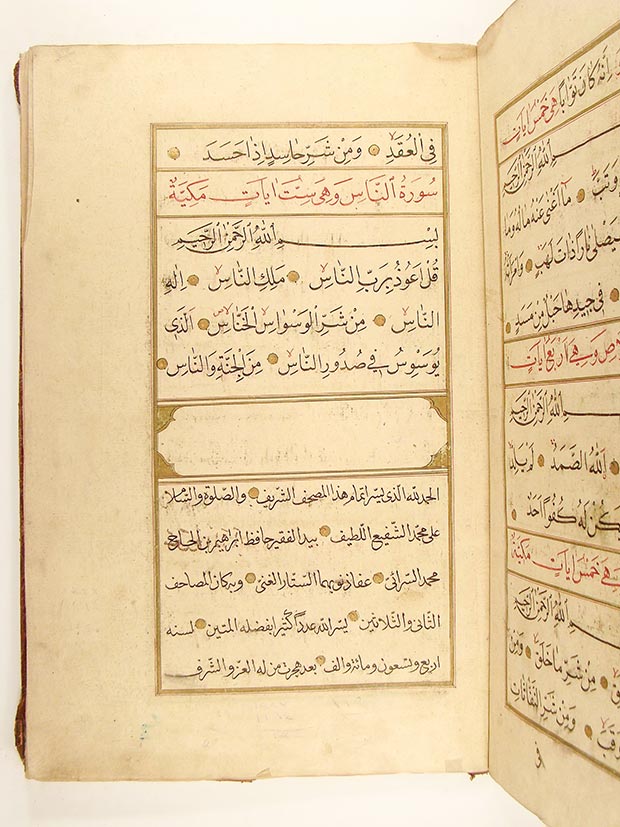 32nd copy of Qur'an, transcribed by Hafiz Ibrahim Sehovic, 1780 / Photo courtesy of the Gazi Husrev Beg Library
There is a gap of seventeen years in his activity since his next manuscript that survived is from 1798. In that year he finished 'Majmua', an anthology of different works and prayers. One of the works 'Majmua is Dala'il Al-Khayrat' is decorated with miniatures, this time not with two holy cities, but the grave of Muhammad (pbuh). Hafiz Ibrahim Sehovic was restless until his death in 1812 when he finished his 66th and the last transcription of Qur'an. This manuscript was kept in the private library of Hajji Mujaga Merhemic (1877-1959) but unfortunately is lost.
The Qur'an Manuscripts by the Emperor's Imam
Hafiz Ibrahim Sehovic is the only calligrapher in Bosnia who gave his copies of Qur'an a name. The few of Sehovic manuscripts have been preserved over decades. The most of them are found in the collection of the Gazi Husrev Beg Library in Sarajevo. They all show the exquisite calligraphy of the great master. It is not known who was his professor of calligraphy, we could only guess. During his lifetime Sarajevo had more than twenty calligraphers and a kind of calligraphy gallery placed in Hajji Sinan Tekke.
His Qur'an manuscripts are beautifully illuminated while other works have wonderful miniatures. On each page, Sehovic demonstrates his years of experience. All of his mastership was done in naskh and thuluth script. In the last decade of his life Hafiz Sehovic showed tiredness and imperfections in calligraphy. It is not surprising as the tradition says he was losing his eyesight.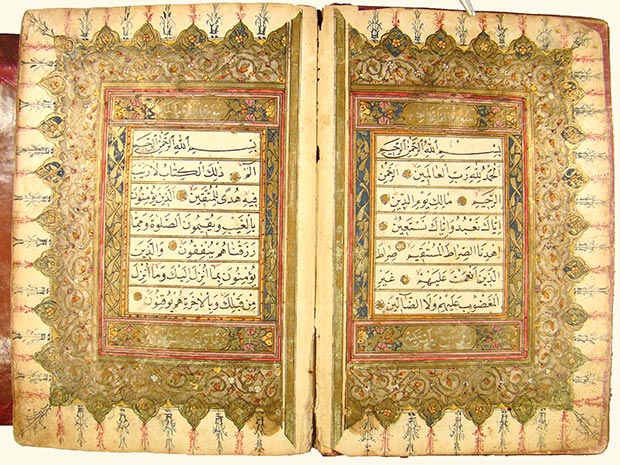 53rd copy of Qur'an, transcribed by Hafiz Ibrahim Sehovic, 1799 / Photo courtesy of the Gazi Husrev Beg Library
Giving the names to his Qur'an manuscripts helps us understand the 18th century art market in Sarajevo. The numbers of transcribed manuscripts testify that works of Hafiz Ibrahim were in high demand. This is also confirmed by the fact that the earlier manuscripts had more pages than the later ones. It can be assumed that in the later years Hafiz Sehovic did not have much time to "enjoy" calligraphy because the market could not wait.
The features of his style are evident in harmony between vertical and horizontal lines, slenderness of the letters, relations between thin and thick lines, and moderate slope of the letters. After comparing the work of Hafiz Ibrahim Sehovic with other Bosnian calligraphers of the time it is obvious that he was one of the best.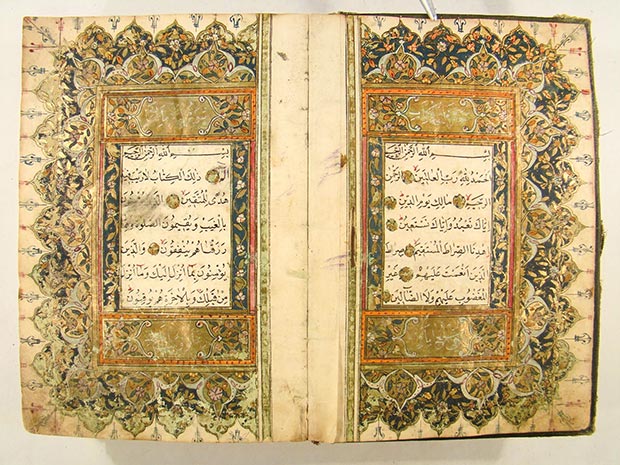 56th copy of Qur'an, transcribed by Hafiz Ibrahim Sehovic, 1800 / Photo courtesy of the Gazi Husrev Beg Library
Hafiz Sehovic Inspired the Writer
Bosnian writer Resad Kadic was inspired by the life of Hafiz Ibrahim Sehovic and wanted to revive the memory of the calligrapher. He was very keen in his intention so he dedicated to Sehovic a story 'Emperor's Imam' and mentions him also in the novel 'The Last Basheskia's Note' that talks about 18th century Sarajevo. A lot of folk traditions survived that describe the life of Hafiz Sehovic, so writing about him was not a problem for Kadic. It must be emphasized that Sehovic is the only Bosnian calligrapher that gained special place as a great man, great artist and has been portrayed in Bosnian literature.
"Another person also caught Mula Mustafa's attention. It was half-blind Hafiz Ibrahim Sehovic, pure in heart, quiet and modest, who despite everything had the lavish name: Emperor's imam. Hafiz Ibrahim was the imam of the Emperor's Mosque for long years, hence that is why he got that nickname. But he was more famous because of something else, he was recognized as a scribe of the Qur'an. […] He was doing so until his eyes full of enthusiasm went cloudy and almost dried out. Before he closed his last copy of Qur'an Hafiz Ibrahim wrote down with his shaky hand: It was written by Ibrahim Son of Hajji Muhammed. Forgive them both their sins o Allah, the most Wealthy, which covers all the shame. He dropped a tear that spilled over freshly written letters." (Resad Kadic, 'The last Basheskia's note')