As part of Sharjah Calligraphy Biennial 2014, nine International exhibitions opened on April 3, 2014 at Sharjah Art Museum. One of the exhibitions is 'Heritage and Acquaintance' by Abdallah Akar from France.
The exhibition was inaugurated by HE Sheikh Salem bin Abdulrahman Al Qasimi, Chairman of Ruler Office in the presence of HE Abdullah bin Mohammed Al Owais, Chairman of the Sharjah Department of Culture and Information and Hisham Al Madhloum, Director of Art Directorate and General Coordinator of the Sharjah Calligraphy Biennial.
Sharjah Calligraphy Biennial is organized by the Directorate of Arts in the Department of Culture and Information, Government of Sharjah, UAE and this year is held as part of the celebrations of naming Sharjah as the Islamic Capital of Culture for 2014. The Biennial will run until June 2, 2014.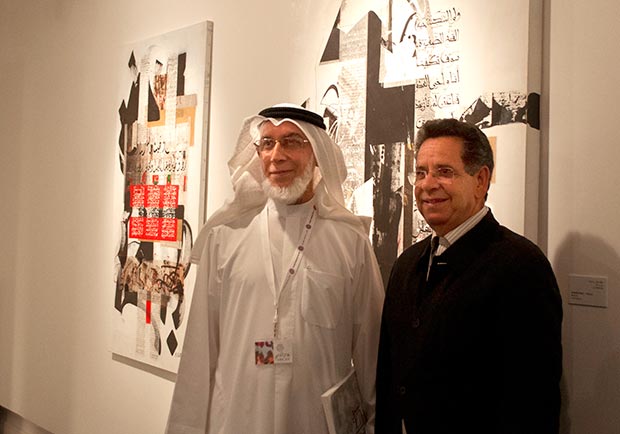 Artist Akar Abdallah (on right) infront of his work / Photo © Islamic Arts Magazine
Akar Abdallah was born in Tunisia. He arrived in Paris in the late sixties where he studied visual arts. He teaches drawing and painting, but ultimately Arabic calligraphy captured his attention. His encounter with Ghani Alani, an Iraqi master calligrapher, was crucial for him and influenced him to continue his explorations in contemporary calligraphy expressions. Besides paper and canvas that are natural to him, Akar Abdallah is always searching a new media that guides him to work with wood, textile and metal.
Since his first exhibition in 1986, his art was exhibited in various art events in solo or group exhibitions in Sharjah, Abu Dhabi, Dubai, Muscat, Paris, London, Miami, Tunis, Vienna, etc. He also participated in various conferences and workshops. At Sharjah Calligraphy Biennial 2014 we can see his latest series and installations.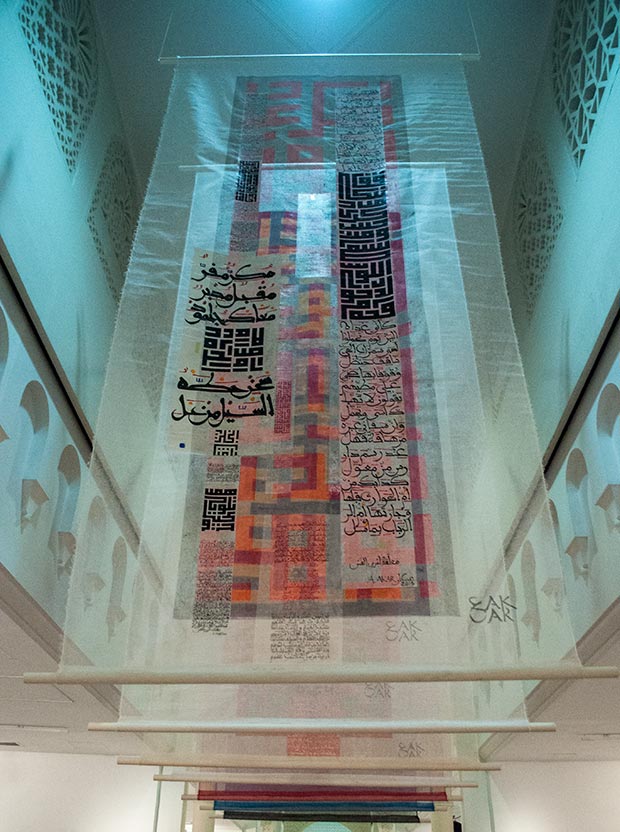 Abdallah Akar / An installation from the exhibition 'Heritage & Acquaintance' / Photo © Islamic Arts Magazine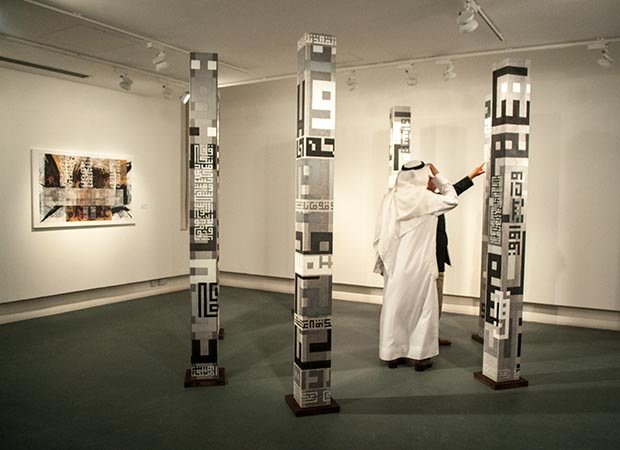 Abdallah Akar / An installation from the exhibition 'Heritage & Acquaintance' / Photo © Islamic Arts Magazine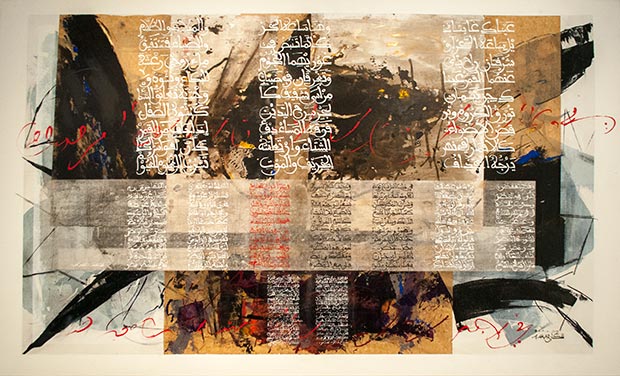 Abdallah Akar / from the exhibition 'Heritage & Acquaintance' / Photo © Islamic Arts Magazine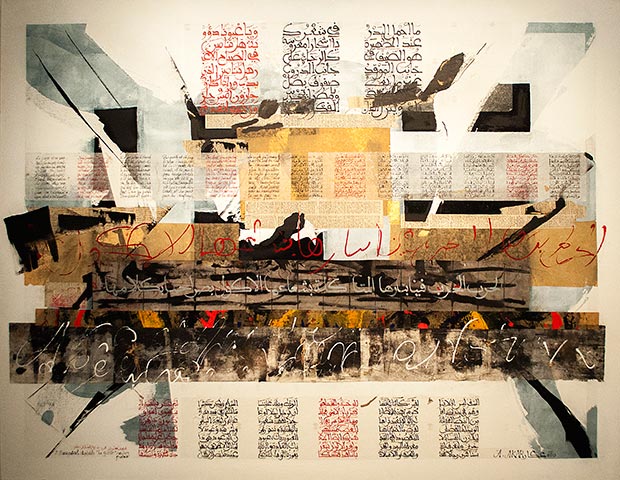 Abdallah Akar / Poetry, 114x146 cm, from the exhibition 'Heritage & Acquaintance' / Photo © Islamic Arts Magazine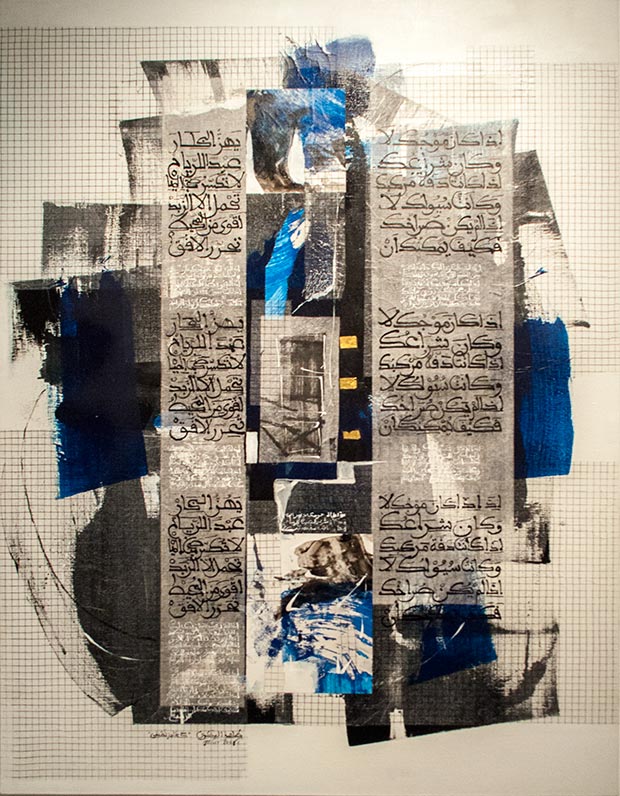 Abdallah Akar / Love, 116x98 cm, from the exhibition 'Heritage & Acquaintance' / Photo © Islamic Arts Magazine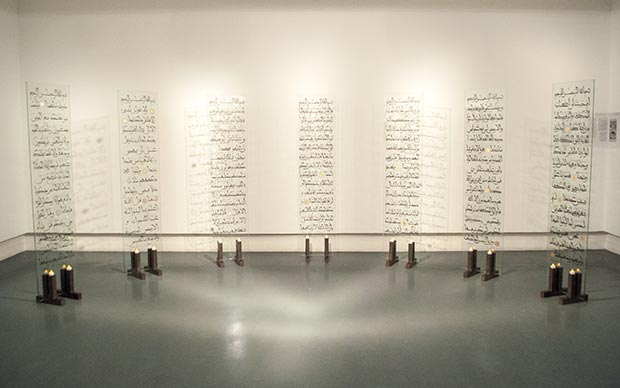 Abdallah Akar / An installation from the exhibition 'Heritage & Acquaintance' / Photo © Islamic Arts Magazine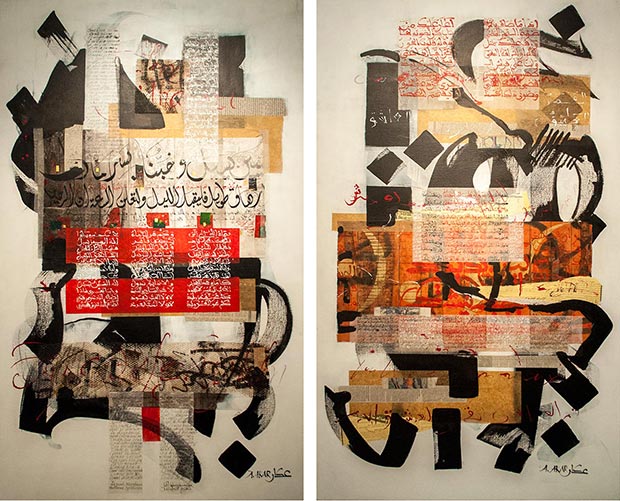 Abdallah Akar / Left: Under the Mirabeu-Bridge, 89x146 cm / Right:The Star in Love, 89x146 cm, from the exhibition 'Heritage & Acquaintance' / Photo © Islamic Arts Magazine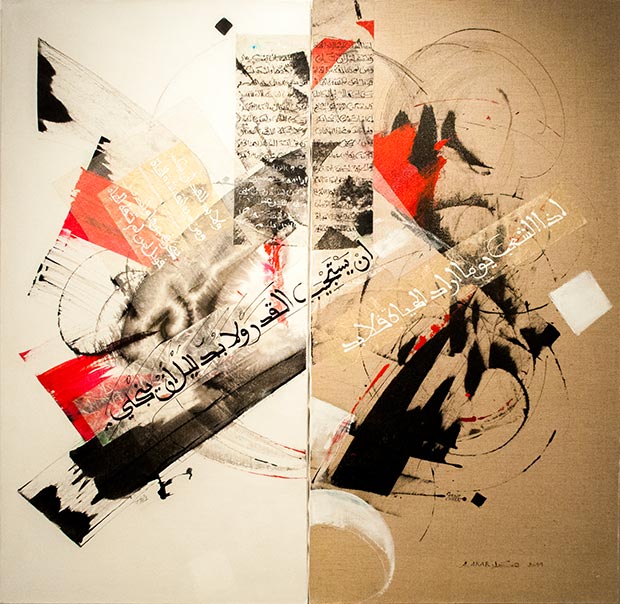 Abdallah Akar / The Will to Live 100x100 cm, from the exhibition 'Heritage & Acquaintance' / Photo © Islamic Arts Magazine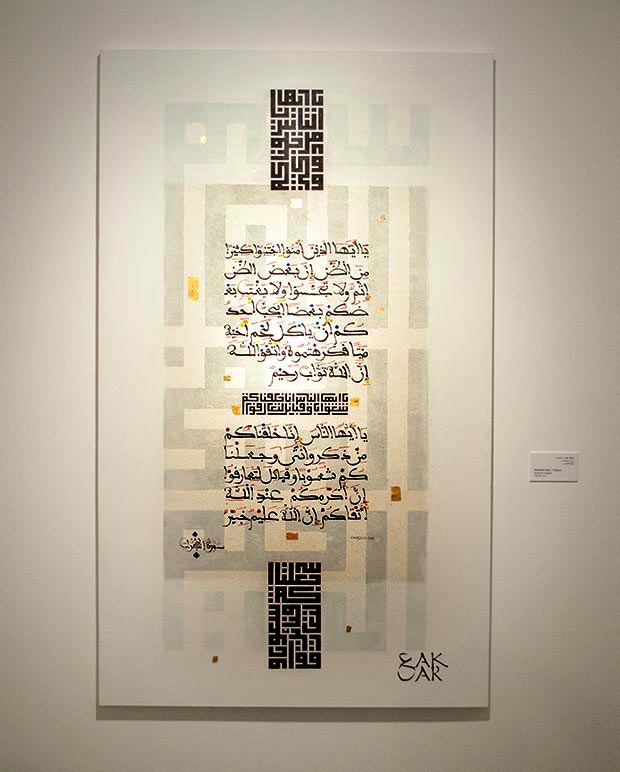 Abdallah Akar / Surah Al-Hujarat 162x97 cm, from the exhibition 'Heritage & Acquaintance' / Photo © Islamic Arts Magazine