Ten divers undergo the practical training in the world's largest aquarium
The Board of Trustees of Hamdan Bin Mohammed Bin Rashid Al Maktoum International Photography Award (HIPA) together with the dive centre of Atlantis the Palm Dubai Hotel organised an advanced underwater photography workshop. The workshop is the practical part of a theoretical session held last November at HIPA's headquarters in Dubai.
The workshop will be conducted by HIPA Secretary General Ali Khalifa bin Thalith, who is also a prominent underwater photographer both locally and internationally. Bin Thalith, who has delivered many lectures and workshops in this field, will train 10 divers for 10 hours at the Atlantis'Lost Chambers Aquarium. The aquarium, the largest in the world, holds 11 million litres of water and is home to around 65,000 marine species found in the Arabian Gulf.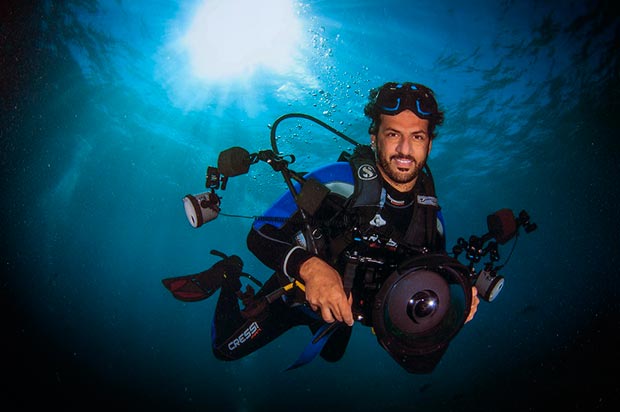 Ali Khalifa bin Thalith / Courtesy of HIPA
Commenting on the workshop, bin Thalith said: "As part of HIPA's pursuit to offer photographers higher knowledge and skills, this advanced session is held today, attracts many photographers because of the sense of thrill and adventure it provides. Since underwater photography also has its hazards, only certified divers are allowed in the workshop to gain practical knowledge through the best methods and most advanced technology in the field."
"The workshop will start with a theoretical session that trains participants on the use of cameras, lighting and other equipment for underwater photography held in the swimming pool of the dive centre. This will be followed by the practical session with two separate dives to train participants on the use of wide angle as well as macro photography to shoot small marine species," he added.
Bin Thalith concluded by saying: "We save no effort to consider photographers' various requirements and aspirations, and to put into action all the projects that meet these aspirations in innovative ways. We do this to realise the vision of Dubai Crown Prince, the patron of HIPA, who is keen to see a continuously thriving environment in the field of innovation and skill training in photography, which is considered as one of the fastest growing advanced industries in the world."