In the part two of the Winners of HIPA 2016-17 we are presenting the winning photographs from the 'Digital Manipulation' category
Instead of painting an image on a canvas, fine art photographers use photography as a medium to digitally create out-of-this-world photographs. Digital manipulation has its place as a fine art and HIPA 2016 -17 competition gave a chance to fine art photographers to deliver their mind-blowing image. The process of digital manipulation is a hard work, there is a lot of conceptual thinking and many hours of shooting separate elements of the desired image and then hours and hours of editing the layers. To create a believable image a photographer must keep in mind the light, the perspective, the composition. Some photographers take a photo of every single part of the image in the same space under the same light conditions, carefully positioning all elements so that later in the post process part they can create a composite image with ease. The images submitted to this category show a great skill and imagination.
The five winners of 'Digital Manipulation' category are: Shahrzad Akrami from Iran; Dmitri Rogozhkin from Russian Federation, Salem Saeed Ba Wazir from Yemen, Lubna Abdelaziz from Egypt and Leyla Emektar from Turkey.
WINNERS OF 'DIGITAL MANIPULATION' CATEGORY
1st Winner - 'Natura' by Shahrzad Akrami, Iran
Since the ancient time it is believed that nature is alive organism, and that we as human beings are just a part of this great ecosystem. Nature has been a symbol for fertility, continuity and unity. The winning photo presents a tree of life in a shape of a bird wearing an owl on its head. There are so many symbolic interpretations of the image; the roots lead to the nest, just like in life all roads lead to our final destination. The nest is filled with eggs as a symbol of fertility. The body of a stork, represents a blossoming tree, where birds enjoy the unity, and an owl almost like a hat covers the head with a rational thinking. Quite imaginative and intriguing image.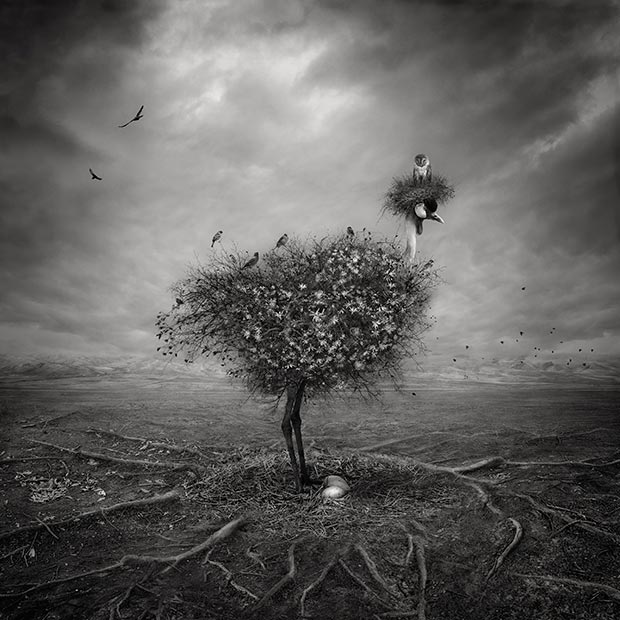 'Natura' by Shahrzad Akrami, Iran / Courtesy of HIPA
2nd Winner - 'The River of Life' by Dmitrii Rogozhkin, Russian Federation
Our lives resemble the flowing river. Nothing can stop the time as nothing can stop our life's journey. Everyone has to go through the giant clock, as it is ticking. The beauty of life lies in knowing that your hours are numbered. Dmitrii is showing us a story of one woman in four stages. At first we see a young child standing at the shore of the river, holding a toy, representing an innocent childhood. Then we see a young girl stepping into the river, starting to live her life. A mature woman is deep in the water, fully living her life, and finally we see an elderly woman nearing the end of her journey. The question is what lies ahead, to what reality are we going towards? Is it the end or the beginning? Even we know that this image is digitally manipulated it looks real, it almost makes you question where is this place. The symbolic behind the photograph is very strong as it tackles the very existence of every one of us. We are all on the same journey.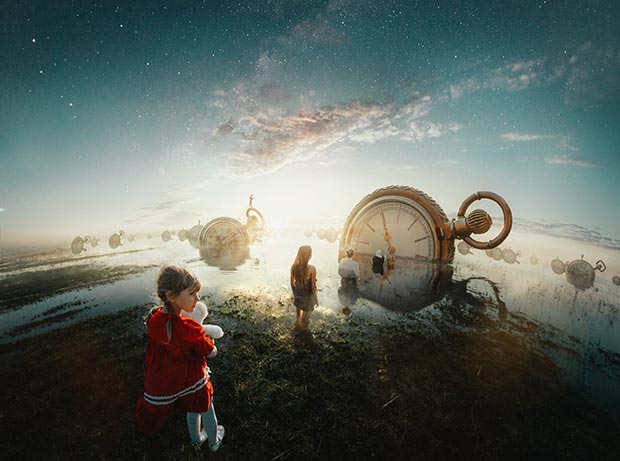 'The River of Life' by Dmitrii Rogozhkin, Russian Federation / Courtesy of HIPA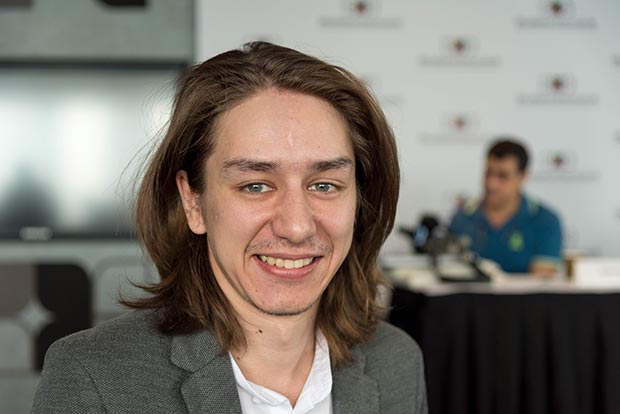 Dmitrii Rogozhkin / Photo © Islamic Arts Magazine
3rd Winner - 'Distractions' by Saleem Saeed Ba Wazir, Yemen
At a first look one might think that this photograph is a critique of technology in general, as we have all become so dependent on technology, it actually makes everything, all our core values turn upside down. We don't pay attention to the basics of life, no patience, everything needs an instant gratification and in that fast track everyone is self absorbed. That behaviour becomes very dangerous when mobile phones are increasingly used while driving. So now a useful technology becomes a silent killer.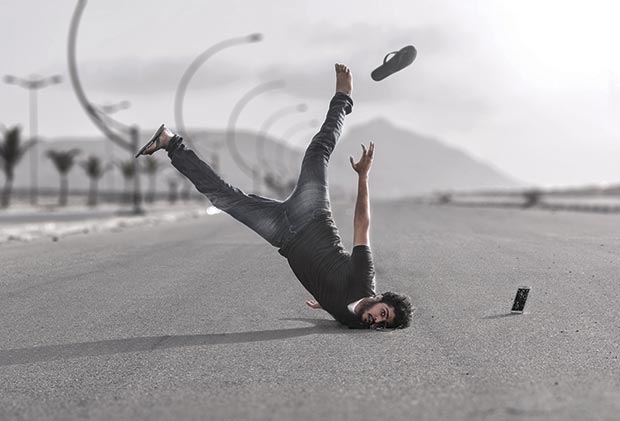 'Distractions' by Saleem Saeed Ba Wazir, Yemen / Courtesy of HIPA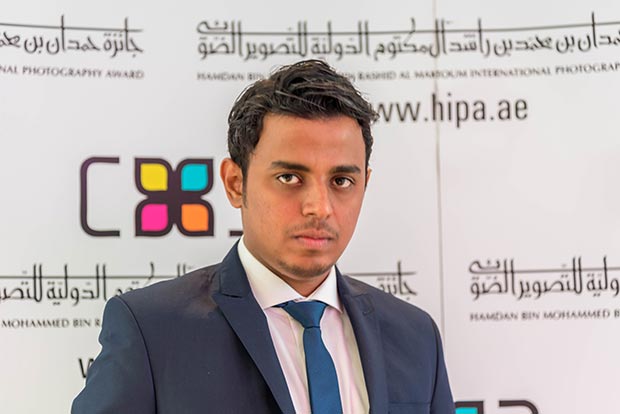 Saleem Saeed Ba Wazir / Photo © Islamic Arts Magazine
4th Winner - 'When She Grows Up' by Lubna Abdelaziz, Egypt
Memories can live inside a human being like flowers in a vase. Sometimes memories can blossom and sometimes they can painfully wither inside a person's mind for an entire lifetime. It is up to the carrier of the memories to pick out the good ones and move away from the bad ones. This photo is a strange and scary image that shows a woman with flowers coming out of her neck, instead of her head. Besides comparing the flowers with memories, we could also state that all, good or bed thoughts that we are allowing to 'grow' in our heads, can actually have an impact on what kind of human being we are. So we need to choose well.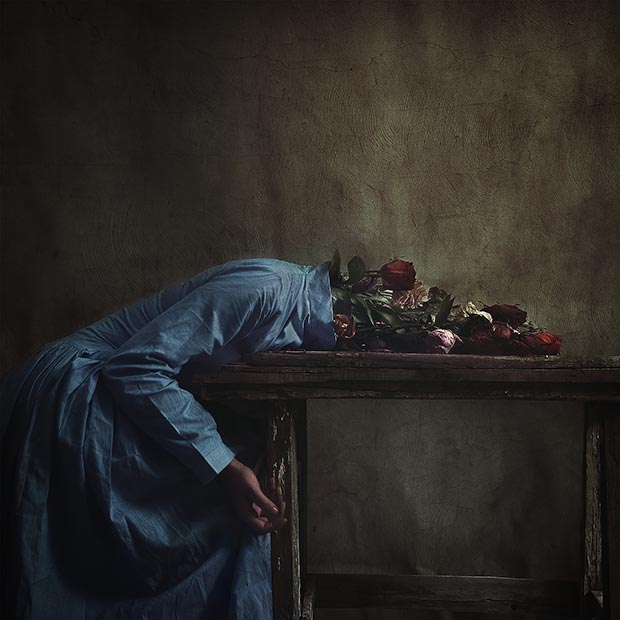 'When She Grows Up' by Lubna Abdelaziz, Egypt / Courtesy of HIPA
Lubna Abdelaziz / Photo © Islamic Arts Magazine
5th Winner - 'Submergence' by Leyla Emektar, Turkey
Leyla Emektar told us that the image deals specifically with child marriage, still present in the world. We see the same girl on left and right. The girl on the left is the one forced to marry and is 'under the rain' and her umbrella, a symbol of carelessness is now submerged in the water, filled with pain and sorrow. On the right side the same girl is representing the strength within herself, so she is holding a hand in a promise of hope. Between both of them we see the baby doll turned upside down that stands for the end of her childhood. We could however interpret the image also as representation of depression and anxiety many people face on a daily bases. These two diseases can arise at an early age and often overwhelm a person whilst growing up, leading to a difficult life later on. With a right support and guidance though, the most difficult situations can be made easier and the fight against this common enemy can be successfully achieved.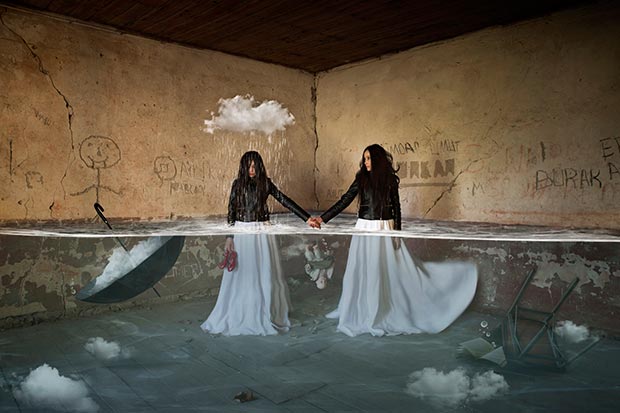 'Submergence' by Leyla Emektar, Turkey / Courtesy of HIPA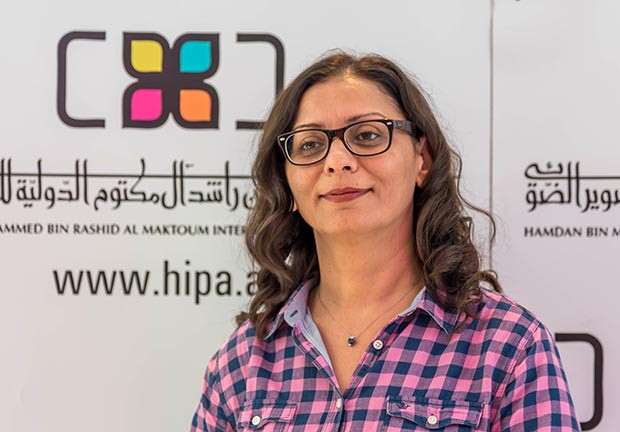 Leyla Emektar / Photo © Islamic Arts Magazine
See the related articles:
HIPA Unveils the Winners of the Sixth Season 'The Challenge'
PART I: HIPA Grand Prize and the Winners of The Challenge Category