Calligraphic animation with music by Nitin Sawhney and dance by Salah El Brogy
Soraya Syed, London based calligraphic artist is to exhibit 'Hurriyah' for the first time, a pioneering installation which explores how calligraphy can complement the world of dance through animation. 'Hurriyah', meaning freedom in Arabic, is one of the featured exhibitions at the London Nour Festival and will run daily between 10am and 5:30pm from 5th to 31st October, 2013 at Leighton House Museum.
At a private viewing on 4th October and for a public session on 20th October, Salah El Brogy, artist, choreographer and lead dancer at the award-winning show 'Vertical Road' by celebrated choreographer Akram Khan, will be responding to the animation, performing a specifically commissioned solo. Accompanying music has been developed by distinguished British Indian composer and producer, Nitin Sawhney.
Concept
Soraya Syed explains: "Hurriyah, or freedom, is a universal aspiring condition. The idea behind this exhibition is to experiment with the emblematic form of the word, so I have personified freedom to create a calligraphic animation partly inspired by dance, and specifically Kathak."
"What intrigues me is to see the different ways people interpret the concept of freedom. Some relate to it as breaking free from constraint or the type of freedom that results from self-mastery or self-realisation, while others interpret it as an expression of independence at a societal level, politically or otherwise."
Soraya Syed / 'Hurriyah' at Nour Festival, detail / Courtesy of Nour Festival and the Artist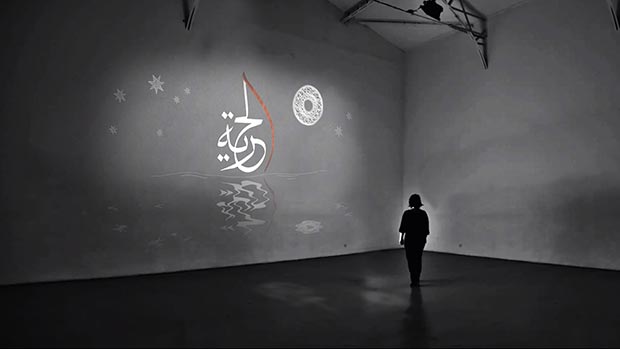 Soraya Syed / 'Hurriyah' at Nour Festival, Room Projection View / Courtesy of Nour Festival and the Artist
Soraya Syed
Soraya is the first Briton to receive the rare icazetname or calligrapher's license from Istanbul, Turkey. Her practice is a process of disciplined freedom and she enjoys the constant tension between remaining true to her classical training while exploring further possibilities. She takes great pleasure in finding new solutions to unusual commissions and her client portfolio ranges from the British Museum to the Saudi Royal Family. She is the director of Art of the Pen and recently founded Nuqta, an Arabic typography and calligraphy app.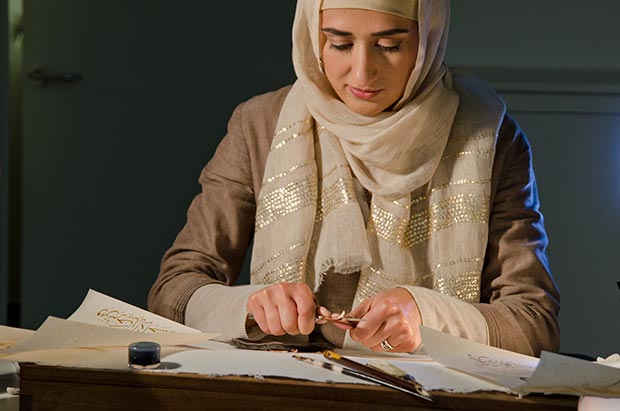 Soraya Syed / Courtesy of the Artist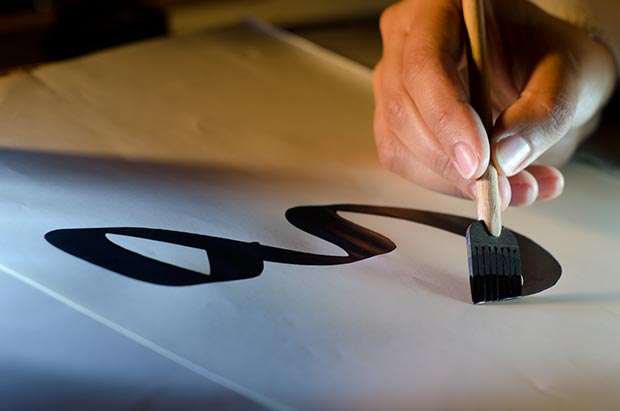 Soraya Syed at work / Courtesy of the Artist
Soraya's art is held in private and public collections in Canada, USA, UK, Spain, France, Norway, Sweden, Turkey, Kuwait, Qatar and Sharjah. Her work also been published in magazines, journals and exhibition catalogues in Europe, USA and UAE. The British Council, Switzerland produced a DVD based on her work with them. Soraya has been interviewed for Radio 4's Woman's Hour and Heart & Soul, for the BBC's World Service. Her book cover designs and calligraphic logos have been printed worldwide with the clients range from private galleries and museums to the film industry.
Soraya has an MA in Visual Islamic and Traditional Arts from The Prince's School of Traditional Arts, London. She resides in Greater London with her husband and children.