In February this year, a retrospective of art by Lubna Agha was featured at the Gardiner Art Gallery on the campus of Oklahoma State University in Stillwater, Oklahoma. An outstanding exhibition featuring many of her recent paintings, it would be Lubna's last. Lubna passed away May 6 at her home in Boston, Massachusetts.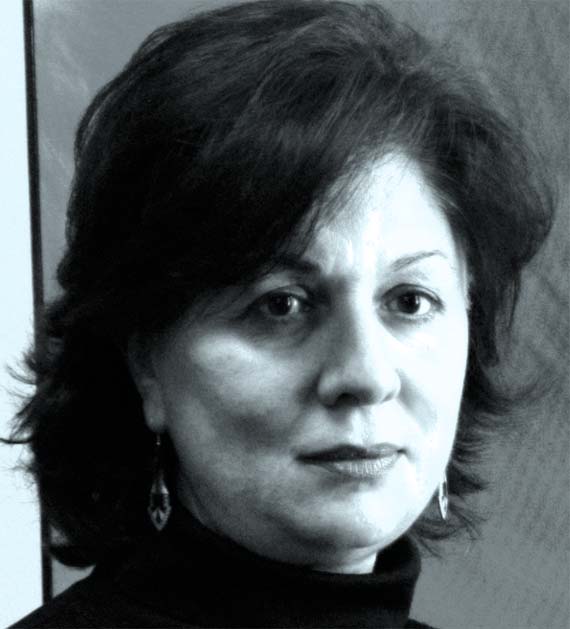 The artist Lubna Agha / Courtesy of Yusuf Agha
Lubna graduated from Mina Art School in Karachi, Pakistan in 1967, and at a very young age became one of the most recognized painters in the country. In the 1960s she painted colorful abstract compositions, exhibited at the Arts Council as well as newly established galleries in Karachi, Lahore and Islamabad. She sold her work at a time when collectors were few and very selective.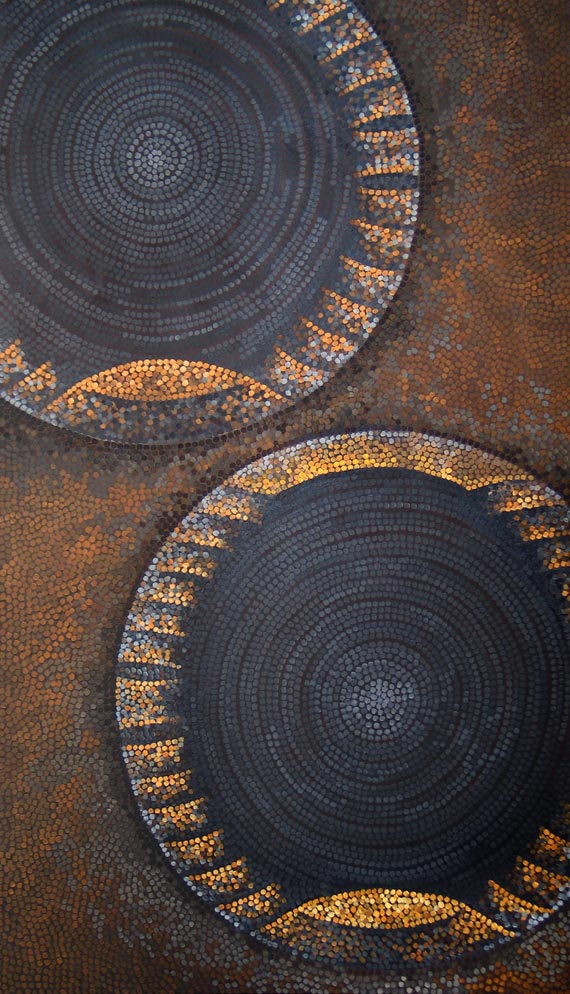 Lubna Agha / 2 Bowls, 19x34.5 in / Courtesy of Yusuf Agha
In the 1970s, she became famous for her White series, delicate minimalist paintings with cotton ball shapes delineated by calligraphic lines and sweeps of black and red paint. The press reacted as never before. Each journalist, trying to outdo one another, saw something symbolic in these paintings, from the erotic to the sublime. These paintings were purely formalist concerns but Lubna enjoyed the spin. In 1973, when she was in her 20s, Lubna was awarded second prize in the National Exhibition in Pakistan, an exhibition dominated by senior Pakistani artists.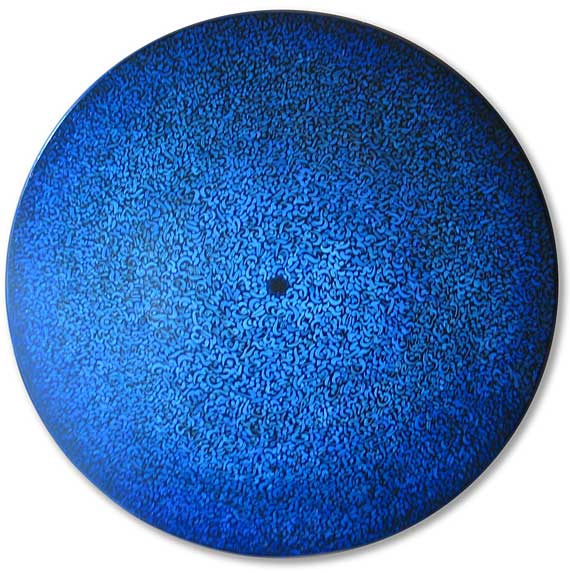 Lubna Agha / Blue Bowl, 22x22 in / Courtesy of Yusuf Agha
At the height of her career in Pakistan, Lubna and her family moved to Sacramento, California. Lubna took up drawing, print making and painting small watercolors in her new home. Her drawings expressed feelings of alienation from her home in Pakistan. California was truly a foreign place for her. Her watercolors held similar meaning with falling figures and limbs detached from their bodies. Several exhibitions, including one-person shows, followed both in California, the United Kingdom and on her periodic return to Pakistan. By the year 2000, Lubna was gripped by political concerns. She produced the Ja-namaaz series to address her grievances. Pakistan, her homeland, had become increasingly dependent on foreign institutions. She painted prayer rugs mocking allegiance to these institutions, including the White House, the IMF and even McDonalds.
After visits to Morocco and Turkey in 2004-2005, Lubna was deeply inspired by Islamic architecture and took hundreds of photos. She began to change her approach to painting. Fascinated by the aged wooden structures and the hand-wrought art in the bazaars, she was drawn to the pointed arched windows and ceiling domes as subject matter. All had been painted with geometric motifs, since figuration is discouraged in Islamic art. She designed intricate geometric patterns, composed of thousands of dots on wooden structures. Some emulated the domes and crenulated windows of mosques and palaces; some were tall and narrow like the minarets. She was attracted by the beauty and function of rehels (bookstands). She made sketches of them, which were crafted by local carpenters and which she painted with great patience and deliberation.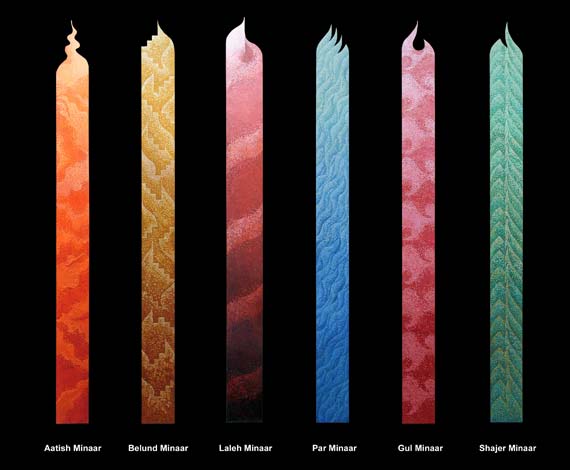 Lubna Agha / Meenaars - Minarets, 19x34.5 in / Courtesy of Yusuf Agha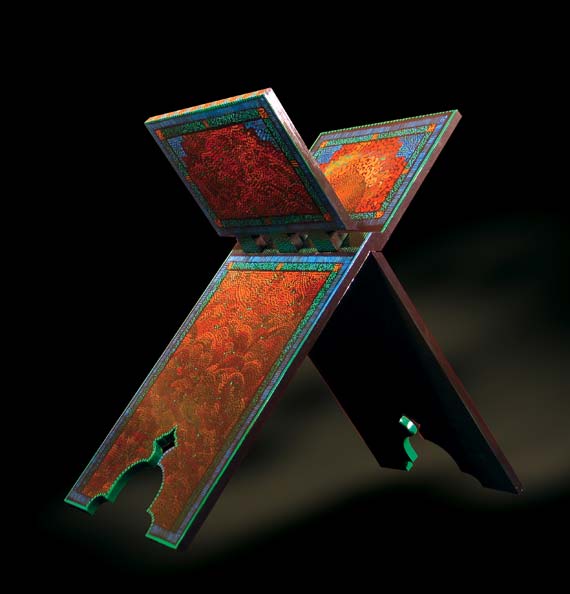 Lubna Agha / Rehel 3 / Courtesy of Yusuf Agha
Lubna's journey from art school to artistic maturity is a story of searching, determination and patience. It reflects her bold conviction to adopt non-figuration before it was acceptable in Pakistan and just as easily to return to figuration when the need to make a political statement was pressing. Of most relevance in her latest exhibition was the meticulous, labor intensive painting required to produce her most recent work. The work represents Lubna's reconnection with her Islamic roots, her desire to feel the process of producing handmade objects through her use of repetitive designs that require patience and hours of labor. Her art brought her closer to her heritage and gave her a sense of peace.
More recently, her paintings were incorporated in the Art in Embassies series of the US State Department, and were featured as covers for magazines and antilogies, including two that were sponsored by the National Endowment of the Arts, an independent federal agency supporting artists and arts organizations which brings art to all Americans.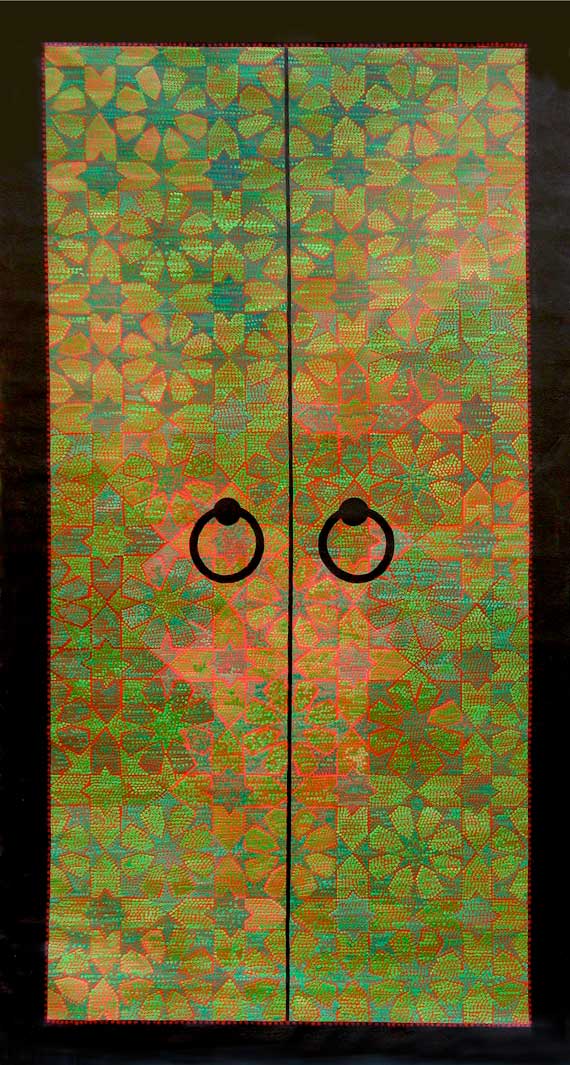 Lubna Agha / Green Door 2, 55x34 in / Courtesy of Yusuf Agha
Her passing is a loss to the art community of Pakistan, to America – her adopted country – and most of all to her family and friends. Lubna was a beautiful person, much loved by her family and many admirers. She will be dearly missed, but her artistic contribution and her name as one of Pakistan's foremost female artists will live on.