It has been twenty 20 years since Esref Kovacevic's death. He was a renowned Bosnian historian, scholar, translator and calligrapher. His scientific work is well known to researchers of the Ottoman Bosnia and Herzegovina, while the general public knows him by his long poem in honour of Muhammad (pbuh), his calligraphy and his transcription of Qur'an.
This article is a part of the project 'Promotion of the Ottoman Cultural Heritage of Bosnia and Turkey' which is organized by Monolit, Association for Promoting Islamic Arts and supported by the Republic of Turkey (YTB - T.C. BAŞBAKANLIK Yurtdışı Türkler ve Akraba Topluluklar Başkanlığı / Prime Ministry, Presidency for Turks Abroad and Related Communities).
Short Biography
Esref Kovacevic was born in 1924 in the village Kovacevci, Bosnia and Herzegovina. He started his education in his birthplace and later continued his studies at the Gazi Husrev Beg Madrasa in Sarajevo. After finishing the high school in 1944 he entered the Higher School for Islamic Shari'a and Theology, but he was forced to stop his studies due to the uncertainty during the World War II.
His great love for studies and foreign languages continued after the World War II despite all the struggles and hardship. His choice was Arabic and Turkish language and their literature at the University of Sarajevo. As he proved to be a good student his professor offered him a position of assistant, but Kovacevic refused. Two years after finishing his studies in 1960 he started working at the Oriental Institute in Sarajevo.
His enthusiasm was recognized and he was invited to other institutions as lecturer, besides his work at the Institute Kovacevic gave lectures of Turkish language at the Faculty of Philosophy, lectures of History of Islamic Culture and Civilization at the Faculty of Islamic Theology and lectures of Islamic Calligraphy at the Gazi Husrev Beg Madrasa.
Esref Kovacevic did not spend his time only within academic institutions' walls he was also very keen on teaching ordinary people, non-academics. He once stated that he taught more than 1500 people the Arabic alphabet and how to read the Noble Qur'an. Esref Kovacevic passed away on March 2, 1996.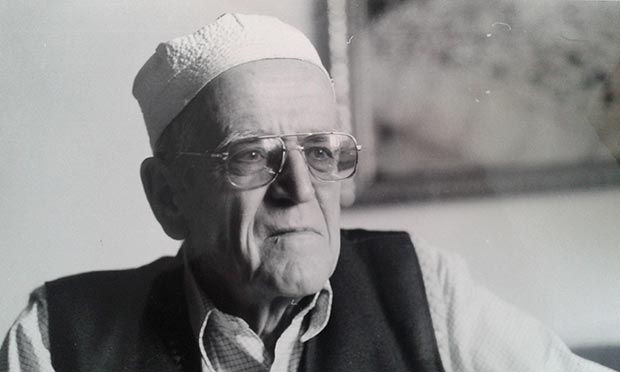 Esref Kovacevic / Old photograph from the private family collection / Courtesy of Kovacevic family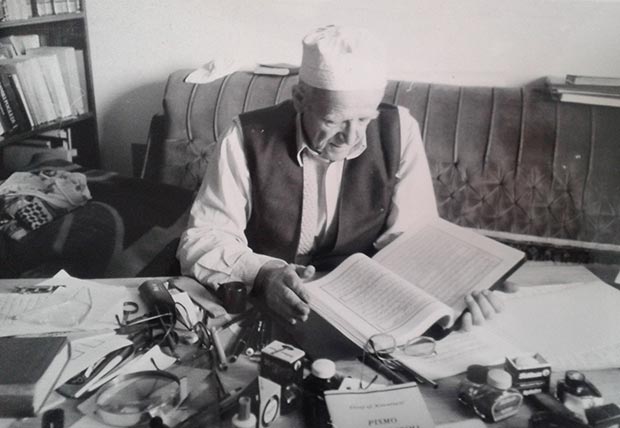 Esref Kovacevic / Old photograph from the private family collection / Courtesy of Kovacevic family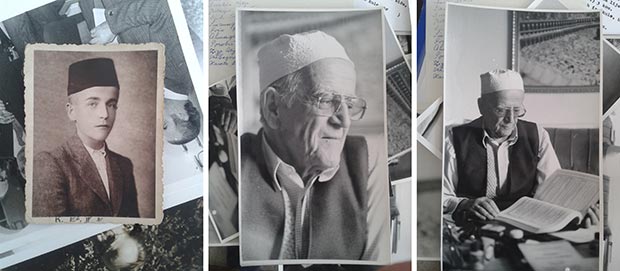 Esref Kovacevic / Old photograph from the private family collection / Photos taken by Dr Haris Dervisevic / Courtesy of Kovacevic family
Becoming a Calligrapher
Despite the fact that Esref Kovacevic was an academic he is best known as calligrapher and it is said he was the most successful calligrapher in Yugoslavia (the former state on the Balkans). The absurd is however that there are only a few who are familiar with his calligraphy. Summarizing his legacy it could be said with great certainty that he left a dozens of artworks located at various mosques, at the Islamic Community Institution of Bosnia and Herzegovina, many private collections in Bosnia and worldwide.
He claimed that his interest in calligraphy began in the high school. Kovacevic was most influenced by his teachers Hilmi Efendi Muftic, Jusuf Efendi Muhic and Husein Efendi Rizvic who learned calligraphy from the Bosnian master of calligraphy Ali Sharif Faginovic.
It has to be admitted that Esref Kovacevic did not learn calligraphy in classical way, professor-student. The most of his knowledge he gain by experience and we could say he was a self-taught calligrapher. He said that he practiced a lot in his initial stage. The study trip to Turkey in 1968 left a significant impression on him. Kovacevic spent the time visiting museums, archives, mosques, tekkes, turbes and other places where calligraphy masterpieces could be found.
He did not keep a calligraphic flame only for himself rather he spread it. Thanks to the fact he gave lectures of calligraphy at the Gazi Husrev Beg Madrasa in Sarajevo some of his students showed talent. Today's most known Kovacevic's student is Hazim Numanagic, a famous Bosnian calligrapher.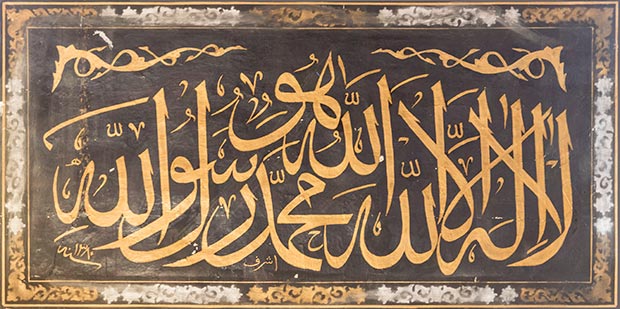 Caligraphy by Esref Kovacevic located at the Kocuk Kjatib Mujhudin Mosque (Nadmilini), Sarajevo / Photo © Islamic Arts Magazine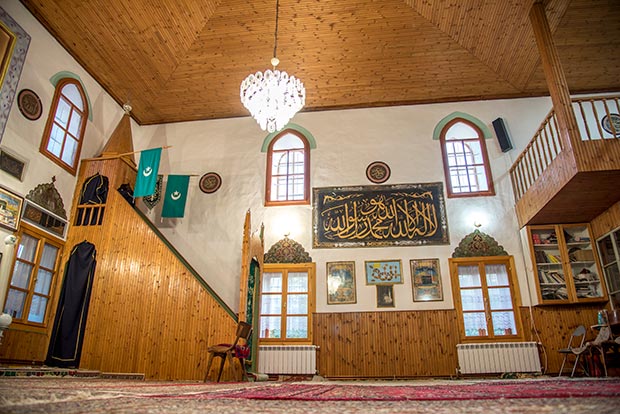 Caligraphy by Esref Kovacevic at the wall of the Kocuk Kjatib Mujhudin Mosque (Nadmilini), Sarajevo / Photo © Islamic Arts Magazine
Splendour of His Art
There is no monograph about Esref Kovacevic's calligraphy, that is the main reason we still do not know the real scope of his work. It is known that he produced several hundred calligraphy works. Kovacevic wrote calligraphy pieces in documents and books, but also was active in reconstruction and restoration of the Ottoman monuments.
As far as we know it is possible to find Kovacevic's calligraphy in at least twenty-nine Bosnian mosques. Some of them have four, six or more calligraphic panels. For example, he did the entire calligraphy in the Sultan Fatih (Emperor's) Mosque in Sarajevo. It is interesting that his calligraphy is located not only in mosques located in bigger Bosnian cities but also in smaller villages.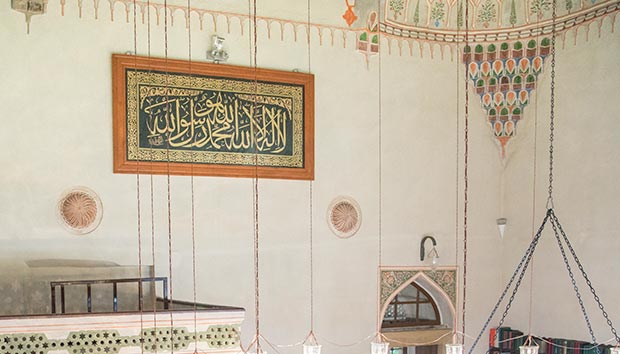 Caligraphy by Esref Kovacevic at the wall of the Ferhad Beg Mosque in Sarajevo / Photo © Islamic Arts Magazine
Anecdote
It is said that Esref Kovacevic once visited the Sultan Ahmed Mosque (known as the Blue Mosque) in Istanbul. After the prayer he noticed an error in Arabic texts on the candlestick. It was written: "There is no God, there is no Allah." He then spoke with the authorities of the Mosque and offered his help to correct the error. At the first they did not trust him but when he showed his skills there were no more obstacles. After many years he was asked if this is true, he confirmed and added that it was the big candlestick at the right side of mihrab.
Transcription of Qur'an
The greatest project in calligraphy undertaken by Esref Kovacevic was to transcribe Qur'an which he started at the beginning of the 90s, in the besieged Sarajevo. This was his way to resist and fight for free Sarajevo and Bosnia. When manuscript was finished he sent it to IRCICA in Istanbul in 1995 with a request that later copies of his transcription of Qur'an may not be sold, only given as a present. His wish was warmly accepted. After analyzing his manuscript it is evident that he does not follow classical styles in calligraphy. The reason is his intention to simplify Arabic alphabet to non-Arabs.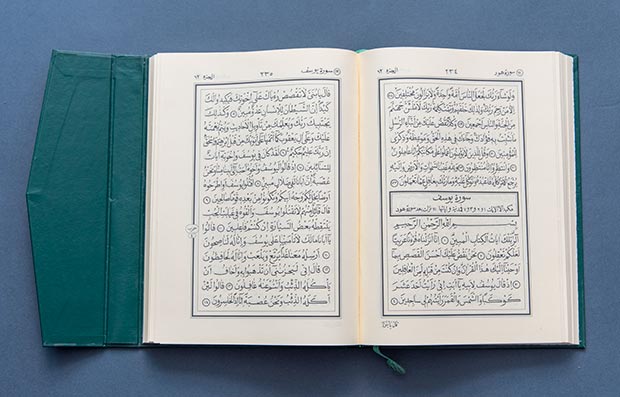 Transcribed copy of Qura'an by Esref Kovacevic / Photo © Islamic Arts Magazine
Chronogram on the grave of Esref Efendi Kovacevic