Groundbreaking new group exhibition, a visual exploration of text by five emerging UAE talents. The Emirates' art community was out in force as Maraya Art Centre yesterday officially opened its latest group exhibition, 'In the Absence of Script'.
The opening night was attended by Sheikh Sultan Bin Saoud Al Qassimi, Founder of Barjeel Art Foundation, HE Hisham Almadloum, Head of Art Directorate at the Department of Culture and Information in Sharjah, HE Marwan bin Jassim Al Sarkal, CEO of Sharjah Investment and Development Authority (Shurooq), HE Manal Ataya, Director General of the Sharjah Museums Department (SMD), Sheikha Nawar Al Qasimi, Public Program and Outreach Officer of Sharjah Art Foundation, as well as a number of prominent members of the community and several media representatives.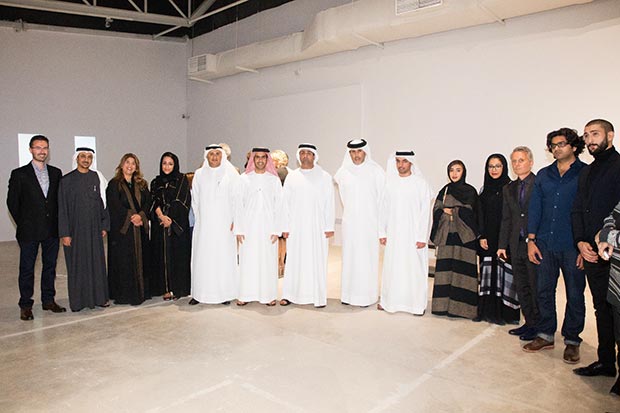 The attendees and the artists at the exhibition 'In the Absence of Script' / Courtesy of Maraya Art Centre
Curated by Noor Al Suwaidi and running from January 25 to March 5, 2014, the exhibition aims to visually explore the use of language and text in context of contemporary society and features specially commissioned works by Alaa Edris, Salem Al Qassimi, Vikram Divecha, Walid Al Wawi, and Zeinab Al Hashemi, that have been created as a reaction to how modern day script is consumed and produced, as well as the connotations of visual intelligence.
Curator Noor Al Suwaidi commented, "It was a unique experience to be involved with the development of each artist's interpretation to the brief of the exhibition. Maraya Art Centre offers artists and curators like myself the ability to showcase work in their spacious venue and I am proud to say that 'In the Absence of Script' is both the fifth show I have curated since acquiring my Masters in Curating back in 2009 and my third exhibition in collaboration with Maraya Art Centre. I have grown professionally with each experience and have great gratitude to institutions such as Maraya Art Centre."
Speaking at the opening, Maraya Art Centre Manager, Giuseppe Moscatello, said, "The opening of any new exhibition is always exciting and we are particularly proud to be able to present this exceptional exhibition to the public. 'In the Absence of Script' is a unique exploration of the varied and diverse ways in which we as individuals and communities perceive the same objects, phrases, and images, both in motion and stationary, and as such provides an immersive and interactive experience to the viewer. We look forward to sharing this experience with our visitors."
Zeinab Al Hashemi's 'Crosswords: Puzzle of Life' draws parallels between filling in a crossword and the choices we make everyday in our lives. The artworks shows how, just as a crossword solver cannot go back and erase an entry penned down in ink, life presents each individual with choices – empty blocks that with each filled entry in brings you closer to deciphering the puzzle that is life. Coming closer to solving the puzzle, Al Hashemi brings our attention to the power of writing down our life, where we want to reach, what we want to achieve, and whom we want to love. The black boxes in the puzzle are the artist's representation of the fears and challenges that will limit the letters and our choices in life, yet underlines that there are always answers.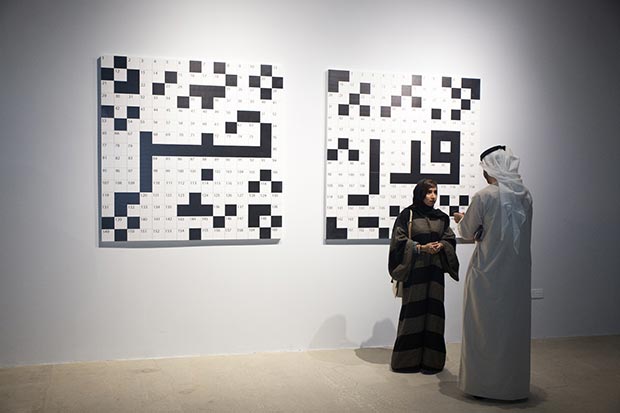 Zeinab Al Hashemi and her artwork 'Crosswords: Puzzle of Life' / Courtesy of Maraya Art Centre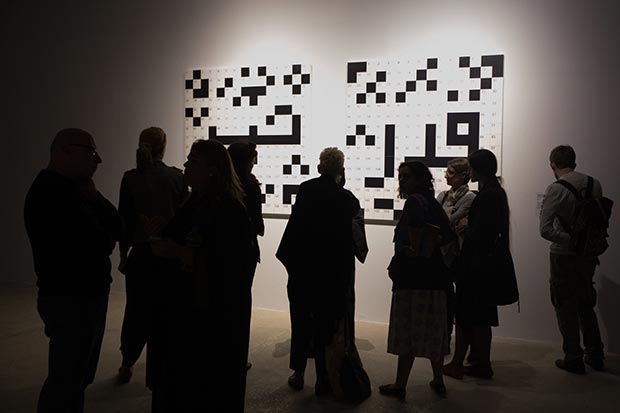 From the exhibition / 'In the Absence of Script' / Courtesy of Maraya Art Centre
In his dual installation 'Relocating Presence', Vikram Divecha raises questions about one's position in an ever-fluctuating context and possibly reveals a reluctance to confront and/or define a reality. This artwork began with Divecha noticing something awry on his usual route to work. All the road signs were wrapped in black garbage bags along a single 3 kilometre stretch (due to new road works). This gesture came across as an act of 'unclaiming', which in turn put into question his relation with the land he was navigating. The to-and-from journey down this nameless street left behind a sense of spatial amnesia and dislocation. In the continuing months, parts of the land he drove over were uprooted, fracturing the relation further. Divecha's work shows the use of language as a territorial act, which delivers a context within which we reside, and explores how its erasure, effacement, or concealment displaces us from the perceived co-ordinates that we depend on to trace our very presence.
In his work 'Bilingual Scripting', Salem Al Qassimi examines the futuristic possibilities of writing, reading, seeing, and experiencing text for the mainstream "Arabish" culture. "Arabish", initially known as a hybrid form of text messaging, where Latin alpha-numerical characters are used to replace Arabic pronunciation, has become more than just that. It is a way of speaking and a way of life, especially for mainstream Emirati youth. It is a script that is bilingual in its nature but singular in its execution. Through a variety of mediums, including photography, film, print-based work, and interactive art, Al Qassimi addresses the emerging "Arabish" culture from a personal and global perspective. He questions it and comments on it in an attempt to render a clearer understanding of what it is, and what it could be.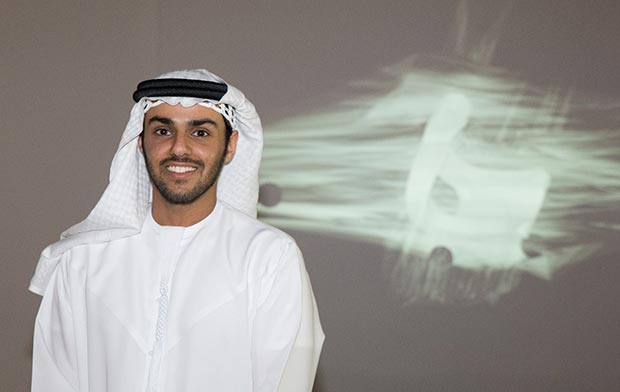 Salem Al Qassimi infront of his work 'Bilingual Scripting' / Courtesy of Maraya Art Centre
'Spoon study' by Walid Al Wawi looks at language as an additive element and focusses on its written form, brings attention to both the writer and reader's perspective. The study is somewhat an experiment of conscience, where communicative script is now displayed in an act of subtraction while attempting to maintain its value three-dimensionally. As Al Wawi explores negative space and absence of form, in his spoon study he investigates the disability of language as a symbolic illustration and human documentation as a physical attempt in communicating.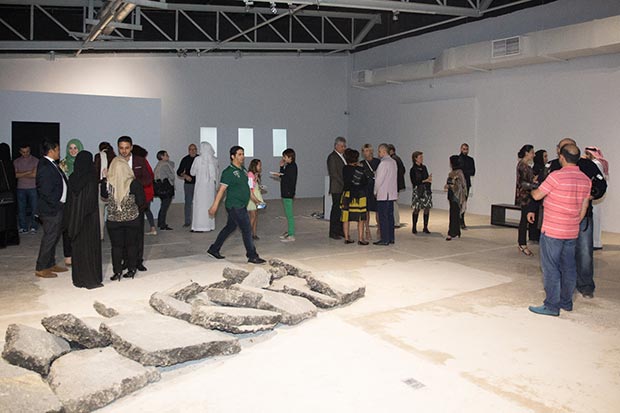 From the exhibition / 'In the Absence of Script' / Courtesy of Maraya Art Centre
In the video installation 'The consumer, the consumed', Alaa Edris takes on an ordinary daily ritual in order to validate experience through interpretation. Edris carves out the words 'ignorance' and 'wants' – inspired by the literature of Charles Dickens who referred to these words as the root of all evil – in their Arabic forms out of bread, and uses the symbolic act of eating to study the deteriorating process of thought. Edris intentionally selects overbearing flavours for the bread and forcefully ingests it, taking the viewer on a journey of agony, as she is confronted with the connotation of these words and their impact on the environment surrounding her.