This fall the Frist Center for the Visual Arts presents Ink, Silk, and Gold: Islamic Art from the Museum of Fine Arts, Boston, a dazzling display of the museum's finest examples of Islamic art, which it has been collecting for more than 130 years.
The exhibition spans chronologically from the eighth century to the present and geographically from Spain to Indonesia. 'Ink, Silk, and Gold' will be on view at the Frist Center—its first stop on a highly anticipated tour—from October 9, 2015, through January 10, 2016, and is the Frist Center's first survey of Islamic art. The exhibition is accompanied by a catalogue written by an international team of scholars and marks the first time that highlights from the MFA Boston's collection have been comprehensively studied, restored and presented to the public.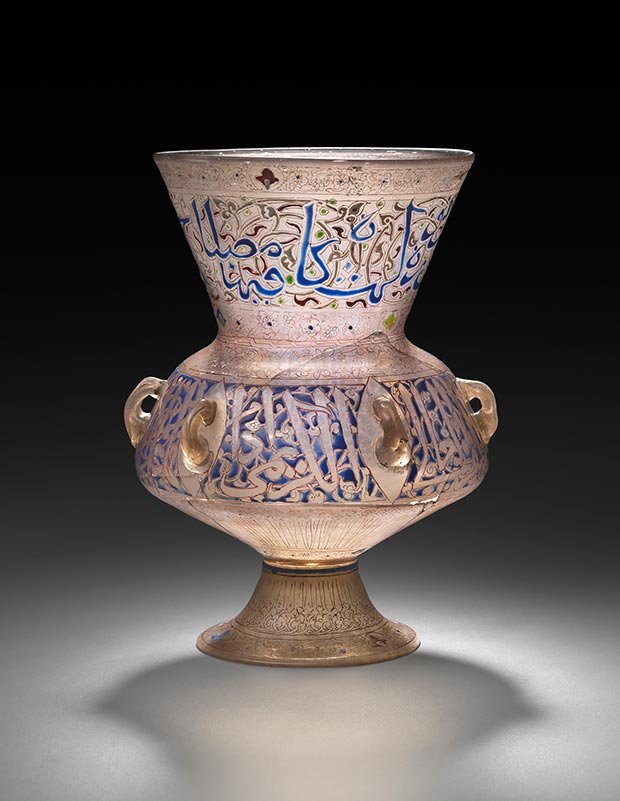 Mosque lamp, Egypt (Cairo), early 1320s. Glass with gold and enamel decoration. Museum of Fine Arts, Boston, Gift of Mr. and Mrs. Edward Jackson Holmes, 37.614. Photograph © 2015 MFA, Boston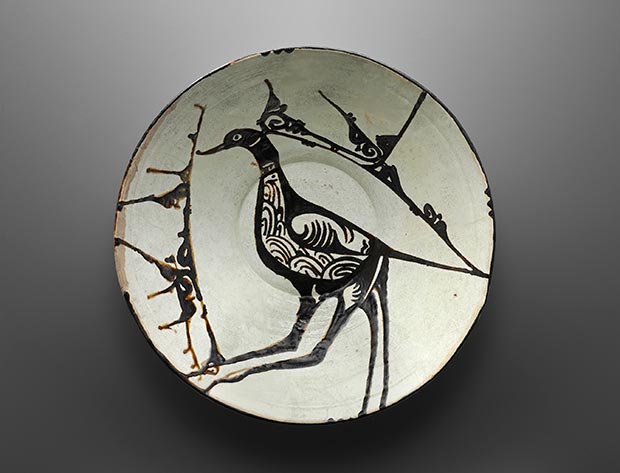 Bowl with peacock, 10th–early 11th century, Museum of Fine Arts, Boston, Keith McLeod Fund, 65.1277. Photograph © 2015 MFA, Boston
The exhibition consists of nearly 100 objects, including Islamic manuscripts, brocaded velvets, gilded glass, luster-painted ceramics, monumental carpets and silver inlaid metalwork. "Ink, Silk, and Gold takes us on a spectacular journey through the Islamic world and serves as an excellent introduction to the history of Islamic art," says Frist Center Curator Trinita Kennedy. "We have an exciting opportunity to open doors for visitors unfamiliar with the splendour of Islamic artistic traditions, and I hope that our local Muslim community will take pride in seeing these extraordinary works on display in our galleries."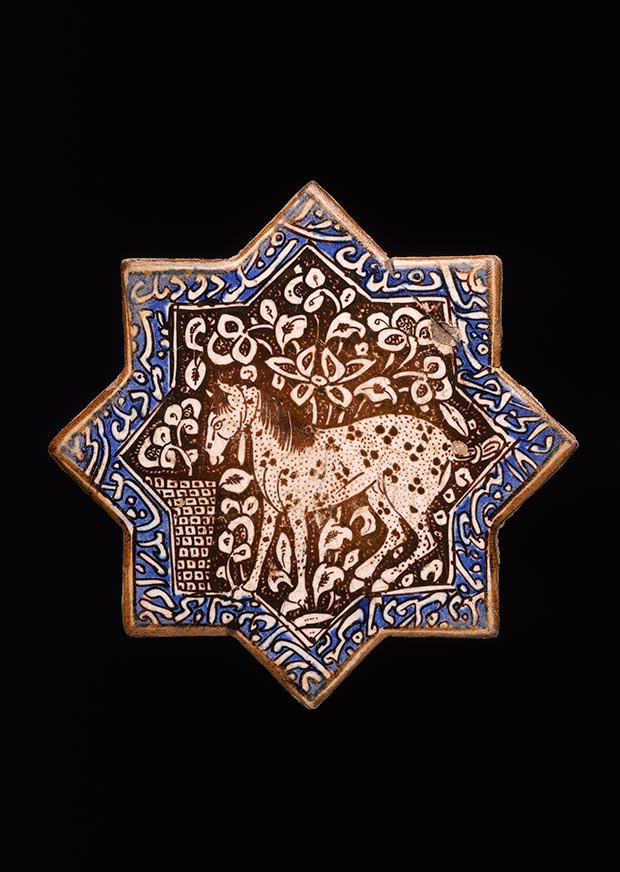 Star tile with horse, dated AH 710/AD 1310, Museum of Fine Arts, Boston, Maria Antoinette Evans Fund and funds donated by Edward Jackson Holmes, 31.729. Photograph © 2015 MFA, Boston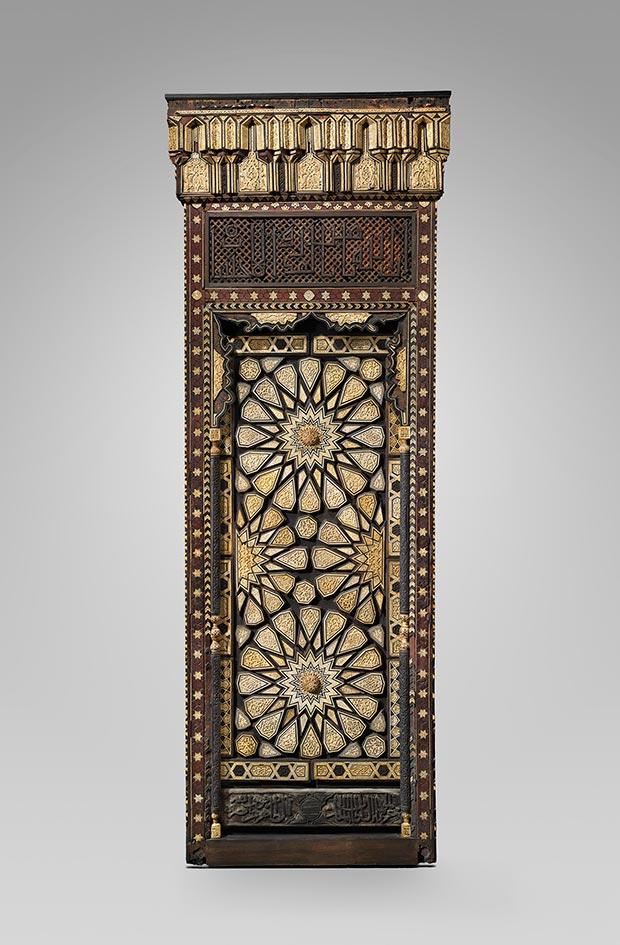 Door, Egypt (Cairo), 14th–15th century with later additions. Wood (ebony, Aleppo pine, abura, boxwood) and ivory or bone. Museum of Fine Arts, Boston, Gift of Martin Brimmer, 77.1. Photograph © 2015 MFA, Boston
Organized chronologically and regionally, Ink, Silk, and Gold introduces visitors to the dynamism and complexity of Islamic art, and, as the exhibition title indicates, there is a special focus on physical aspects—the color, materials, shape and technique—of the objects. Certain works of art will be marked with an emblem to indicate a particularly interesting use of ink, silk or gold, and the entrance to the galleries will be embellished with portals evoking traditional Islamic archways.
The first centuries of Islam were filled with political and territorial shifts, and with each conquest came the absorption of sophisticated, foreign artistic practices. From the 11th to the 15th centuries, the Islamic world began breaking into individual kingdoms and establishing strong regional traditions. The exhibition includes examples of objects from these disparate regions, while also highlighting common elements. Mirroring the historical convergence of the three major Islamic empires in the 16th to 18th centuries, objects are grouped under sections for the Ottoman Empire, Safavid Iran and the Mughal Dynasty.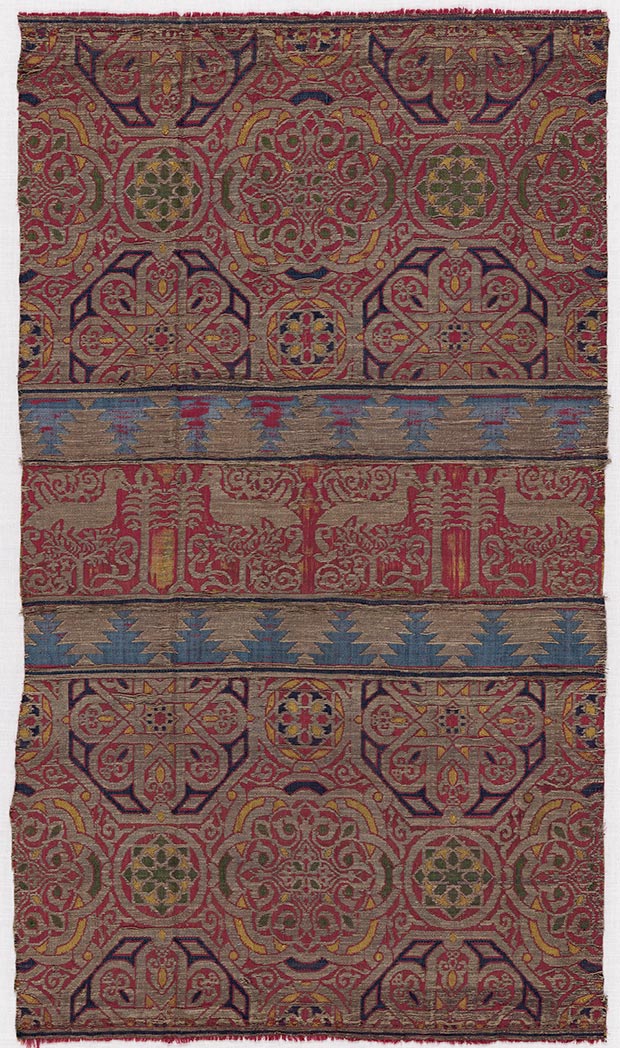 Fragment of silk lampas with birds and interlace, 13th–14th century, Museum of Fine Arts, Boston, Harriet Otis Cruft Fund, 30.40. Photograph © 2015 MFA, Boston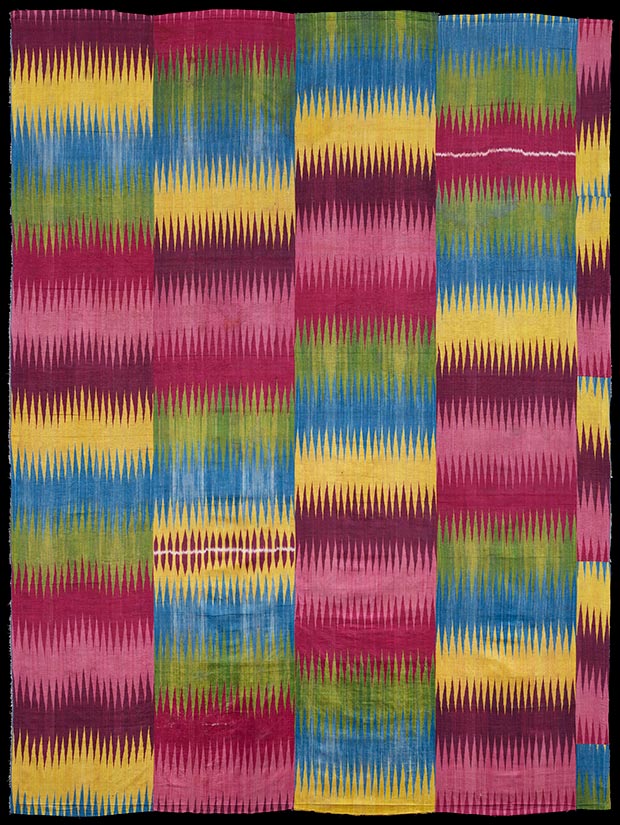 Wall hanging (pardha), about 1860, Museum of Fine Arts, Boston, Marshall H. Gould Fund, 2002.10. Photograph © 2015 MFA, Boston
Throughout the history of Islam, its followers have created and used objects of exceptional beauty in both religious and secular contexts. "It is clear that art has long been a source of visual and intellectual pleasures and gratification in the Islamic world," says Ms. Kennedy. "Art has also been used to display wealth, status and good taste. It is not just Qur'ans that are illuminated and mosques and palaces that are exquisitely outfitted. Even everyday objects, such as drinking glasses, bowls and coats, are often rendered in luxurious materials. Beauty permeates every aspect of life and reflects the extraordinary sophistication and refinement of Islamic culture, especially Islamic court culture." The ornate decorative motifs of the tile lunette from Turkey and the door from Egypt, both pictured here, exemplify this tradition.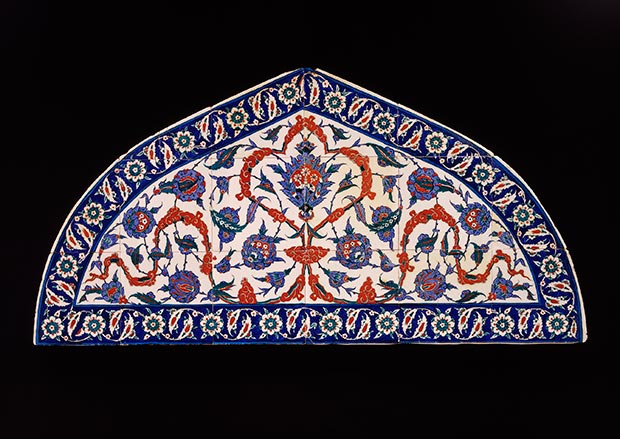 Tile lunette, Turkey (Iznik), about 1573. Fritware with polychrome decoration under transparent glaze. Museum of Fine Arts, Boston, Bequest of Mrs. Martin Brimmer, 06.2437. Photograph © 2015 MFA, Boston
Exhibition highlights include a folio from the early medieval Blue Qur'an, one of the most lavish Qur'an manuscripts ever produced as well as one of the most famous works of Islamic calligraphy. "The Blue Qur'an demonstrates the fundamental significance of writing and the art of the book in Islamic art," says Ms. Kennedy. "The gold script appears to dance across the page." Other highlights include a folio from the Great Mongol Shahnama (Book of Kings); a drawing signed by the renowned Persian miniaturist Riza ʿAbbasi; a folio from the 'Late Shah Jahan Album;' and the Ames carpet, one of the finest of all Mughal hunting carpets.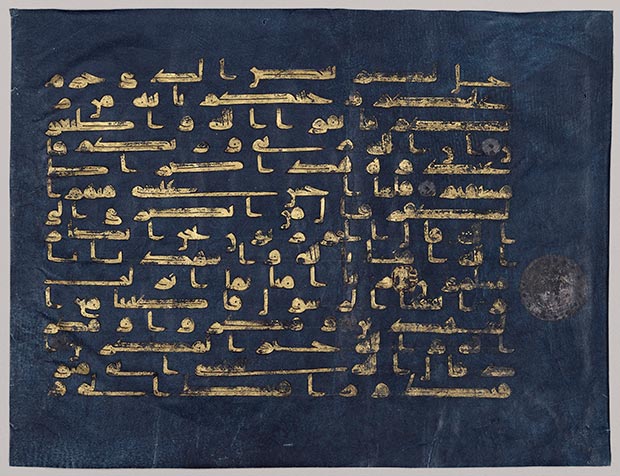 Qurʾan folio on blue parchment, North Africa or Near East, 800–900. Ink, gold, silver, and color on indigo-stained parchment. Museum of Fine Arts, Boston, Samuel Putnam Avery Fund, 33.686. Photograph © 2015 MFA, Boston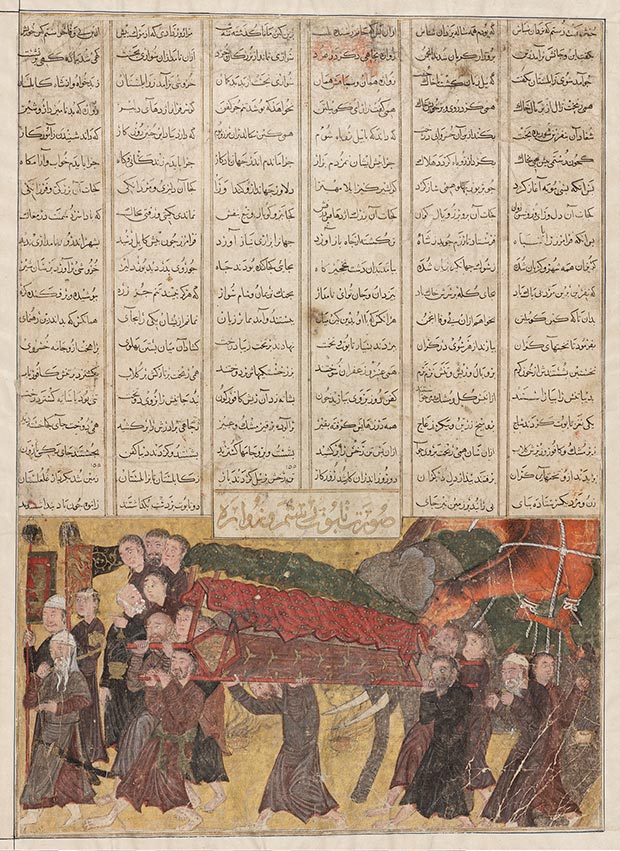 Folio from a Shahnama of Firdawsi, "The coffins of Rustam and Zavara," Iran (Tabriz), about 1330–40. Ink, color, and gold on paper. Museum of Fine Arts, Boston, Helen and Alice Colburn Fund and Seth K. Sweetser Fund, 22.393. Photograph © 2015 MFA, Boston
Islamic traditions and ideas continue to inspire the creativity of artists today. "It is quite rare to see historical and contemporary Islamic art together in the same exhibition, and the fact that Ink, Silk, and Gold brings the story up to the present day is one of its many strengths," notes Ms. Kennedy. Four contemporary Muslim artists are represented, including Shahzia Sikander. Like the Blue Qur'an, Sikander's Pathology of Suspension #6 (2003) has a rich chromatic background, calligraphic lines and extraordinary attention to detail. "There are many exciting connections between the earliest and most recent works of art on view," says Ms. Kennedy. "Sikander learned the traditional art of miniature painting in Pakistan and now lives in New York. At more than six feet tall, her work brings the intimate format of Islamic manuscript illumination into conversation with monumental contemporary art of the West. By working on this grand scale, Sikander heightens our appreciation for the grace and intricacies of the smaller historical objects in the exhibition."
PUBLIC PROGRAMS
The exhibition 'Ink, Silk, and Gold: Islamic Art from the Museum of Fine Arts, Boston' features art from the eighth to the twenty-first centuries and from Spain to Indonesia. By spotlighting distinct moments in history and geographic locations, this series of panel discussions will provide the community with an opportunity to learn about the diversity and vibrancy of Islamic art and culture.