In the light of the newest addition to the gallery landscape in Dubai we spoke with Parisa Davarkia, CEO of RIRA Gallery.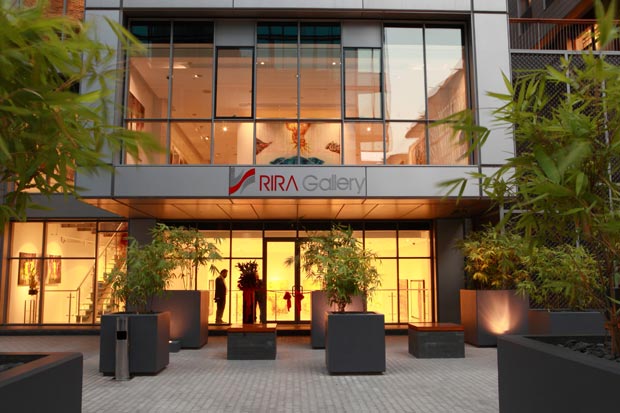 RIRA Gallery in Dubai - Exterior / Courtesy of RIRA Gallery and Robeya Walt Williams
Congratulations on the opening of RIRA Gallery in May 2012. What are your impressions?
The opening night went very well. We received very positive feedback and turnout was amazing. RIRA Gallery is the newest space in the DIFC area and we are thrilled to be a part of the infrastructure here alongside the other galleries.
Tell us more about the artists presented at the opening exhibition?
'Respect to Time' was the debut exhibition at RIRA Gallery. The group show included established, and young Iranian artists whose works are connected to each other through their styles, inspirations and history. The title comes from the fact that though the artists come from different times artistically, the association is a "respect to time".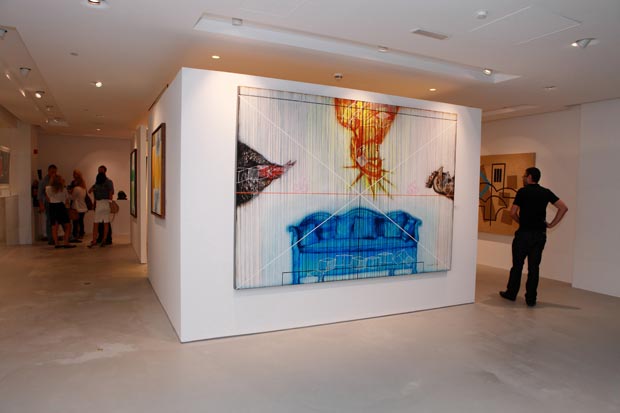 RIRA Gallery in Dubai - Exhibition: Respect to Time / Courtesy of RIRA Gallery and Robeya Walt Williams
Can you tell us something about your background and how did you become the CEO of RIRA Gallery?
I grew up in Stockholm and moved to Switzerland for university. My background was not in art and I graduated with an MBA, but the passion for it started at a very young age which didn't shake off. My partners Mr. Ali Dowlatshahi and Maryam Moghaddam – who are involved in media and fine art – had talked about establishing this gallery last summer to offer a space for emerging and young talent to be showcased. As I am based in Dubai, I am running the gallery program with Ali and Maryam's input from the art scene in Iran.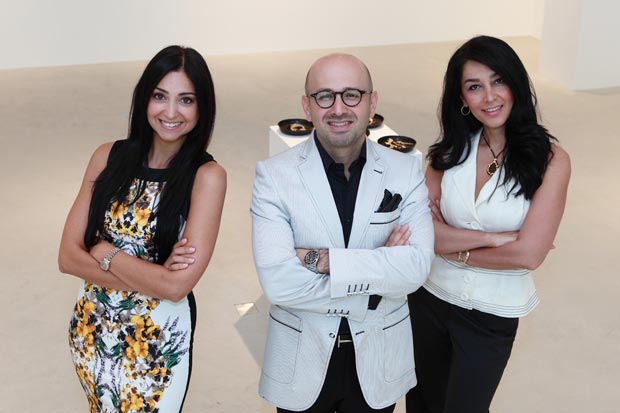 RIRA Partners (from left to right): Parisa Davarkia, Ali Dowlatshahi and Maryam Moghaddam / Courtesy of RIRA Gallery and Robeya Walt Williams
Can you share the vision and mission of RIRA Gallery with our readers? One press release states that RIRA Gallery will show the artists who are faced with restrictions and censorship in their own countries. Does this mean that RIRA Gallery will be exhibiting the art with sensitive political and social issues?
RIRA Gallery represents artists that have not been able to showcase their works before. The gallery is a stepping stone to introduce these artists to the regional art scene and encourage their growth and practice. RIRA's mission is to provide support to the young generation of artists in Iran and regionally. This gallery will host a regular rotation of solo and group exhibitions featuring a strong selection of emerging and established artists from the Arab world. As RIRA grows, within the UAE art scene as well as regionally, the program will continue to include innovative methods to further its original mission of ensuring the Arab world has visibility to the finest artists and the recognition they deserve. Represented artists include: Mehran Elminia, Hooman Derakhshandeh, Melika Shafahi, Safa Hosseini, and Majid Sadeghi Nejad.
RIRA Gallery will show contemporary Iranian art. How do you evaluate the artistic scene in Iran, as well as the works of Iranian artists outside Iran? What are the similarities and differences between them?
Although RIRA Gallery's first show was dedicated to Iranian artists, our program includes shows with contemporary Middle Eastern artists, and not solely Iranian. As a country with a very rich culture and renowned art scene, Iranian art provides a diversity that generates inspirations and elements of history, society and present day through all mediums. Each artist has their own technique, each unique to their practice and complementing RIRA's program.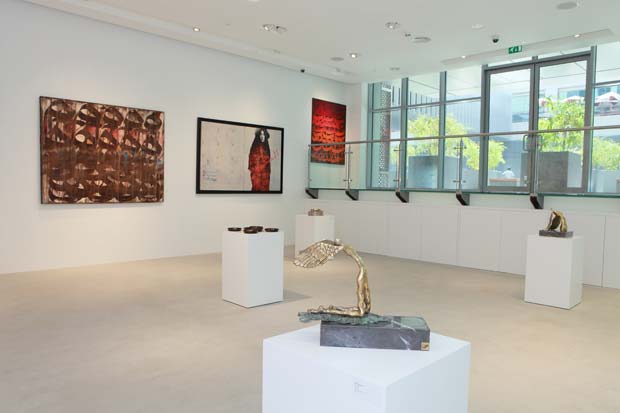 RIRA Gallery in Dubai - Respect To Time - Installation / Courtesy of RIRA Gallery and Robeya Walt Williams
What does it take for a private art gallery to be successful?
We believe for success, passion and effort go hand in hand along with belief.
Dubai has become one of the most important artistic centers in the world. In your opinion, how and why did this expansion happen?
Dubai is a true example of a metropolitan city, not just in the Middle East, but internationally. When in Dubai, the feeling is that you could be in any global, growing and exciting city. What I love about the most is the multicultural aspect it exudes. Dubai is a world class business and tourism destination, it boasts a strong and diverse economy with booming tourism and progressive forward thinking, commercial centers across all sectors, making it the ultimate place to visit and invest. It has not been too long since the first gallery opened in Dubai and to see how many – representing a diverse selection of work and artists – exist today. The art fairs too, which take place every year in Dubai and Abu Dhabi contribute to the cultivation of the scene.

RIRA Gallery in Dubai - Respect To Time - Installation / Courtesy of RIRA Gallery and Robeya Walt Williams
Are there any artists that you would particularly like to exhibit at RIRA Gallery?
Currently RIRA represents five young artists on a contractual basis.
What are your plans for the future exhibitions at RIRA Gallery and how do you see it growing five years from now?
The current exhibition has been extended until Ramadan (approximately mid-July). We are currently working on the gallery program for the fall, so stay tuned and visit our website for more information and further updates.