The 17th edition of Islamic Arts Festival is opening tonight in Sharjah to assure its pioneer global status and its huge efforts to embrace Islamic arts.
Sharjah continues to cherish its heritage and to create a vibrant arts scene bridging East and West. This year, it comes within the country's celebrations of 'Sharjah Islamic Culture Capital 2014', emboding the significant role of the Emirate in the global cultural scene, which couldn't be possible without the great support and guidance of HH Sheikh Dr. Sultan Bin Mohammed Al Qasimi, Member of the Supreme Council and Ruler of Sharjah.
The current edition of the Festival, under the theme 'Art & Science', highlights Islamic art through a variety of significant art exhibitions, seminars and workshops organized by Directorate of Art.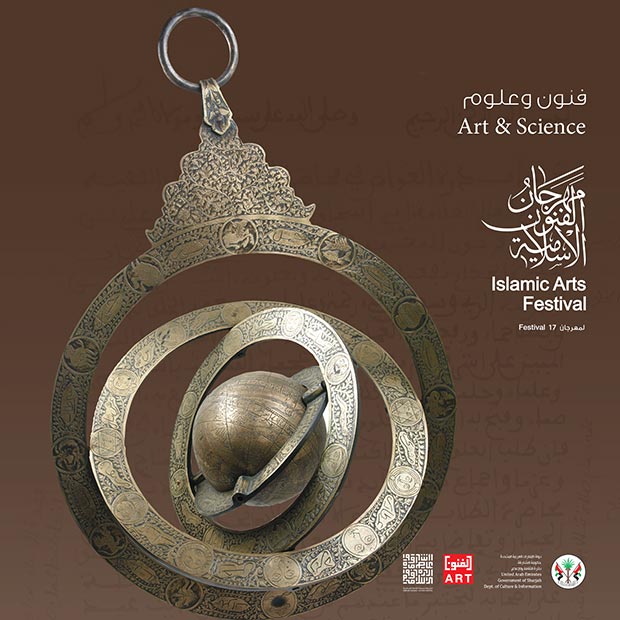 Islamic Arts Festival 2014 / Courtesy of Directorate of Art, Sharjah
Art exhibitions will be held all over the Emirate of Sharjah, from Dec 17, 2014 until Jan 17 2015, with a total number of 54 solo and group exhibitions, from 26 countries. The event will host around 51 personalities, as well as 199 artists. The cultural facilities all around Sharjah leaded by Sharjah Art Museum will be showcasing around 513 artworks.
The exhibitions and the participant artists: 'The Vagueness of Exact Forms/ Some Thoughts About the Grid' by Esther Stocker; 'The Contemporary Arabesque' by Saad Mossajee; 'Making The Invisible Visible, The Hidden Geometry in Nature' by Shafaq Ahmad; 'Calligraphy Volume' by Mahmoud Zendehroudi; 'Calligraphy' by Elaheh Khatami; 'Calligraphy' by Amir Falsafi; 'Oriental Features' by Fatimah Alnemer; 'Intersections' by Anila Quayyum Agha; 'Invisible Dimensions' by Carlo Bernardini; 'Covariance' by Lyndall Phelps; 'Sharjah Sun/Light' by Jim Denevan, 'Perfect' by Lang/Baumann; 'The More, The More. The Less, The Less.' by Sandra Fettingis; 'Architecture and Options of Visions' by Mohammad Reza Domiri Ganji; 'Oriental Councils' by Aziza Chaouni; 'Vision' by David Spriggs; 'Entanglement' by NeSpoon; 'Nearby Stars' by Steven Naifeh; 'Crowns' by Asad Faulwell; 'Transparency' by Pouran Jinchi, 'Inappropriate Appropriations' by Sausan Saulat; 'Aidan Studio' by Aidan Salakhova; 'Birthmark Theory' by Arwa Abouon; 'Patterns' Series' by Hervé Graumann; 'Golden Mean, New Irrational Patterns' by Kurt Hofstetter; 'Digital Arabesques' by Miguel Chevalier; 'Unwoven Light' by Soo Sunny Park; in addition to Miniatures and Algerian Ornamentations by a group of Algerian artists.
Moreover, around 43 foundations will be participating in the Festival, enriching its programme. Many workshops, training sessions, video shows, seminars and lectures will be held throughout the days of the Festival, with a total of 104 workshops, 31 seminars and lectures, and 17 documentary films.