The International Symposium titled 'Islamic Arts in Bosnia and Herzegovina' will take place on October 25, 2017 at the Gazi Husrev Beg Library in Sarajevo. A special guest is Shaika Nasser al-Nassr, Deputy Director of Curatorial Affairs, that will use the opportunity to present the Museum of Islamic Art in Doha, Qatar.
The International Symposium is being organized by Rijaset of Islamic Community in BiH, Faculty of Islamic Studies, Institute for Islamic Tradition of Bosniaks, Gazi Husrev Beg Library, Waqf Directorate, Oriental Institute Bosniak Institute – Fondation of Adil Zulfikarpašić and Islamic Art Magazine.
The event will highlight the importance of the artistic and architectural heritage of Islamic arts in Bosnia and Herzegovina. The symposium aims to reflect on Islamic arts, and to initiate a series of projects that will contribute to a more adequate positioning of this art in the overall cultural heritage of Bosnia and Herzegovina. As part of the symposium, the exhibition 'Islamic Arts in Bosnia and Herzegovina', will presents the selection of prayer rugs, carpets and other artefacts from various collections. The exhibition will open on October 25 at the Haniqah at 9:00 h.
Contemporary interpretation of Islamic art and architecture, active protection of art and architectural heritage, insight into art collections, presentation of the idea of the Museum of Islamic Art are just some of the topics that will be the focus of this symposium.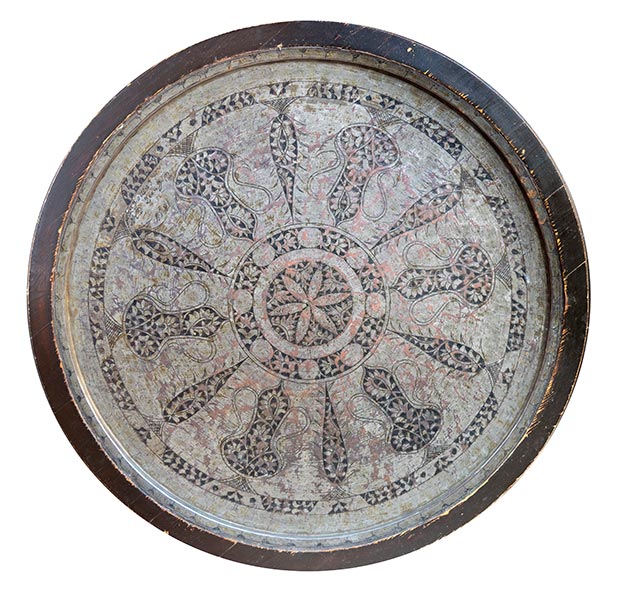 Metal work, from the exhibition 'Islamic Arts in Bosnia and Herzegovina' / Photo by Islamic Arts Magazine
SYMPOSIUM PROGRAMME
09:00–09:15 Opening of the Exhibition 'Islamic Arts in Bosnia and Herzegovina' at the Haniqah
09:30–10:10 Ceremonial Opening of the Symposium at the Gazi Husrev Beg Library
SESSION 01
10:30–10:45 Ćazim Hadžimejlić - Art of Islamic Bookbinding in the Balkans and in Bosnia and Herzegovina
10:45–11:00 Ismet Bušatlić - Kaaba Beytullah and the Prophet's Mosque in the Works of Bosnian Miniaturists
11:00–11:15 Meliha Teparić - Bosniak Panel Calligraphists
11:15–11:30 Ahmed Zildžić and Aida Smailbegović - Illustrated Maarifetname (the Book of Gnosis) by Ibrahim Hakki Erzurumi from the Collection of Gazi Husrev Beg Library
11:30–11:45 Adnan Kadrić - A Contribution to the Studies of Terms Islamic Arts and Muslim Arts: Case Study of the Miniatures of Nasuh Matrakçi and Osman Nakkaş
11:45–12:00 Haris Dervišević - Calligraphic Silsila (genealogy) of Fadil Pasha Šerifović
SESSION 02
14:00–14:15 Shaika Nasser al-Nassr - Presentation of the Museum of Islamic Art in Doha Qatar
14:15–14:30 Elma Korić - Tomb Stones as Keepers of Memory: Old Kovači Cemetery
14:30–14:45 Adnan Muftarević - Ottoman Archeology in Sarajevo
14:45–15:00 Marko Katić - Contribution of Andrej Andrejević to the Studies of Islamic Arts in Bosnia and Herzegovina
SESSION 03
16:15–16:30 Kenan Šurković - On the Issue of Erroneous Dating of the Parts (juz) of The Noble Quran from the Ferhat Pasha Mosque in Banja Luka
16:30–16:45 Iván Szántó - Béla Rakovszky and the Import of Islamic Arts in Bosnia and Herzegovina
16:45–17:00 Vincent Thérouin - Ottoman Bosnia through the Camera of French Travellers: Some Examples of Unrevealed Photographic Documents
SESSION 04
17:45–18:00 Lejla Bušatlić - Dual Bičakčić-Hadžišabanović House in Sarajevo – Synthesis of Secession, Modern and Oriental-Islamic Stylistic Determinants
18:00–18:15 Berin Spahić - Khalwa-Mishkat-Nur
18:15–18:30 Muradija Kahrović Jerebičani - Traditional Goldwork Embroidery – Handicraft Business, Tailor's Craft and Applied Arts, a Significant Segment of Cultural Heritage to be Preserved
18:30–18:45 Amila Smajović - Garden of Eden in the Carpets of Bedrija Spaho
18:45–19:00 Fatima Kadić-Žutić - The Collection of Prayer Rugs Preserved in the Institutions of the Islamic Community
19:00–19:30 Discussions and closing