In this article we are presenting work by Iranian calligrapher Gholamreza Rahpeyma.
Gholamreza Rahpeyma was born 1960 in Iran. He is a member of International Council of Museums (ICOM) and Iranian Calligraphers Association. As a professor of Tehran University he is also an expert in manuscripts and a master of Islamic calligraphy.
His artistic ouvre is expanding from traditional calligraphy to recently exploring new compositions. To write parts of the Qur'an is always very inspiring to every calligrapher and by choosing the particular verse, or the surah, the artist combines visual impression with the key message. By mastering each letter, every calligraphic stroke within a composition brings a different feeling and deeper understanding of the message. Rahpeyma's calligraphy invites us to contemplate on each particular message.
The artist is a recipient of many awards, among them: Art Appreciation and Medal of Honor of Art University in Tirana (Albania); Winner of the Award and Medal of Honor from Art Academy of Iran; Art Appreciation and Medal of Honor of Sarajevo National Museum (BiH); Winner of 11th annual Book of Year Award in Iran; Appreciation from the Handy Crafts of Iran; Art Appreciation of International Exhibition of Holy Qur'an in Tehran (Iran); Certificate of Central House of Artists in Moscow (Russia); Appreciation of National Museum in Algeria; Appreciation of University of Arts in Jakarta (Indonesia), and many more.
Besides Iran Rahpeyma exhibited his work also in Bosnia and Herzegovina, Croatia, Romania, Austria, Greece, Serbia, Albania, Turkey, UK, Saudi Arabia, UAE, Qatar, Algeria, Russia, Indonesia and Malaysia.
Some of the Islamic Calligraphy by the Artist: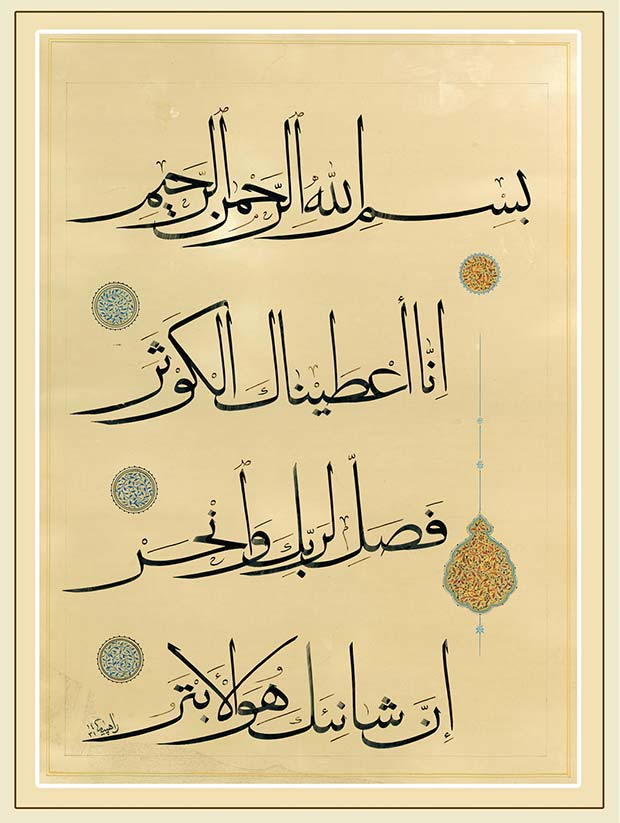 Gholamreze Rahpeyma / Surah Surah Kauser, Iranian traditional Ink on coloured paper, Muhaqqaq, 100x70 cm / Courtesy of the Artist
Gholamreze Rahpeyma / A section of Quran, Layehchini technique, illumination and gold, 50x70 cm / Courtesy of the Artist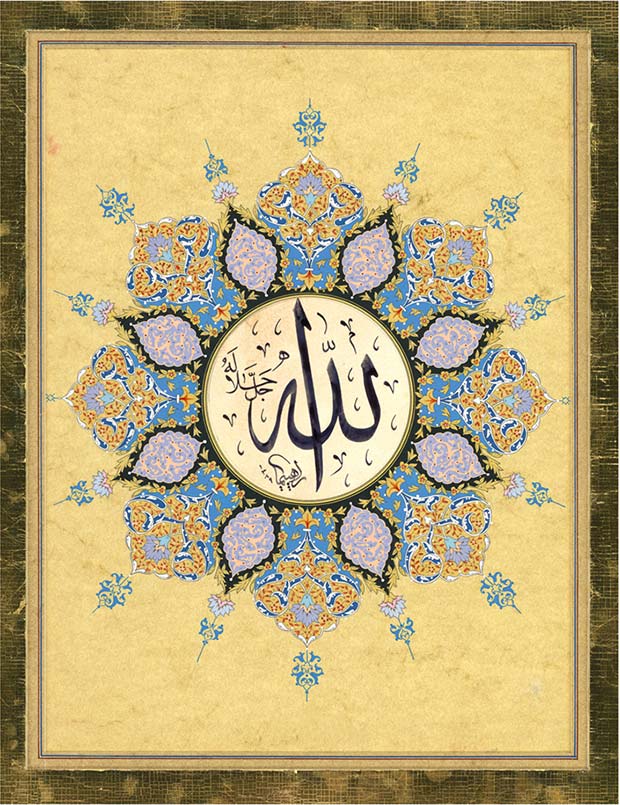 Gholamreze Rahpeyma / Allah, Ink on paper, illumination, Thuluth, 50x70 cm / Courtesy of the Artist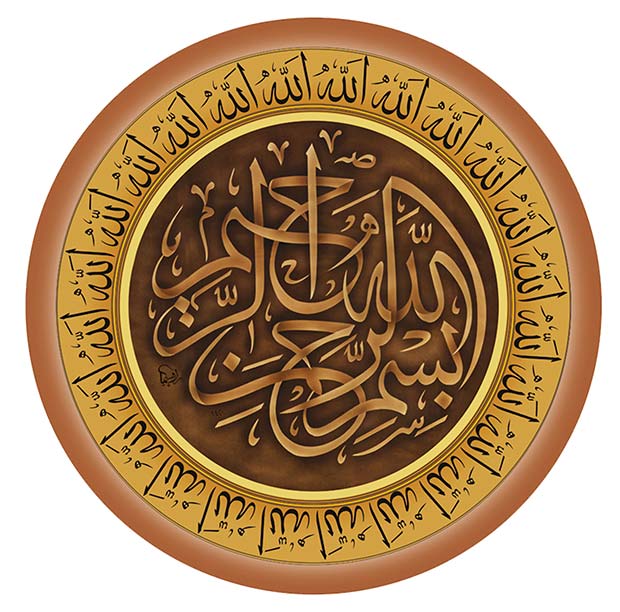 Gholamreze Rahpeyma / Bismillah, Ink, airbrush,Thuluth, diam. 70 cm / Courtesy of the Artist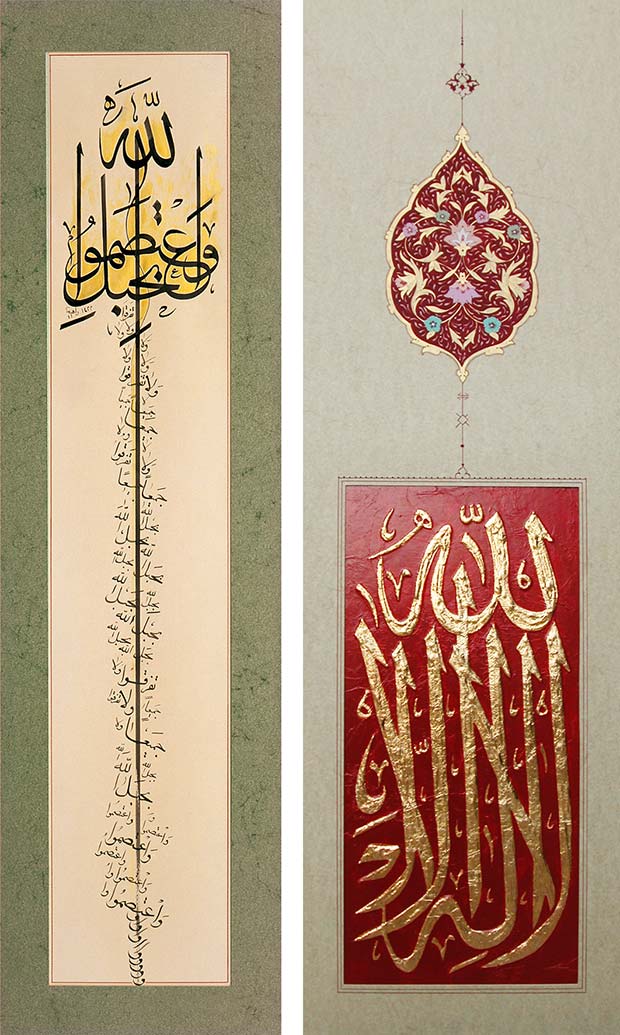 Gholamreze Rahpeyma / L - Al-Imran, verse 103, Ink and Gold, Thuluth, 100x30 cm / R- There is no god but Allah, Layehchini technique, illumination and gold, 40x120 cm / Courtesy of the Artist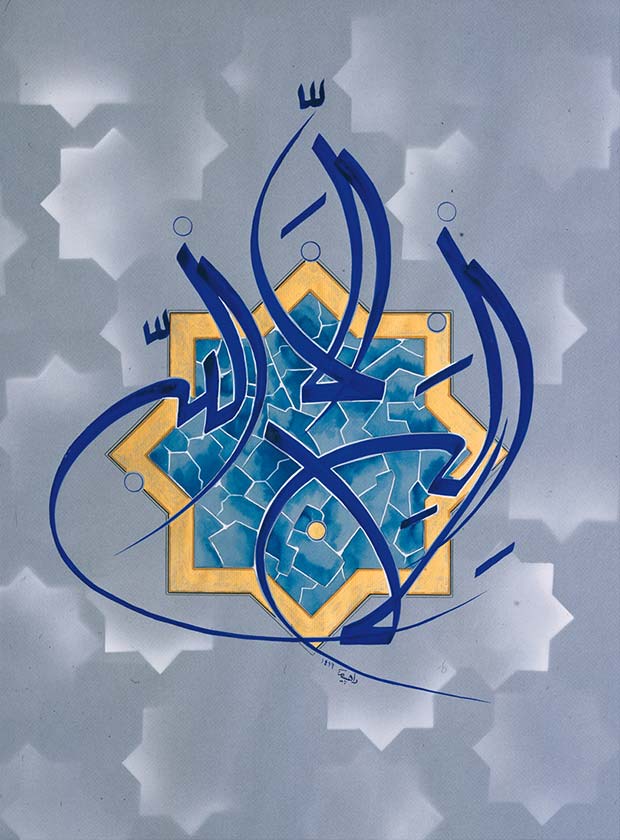 Gholamreze Rahpeyma / There is no god but Allah, Ink and gold, Kufi style, 100x70 cm / Courtesy of the Artist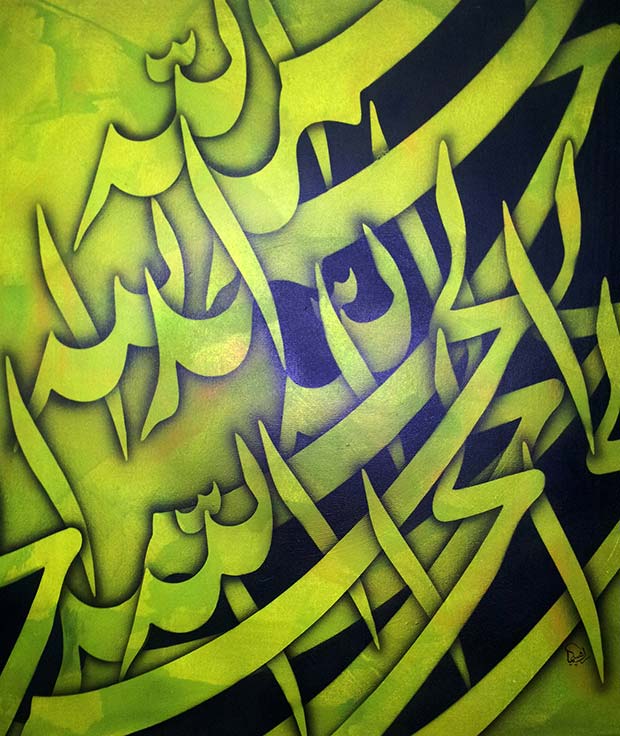 Gholamreze Rahpeyma / Allah, Oil on panel, Nastaliq, 150x150 cm / Courtesy of the Artist