As part of Sharjah Calligraphy Biennial 2014, a solo exhibition by well known Pakistani calligrapher Rasheed Butt is on view at the Calligraphy Area until June 6, 2014. The famous artist was honoured by HH Sheikh Dr. Sultan Bin Mohammed Al Qasimi, Member of the Supreme Council of the U.A.E. and Ruler of Sharjah for his contribution in the field of Islamic Calligraphy.
Sharjah Calligraphy Biennial is organized by the Directorate of Arts in the Department of Culture and Information, Government of Sharjah, in the Emirate of Sharjah, UAE and this year is held as part of the celebrations of naming Sharjah as the Islamic Capital of Culture for 2014. The Biennial will run until June 2, 2014.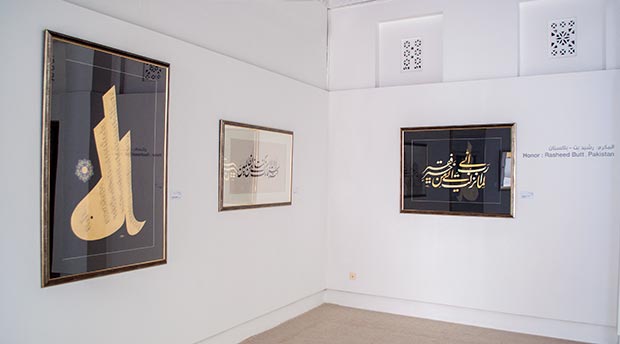 Installation view / Photo © Islamic Arts Magazine
Rasheed Butt began his career in 1961 and devoted everything to Islamic calligraphy. His manuscripts are decorating many buildings, including: the Senate in Pakistan, King Faisal Mosque in Islamabad, Dar Al Furqan in London, the Faculty of Medicine and Hospital of Aga Khan in Karachi, and the most prominent work is the Gate of Mecca in Saudi Arabia. His works and golden manuscripts are spread around the globe, including heads of states who got his works as gifts from the Pakistani government.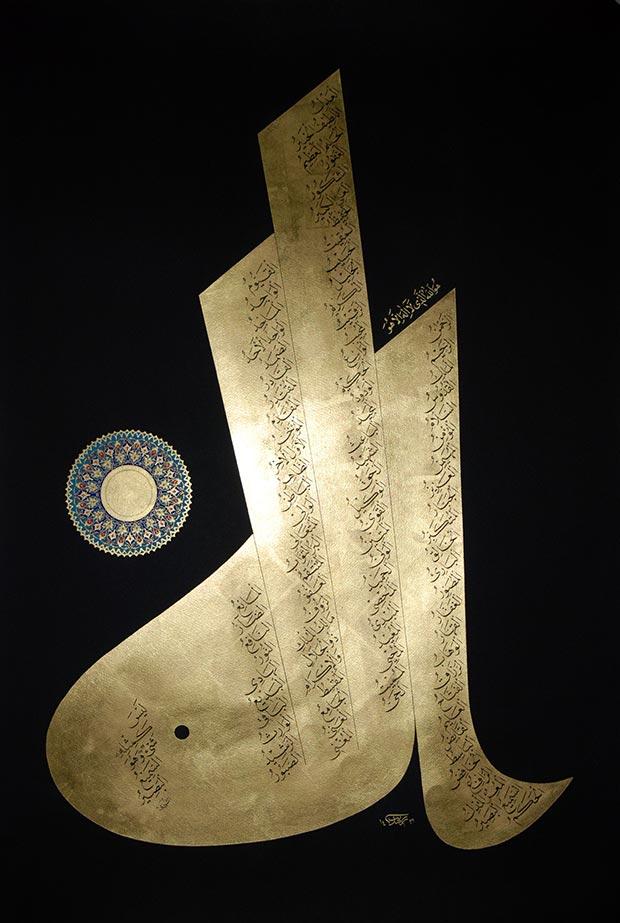 Calligraphy by Rashid Butt / Courtesy of the Artist
His achievements gained great appreciation of the Pakistani government, who honoured him (in 1989) with 'Pride of Performance Award', the highest national award for arts and culture in Pakistan. He was also chosen as a member of the international jury for the International Calligraphy Competition organised by the Research Center For Islamic History, Art and Culture (IRCICA ) in Turkey. He was also a jury member for the International Calligraphy Competition, which was organized by the Algerian government in 2009.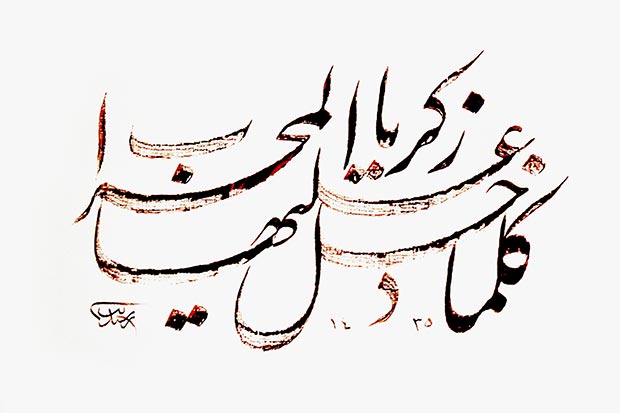 Calligraphy by Rashid Butt / Courtesy of the Artist
He is trying to raise the level of interest of calligraphy among the Muslims. To achieve this goal, the doors of his house are open to every student who harbours this desire. In order to help students learn through digital media Butt helped to design a programme to teach the art of calligraphy. He explained it through the educational channel in Pakistan between 1991-1994. He also worked as an assessor of many of national and international galleries.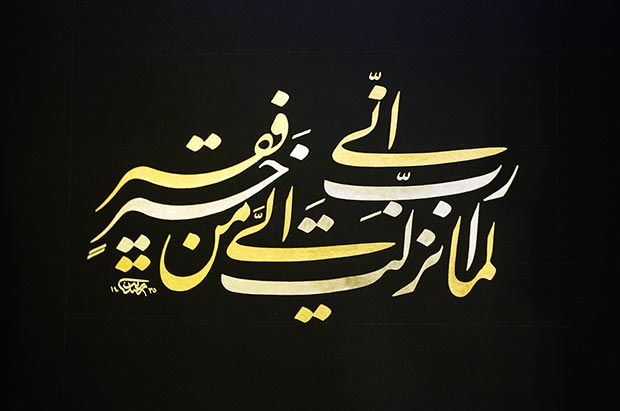 Calligraphy by Rashid Butt / Courtesy of the Artist
Butt currently works as a lecturer at the National College of Arts, and at Fatima Jinnah Women University.