The V&A will from Dec 11, 2013 until Apr 21, 2014, present an exhibition of works by the ten artists and designers shortlisted for the third edition of the prestigious Jameel Prize: Faig Ahmed, Nasser Al Salem, Nada Debs, Mounir Fatmi, Rahul Jain, Dice Kayek, Waqas Khan, Laurent Mareschal, Florie Salnot and Pascal Zoghbi.
Awarded every two years, the Jameel Prize, founded in partnership with Abdul Latif Jameel Community Initiatives (ALJCI), is a £25,000 international art prize for contemporary artists and designers inspired by Islamic traditions of art, craft and design. The winner of Jameel Prize 3 will be announced at the V&A on December 10, 2013.
"Over the centuries Islamic culture has been known for its strong influence. Our aim with the Jameel Prize is to encourage artists globally to continue exploring the roots of Islam and the role of its traditions in the world today expressed through art, whether it is in the form of traditional or contemporary artwork, craft or design," said Fady Jameel, President of ALJCI International.
The exhibition will feature over 20 works that reflect the diversity of the shortlist. The works on show will range from Arabic typography and calligraphy to fashion inspired by the mosques and palaces of Istanbul and from video installation to delicate and precise meditative drawings. The Jameel Prize 3 exhibition is curated by Tim Stanley, senior curator for the V&A's Middle Eastern collection, with Salma Tuqan, the V&A's curator of Middle Eastern contemporary art and design. The V&A announced the shortlist for Jameel Prize 3 in March 2013. Almost 270 nominations were received from a broad range of countries including entries for the first time from Algeria, Brazil, Kosovo, Norway and Russia. A panel of judges, chaired by V&A Director, Martin Roth, selected the shortlist of ten artists and designers.
One of the judges, Huda Smitshuijzen AbiFarès, Founding Director of the Khatt Foundation commented: "The shortlist features diverse and strong contemporary design work. We selected work that could set a trend in advancing new ways of interpreting Islamic art in a contemporary context as well as its relevance to society and its impact on generations to come. The experimental use of material and techniques, the clarity of message, the simplicity and purity of form, the precision of craft, and the social implications, were all taken into consideration. It is exciting to see that the selected works although referencing traditional Islamic culture, also reflect universal design concerns and fresh new ideas."
The winner of the first Jameel Prize in 2009 was Afruz Amighi for her work 1001 Pages (2008), part of a series in which she uses light and shadow to create complex and engaging designs whose precise location can elude the viewer. In 2011 the winner was Rachid Koraïchi, for his work Les Maîtres Invisibles (The Invisible Masters, 2008), a selection of banners embroidered with Arabic calligraphy and a variety of symbols and ciphers that explore the lives and legacies of the 14 great mystics of Islam.
The Jameel Prize was conceived after the renovation of the V&A's Jameel Gallery of Islamic Art, which opened in July 2006 to present the rich artistic heritage of the Islamic world. The prize aims to raise awareness of the thriving interaction between contemporary practice and this great historical heritage and to broaden understanding of Islamic culture and its place in the world.
Award-winning architect Dame Zaha Hadid is Patron of the Jameel Prize. The judges are: Thomas Heatherwick, designer and founder of Heatherwick Studio; Rashid Koraïchi, winner of the Jameel Prize 2011; Martin Roth, V&A Director; Nada Shabout, Associate Professor of Art History and the Director of the Contemporary Arab and Muslim Cultural Studies Institute at the University of North Texas, USA; Huda Smitshuijzen AbiFarès, Founding Director of the Khatt Foundation, Center for Arabic Typography.
The ten shortlisted artists and designers for the Jameel Prize 3
Faig Ahmed
Faig Ahmed works in a variety of media, including painting, video, installation and carpet design. His two works on display, Hollow (2011) and Pixelate Tradition (2010), fall into the last category and are based on Azerbaijan's ancient craft of carpet-making. The two works were made by hand in the traditional manner and, for the most part, following a conventional design. In each case, though, Ahmed reconfigured a section of the pattern, re-interpreting its components. By doing this, Ahmed alters the structure of the design to connect it with modern life. Ahmed was born and lives and works in Baku, Azerbaijan.
'Pixelate Tradition' by Faig Ahmed, 2010, (Wool warp, weft and pile) / Courtesy of YAY! Gallery, Photo: Fakhriyya Mammedova
Nasser Al Salem
Nasser Al Salem is a Saudi calligrapher who works in mixed media as well as in ink on paper. In Kul (2012), he exploits one of the most dramatic forms found in the Arabic script – the combination of the letters kaf and lam that spell out the word kull, meaning 'all'. Al Salem repeats the word on a diminishing scale to create a perspective effect that suggests infinity and all-inclusiveness, complementing the literal meaning of the word. In Guide Us upon the Straight Path (2013), he uses a new and evocative calligraphic style based on the 'script' of the monitor to write out a believer's prayer. Al Salem was born, lives and works in Saudi Arabia.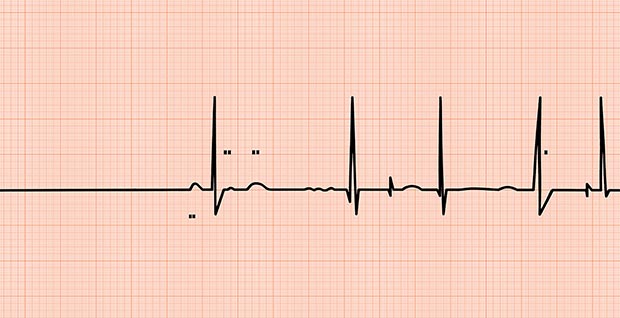 'Guide us Upon the Straight Path' by Nasser Al Salem, 2013, Ink on paper / Courtesy of the artist and Athr Gallery, Photo: Khalid Bin Afif
Nada Debs
Nada Debs is a well established Lebanese furniture and product designer. Concrete Carpet (2010) is a large-scale work that combines a new, light-weight form of concrete with contemporary Arabic font design. The 'carpet' is divided into 28 panels and each panel features a different letter of the Arabic alphabet, with one letter on each panel highlighted with mother-of-pearl inlay. The font employed was developed for Debs's design business in collaboration with Pascal Zoghbi, also shortlisted for Jameel Prize 3. Debs was born in Japan and lives and works in Beirut, Lebanon.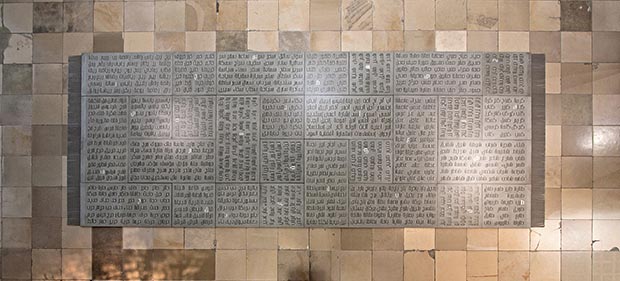 'Concrete Carpet' by Nada Debs, 2010, Concrete, mother-of-pearl, stainless steel / Courtesy of Mathaf: Arab Museum of Modern Art, Photo: Marino Solokhov
Mounir Fatmi
Mounir Fatmi's multi-media installations often exploit Arabic calligraphy in new ways. One calligraphic convention is to arrange Arabic texts in impressive wheel-shaped compositions. In the video Modern Times: A History of the Machine (2010–12), Fatmi arranges these circular compositions literally as wheels, the parts of a noisy locomotive that hurtles forward relentlessly. The work highlights the dystopic nature of the man-made world – in the Middle East, ramshackle cities grow without stopping, while prestige building projects are commissioned on a vast scale. At the entrance to the exhibition Fatmi will show Technologia (2010), a video work that links this circular Arabic calligraphy and Marcel Duchamp's Duchamp's Rotoreliefs, the first examples of kinetic art. Mounir Fatmi was born in Tangier, Morocco and lives and works between there and Paris.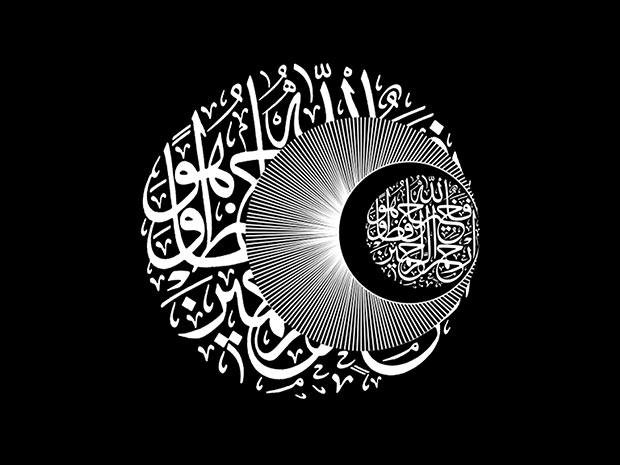 'Technologia' by Mounir Fatmi, 2010, Video projection / Courtesy of the artist and Paradise Row
Rahul Jain
Rahul Jain is a textile designer and historian. In 1993, he set up a drawloom workshop in Varanasi, India, to re-create Mughal silks of the 17th and 18th centuries. The workshop has five drawlooms operated by local Muslim weavers. Under Jain's guidance, they weave silk, gold and silver thread in complex historical techniques, producing textiles that match the great work of the past. The designs of The Snow Leopard (2007) and The Birds of Paradise (2008) stay true to the pattern structure of historical textiles, but the patterns themselves have been interpreted in new ways. Jain was born and lives and works in New Delhi, India.
'The Birds of Paradise' by Rahul Jain, 2008, Silk, silver and gilded silver thread / Courtesy of Lekha and Anupam Poddar Collection, Photo: Ashok Dilwal
Dice Kayek
Dice Kayek is a Turkish fashion label established in 1992 by Ece and Ayse Ege. In 2010 the sisters created Istanbul Contrast, a collection that evokes Istanbul's architectural and artistic heritage. In Caftan, made of hand-woven lamé brocade, the sisters reworked the robes worn by the city's former Ottoman rulers. In Dome, light-weight cotton organdy was folded to echo the ribs of lead-covered domes of the city's mosques and palaces. In Hagia Sophia, they were inspired by Byzantine mosaics, creating a white satin coat with complex, hand-stitched embroidery that incorporates ancient glass beads. The Ege sisters were born in Bursa, Turkey, and they live and work between Istanbul and Paris.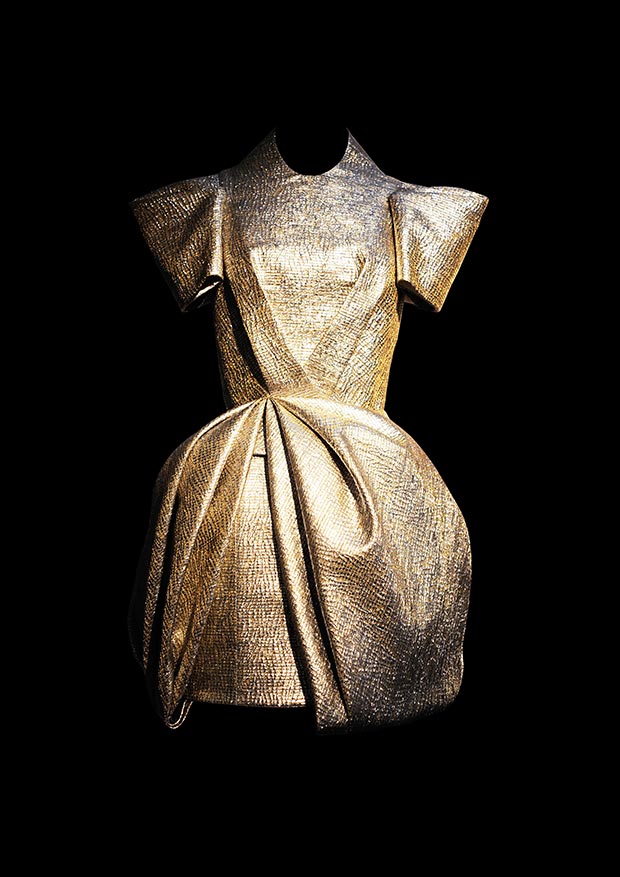 'Caftan' by Dice Kayek, 2009, (Lame broacade) / Courtesy of Dice Kayek Archive, Istanbul Contrast Collection, Photo: Dice Kayek Archive
Waqas Khan
Waqas Khan trained in miniature painting, and uses the skills he acquired to create drawings. He works with a technical pen on handmade paper, building up his images using a meticulous markmaking process. His drawings can be compared to buildings, constructed brick by brick. In his three works on display Forming Spaces III (2012); Forming Spaces IV (2012) and Letter to Lover 1 (2012), these 'bricks' are dots, marks and lines, assembled with precision and delicacy into a deceptively simple composition. Khan's practice reflects aspects of Sufi mysticism. He works without a magnifying glass, usually at night, holding his breath while drawing and exhaling only once the ink is on the paper. Khan was born in Lahore, Pakistan, where he lives and works.
'Forming Spaces' III by Waqas Khan, 2012, Ink on paper / Collection of Hicham Ghandour
Laurent Mareschal
Laurent Mareschal is concerned with the impermanence of life and often uses Palestinian sources for his work, acknowledging the particular impermanence of Palestinian lives. He creates large, site-specific works, using everyday materials such as spices, soap and food. With these he creates ephemeral patterns arranged to evoke such things as decorative floor tiles or traditional embroidery. The patterns are deliberately fragile, and the audience is free to participate in transforming them. For the Jameel Prize Mareschal will create a new work in his series Beiti, 'my house'. Mareschal was born and lives and works in France.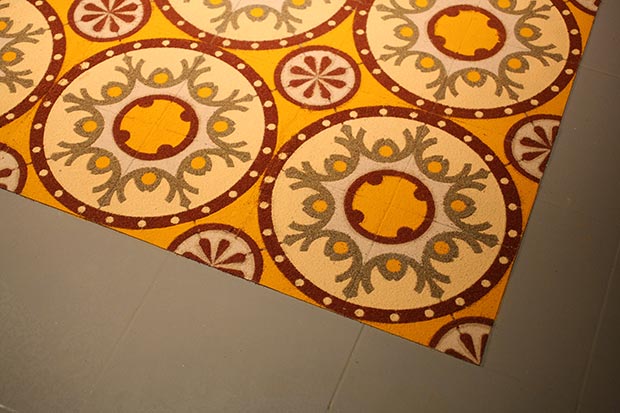 'Beiti'_Detail of the installation, CAPC, Bordeaux, France_by Laurent Mareschal, 2011, Spices / Courtesy of the artist and Galerie Marie Cini, Photo: Tami Notsani
Florie Salnot
Florie Salnot is a social designer. She has been working on her Plastic Gold project since 2010, inspired by the traditional jewellery worn by women from Western Sahara. The women live in refugee camps at desert sites in Algeria, and Salnot has devised a craft they can practise despite their limited resources. She developed a technique that uses only hot sand, simple tools and spray paint to transform discarded plastic bottles into necklaces and bracelets. The necklaces on display will stand as an example of how this could be done by the refugees. Salnot was born in France and now works between Hamburg, London and Paris.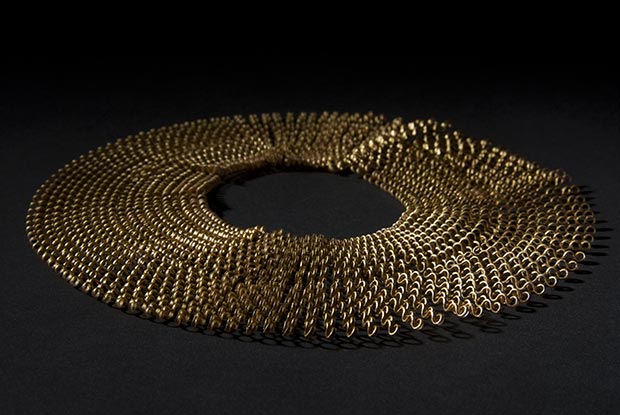 'Plastic Gold' by Florie Salnot, 2010–13, Recycled plastic, gold paint / Courtesy of the designer, Photo: Dominic Tschudin
Pascal Zoghbi
Pascal Zoghbi is a Lebanese designer working in Arabic typography. Until recently, the range of fonts available for printing in Arabic was minimal, but font design is now a growing field. The challenge is to devise fonts that stay faithful to the conventions of the Arabic script while matching contemporary needs. Zoghbi's Beirut-based design practice, 29Letters, has created new typographical styles for newspapers and magazines, architecture and wayfinding, and software. Zoghbi's practice also created a corporate font for Nada Debs's design business, which is used in her Jameel Prize submission, Concrete Carpet (2010). For the exhibition, Zoghbi will create a collage installation of his typography and graphic designs. Zoghbi was born and lives and works in Lebanon.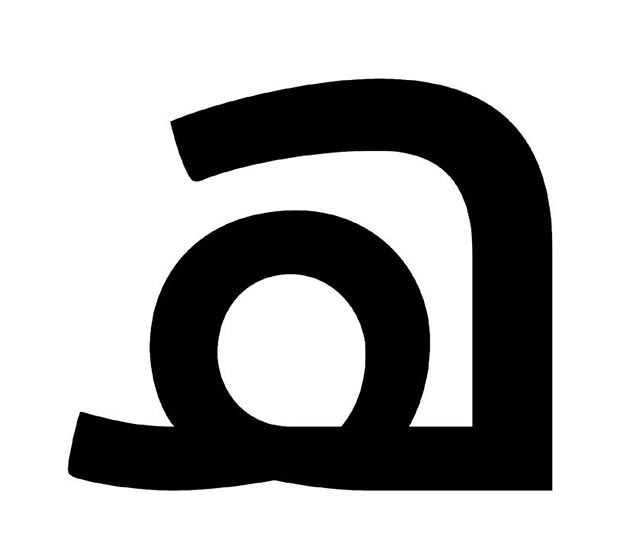 The Arabic letter ha', from 29LT Fonts Collection by Pascal Zoghbi, 2012, Digital print / Courtesy of the designer
V&A's Islamic Art Collection
The V&A has specialised in collecting Islamic art since the 1850s, and was the first institution in the world to collect Islamic art in a systematic fashion. The Museum's mission was to reform design, and it was thought that Islamic ideas about structuring patterns and matching decoration to shape and function could improve British design. The Jameel Prize shows that the link between the Islamic art of the past and contemporary practice is still very much alive.
The Jameel Prize
Leading curators, designers, artists and cultural figures from across the world were invited to nominate artists and designers for Jameel Prize 3. Almost 270 nominations were received from which a shortlist of ten artists and designers was drawn up by the judging panel. About Abdul Latif Jameel Community Initiatives (ALJCI) In 2003 Abdul Latif Jameel Community Initiatives (ALJCI) was founded as the Community Services arm of the ALJ Group. Today ALJCI runs a considerable set of initiatives. From individual, community and Arab life as a whole in Saudi Arabia and beyond, ALJCI has the welfare of its people at heart. By promoting Arab arts and culture in the Middle East and around the world, working against the unemployment epidemic, enabling research for poverty alleviation, and providing education and training opportunities, ALJCI has successfully promoted positive social change.