Lawrie Shabibi is pleased to announce its participation in
1:54 Contemporary African Art Fair
with a presentation of four artists: Nadia Kaabi-Linke, Mounir Fatmi, Driss Ouadahi and Zak Ové whose sculptural installation 'Black and Blue: The Invisible Men and the Masque of Darkness" in Somerset House Courtyard was one of the highlights of last year's fair.
Nadia Kaabi-Linke (b.1978, Tunis) is a Tunisian multi-media artist based in Berlin whose works have been shown at the Guggenheim, MOMA, Sharjah Biennale, Venice Biennale 54, Dallas Contemporary and Gulbenkian Museum amongst others. At 1:54 she presents two new works on canvas in addition to "Faces, 2014" a series of 32 photos of an archival image held at the KwaZulu-Natal Library that was staged for the Greater British Exhibition in London to create a fictitious Zulu family.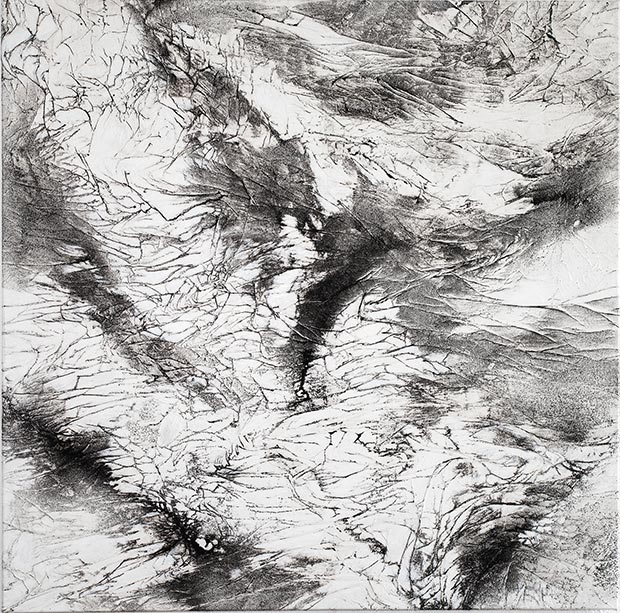 Nadia Kaabi-Linke, Kula - Black Dove, 2017. Graphite and acrylic on paper. 126 x 128 cm / Courtesy of Lawrie Shabibi and the artist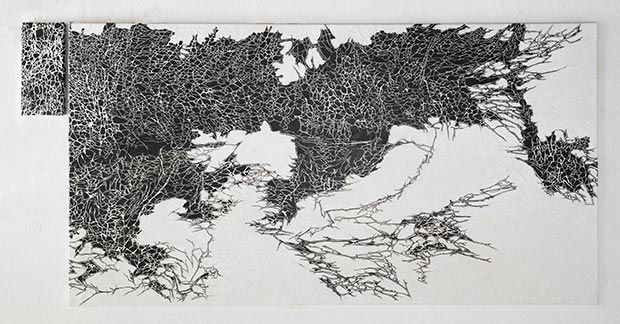 Nadia Kaabi-Linke, Spic and Span in June and July (Diptych), 2017.Graphite and acrylic on paper. 99x185 cm and 32.5 x 15 cm / Courtesy of Lawrie Shabibi and the artist
Mounir Fatmi (b.1971, Tangier) is a Moroccan multi-media artist based in Paris. For 1:54 Fatmi presents "Maximum Sensation 52, 2010" (a skateboard whose surface is embellished with sections from Muslim prayer rugs) and "Forget, 2010" (a ceramic skull). Mounir has exhibited internationally including at the National Picasso Museum War & Peace, Le Parvis Contemporary Art Center, Centre Georges Pompidou, Paris, The Brooklyn Museum, New York, Mori Art Museum in Tokyo, Moscow Museum of Modern Art, Mathaf Arab Museum of Modern Art and the Hayward Gallery in London.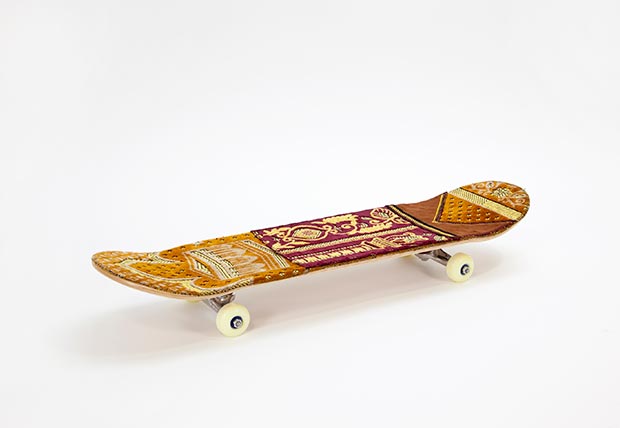 Mounir Fatmi, Maximum Sensation 52, 2010. Skateboard, prayer rugs. 10 x 21 x 83 cm / Courtesy Lawrie Shabibi and the artist
Driss Ouadahi (b. 1959, Casablanca) is a Moroccan painter based in Dusseldorf who takes as his subject matter the built environment of urban alienation. For 1:54 he presents a new large-scale painting and a variety of works on paper that juxtapose historic sites in North Africa (such as the Great Mosque of Djenne and Taghit) with his typical geometric abstractions. Ouadahi has exhibited internationally including at the Biennale de l'Art Africain Contemporain, 11th Edition, Dakar, Senegal, 2014 (where he won the Grand Prix Léopold Sédar Senghor Prize) and Venice Biennale 54.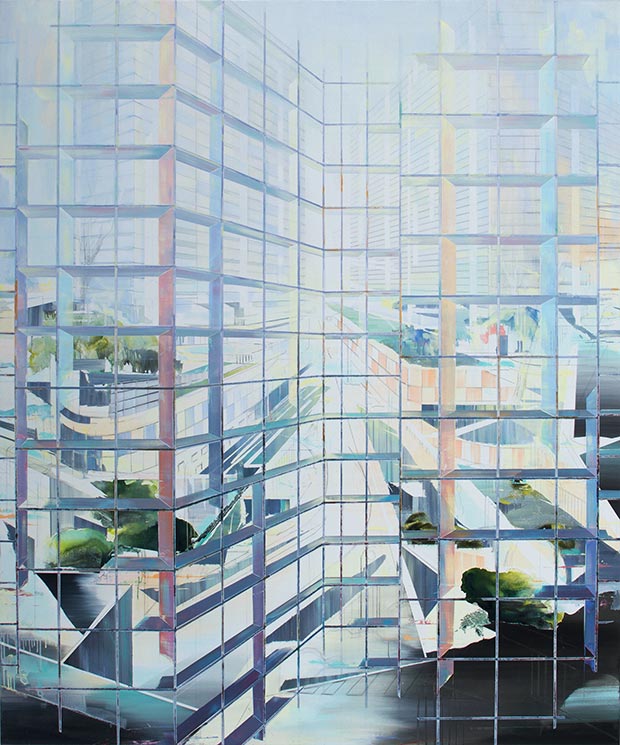 Driss Ouadahi, Reconstruction. 2017. Oil on canvas,. 180 x 150 cm / Courtesy Lawrie Shabibi and the artist
Zak Ové (b. 1966, London) presents two mixed–media sculptures "Lost Souls V, 2011" and "Wild Thing, 2010" both inspired from his documentation of, and anthropological interest in, diasporic and African history, specifically that which is explored through Trinidadian carnival. Zak Ové is based between London and Trinidad and works between sculpture, film and photography seeking to reignite and reinterpret lost culture using new-world materials, whilst paying tribute to both spiritual and artistic African identity.
Lawrie Shabibi is a contemporary art gallery located at Dubai's Alserkal Avenue. The gallery supports the long-term development of the careers of young international contemporary artists with a focus on those from the Middle East and North Africa. The gallery also organizes art historical exhibitions working with an older generation of artists from the region. Liaising with curators, institutions, museums and collectors the gallery has successfully introduced international artists to the region whilst at the same time presented Middle Eastern artists to the international contemporary arts community. By holding a regular programme of exhibitions, screenings and talks, publishing catalogues and participating in international art fairs, Lawrie Shabibi has in the space of seven years been a forerunner in the development of the contemporary art scene in Dubai.