LONDON / Lawrie Shabibi would like to announce its participation in Art 13, London's new modern and contemporary art fair. Lawrie Shabibi will be presenting works by Shahpour Pouyan, Asad Faulwell and a collaborative work of Sama Alshaibi and Dena Adeeb, all curated around the theme of war as a timeless and cyclical nature of violence.
Through their work the artists draw on the past weaving history and cultural influence into their work to explore contemporary notions of power, war and death. Shahpour Pouyan draws from the culture and traditions of his country- Iran, whereas Faulwell, in his series Les Femme D'Alger, uses iconic images and motifs of Algerian women freedom fighters. Sama Alshaibi and Dena Adeeb reflect on their lived experiences and personal bodily memory of war in Iraq through their series Baghdadi Mem/Wars.
The booth will revolve around one of Pouyan's 'Projectiles' which will be suspended in the centre of the booth. Made from intricately decorated armour and antique-style military helmets, these suspended monuments are strong symbols of dominance and power, yet at the same time are light, refined and have an air of luxury. On the surrounding wall space will be Asad Faulwell's series 'Les Femme D'Alger'. Inspired by the Algerian War of Independence (1954-1962), Faulwell features repeated motifs of the women who fought alongside the men to save their country. The repetition of the images and the quasi-religious imagery he employs give these works the air of devotional shrines. On the adjacent wall will be Sama Alshaibi and Dena Adeeb's body of work. Entitled 'Still/Chaos' and consisting of nine photographs, the work depicts two female protagonists (performed by the artists themselves) trapped in a collapsing white padded room resembling an insane asylum. In an increasingly enclosing space, the figures are propelled into one another with an intensifying interaction that crafts the dual faces of survival, rebellion and resignation.
Shahpour Pouyan
Shahpour Pouyan was born in 1979 in Isfahan, Iran. He is currently studying for a Masters of Fine Art at Pratt Institute in Brooklyn, New York. Pouyan has a Masters in Fine Art (Painting) from Tehran University of Art and a Bachelor of Fine Art (Painting) from the University of Science and Culture. He was a recipient of the Tehran Contemporary Museum of Art's grant of residence at International Cite Des Artes, Paris, France and has exhibited in various solo and group exhibitions in Tehran, Dubai, Paris, New York, Beirut, Canada and Serbia.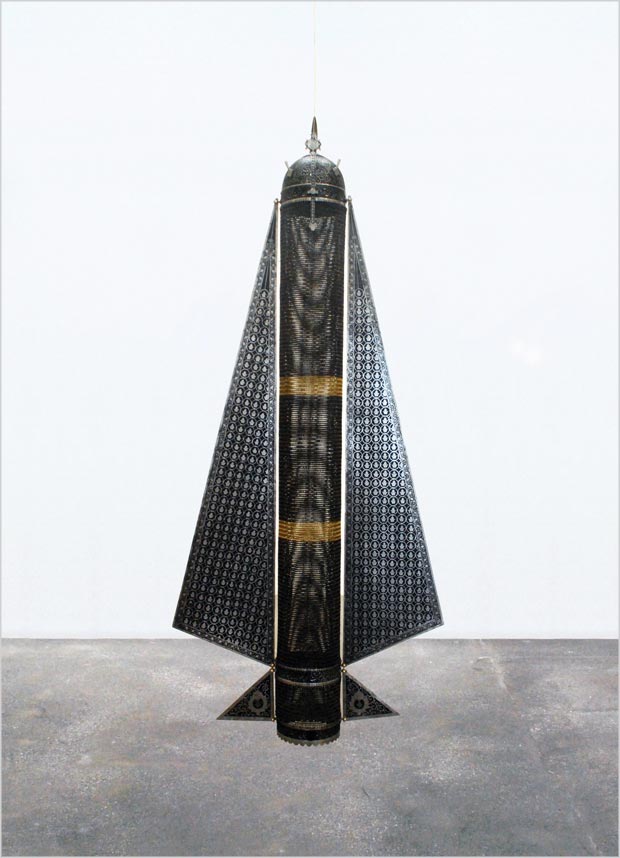 Shahpour Pouyan, Projectile 8, 2012, 185cm high, (1) / Courtesy of Lawrie Shabibi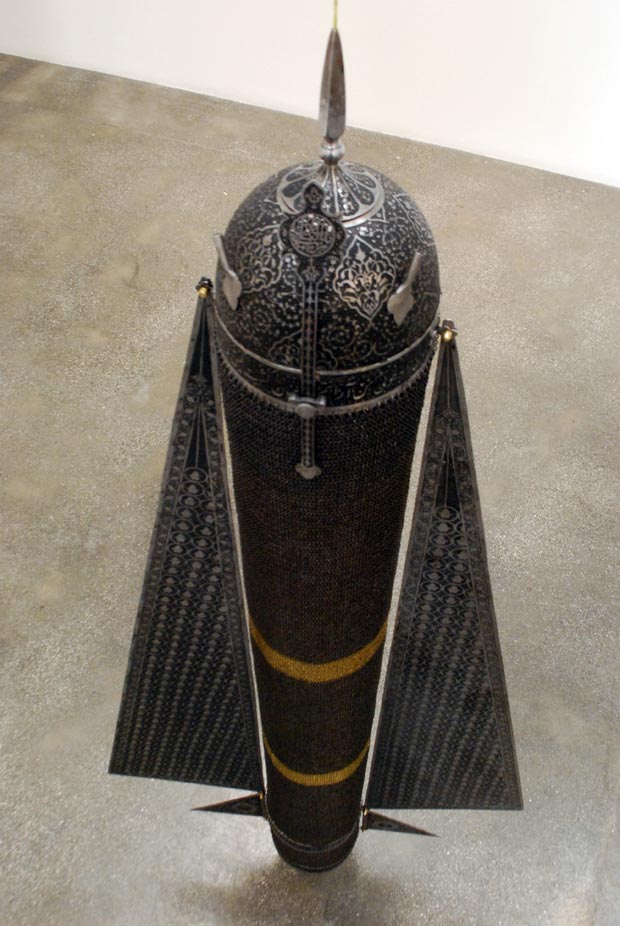 Shahpour Pouyan, Projectile 8, 2012, 185cm high, top view / Courtesy of Lawrie Shabibi
Asad Faulwell
Asad Faulwell was born in 1982 in Caldwell, Idaho. He is currently based in Los Angeles and received his BA from UCSB in 2005 and his MFA from Claremont Graduate University in 2008. While at CGU he was the recipient of a Joan Mitchell Foundation Grant. Since graduating he has taken part in Solo Exhibitions in Los Angeles, Claremont and New York as well as group exhibitions in Zurich, Los Angeles, New York, Miami, Dubai and London. He is featured in numerous prominent private collections as well as the collection of the Nerman Museum of Contemporary Art. His work has been written about in ArtForum, The New York Times and LA Weekly among others.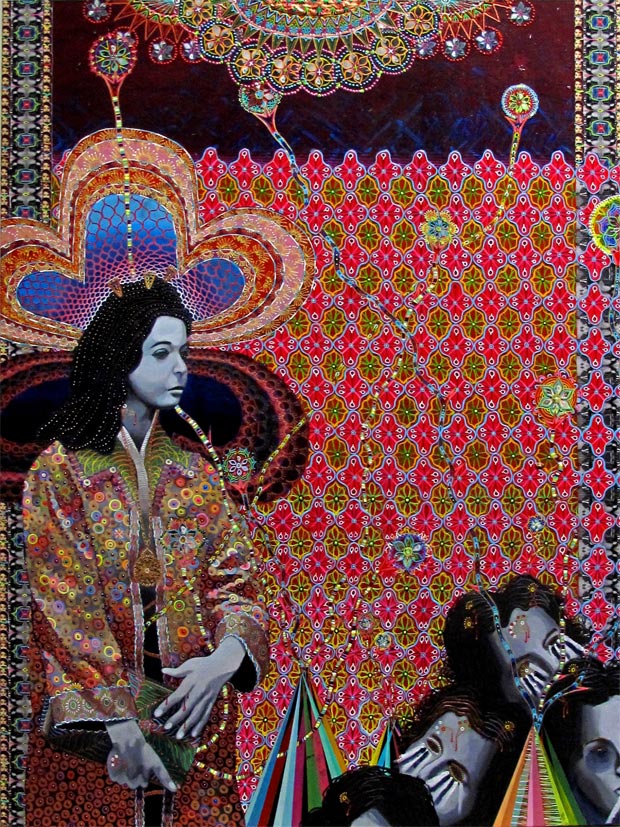 Asad Faulwell, Les Femmes d'Alger 22, 2012, 122x92 cm / Courtesy of Lawrie Shabibi
Sama Alshaibi
Sama Alshaibi was born in 1973 in Basra, Iraq. She is currently living in Tuscon, Arizona where she is an assistant professor at the University of Arizona. Alshaibi has exhibited in over 20 countries including Impressions Gallery in the UK, Exit Art in NYC, Al Hoash in Jerusalem, DARB in Cairo, The Bronx Museum in NYC and the Museum of Contemporary Art in Denver. In 2010 she participated in a travelling group show Hiwar in Tunis and Cairo with Adel Abidin, Nadia-Kaabi Linke and Moatez Nasr amongst others. Her time-based works (video art and films) have screened in numerous film festivals internationally, including Thessaloniki International Film Festival in Greece, CinemaEast Film Festival in NYC, DOKUFEST in Kosovo and MidEast Cut in Copenhagen/Denmark & Helsinki/Finland. Her works have been collected by notable collectors internationally and a more recent acquisition of Baghdadi Mem/Wars was made by the upcoming Museum of Modern and Contemporary Art in Tunis.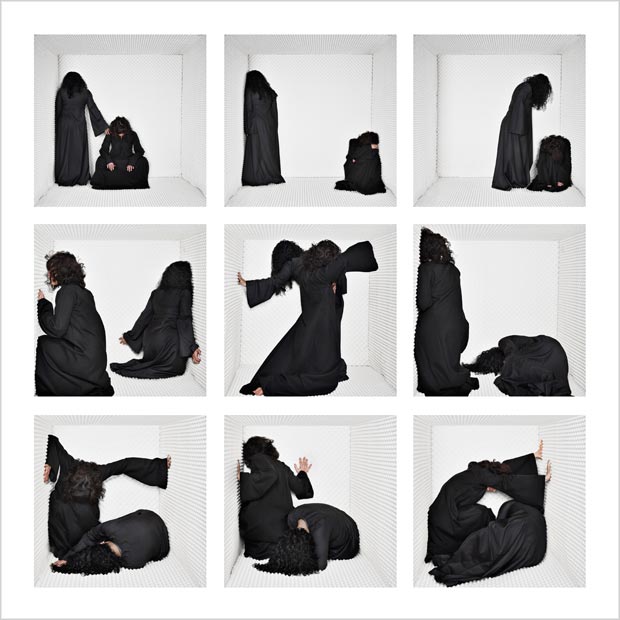 Sama Alshaibi and Dena Adeeb, Still-Chaos, 2010, 457.2x457.2 cm / Courtesy of Lawrie Shabibi
Art 13
Art13 London is the capital's new art fair for Modern and Contemporary art, presenting a truly global perspective and showcasing art from 1945 to the present day. With over 70% of galleries exhibiting at an art fair in London for the very first time, this is the most eagerly anticipated art fair in over a decade. The first edition will showcase over 120 leading galleries from 30 different countries showcasing over a thousand paintings, sculptures, multi-media installations and a special focus on prints and editions as well as photography.
Lawrie Shabibi
Lawrie Shabibi is a contemporary gallery located in Dubai's Al-Quoz industrial district focusing on both established and emerging contemporary artists from the Arab world, Iran, North Africa, South Asia and Turkey. Founded in 2010 by William Lawrie and Asmaa Al-Shabibi, the gallery engages the public with art that imparts a cultural and political discourse together with a powerful aesthetic.