'Local/Not Local' showcases the works of Arabic and Iranian designers based in California. This connection is reflected in their work in the form of on-going client work from the Middle East, self-initiated art and design projects, or locally based client work.
Bypassing the traditional and sociopolitical obstacles, this collection is bringing together Iranian and Arabic artists under one roof, focusing on their shared passion for the beauty of Perso-Arabic scripts, and celebrating the unique cultural heritages of each community. 'Local/Not Local' shows works of visual communication that feature Arabic and Iranian typographic forms in the form of print, sculptural, textile, mediums. Curated by Maece Seirafi and Pouya Jahanshahi, the exhibition ' Local/Not Local: Arabic and Iranian Typography in California' is on view from Oct 20 to Dec 3, 2015.
The exhibition takes place at the Cal State University Dominguez Hills, University Art Gallery and features: Yusef Al-Ahmad, Sam Anvari, Paul Batou, Milka Broukhim, Navid Ghaem Maghami, Reem Hammad, Pouya Jahanshahi, Noha Khashoggi, Farzad Kohan, Christian Nahas, Maryam Naghshineh, Ebrahim Poustinchi, Paymon Pojhan, Shilla Shakoori, Maece Seirafi, and Nouha Sinno.
Notably the eponymous show title – Local/Not Local – implies that these works and artists reside in their own locality (i.e. California) and yet they continue the dance with their native language and scripts. By drawing upon their hybrid cultural backgrounds, these artists continue to engage in community-based projects, collaborations and commercial work, expressing their passion through works of art and design that implement forms of Arabic and Iranian typography, and calligraphy. The works in 'Local/Not Local' demonstrate – from a contemporary perspective – the spectrum of creative expressions that exist in manifestations of Perso-Arabic alphabet and scripts. Furthermore, this exhibit brings attention to the rich culture that resides in California and breaks the notion that Arabic and Iranian typography is only practised in the Middle East.
While the subject matter addressed in individual pieces are not the focus, they are meant to invite the audience for further investigation into the underlying themes and paths that have ultimately resulted in the final works of art.
HIGHLIGHTS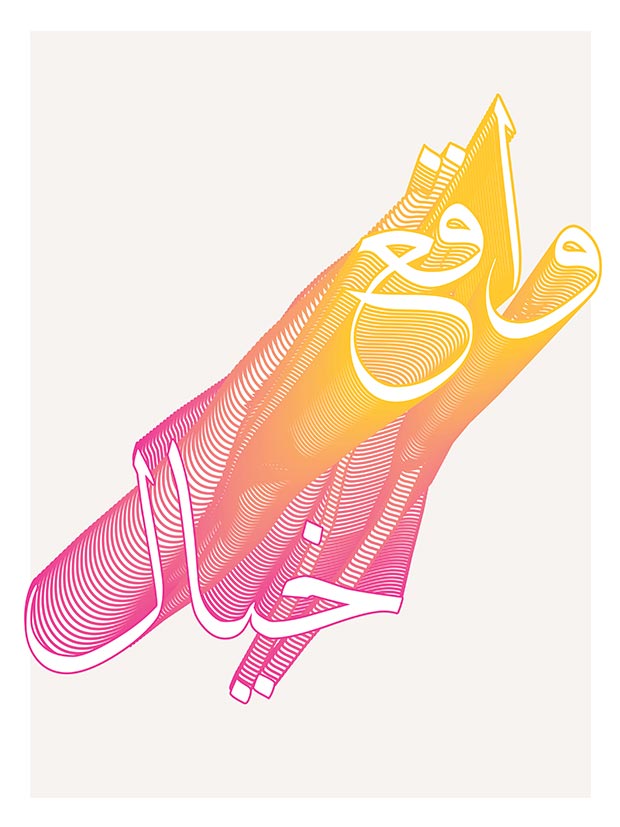 Yusef Alahmad, Reality vs Fantasy, 2013, 17 x 22", Digital Print / Courtesy of the Artist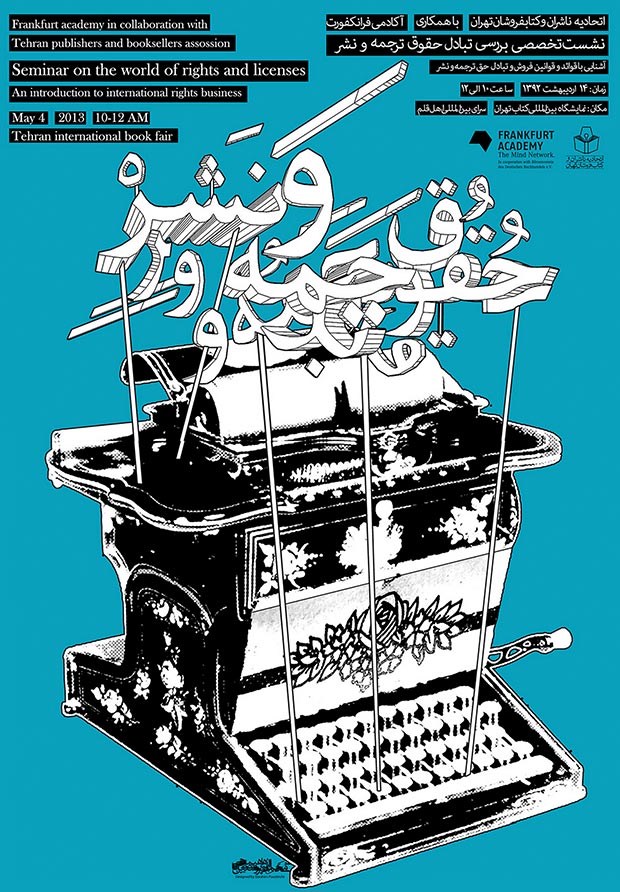 Ebrahim Poustinchi, World of Right and Licenses in Publication, 2013, Digital Print/ Courtesy of the Artist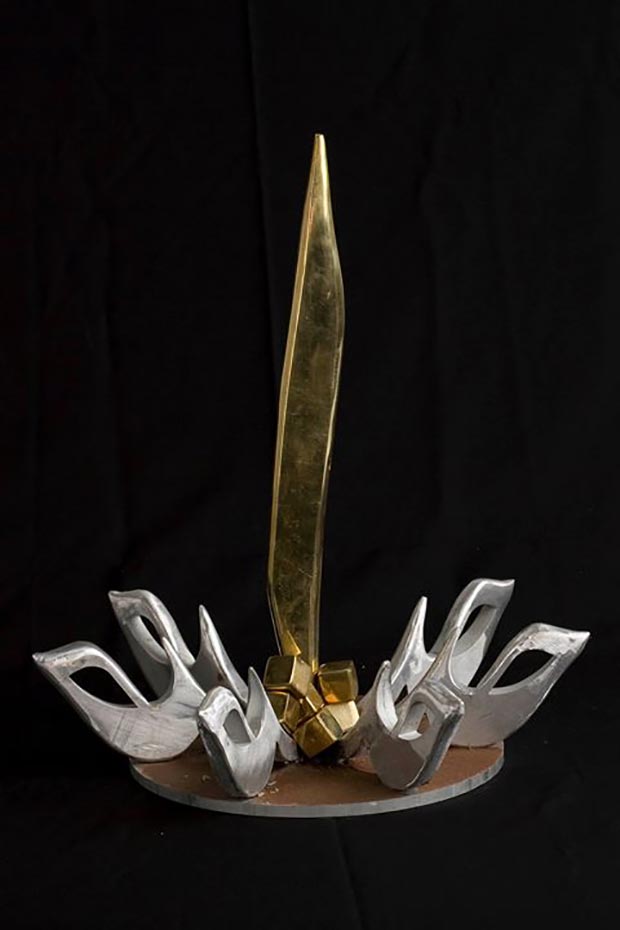 Paymon Pojhan, 7 Cities of Love, 2010, 19"x 12"x 12", Aluminum and Brass/ Courtesy of the Artist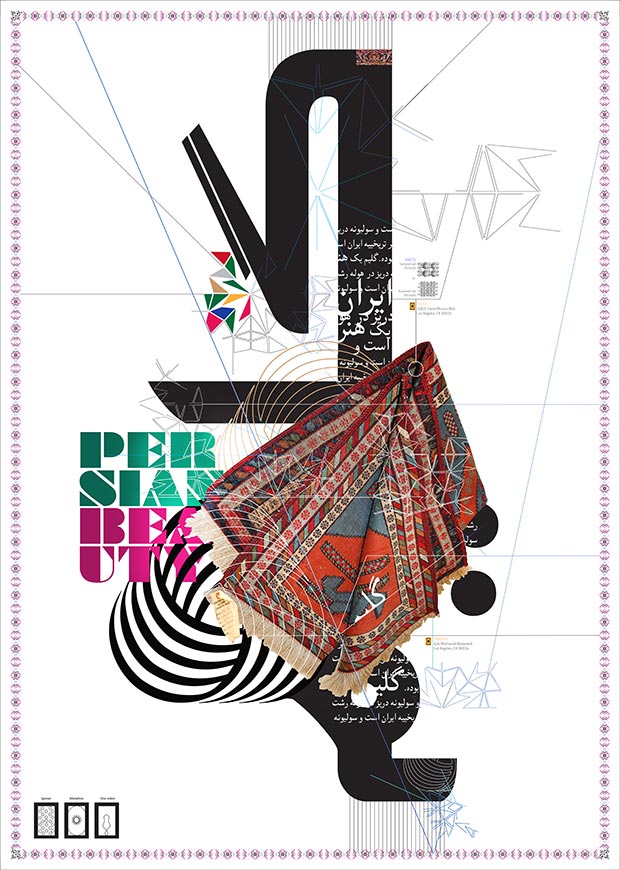 Pouya Jahanshahi, Persian Beauty, 2011, Digital Print/ Courtesy of the Artist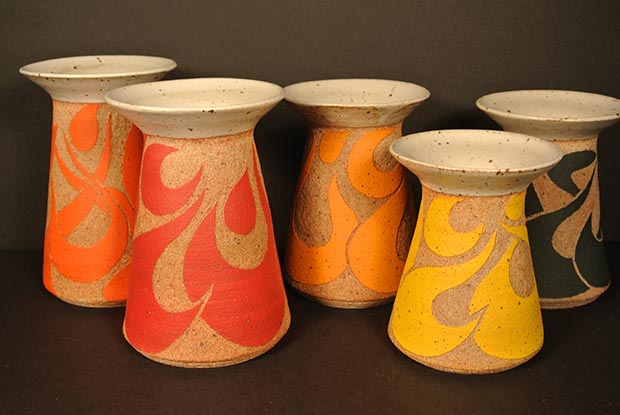 Reem Hammad, Singing Vases, 2014, Stoneware Underglaze / Courtesy of the Artist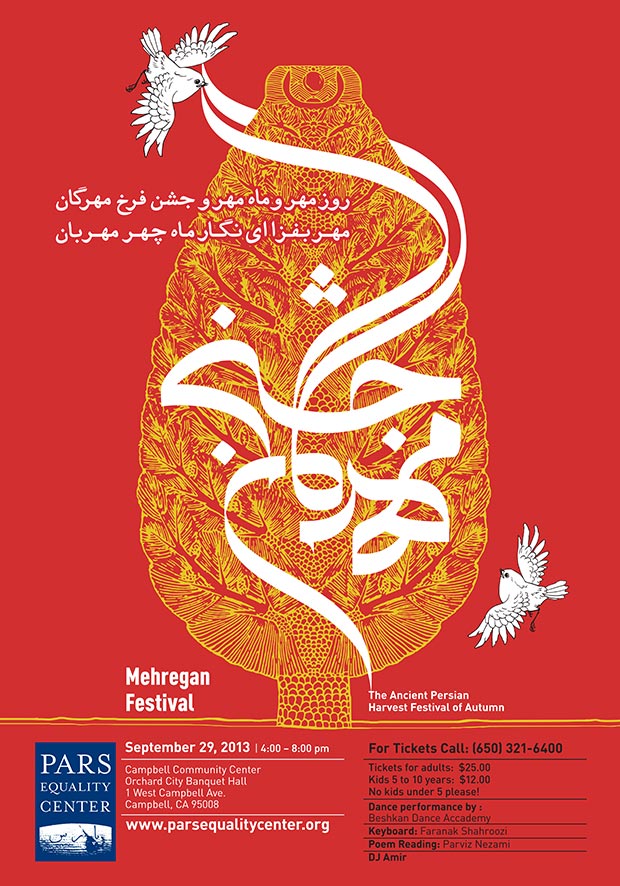 Sam Anvari & Kourosh Beigpour, Mehregan Festival, 2014, Screen Printed Poster / Courtesy of the Artists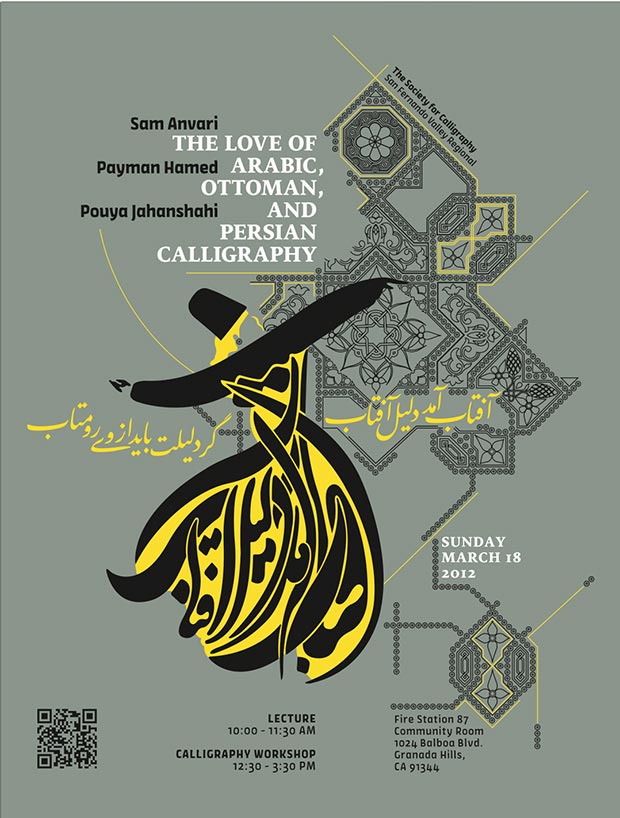 Sam Anvari & Pouya Jahanshahi in collaboration with Peyman-Hamed, The Love of Arabic, Ottoman and Persian Calligraphy, 2012, Screen Printed Poster / Courtesy of the Artists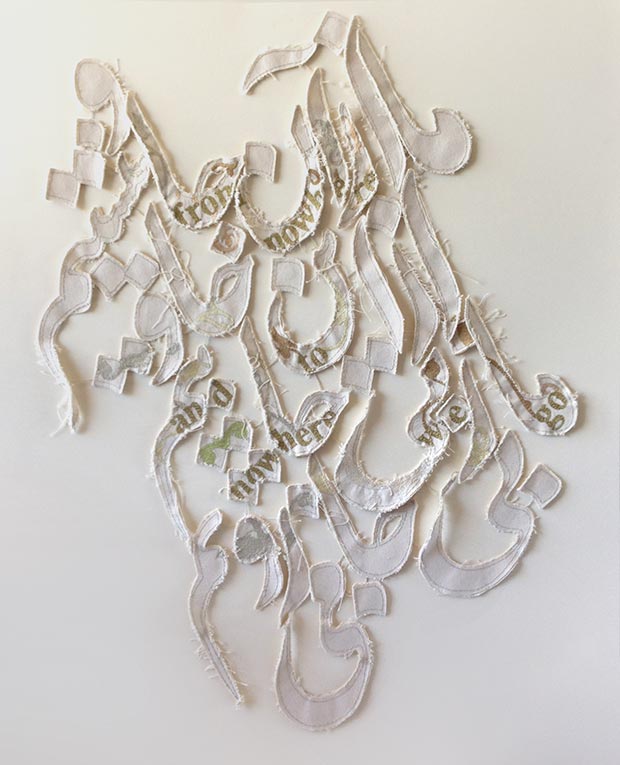 Shilla Shakoori, Eternity, 2013, Fabric (canvas) Stitches / Courtesy of the Artist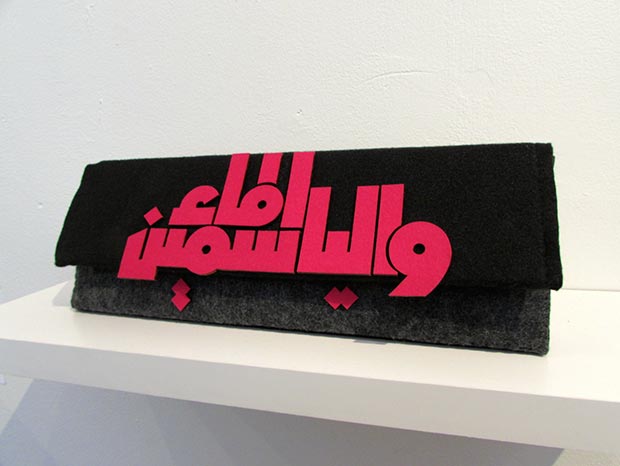 Maece Seirafi, Water and Jasmine Clutch, 2014, Lasercut Felt / Courtesy of the Artist
Curators
Co-curator Maece Seirafi is a Syrian American graphic designer/art director focusing on branding, typography, and illustration based in Los Angeles. Born in San Francisco, she grew up in Damascus, Syria where most of her love of letterforms, art, and calligraphy was cultivated. Her independent design practice focuses on bilingual branding, curating cultural experiences and projects for educational institutions, and commissioned calligraphic pieces.
Co-Curator Pouya Jahanshahi, is an Iranian American graphic designer, filmmaker and educator, currently an Assistant Professor of Graphic Design at Oklahoma State University. His research focuses on the global development of what he terms "Hybrid Visual Cultures." His current projects include the upcoming documentary film: "Pasaj: The Visual Language of Iranian Graphic Design." Exhibition coordinator Sam Anvari is an adjunct faculty member in the Art and Design Department at CSU Dominguez Hills.
The exhibition ' Local/Not Local: Arabic and Iranian Typography in California' is on view from Oct 20 to Dec 3, 2015.