More than 160 paintings, sculptures, photographs, installations and video installations by 34 different artists.
'Looking at the World Around You: Contemporary Works from Qatar will be on view until June 19, 2016 at the Santander Art Gallery in Financial City (Boadilla del Monte, Madrid). The exhibition is created by Fundación Banco Santander in partnership with Qatar Museums and under the leadership of its Chairperson, Her Excellency Sheikha Al Mayassa bint Hamad bin Khalifa Al Thani. The show opened on February 8 and was attended by Mansoor bin Ebrahim Al Mahmoud, CEO of Qatar Museums; Abdellah Karroum, curator of the exhibition and director of Mathaf: Arab Museum of Modern Art, Doha; and Rodrigo Echenique, chairman of Santander Spain.
Fundación Banco Santander remains committed to its exhibition policy, adopted seven years ago now, of bringing major international collections of contemporary art to the Santander Art Gallery. On this occasion, visitors to the gallery have the opportunity to contemplate, for the first time outside Qatar, an ample selection of works from the Qatar Museums collections.
The majority of the works in 'Looking at the World Around You: Contemporary Works from Qatar Museums' were loaned by Mathaf: Arab Museum of Modern Art, Doha, although there are also a number of pieces from other Qatar Museums collections. This selection, more than 160 works in total, represents the history of contemporary Arab art as seen through the eyes of 34 artists, most of whom are natives of Arab nations like Morocco, Egypt, Lebanon, Algeria, Iraq, Kuwait and, of course, Qatar. However, the exhibition also includes works by foreign-born creators whose art is related to the Arab world, such as Yan Pen Ming and Cai Guo-Qiang from China and the Belgian master René Magritte.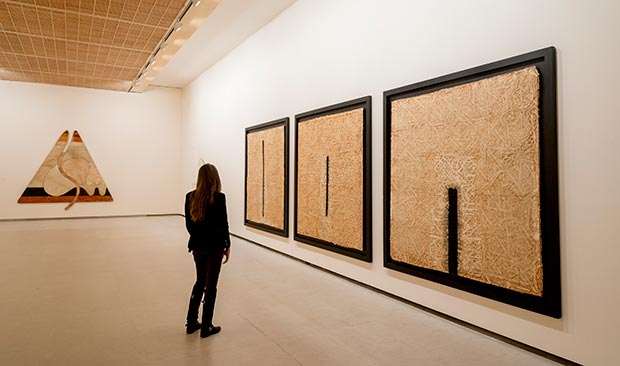 Looking at the World Around You, Installation view / Courtesy of the Foundation
How we look at the world around us is the central idea that guided the curator, Abdellah Karroum, in the process of choosing and interrelating the portraits, photographs, sculptures, installations and video installations that comprise this show. 'Looking at the World Around You: Contemporary Works from Qatar Museums' is an open window onto diverse geographical regions and myriad socio-political realities, from North Africa to Southeast Asia. Relevant themes such as historical narrative, memory and identity are addressed in works brimming with subtlety, beauty and strength that portray the past and present of the artists who imagined and breathed life into them.
In the foreword to the exhibition catalogue, Her Excellency Sheikha Al Mayassa bint Hamad bin Khalifa Al Thani, Chairperson of Qatar Museums, notes that "art can create new opportunities for dialogue and exchange and prompt new understandings of human history." This collaboration between Fundación Banco Santander and Qatar Museums, according to Her Excellency, "speaks to the privileged role that art can play in building bridges and opportunities whose significance extends well beyond the museum walls."
For Rodrigo Echenique, Chairman of Santander Spain, "The Santander Art Galley exemplifies the bank's interest in building a more prosperous community through culture, creativity and education—hence our commitment to bringing the best contemporary art collections in the world to this gallery." The Santander Art Gallery, located in Grupo Santander City, is proud to host the first public showing of this major collection outside Qatar, an event which will undoubtedly create a surge of interest in contemporary Arab art in our country. Those who come to see this show will therefore have the unique privilege of discovering how these artists see the world—particularly the Arab world—around them.
The Exhibition
Visitors are greeted by Manal AlDowayan's installation 'Suspended Together', as an introduction to 'Looking at the World Around You: Contemporary Works from Qatar Museums', sending visitors off on a voyage to discover the universes of the artists featured in the show.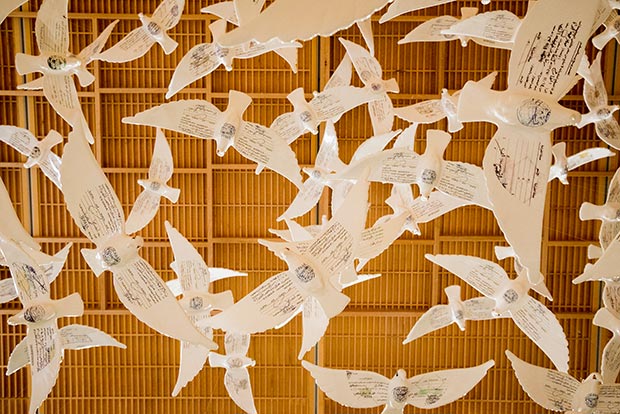 Manal Al Dowayan, Suspended Together, 2012 (1) / Courtesy of the Foundation
The first stop on our journey through this world of kaleidoscopic diversity is the forty-four portraits that comprise 'Spring Winter Summer Fall: Modernity Identity' by Franco-Chinese painter Yan Pei-Ming. Arab politicians, intellectuals, artists and musicians are depicted by Yan, inviting us to scrutinise the faces of those with the power to influence the Arab community. Opposite this work we find the series 'Icons of the Nile', in which Egyptian artist Chant Avedissian adapts the language of advertising billboards to depict public and anonymous figures from his country that reflect social changes, followed by works of Egyptian artist Youssef Nabil, 'You Never Left #V and #VI.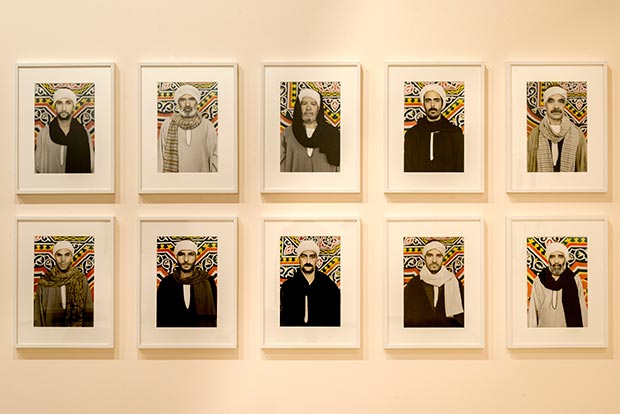 Youssef Nabil, You Never Left #V, 2010 / Courtesy of the Foundation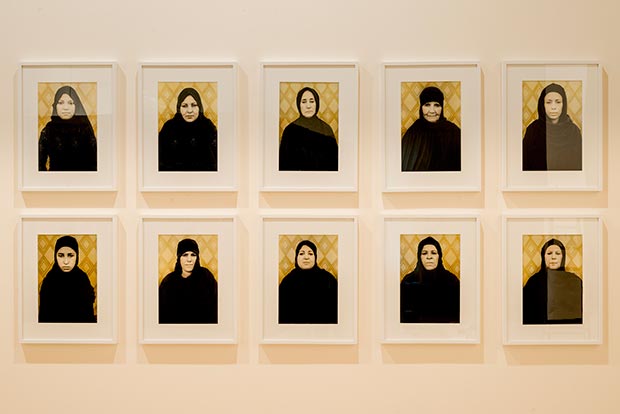 Youssef Nabil, You Never Left #VI, 2010 / Courtesy of the Foundation
After this initial section devoted to portraiture, we step into an area devoted to the great Arab women painters who were pioneers of art in their countries. Three socially and politically engaged women—Etel Adnan from Lebanon, a living legend of Arab art; Baya Mahieddine, an Algerian artist who at age sixteen was hailed by André Breton as a Surrealist painter; and Inji Efflatoun from Egypt—created artworks that reflect everyday scenes in the social life of their respective countries. Another remarkable woman creator is Saloua Raouda Choucair, a pioneer of abstract art in Lebanon who, in sculptures like 'Poem of Three Verses', deconstructs poems by focusing solely on the structural format of the poetic text rather than its spiritual meaning.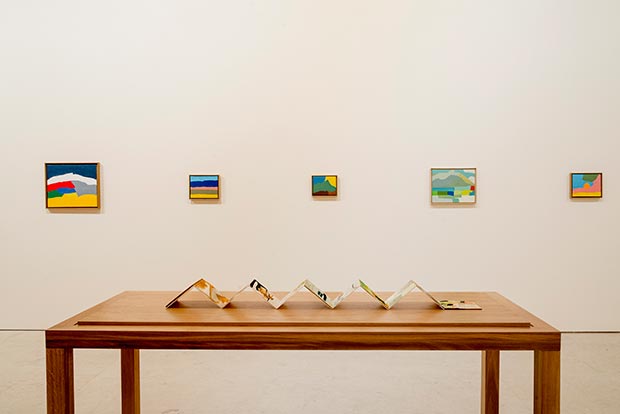 Etel Adnan / Courtesy of the Foundation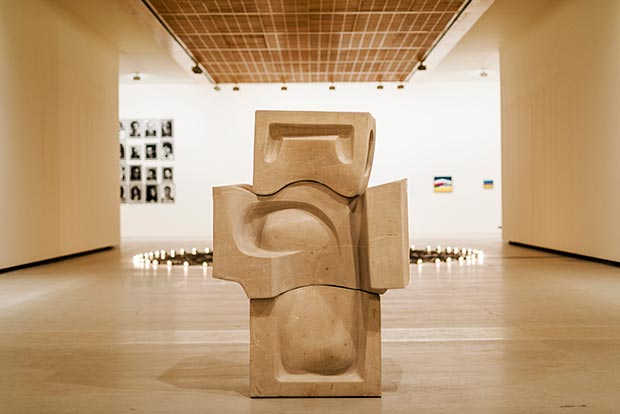 Saloua Raouda Choucair, 'Poem of Three Verses' / Courtesy of the Foundation
Next, the exhibition plunges us into the original installation 'Undercurrent' by one of the most visible artists from the Arab world, Mona Hatoum. Born to a Palestinian family living in Beirut, she developed her work primarily in London, the city to which she was exiled in 1975. Hatoum's creations confront viewers with uncanny, conflicting, destabilising emotions.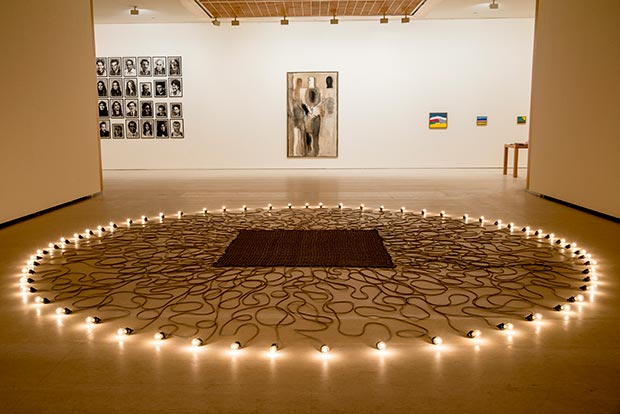 Mona Hatoum, Undercurrent, 2004 / Courtesy of the Foundation
The show also features a group of Arab artists immersed in technical experimentation and material innovation, individuals who studied in Europe and combined cutting-edge methods with elements typical of their own culture and local materials. Prime examples include Farid Belkahia, who uses traditional Moroccan dyes and henna in his work Trance; the Egyptian Adam Henein, who employed Egyptian motifs while embracing the influence of 20th-century European art movements; and Qatari artist Faraj Daham, whose paintings reflect the rapid changes in Qatar's society caused by the oil industry and incorporate materials derived from petroleum.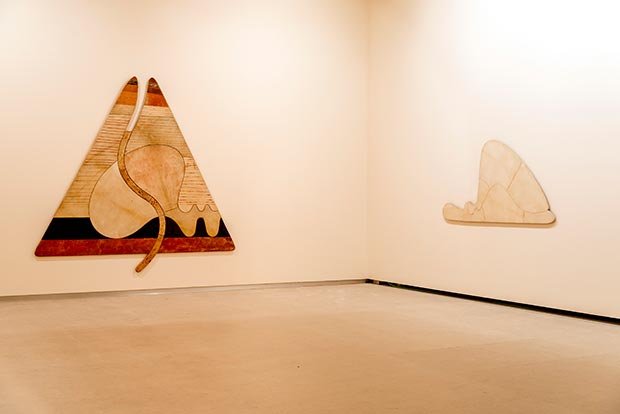 Farid Belkahia / Courtesy of the Foundation
Several artists stand out for their use of calligraphy as a form of artistic expression, such as the Tunisian Nja Mahdaoui, a self-described "explorer of signs" and "choreographer of letter"; Qatar's own Yousef Ahmad, whose experimentation with Arabic script is evident in 'The Birth of Innovation'; Egyptian artist Ghada Amer presents a calligraphy sculpture where '100 Words of Love' are formed in a colourful ball; Hassan Sharif showng his installation 'Paper and Glue', and Qatari artist Ali Hassan exploring The Letter 'Nun'.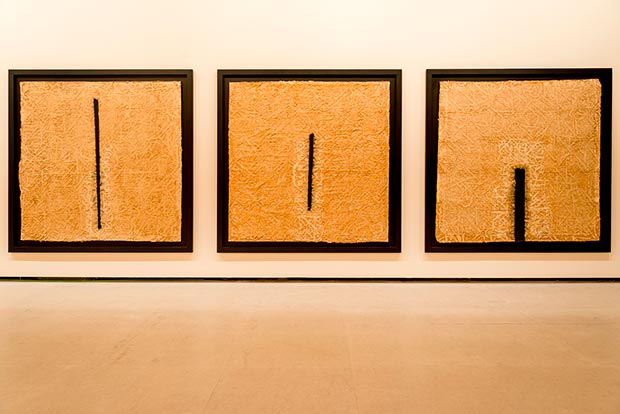 Yousef Ahmad, The Birth of Innovation / Courtesy of the Foundation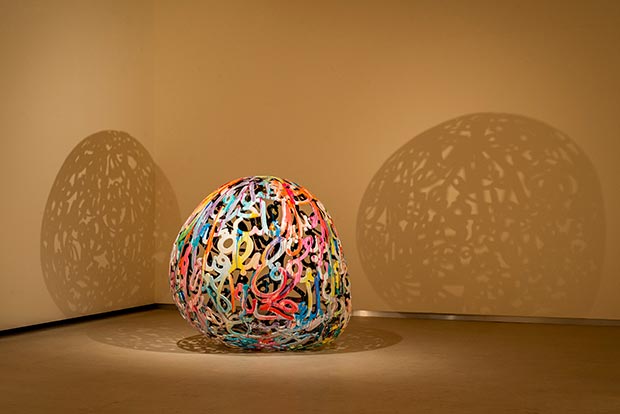 Ghada Amer, 100 Words of Love, 2010 (1) / Courtesy of the Foundation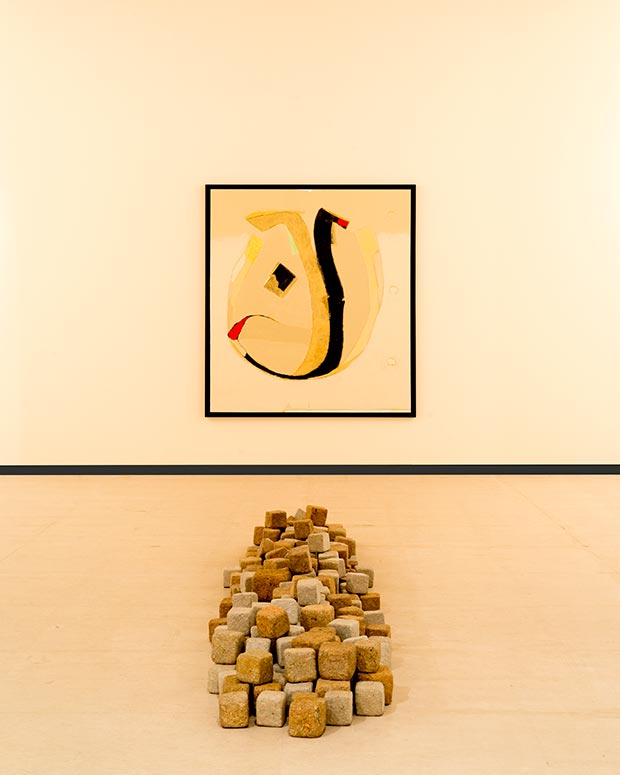 Hassan Sharif, Paper and Glue & Ali Hassan, The Letter 'Nun' / Courtesy of the Foundation
Leaving the expressive power of Arabic letters behind, we come across the film 'Cabaret Crusades: The Secrets of Karbala' by Wael Shawky. This video, the third and last of theCabaret Crusades trilogy, reflects on art's capacity to offer different interpretations of history when the Crusades are told from an Arab perspective, drawing on sources that range from official historians to the writer Amin Maalouf. In the next section, the Crusades give way to the most recent history of the Arab world, marked by political instability, uprisings and wars. In 'Our House Is on Fire', Shirin Neshat captures contemporary Egypt in photographs that analyse the recent revolution, highlighting the contradictions inherent to processes in which violence and death are tools wielded in the name of justice, love and freedom.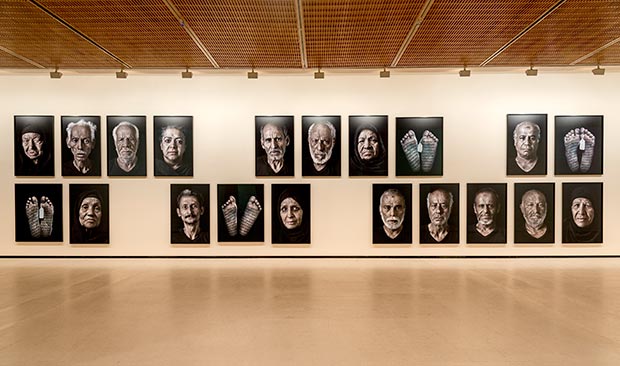 Shirin Neshat, Our House Is on Fire, 2013, Courtesy of the Foundation
Coming on the heels of Neshat's gripping portrayal of the Arab Spring, Mona Hatoum confuses us once again with 'Misbah' (Lantern), transforming a familiar, dreamy room into an uninhabitable space where danger is suggested by the shapes of soldiers reflected on the walls. She is followed by Amal Kenawy, another Egyptian woman artist, whose work 'The Silent Multitudes' bear witness to the situation of her country prior to the Arab Spring. The more than one hundred liquid gas tanks in this piece evoke throngs of enraged citizens on the verge of revolt.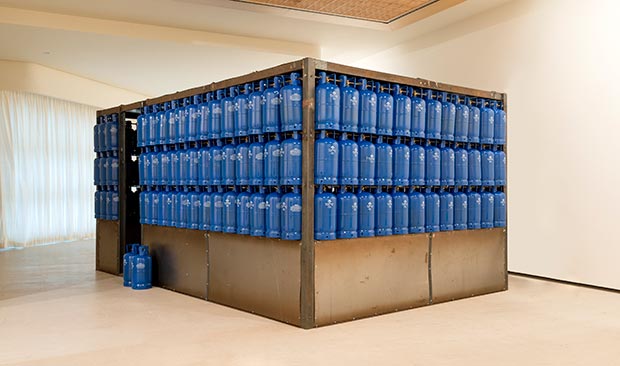 Amal Kenawy, Silent Multitudes, 2010 / Courtesy of the Foundation
The show's final section focuses on the work of Qatari and foreign artists who have developed close ties to Mathaf through residencies, exhibitions or commissions. This is the case, for instance, of Cai Guo-Qiang, whose 'Ninety-Nine Horses'—an eighteen-metre-long piece, on display for the first time since it was commissioned—links the Chinese and Arab worlds by using symbols common to both cultures.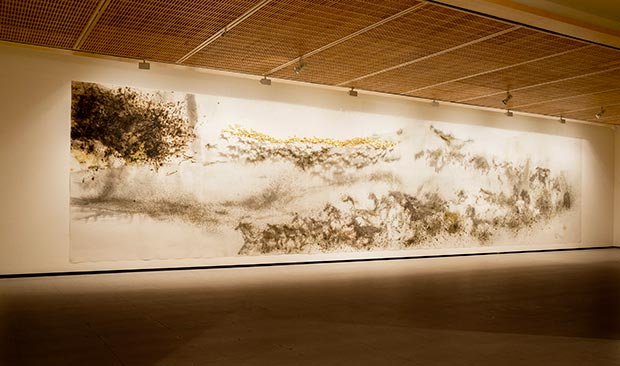 Cai Guo-Qiang, Ninety-Nine Horses, 2011 / Courtesy of the Foundation
The exhibition also includes exiled artists like Dia Azzawi and Ismail Fattah, who were forced to flee their Iraqi homeland and seek asylum in Qatar. Nourished by the history of Iraq, Azzawi's work is an artistic response to the ability of human beings to build civilisation and their power to destroy it. In 'Majnun Layla' (Temptation), Azzawi creates a portrait of the madness, possession and sense of helplessness that mimic what people experience when forced to leave their homeland or witness its destruction. Ismail Fattah, on the other hand, made the human condition the core of his practice. His characters, rendered in dark colours, reflect the hopeless situation in Iraq.
Another artist in exile is Sami Mohammad, a pioneer of Kuwaiti sculpture. During the Iraqi invasion of Kuwait in 1990, he fled to Doha and many of his works were destroyed. 'Attempt to Escape 3' is a political and social critique in which a male figures struggles to flee in vain, a provocative reference to the political blindness of many power systems in the Arab world.
The exhibition is showing works by: Rene Magritte, Fahrelnissa Zeid, Saloua Raouda Choucair, Inji Efflatoun, Etel Adnan, Adam Hanein, Chaibia Talal, Ahmed Morsi, Baya Mahieddine, Farid Belkahia, Ismail Fattah, Marwan Kassab Bashi, Nja Mahdaoui, Dia Azzawi, Abdullah AL Muharraqi, Jassim Zaini, Sami Mohammed, Chant Avedissian, Hassan Sharif, Mona Hatoum, Wafiqa Sultan Saif Al-Essa, Yousef Ahmad, Faraj Daham, Cai Guo-Qiang, Ali Hassan, Shirin Neshat, Hassan bin Mohammed Al Thani, Yan Pei-Ming, Ghada Amer, Mounir Fatmi, Wael Shawky, Youssef Nabil, Manal AlDowayan and Amal Kenawy.