The celebrations ahead of Louvre Abu Dhabi's official public opening on November 11 continue
Photo above: Louvre Abu Dhabi / Photo © Vartan Kelechian
As we are nearing the official opening of the Louvre Abu Dhabi, excitement is building. Last night a spectacular fireworks and a stunning audio-visual light show titled Vives Reflexions / Museum Reflections marked the upcoming opening. The show was created at the Louvre Abu Dhabi by French pyrotechnic wizards Groupe F. The dramatic and innovative show used the Jean Nouvel-designed building as both its backdrop and canvas, taking its audience on a voyage of discovery in four parts: from the depths of the water to the surface of the sea, onto the ground, and finally up into the skies.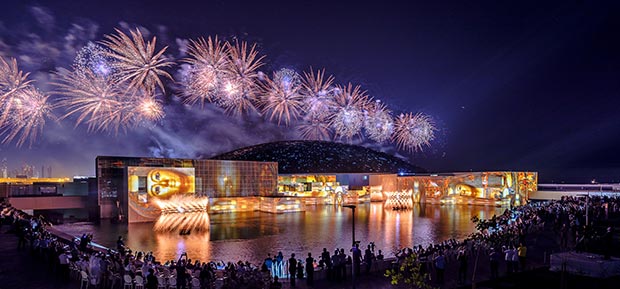 Louvre Abu Dhabi / Photo © Vartan Kelechian
In each act, different masterpieces from Louvre Abu Dhabi's collection were revealed, projected across the building under an incredible firework display that lit up the night sky.