LONDON / On Tuesday 3rd July, tucked away in gallery 8 of the Saatchi Gallery off King's Road, Mica Creative announced the winner's of the art competition and major summer exhibition, 'My Place On The Isle: Exploring Faith & Identity'. An incredibly successful auction raised up to £50,000 for Mica Creative! The winning and shortlisted artists exhibition will be showcased at the Mica Gallery from 30th July – 8th September 2012, coinciding with the Olympic summer.
Auction items included jewellery by Azza Fahmy, tickets to John Paul Getty's estate – Wormsley Hall, handmade shoes by Desiree Barroso, handbag by TataNaka, cut blow-dry and hair treatment from Richard Ward - hairdresser to Kate Middleton, short courses art Sothebys Institute, handmade leather armchair and cushions from Alma Home, a week around town in an iconic rickshaw, art pieces donated from artists, Khaver Idrees, Maida Noor, Nurjan and various collectable works by Hajji Noor Deen, Shafaq Ahmed, Hassan Massoudy, and Ma Bukhari, donated from the Mica Gallery London. Guests were then escorted by foot and rickshaw to Mica Gallery in Pavilion Road, to attend the exclusive preview of the winners' exhibition, where attendees mingled with the judges, artists and VIP guests.
The money raised from the auction will fund further Mica Creative projects of 'Visual Voices' workshops with diaspora communities in deprived areas of Britain. The workshops encourage participants and budding artists to express themselves through any visual art medium. The pilot workshops were an incredible success with talented but isolated artists expressing a desire to be showcased in their regions as well as national institutions, and mentored through artists' networks. For some these workshops are an opportunity to deal with childhood experiences that have haunted their adult lives for others simply a platform for their art.
Judges included Professor Ben Quash (Chair of Christian Art – King's College), Rachel Campbell-Johnston (Chief Art Critic at The Times) Roxane Zand (Director of Middle Eastern Art, Sothebys) and Venetia Porter (The British Museum). The shortlisted artists were from various faith, cultures and regions in the UK truly reflecting the very of 'Best of British'.
THE WINNERS FOR EACH CATEGORY
Best British Emerging Artist: Khaver Idrees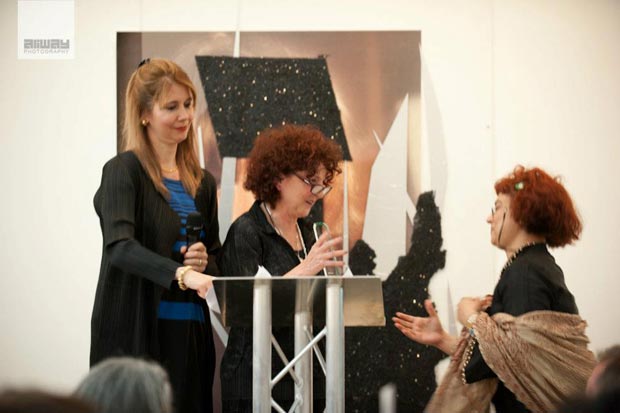 Khaver Idrees - receiving the award / Courtesy of Mica Gallery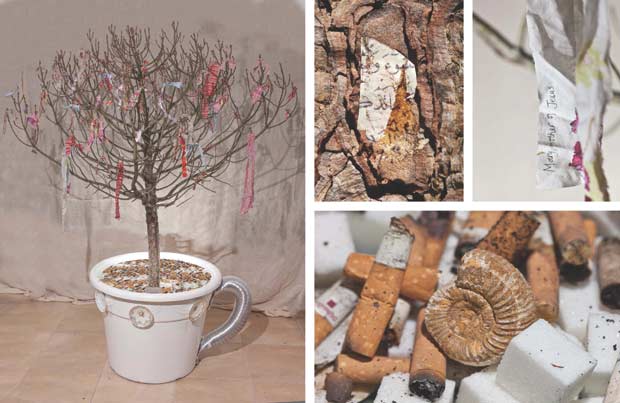 Khaver Idrees / Mohammed, Mixed Media, 291x193cm / Courtesy of Mica Gallery
ARTIST STATEMENT
The inspiration behind this piece is from my own campaign for women to have a place of worship at our local mosque. It was an unbelievable experience that left me wondering if those Muslim men who had taken ownership of the mosque were following the same religion I was. Eventually, fearing for my own safety, I called the police. Women are free to pray in the mosque but we still have a long way to go before we can say we have equal rights. When I stood in the room full of men hurling abuse at me to leave because I had no right to be in there, I kept repeating "Mohammed would have listened to me and never behaved like this" Not one of them had a reply or else chose to ignore it because it didn't suit them. The Ego chooses what it wills especially the male ego. We love talking about the message Mohammed came with, how his message reminded men and women of their rights over a thousand years ago. I thought about this particular sort of man, in the East or West and how he sees a woman, something to serve him and satisfy him. An object created by God to sweeten beloved Man's life, just like adding sugar to tea!!
I made a teacup and filled it with sugar and cigarette stubs (everyone knows the consequence but still smokes just as everyone knows Mohammed gave back women their God given rights but they ignore it). Not seeing each other as equals can only result in a cancer that eats away at the fabric of society. The tree represents Mohammed's message that liberated women at a barbaric time and I chose Liberty print cotton for all the women I admire, Mary mother of Jesus, Shami Chakrabarti, Jessica Fletcher, Laura Ingles, etc. The fossils represent the words of Mohammed. Using a dead evergreen tree seemed appropriate and ironic. With this work I have explored various perceptions. From a distance it looks pretty and a little twee but on closer inspection the name Mohammed in close proximity to used cigarettes and fossils, fuels strong reactions some have said that's what he was about how he treated women just as they see in the papers. Others are disgusted and angry at his name so near such things. Reactions based on ignorance. Some demonising him others revering his name neither has any idea of what he stood for. I know that the freedom I have to express myself the way I can in my faith is because I live in England. The work is not a shrine just a metaphor for my thoughts which combined with the immediacy and naivety of the work result in a strange awkwardness reflecting the general perception of Islam.
Best British Student Artist: Catherine Harrison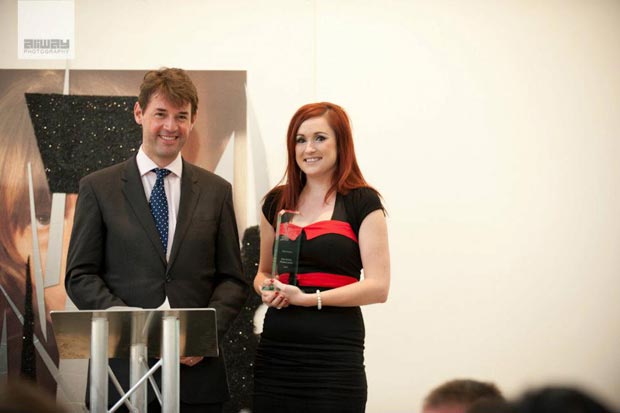 Catherine Harrison - receiving the award / Courtesy of Mica Gallery
Catherine Harrison / Society Of Thorns, Found Objects, 6ix10 in / Courtesy of Mica Gallery
ARTIST STATEMENT
My pieces touch on various religious themes as well as universal symbols and physiological theories. Working with the theme of faith and identity has made me question the society we live in today, in aspects such as religion, politics and social conditioning. I have tried to harness these feelings through making a series of works. There are so many people who follow religion blindly, use it as a means for their own benefit or reject it entirely. It is not hard to forget how religion in the past, and even currently, is being used as a tool for power and how many religious leaders condemn those who reject it. My work specifically expresses this in reference to the Catholic Church.
I have also explored the constant reminders of signs and symbols and explored the influence of religion and media which attach numerous meanings to such symbols. By focusing on the circular shape I came across it as a symbol for ones self. Whether the symbol of the circle appears in religion, national flags, road signs, architecture and even old cave drawings it always points to one main aspect, ultimate wholeness.
Best International Emerging Artist: Sandhya Pai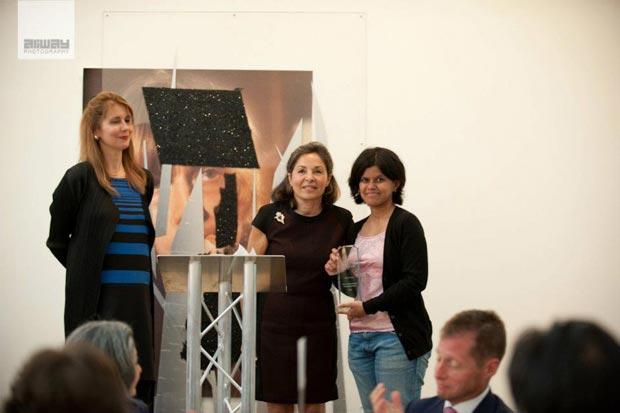 Sandhya Pai - receiving the award / Courtesy of Mica Gallery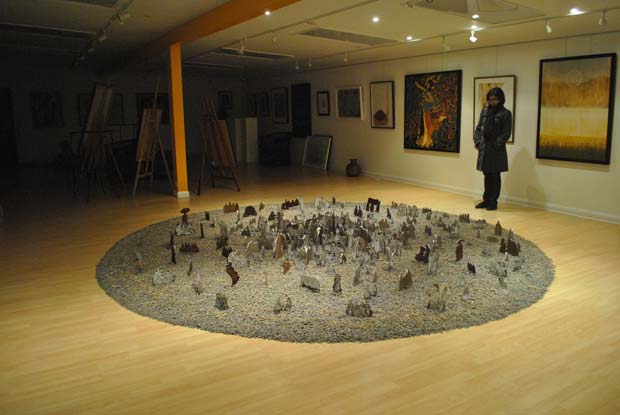 Sandhya Pai / Grassroots installation, 2012 / Courtesy of Mica Gallery
ARTIST STATEMENT
In today's age of social transformation one frequently witnesses the visual and energy of a mass crowd coming together and advancing with a singular purpose. The world has witnessed the power of collective actions throughout history. I have personally witnessed in the recent times, the London riots and the anti-corruption movement in India, both started by grass root elements, which reminds us the significance of common everyday people and the impact they can have by coming together.
My installation 'Grassroots' are drawings laid out as if sprouting from a stretch of soil that is made from crushed news paper pulp. The drawings are created from images of my family ceremonies where each person in the gathering is playing a crucial role in making the ceremony meaningfully complete. It's fascinating to see my family members playing different roles at different times - my mother performing different rituals when playing a role of a 'bua' ( Dad's sister), 'masi' (mother's sister), 'mami' ( Mother's Brother's wife), 'chachi' ( Father's brother's wife) and as a bride during her marriage and mother during my marriage. Today when I have got married and after having played varying roles as a sister, sister in law, cousin or just by my presence as a married lady, I personally sense the symbolic significance I add to the ceremonies that I participate in.
Best Interfaith Collaboration: Jacqueline Nicholls, Unaiza Karim and Victoria Burgher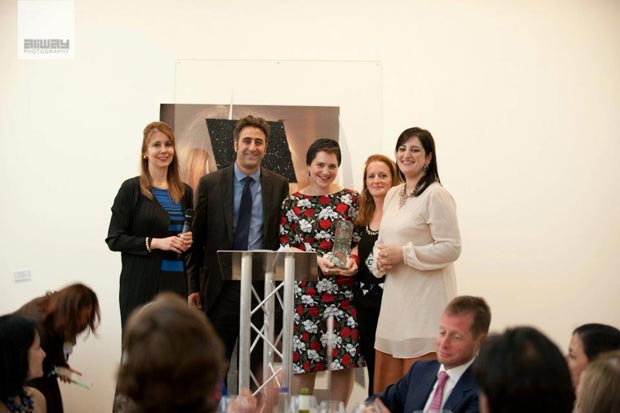 Jacqueline Nicholls, Unaiza Karim and Victoria Burgher - receiving the award / Courtesy of Mica Gallery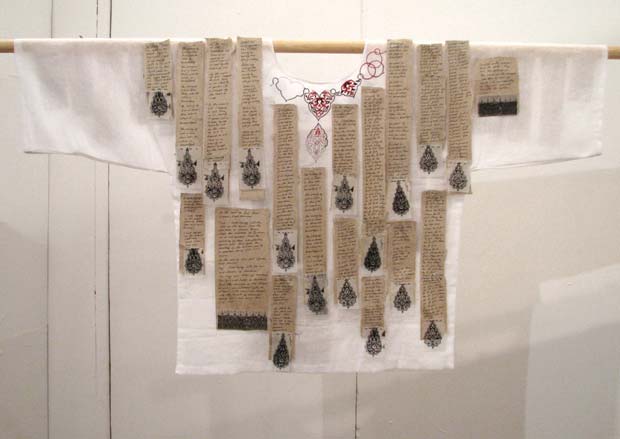 Jacqueline Nicholls, Unaiza Karim and Victoria Burgher - Armour - Detail 1, Mixed Media Installation x 3 individual pieces/ Courtesy of Mica Gallery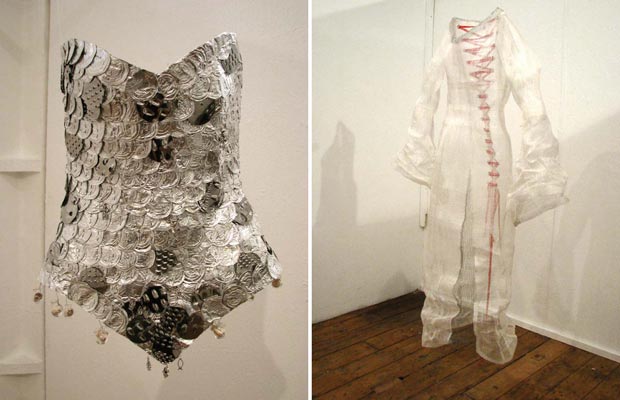 Jacqueline Nicholls, Unaiza Karim and Victoria Burgher - Armour - Detail 2,3; Mixed Media Installation x 3 individual pieces / Courtesy of Mica Gallery
ARTISTS STATEMENT
The Armour project explores the need for women not to feel vulnerable, and takes inspiration from armoury collections in London. In the Wallace Collection, there is the following quote from James Mann who, campaigning in 1937 to save antique armour from destruction, said: "Human life can be replaced by a comparatively simple process, but the great works of art which have come down to us from the past are irreplaceable."
This dismissal of individual human life was shocking, as it was antithetical to religious moral senses. It devalued the maternal role in childbirth and nurturing. Whilst working on this project we also began to look at the protection of human life. There is an Islamic tradition of amulet shirts worn under armour, and often decorated with holy sayings about protection. Amulet shirts were usually made by the mothers, a physical manifestation of the anxiety for their children's safety. This amulet shirt was made by Victoria, and embroidered by Jacqueline using Unazia's designs (the red and black threads being amulets in Jewish and Eastern cultures respectively). The prayers written by Unazia are from some of the 99 names of God that relate to protection, verses from the Quran and traditional sayings.
Victoria selected metals that are found within the domestic setting (milk bottle tops, cheese grater) to create an armoured corset. The layers of metal provide an impenetrable surface to protect the female form. The corset is fringed by amulets and bottled feminist sayings. Jacqueline's dress was inspired by Biblical women who, when confronted with violence, use their sexuality as armour. The dress includes knitted silver wire, echoing chain-mail, and the sleeves are wide enough to hide a weapon. These women may seem fragile, but they use their perceived vulnerability to fight back.
The winning and shortlisted artists exhibition will be showcased at the Mica Gallery from 30th July – 8th September 2012, coinciding with the Olympic summer. Rather unusually and quite uniquely, Mica hopes to create a 'Pop Up' exhibition along King's Road and Sloane Square to showcase all submitted art works and foster a creative community spirit during the Olympics, thus bringing residents, artists, trade and businesses together into a creative community cycle for cross cultural and business exchange.