LONDON / The Auction Room, the new online auction house, is delighted to announce the inaugural auction of Middle Eastern Contemporary Art which will take place
online
on September 19, 2013 at 7pm London time. The auction will be on exhibition at 27 and 28 Cork Street, Mayfair, September 17-19, 2013.
The Auction Room is the only London-based auction house to conduct auctions exclusively in the Contemporary Middle Eastern market and the first to bring the market entirely online, with other houses holding Middle Eastern auctions in Dubai or Doha. Therefore, it will target a wide audience, ranging from established to young collectors and first-time buyers, for whom London is a key centre for the arts, and who enjoy transacting through online platforms.
The Auction Room's specialist for the sale, Janet Rady, has commented "we are very excited to be holding Middle Eastern auctions online for the first time, with the unique element of a physical preview exhibition in London. In recent years there has been a huge surge of interest in the region and we are delighted to be filling a gap in the current market. With estimates ranging from £1,000 to £60,000, the auction provides the perfect opportunity for a variety of collectors from all parts of the world to participate."
Well-known and up-and-coming Arab and Iranian artists are featured, including: Ahmed Alsoudani, Lalla Essaydi, Diana Al-Hadid, Khosrow Hassanzadeh, Ramin Haerizadeh, Hayv Kahraman, Shirin Neshat, Ali Shirazi and Soheila Sokhanvari. A selection of works will be included from the critically acclaimed exhibition: Unveiled: New Art from The Middle East held in 2009 at the Saatchi Gallery, London.
Many of the works confront the political and social issues of the artists' native countries with a clarity and bravery which, in several cases, has resulted in exile or arrest, whilst they also draw clear influence from and take great pride in their county's artistic heritage and legacy of decorative arts.
Here are some of the Highlights from the Exhibition
Parviz Tanavoli
Est: £3,400 – 3,800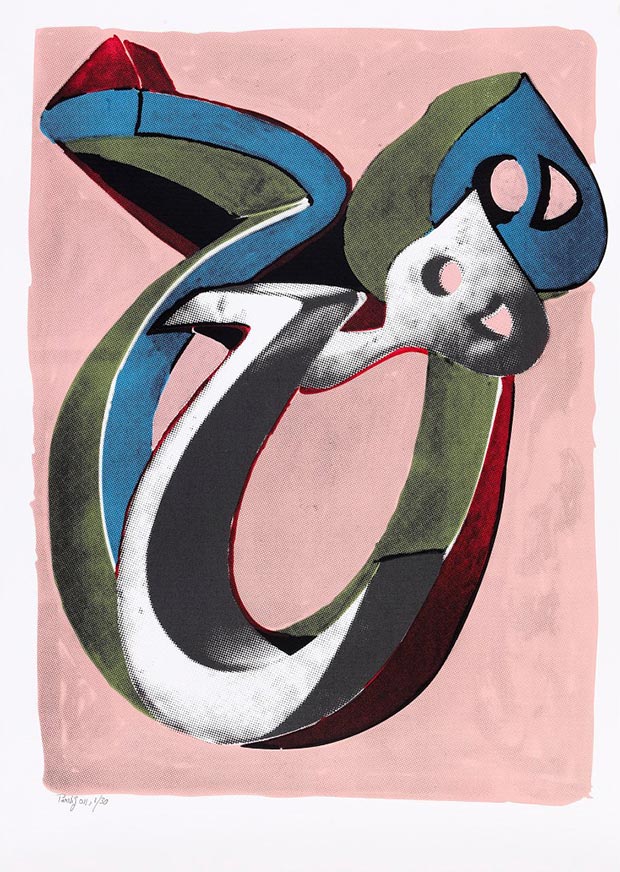 Lot 1 / Parviz Tanavoli, (b. 1937, Iran), 'Heech', 2011, Silkscreen on paper, 70x50 cm, Edition: 1/30 / Courtesy of the Auction Room
Ali Shirazi
Est: £8,000 – 12,000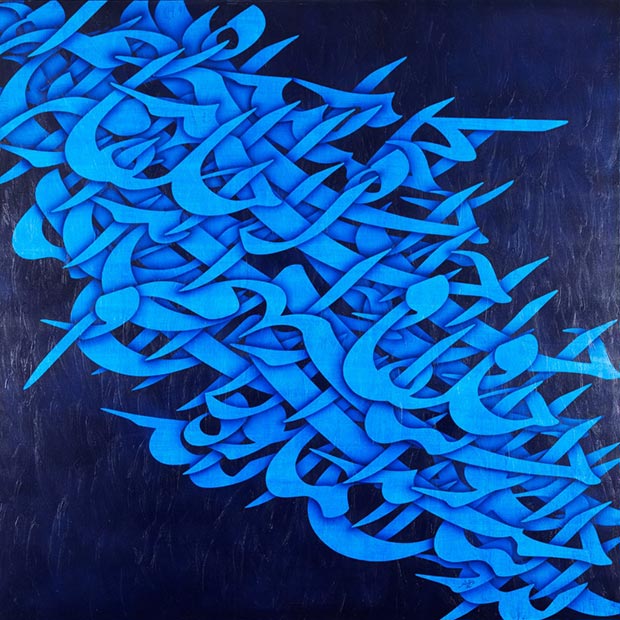 Lot 8 / Ali Shirazi, (b. 1960, Iran), 'Untitled', 2011, Acrylic on canvas, 200x200 cm / Courtesy of the Auction Room
Azra Aghighi Bakhshayeshi
Est: £9,000 – 11,000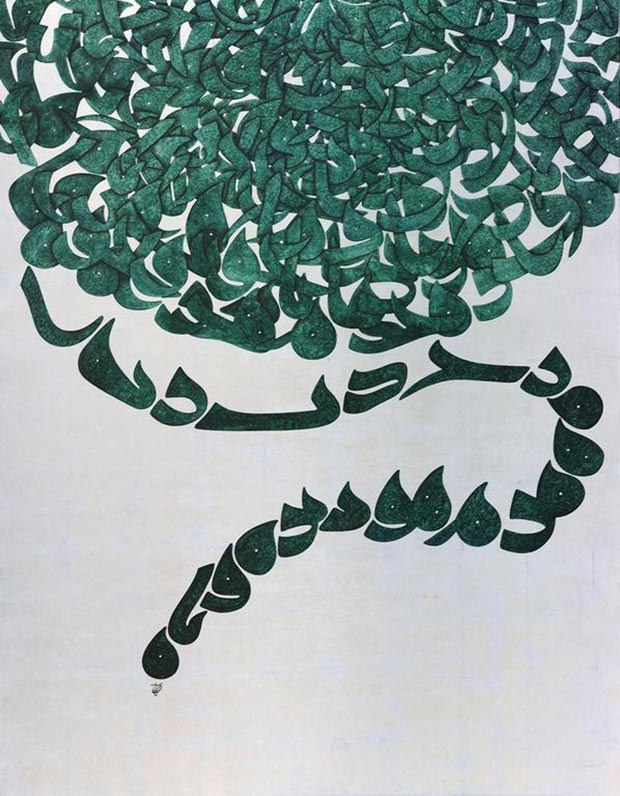 Lot 32 / Azra Aghighi Bakhshayeshi (b. 1968, Iran), 'Bismillahi Rahim' (In the name of God), 2012, Oil and silver leaf on canvas, 190x150 cm / Courtesy of the Auction Room
Saleh Al Shukairi
Est: £3,000 – 5,000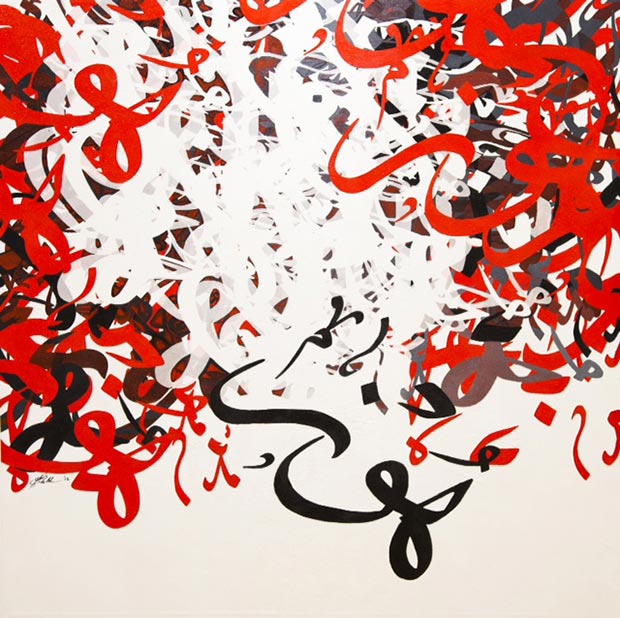 Lot 23 / Saleh Al Shukairi, (b. 1977, Oman), 'Haoaz 1', 2012, Acrylic on canvas, 170x170 cm / Courtesy of the Auction Room
Soody Sharifi
Est: £5,000 – 7,000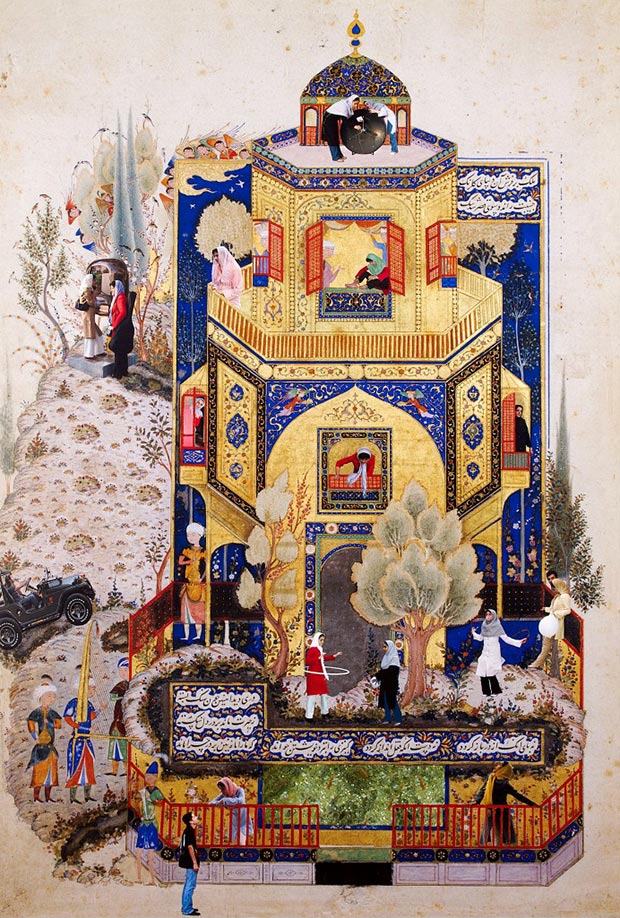 Lot 34 / Soody Sharifi, (b. 1955, Iran), 'Courtly Love' from the Maxiature Series, 2011, Archival inkjet print on board, 152x101.5 cm, Edition 1/3 / Courtesy of the Auction Room
Farnaz Rabiejah
Est: £2,000 – 3,000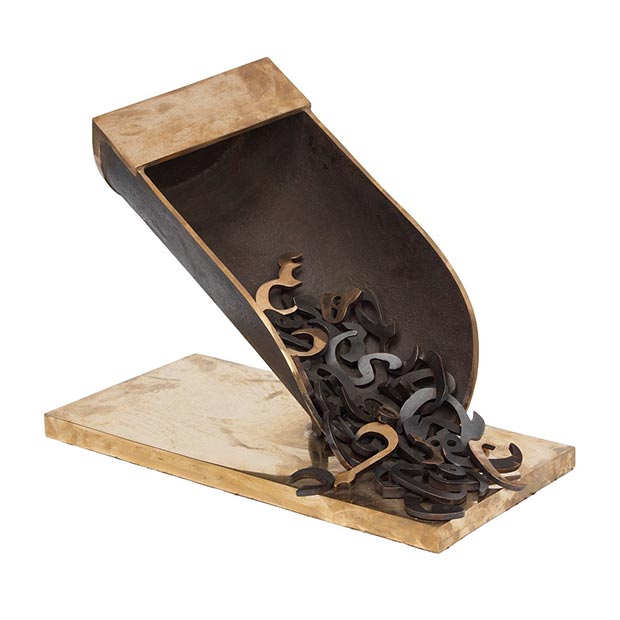 Lot 2 / Farnaz Rabiejah, (b. 1981, Iran), 'Precious!', 2010, Signed (on rear leg of stand), Bronze, Unique piece, 52x28x40 cm / Courtesy of the Auction Room
Hussein Madi (Madi)
Est: £3,400 – 4,500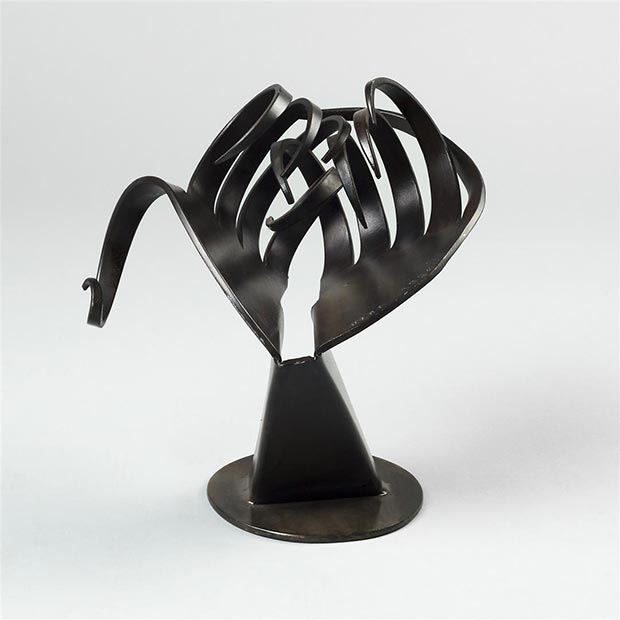 Lot 7 / Hussein Madi (Madi), (b. 1938, Lebanon), 'Untittled', 1998, Iron, 25x26x20 cm / Courtesy of the Auction Room
ABOUT THE AUCTION ROOM
The Auction Room, was launched this year by George Bailey, previously Managing Director of Sotheby's, and Lucinda Blythe, who also worked at Sotheby's for 17 years. The Auction Room combines the expertise and authenticity of a traditional auction house with the accessibility, efficiency and cutting-edge technology of the online format. The online catalogue for this auction is live and the clients can place Lot Alerts: to remind them when to bid on their preferred lots on the evening of the Live Online Auction (September 19, 7pm: London time); or place Absentee Bids immediately: when the client sets the maximum amount that they would like to offer for a lot and the computer will bid on their behalf, so that if they are the only bidder they will buy the lot at the reserve price. Both browsing and bidding are possible on any desktop, laptop, android, ipad or iphone. Click on the link to get more information on How to Bid.