MOCAfellows is an annual programme that supports artists, organised by the World Islamic Economic Forum Foundation. The goal of the event is to empower emerging and future artists with skills to succeed in the creative economy at large.
MOCAfellows will have an opportunity to learn how to brand themselves and their work and gain skills to build their financial management, to share ideas, collaborate on projects and attend many workshops. The end-goal is to give artists the key skills they need to plan and launch a successful career as well as to learn from other artists and art professionals.
Education, exposure and access to an international network of creative key players are vital to prepare young talents to be leaders in their creative journey and career. This year's MOCAfellows is a pre-festival programme that runs for five days prior to the opening of MOCAfest, which is November 3–5, 2015. It is an in-depth training and mentorship that aims to unlock the artist's sustainable ideas and contribution to the creative arts.
After they have completed their programme, the fellows will join 3 days of MOCAfest, which includes an opportunity to collaborate with other festival artists. Artists will also have the opportunity to perform, present and exhibit their work at MOCAfest, which will be held this year in Kuala Lumpur, Malaysia.
MOCAfellows will start on October 29 until November 2, 2015 and will be followed by the 8th MOCAfest on November 3-5, 2015.
Applications are due by 20 July 2015.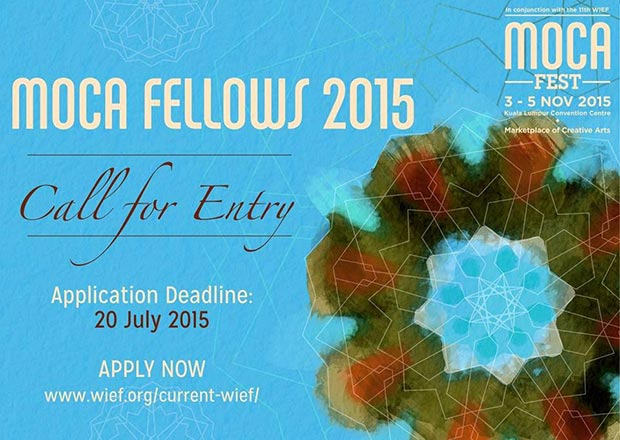 MOCAfellows 2015 will accept only 10 applicants each of different art disciplines. Application is open to the following artist category:
Graphic and Digital Artist
Arts & Culture Agents/Entrepreneurs/Educator
Dancers/Choreographers/Theater Artist
Entries will be carefully reviewed and screened. Successful selection will be notified via email by 30 July 2015.
Selected candidates are required to cover their own flight to Kuala Lumpur, Organisers will cover accommodation, meals, programme materials and ground transportation for the duration of the programme.
SUBMIT HERE
Islamic Arts Magazine covered 6th MOCAFest in London: MOCAfest 2013 - Marketplace of Creative Arts