Recently, I discovered Nahara, a new London-based womenswear label, due for launch this month. I had an opportunity to discuss the collection with Sonya Ahmed, the Director of Nahara.
Sonya Ahmed lives in London and works as a medical doctor. Born in Libya, to Bangladeshi parents, she moved to the UK aged 10. Working in public health for a few years, and as a trustee for a medical charity, she had the opportunity to travel to Egypt, Kenya, Turkey and Pakistan. It was during these trips that she developed an interest in Islamic art and textiles. From 2011, she has worked part-time in her medical role, devoting the rest of her time to Nahara. In order to develop the label, she has collaborated with London-based artists and designers. She hopes to collaborate with many others in the UK and elsewhere, to develop a truly collaborative, artisan clothing label.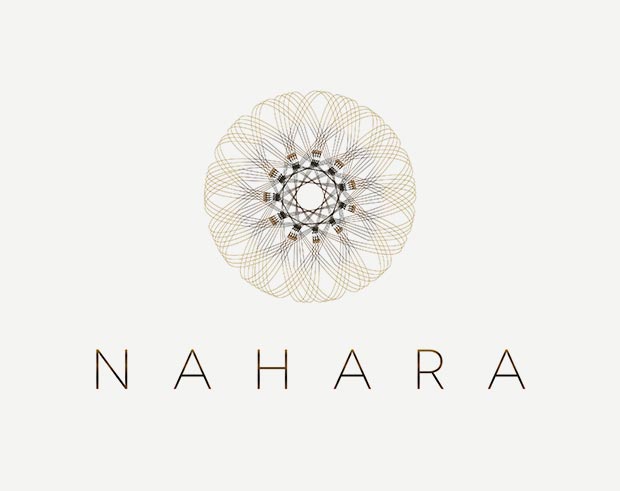 Nahara logotype / Courtesy of Nahara
What inspired you to start Nahara?
The vision behind Nahara started with a feeling. It is the feeling of tranquility and awe that you feel in the courtyard of an 800-year old mosque. It is the excitement of walking through a centuries old street with crafts being made by hand on either side of you. During these moments, you feel a deep spiritual connection; you feel alive. This is the power of sacred art.
These mosques and streets were created at a time when there was no separation between the sacred and the functional. We live in a very different world now, and that feeling is mostly inaccessible to those of us living in Western countries. We have no immediate and visceral connection with Islamic design in the very functional sense that it exists in the traditional streets, buildings and crafts of the Muslim world.
Nahara is about allowing women to carry a little of that sacred beauty around with them, to feel comfortable about being at one and the same time, modern, urban and spiritual. It is about identity and about being connected to your past while living in the present.
There is a quote from the film Amistad that expresses this perfectly, "We understand now, we've been made to understand, and to embrace the understanding… that who we are, is who we were." (Amistad, 1997)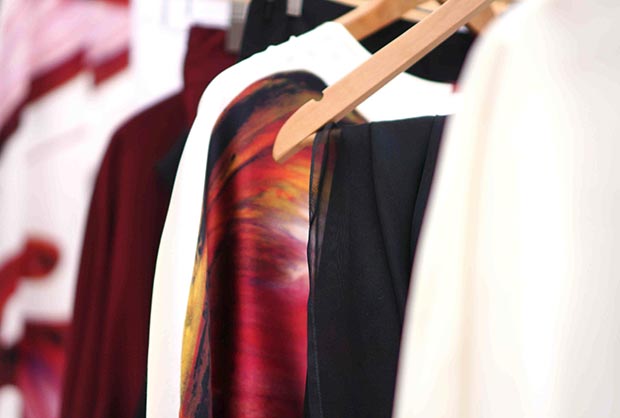 Nahara collection / Photo © Nahara 2013
Tell us how did you come up with the idea to combine fashion with art?
It was my interest in combining the spiritual with the functional that prompted me to put the two together. For art to enable us to know ourselves, it has to exist in a functional, usable space. I wanted to tap into centuries of existing art and textile skills and make them relevant to our everyday lives, to allow us to literally be in touch with something spiritual while going through our day.
This may be felt in a very subtle way, for example, in the way that the fabric in a dress moves away from the chest before coming back in at the waist. In the current collection, there are no shoulder seams in the tops and dresses, so the material flows over the shoulder, and allows unrestricted movement of the clothes and the wearer. I believe these concepts of space and movement are as much expressions of Islamic design, as are specific patterns or weaving techniques.
I intend to use the label as a showcase for some of the wonderful work that is being produced by contemporary artists inspired by traditional concepts.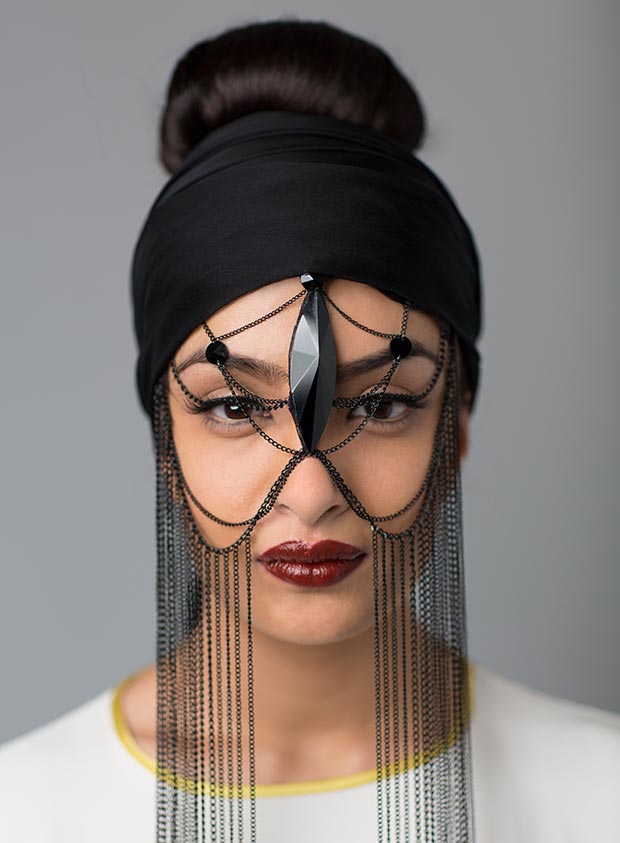 Nahara collection / Hair & Make up by Jay Pinxie Turnbull, Model: Satveer Dhanda / Photo © Nahara 2013
What made you choose London based artist Samir Malik?
For the first collection, I collaborated with London based artist, Samir Malik. Although his art stems from the traditional calligraphy that he studied in Damascus, Samir creates something much more dynamic, fluid and avant-garde. It was his use of colour that instantly attracted me. I could visualize how breathtaking the colours would be once enlarged and printed onto silk.
There is an abstract, timeless feel about his work, and this allows the designs to be appreciated on many levels. The calligraphic origin of the signature print, 'Eternal Design', is not apparent at first sight, and yet when you are aware of the origin of the design, it feels somehow more meaningful.
I have a lot of respect for contemporary artists that draw their inspiration from Islamic, or any other spiritual, tradition, and who are able to create work that is both visually and intellectually attractive. The global diversity of traditional Islamic art presents countless opportunities to explore new designs. For future collections I will be exploring ceiling paintings from Iran, hand-woven Jamdani material from Bangladesh, and Bedouin patterns from Kuwait.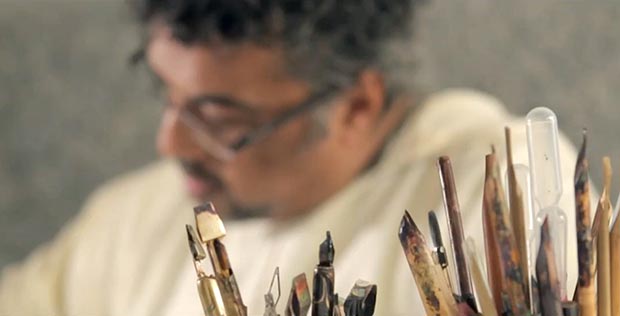 London based artist Samir Malik / Courtesy of the Artist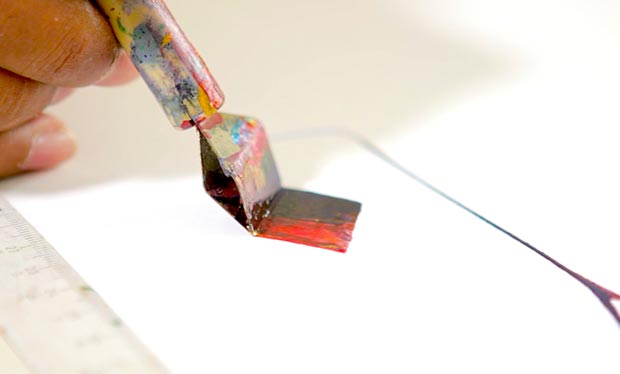 Samir Malik creating 'Eternal Design' / Courtesy of the Artist
In this video, London based artist Samir Malik talks about how he developed his unique style of calligraphy, and about the piece called 'Eternal Design', the signature print for Nahara's first collection.
How long did it take to make the collection, what is the essence of it?
I spent the first 6 months just thinking, learning and reading. There were so many ideas to explore – sacred art, tradition, clothing and identity, and the interaction between western and eastern design. Without a background in fashion, I also needed to understand more about the fashion industry, business principles, and manufacturing.
It was only when I felt clear about the vision that I went to speak with a designer. From the first contact with the designer, it then took another 18 months to get to the point of launch. Much of that time was about connecting with people who could bring their own experience and creativity to the work. Although I work with many freelancers and suppliers, I am involved in every last detail of the business, from the design concepts and choice of fabric, to the size of the labels and the ribbon on the gift boxes! It took a long time to find good fabric suppliers and fabric printers. To convey a high-level concept of beauty through modest designs, in a world that celebrates form-fitting and revealing cuts, I think it is essential to use beautiful materials.
The essence of the brand lies in its search for personal and collective identity, part of which is the contemporary expression of traditional values. This is explored through each collection, by creating garments that are both beautiful and wearable. Nahara is not about reproducing traditional clothes. The contemporary, European nature of the label is very important. When traditional arts are simply reproduced without any additional creative input, they often remain inaccessible for a modern audience. The European idea of minimalism in fashion can be seen quite clearly in this collection and will be a key feature of the label.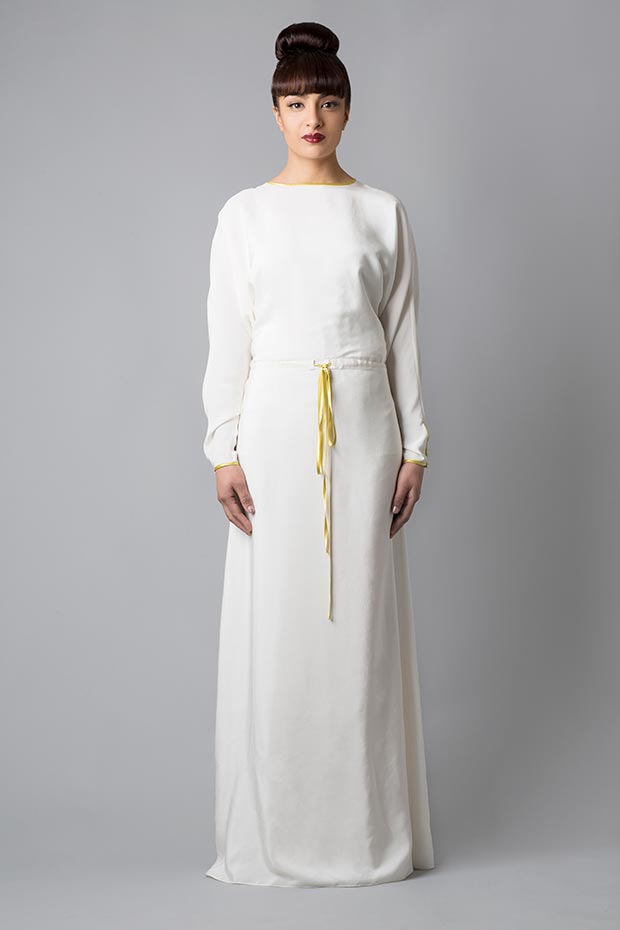 Nahara collection / Photo © Nahara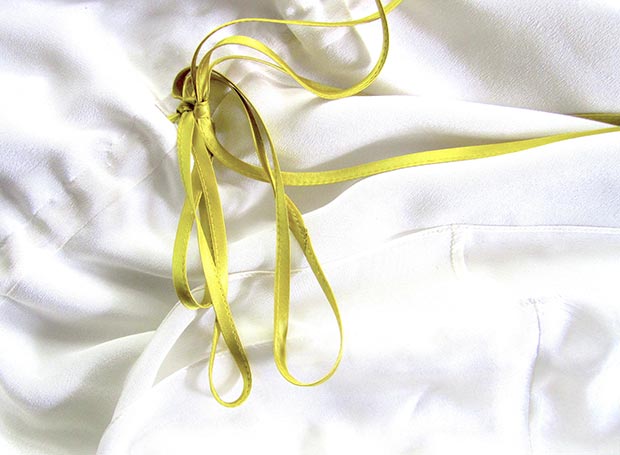 Nahara collection, detail / Photo © Nahara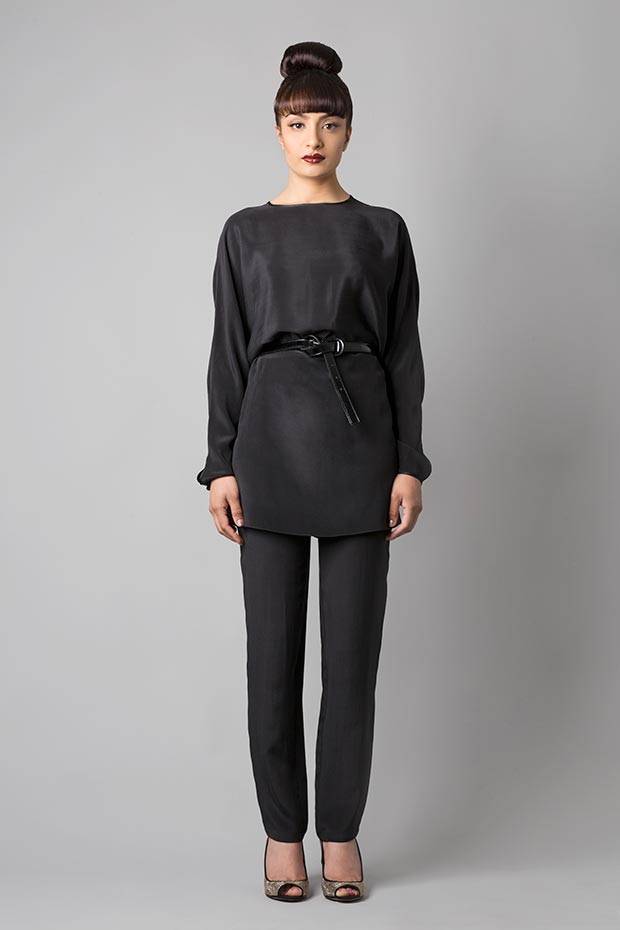 Nahara collection / Photo by © Nahara
When will the collection be available for sale?
The main collection has been completed, although some additional printed scarves will be added. The full website will be live by the end of August, and will contain details of all the garments, as well as the order and payment facility. Initially delivery will be available in the UK and additional selected countries. For customers outside of these places who are interested in ordering, they should email me at .(JavaScript must be enabled to view this email address).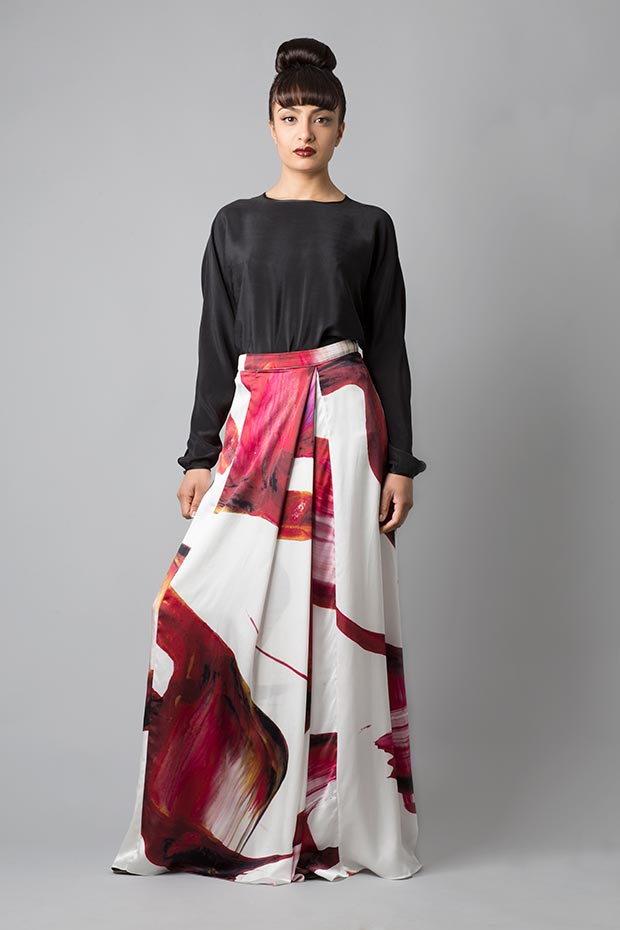 Nahara collection / Photo © Nahara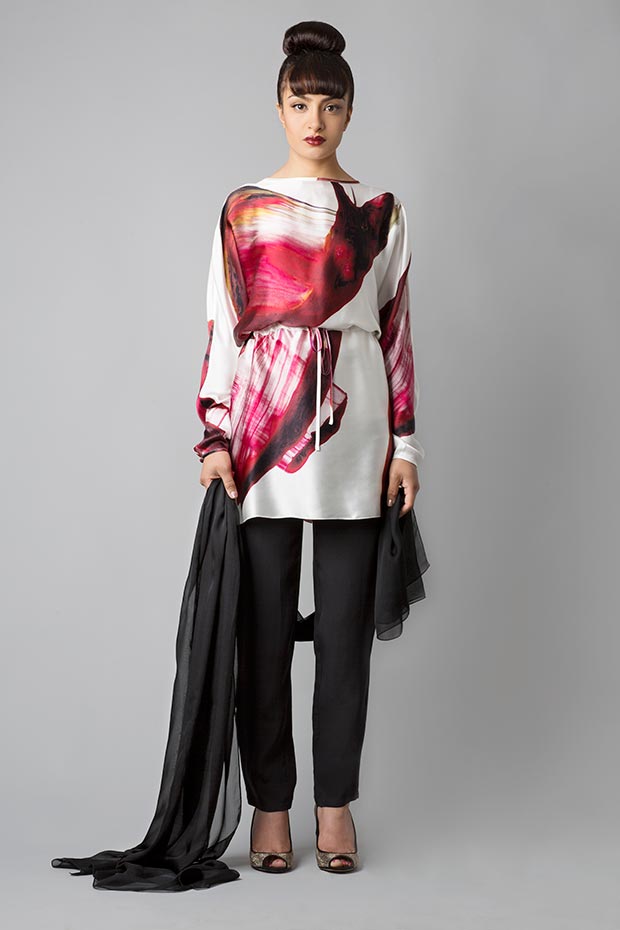 Nahara collection / Photo © Nahara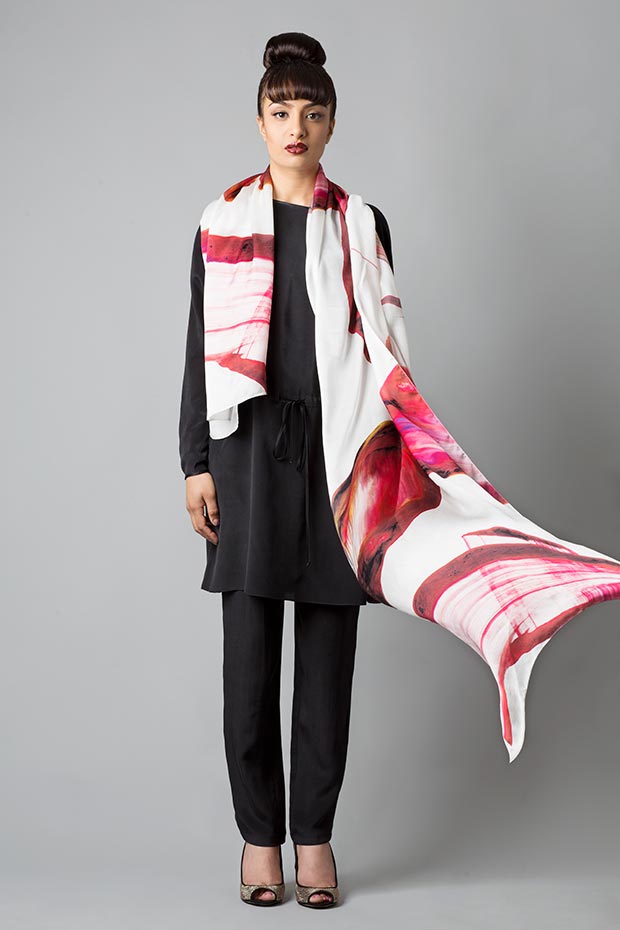 Nahara collection / Photo © Nahara
Thank you, Sonya. It was a pleasure talking to you. We hope that our readers will appreciate the elegance of the Nahara collection and that we will see many interesting new collections in the future.
I would like to add that I am very humbled and excited that IAM has chosen to feature the first collection from Nahara. IAM is a wonderful magazine. To be able to see and appreciate from my home in London, the stunning work that is being produced across the world, from some of the best artists, architects, and designers, and to feel inspired by them, I consider that to be a real gift.