LUCERNE / Following the guiding idea of "Across Borders" AB Gallery unites four artistic positions with different cultural backgrounds in one exhibition. In this context, the works of Aamir Habib (Pakistan), Sara Al Haddad (UAE), Christian Triebsch (Germany/Egypt) and Cristiana de Marchi (Italy/Lebanon) enter a multi-­layered dialogue. The opening of the exhibition will be on April 14, 2013 and will run until May 17, 2013 at AB Gallery Lucerne.
Cristiana de Marchi / We all know this is a Lie but one we believe in, 2012, embroidery on 14 newspapers, dimensions variable / Courtesy of AB Gallery
Photo in the header: Cristiana de Marchi / If only, 2013, embroidery on 6 flyswatters, 42.5x9 cm / Courtesy of AB Gallery
Both, Italian artist Cristiana de Marchi and a young talent Sara Al Haddad from Dubai, express themselves through the technique of embroidery. By combining words with everyday objects, de Marchi chooses a conceptual approach. The views and connections are re-questioned, especially when it comes to the use of language. Artist, curator and writer Cristiana de Marchi was born 1968 in Turi, Italy. She currently lives and works in Dubai and Beirut. De Marchi holds a Bachelor of Arts with first class honors from the Università degli Studi di Torino, Italy. She is a former associate member of the collective "Sezione" in Turin. She is a founder of Artfield in Turin and collaborates with The Flying House in Dubai. Recently her works have been shown in group exhibitions in Sharjah and Dubai (UAE), Morelia (Mexico), Eindhoven (The Netherlands); Barcelona (Spain), Milano (Italy) and Sofia (Bulgaria).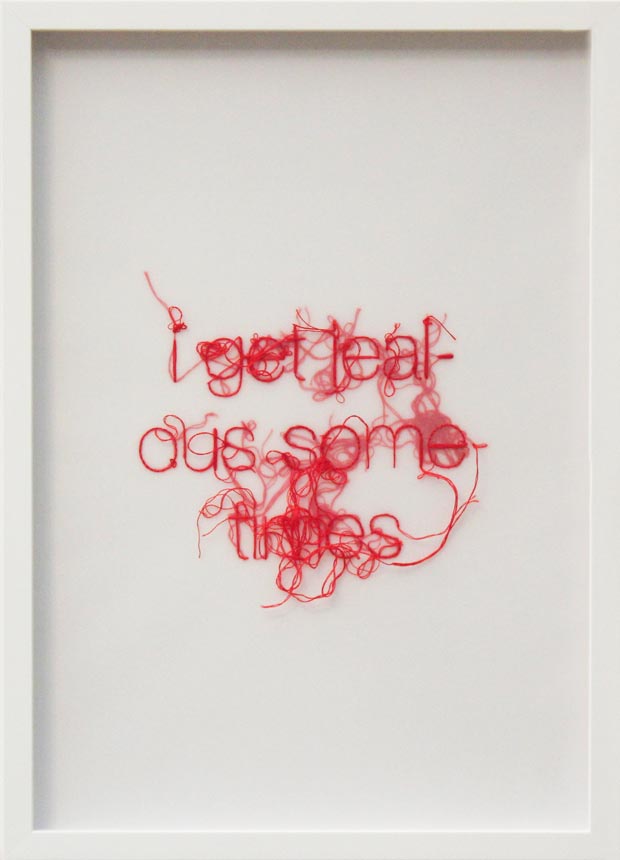 Sara Al Haddad / I get jealous sometime, 2012, embroidery on poleyster film paper, 44x32 cm / Courtesy of AB Gallery
Sara Al Haddad's works are beyond any reason or rational control expressing her emotions, feelings and deepest thoughts in a very direct way. By transferring unconsciousness and spontaneity into her embroidery she creates a lyrical-­expressive synthesis of text and image. In the short statements of "Filling Holes" the intertwined threads leave a trace of disturbance, injury and tension. Born in 1988, Emirati artist Sara Al Haddad received her BA in Graphic Design from the American University in Dubai. She currently lives and works in the UAE. Al Haddad participated in the exhibition 'No more Insecurity' in Dubai in 2011. In the same year she was a finalist in the competition 'New Era Introducing'. One year later she got shortlisted for the 'Sheikha Manal Young Artists Award'.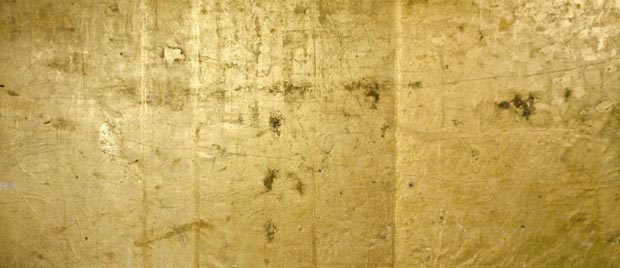 Christian Triebsch / Pleroma, 2010, gold leaf, gold color and emulsion on canvas, 270x520 cm / Courtesy of AB Gallery
Pakistani artist Aamir Habib and German artist Christian Triebsch also have a common starting point. Both of them include gold leaf in their works. Gold in icon painting used as the background becomes the sole actor in Christian Triebsch's monochrome paintings. He titled his monumental and monochrome works "Pleroma", referring to the ancient Greek meaning of the world that describes the divine world. However, the scratched golden surfaces covered with furrows and scuffs, speak about beauty and eternity. Christian Triebsch was born in 1978 in Jena, Germany. In 2005 he graduated at the Burg Giebichenstein Hochschule für Kunst und Design Halle (painting). Over the last decade, Triebsch has participated in many exhibitions within Europe.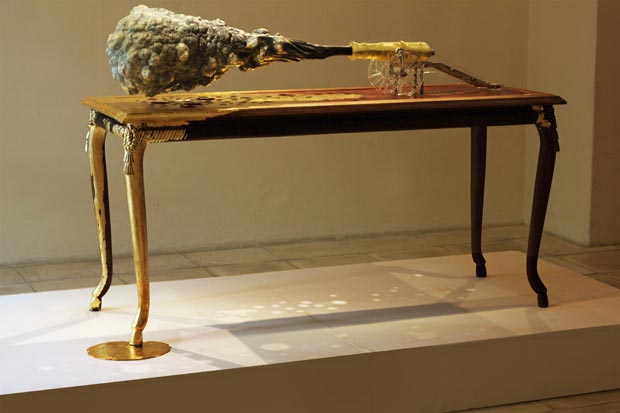 Aamir Habib / When the Land escapes, 2012, fiber glass, wood, acrylic, steel and gold leaf, 183x61x122 cm / Courtesy of AB Gallery
With his work "When the land escapes" Aamir Habib sets a moving sign of a nation marked by the terrors of war. The frozen smoke cloud of a cannon shot dissolves into infant faces creating imagery for the unborn generation, the lost hope and unfinished dreams, affected by the injustice of war. In the gold streaming down the table Aamir Habib depicts the loss of innocence and the lack of transparency in official reports of the conflict. Aamir Habib, born in 1976 in Pakistan, received a Bachelor's degree in Fine Arts (major in Sculpture) from the Indus Valley School of Art and Architecture. During the last decade, Habib has participated in divers exhibitions, among others in Pakistan and Dubai. He also worked for Dawn News as Art Director and Set Designer.